Spring has sprung. The early cherry trees have burst into bloom … this morning as I walked back from the gym it was like walking through petal snow … so many of them blowing through the morning breeze. 
At the gym I'm incorporating a medical movement specialist into my workouts. Turns out that my SHIFT from working all day standing up doing Visual Facilitation to running more and more training and coaching Webinars has had an effect on my body. More specifically numb legs and butt from sitting at computer for long stretches of time. My core strength has slowly waned and I'm working on building it back up to proper proportions. Ahhhhhh, beware … the laptop lifestyle does come with some consequences! But my dry cleaning bill has dropped from less marker mishaps!
Talking about 'being up at the wall' again — I'm looking forward to hosting the May Fundamentals of Interactive-Visuals workshop. Its three intense but extremely rewarding days where I get to teach fabulous folks interested in the fundamentals of working visually … whether you are a consultant, facilitator, trainer, coach, therapist or other process professional. FYI, there is currently one itty bitty spot left in this one-of-a-kind experience, so snap it up now if you want to join the tribe. This is the last public opportunity this year to receive in-person, at-the-wall training from me (otherwise catch me on Webinar in the fall, hopefully with a less numb butt!).
Yours in Visual Expansion and SHIFTing IT,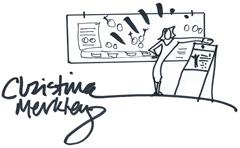 Christina Merkley,
The SHIFT-IT Coach
and Interactive-Visuals Mentor
---