Had a blast hosting the in-person version of Fundamentals of Interactive-Visuals here in Victoria, British Columbia, Canada. Twenty-one wonderful organizational leaders, consultants, facilitators, academics, coaches and budding scribes from across North America (and Mary all the way from
Australia!).
We had three jam-packed days with our visual tribe … learning the four main ways of working visually and soaking up the camaraderie, support and downright love of being around similar-minded (and hearted) people.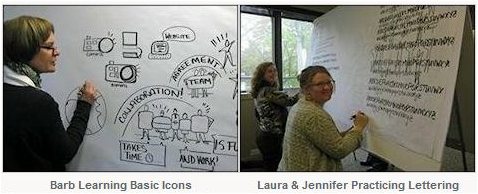 The reports back from the field have been terrific — with sharing of custom charts and visual templates that have been created since our class … and experiences of live visual recording, visual facilitation and visual coaching. Making this Interactive-Visuals mentor very PROUD!!! Way to go gang!

If you are interested in adding the visual way of working to your process toolkit, I'll be back in the fall with an online version of this popular program (9 weeks Oct-Dec, dates and online registration to be announced soon). If you have a more immediate need, check out Private Training
Options … there are still a few dates available over the summer.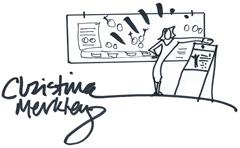 Christina Merkley,
The SHIFT-IT Coach
and Interactive-Visuals Mentor
---