Are you a coach, facilitator, trainer – or some other type of helping professional or process leader?  If so, you'll want to add the super-charged power of working visually to your own skills toolkit!
Working visually with groups and individuals is known by many terms: graphic recording, graphic facilitation, visual thinking, visual synthesis, meeting graphics, group graphics, etc.  I've used these powerful foundational skills in my work for the last 17+ years as a successful strategic planning & visioning facilitator and in my cutting edge 'graphic coaching' practice as The SHIFT-IT Coach.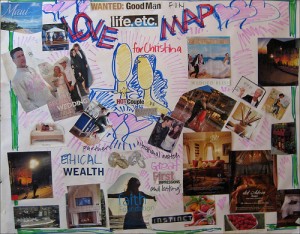 Not only are the visual skills crowd pleasing (clients love them, since 87% of them are visual thinkers!) but they are fun and personally gratifying to use too.
And, they make you stand out from the crowd (a valuable differentiator) that results in enhanced income and wider client range.
Come To …
THE GRAPHIC COACHING CLINIC
November 4-6, 2009 | Victora, British Columbia, Canada
In this highly experiential, information packed, fun, and limits-shattering training you learn the foundational theory and skills of working visually in group and individual settings … and roll up your sleeves and do it yourself!
You emerge with a thorough understanding of the different ways interactive graphics can be used with individuals, partners and groups … and are pleasantly surprised by how much YOU can do yourself after just three days.
Plus you meet other interesting, inspiring people doing cool work in the world –– members of your global graphic tribe!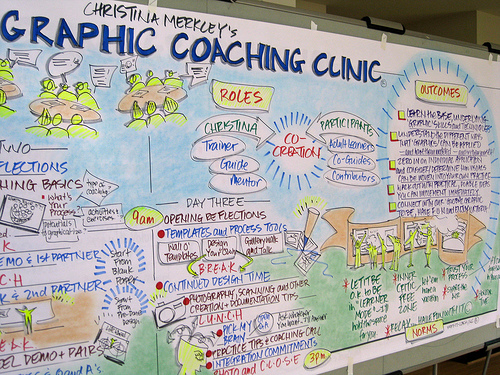 Visual Techniques Can Be Applied To A Whole Myriad Of Groups and Personal Development Processes …
Inteactive-Graphics can be applied to all sorts of group and individual settings … including but not limited to …
… brainstorming/idea generation, history & life mapping, visioning, strategic planning & action plans, conflict resolution/mediation techniques, succession planning, entrepreneur/partner discussions, family councils, world cafes, dialogues circles, value proposition work, values & mission/vision clarification, product development, process mapping, etc. etc. etc.
Click Here for Full Workshop Details
BASIC ICONS
Learning & Practicing Basic Icons
You will …
Really Get What This Graphics Stuff Is All About And Have Your Eyes Opened Wide To The AWESOME OPPORTUNITIES That Lay Before You (as you integrate these new skills into your own coaching, facilitation or training practice)
Feel The Markers In Your Hand And All The Other Cool Art and Graphic Supplies You Now Have Free License To Play With On A Regular Basis – As Part Of Your Work!
Get Practical Instruction in All of the Four Main Applications of the Visual Way of Working: Custom Chart Work, Graphic Recording, Graphic Facilitation and Graphic Coaching (and identify which area you are most interested and comfortable in)
Be Pleasantly Surprised By What

You

Can Do After Just 3 Days – Know That This Work Isn't A Hard New Beginning, But Rather A Natural Build Upon Who You Already Are And the Work You Already Do (that you can immediately bring back with you and do!)
Be Inspired And Impressed By The Interesting People From Across North America (and the globe!) Who You'll Meet at This Workshop –… Learn From Each Other, Make Friends, Share Resources, Network and Bond
Walk Out With A Renewed Interest in Your Profession – Knowing You've Found Something That Really Suits You And The Way You Operate In The World … That You Don't Have To Compromise Your Creative Side Any Longer – There Is A Way to Enjoyably And Profitably Express It.

Designing Small Size Templates

Life Mapping in Pairs
8 SPOTS LEFT
To ensure plenty of individual attention, this workshop is capped at just 21 participants.
Click Here for Full Details and Online Registration
Early Bird Pricing Until September 1st (save $500!).
Convenient Payment Plans Available (up to 12 months).
I look forward to training you in the graphic way of working.  Remember, you do NOT have to be an artist to employ visuals with your client work.  There is a full spectrum of applications and a place on it for everyone to be comfortable!
Christina Merkley
Interactive-Visuals Mentor
& The SHIFT-IT Coach
Now is the perfect time to develop your skills so you can do work that is more effective for your clients (and more enjoyable, fun and lucrative for you!).
Come join us (your graphic tribe!)…
for this rare and unique training opportunity.  Very supportive!  I've trained hundreds in these fascinating methods over the last decade and I look forward to opening up a whole new world for you too!


Christina Merkley
Your Graphic Facilitation Mentor
P.S. Remember, there is a GREAT early bird special on until September 1st plus handy payment plans to make it very easy for you to join us. For much more information, including specifics on what we cover during this three-day event, just click here.
P.P.S. Sometimes people are really pulled to come to this workshop and don't quite understand why (its not a rational decision but an intuitive one). Like my previous attendee Val, who wrote two and half months later to tell me she landed an Executive Director position at double her salary – by using 'graphics' to seal the deal (she used a graphic template to not only interview the Board that was interviewing her, but to engage the front line staff as well – which they loved!). Needless to say, she (and her loving but somewhat skeptical husband) were very happy with her return on investment and that she followed her intuition to come!
---