Well, tomorrow we start … another fabulous online cohort of keen Process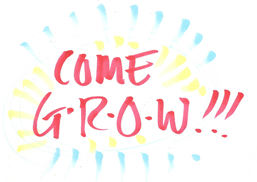 Professional  from around the globe ready to add the power of working visually to their own toolkits.
And, if you are interested to register as a last minute joiner … you can (as everything you need to begin is available instantly online). We have room for just one more person!

Just One Spot Left! Nab It If It's Yours!
THE FUNDAMENTALS OF INTERACTIVE-
VISUALS (ONLINE)
Online Webinars: Oct. 21-Dec. 18, 2013
Mondays & Wednesdays, noon-1 pacific
(1pm mountain, 2pm central, 3pm eastern, Europe:
Evenings, Australia/Asia: Early Mornings)
FOR FULL DETAILS AND ONLINE REGISTRATION:
http://www.visualcoaches.com/training/fundamentals/
The longer I do Interactive-Visuals work (its been close to 20 years) the more I'm adamant that working visually is not about cutsey drawings folks … its about PROCESS.
So that is the way I teach, with an emphasis on how to use visual methods to enhance your
process with groups and/or individuals. As working visually is an excellent aid — as it helps your clients see their current dilemmas, thoughts and feelings — AND empowers them to make informed, rational and solid decisions and take productive action. And it is a fabulous way to share those thoughts, feelings and decisions with others to widen the circle of alignment.
With the rise of interest in and appreciation of Visual Recording, Visual Facilitation and the like … more and more courses and workshops are showing up on the landscape. Some are good, some not so. Unfortunately the bad ones really lack proper and thorough understanding of change management, organizational development, business design, facilitation, coaching and other process. So as a consumer it's important you make an informed decision about where you receive your training (and like a person who likes to cook, collect a few cookbooks so you have a wealth of recipes to stir from).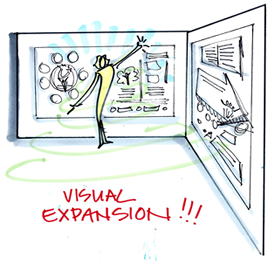 Our workshop has demonstrated quality as do I as a highly qualified instructor (with my strong background in Organizational Development and Change Management let alone my pioneering niche in Visual Coaching) — just check out the info page for an abundance of testimonials from all manner of visual practitioners from around the globe. And, I teach the course myself (not one of my team) plus you receive one-to-one feedback in a private follow-up too (as well as day-to-day feedback in our online forum during this 9 week immersion).
We are serious about equipping you with professional process skills — whether you are already a seasoned Process Professional, a person just embarking on your career, or someone who doesn't quite know why you are attracted to this stuff and are acting on instinct by registering.
For all the details … including agenda items, testimonials, example charts, etc. click the link below.
FOR FULL DETAILS AND ONLINE REGISTRATION:
FYI, this Fundamentals of Interactive-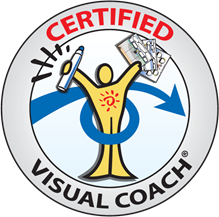 Visuals course (or equivalent
experience) acts as a pre-requisite
for our Advanced Courses:
Magic Marker Mastermind ®:
Visual Skills and Business Incubator
for Process Professionals
Visual Coach Certification ®:
Become a Certified Visual Coach
including license to use my SHIFT-IT
System® of 17 visual coaching maps.
If you are feeling an inner prompt to come join us … please do! This is the last online training for a year (as we only offer them annually in the fall).
Looking forward to a productive training!
Yours in Visual Expansion,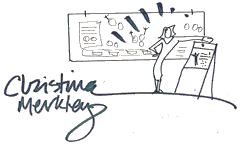 Interactive-Visuals Mentor &
The SHIFT-IT-Coach
P.S. Dates of this offering won't work for you? Not an online person? A 3-day in-person version of this workshop is offered May 22-24, 2014 in beautiful Victoria, British Columbia, Canada. Alternatively, you may book a Private Training customized for your unique needs at a date that works for you.
P.P.S. Already have base training under your belt? Want more advanced mentorship? See Visual Apprenticeship and Magic Marker Mastermind and Private Coaching with Christina for advanced offerings to build your skill, your confidence and your bottom line.