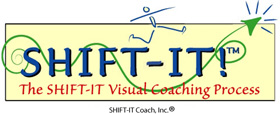 I'm SOOOOO looking forward to our SHIFT-IT Online start on Saturday. The marvel of modern technology that allows us to connect another across vast geography (and common desires) never ceases to amaze me … its very cool times we live in for sure!
This leading-edge Visual Coaching experience is for people who are ready to Become Your Next Self … in whatever area or combo of areas you want to SHIFT (right livelihood/business, abundance, relationship, body, emotional fulfillment, etc). Perfect if you are at a natural life crossroads or transition period (significant birthday, shift in life stage, separation/divorce, new union, kid shifts, business impact, ready for your next expansion level, just plain bored, etc.). We'll help you resolve your past, get clear on your future and take action to SHIFT your life for the better … quickly!
FYI, last minute joiners are welcome in this transformative program (sometimes it's those last minute synchronicities that are so sweet!). So give your resistance the heave-ho and come join us — upon registration you'll get immediate access to everything you need to participate (all from the comfort of your own home, no travel required)!
Full Details and Easy Online Registration:
https://www.shift-it-coach.com/courses/shift-it-online-group/
We Start This Saturday:
Saturday February 1st, at 10am pacific (11 mountain, 12 central, 1pm eastern, Europe (evenings), AustralAsia (early morning) see http://bit.ly/sio-winter-2014-time for your zone).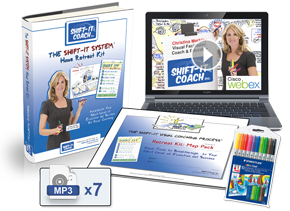 We run for 7 consecutive weeks. The program is delivered by handy video technology easily accessible from the comfort of your own home. All sessions recorded for easy playback should you need to catch a missed session, or want to take the course at a more convenient time (its fine to participate by watching the playback sessions and participating in our private forum if you can't make the live sessions).
Full Details and Immediate Online Registration:
https://www.shift-it-coach.com/coaching/shift-it-online-group
Don't wait another minute to get going on work and/or life shifts you know you wanna make! I look forward to another wonderful SHIFT-IT Cohort … always trusting in the process of who this is right for this round!
Yours in visual expansion,

Christina Merkley
The SHIFT-IT Coach & Interactive-Visuals Mentor
P.S. Handy repeater option for those who have previously participated and are ready for your next manifestations.
P.P.S. If you receive our emails because of an interest in our innovative way of working visually — check out our upcoming visual skill programs: Visual Coach Certification and Fundamentals of Interactive-Visuals.
SHIFT-IT Online is one of two pre-requisites required for acceptance into Certification. The 2014 Visual Coach cohort begins in April (receiving applications now — see Combo Package which includes all 3 courses).
---