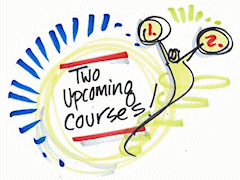 Working visually is SO powerful (and enjoyable) for your clients … and you!
As you might have spotted in the SHIFT-IT e-Zine and on our sites … two important course deadlines are fast approaching.
1. March 24th is the Application Deadline to be considered for 2014 Visual Coach Certification cohort (program begins April 8th).
2. April 7th is last day to register at Early Bird for annual in-person Fundamentals of Interactive-Visuals workshop ((May 22-24, 2014 in beautiful Victoria, British Columbia, Canada). Only 12 spots left!
---
MORE INFO: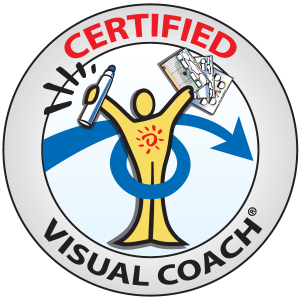 BECOME A CERTIFIED VISUAL COACH®
Delivered online via 10 Webinars. Tuesdays, April 8 – June 10, 2014, noon-1:30 pacific, (plus 24 hours client hours to be completed by Dec. 31, 2014)
For coaches, therapists and other process leaders who work with individuals. This one-of-a-kind experience teaches you how to work visually with your clients and licenses you in our SHIFT-IT System® (17 visual maps as complete process or piecemeal). Join our amazing international cohort of Certified Visual Coaches® and bring the leading-edge power of the visual approach to your own clientele and practice.
Application Deadline is March 24th
More Info and Online Application Process
*** Two Pre-requisites: Fundamentals of Interactive-Visuals (or equivalent experience) and SHIFT-IT Online (or equivalent coaching with a Certified Visual Coach).
Why would you want to be trained and licensed in our innovative Visual Coaching approach?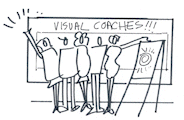 Our SHIFT-IT System® is an excellent, proven system that works in its entirety or in standalone exercises – it harnesses the power of visual thinking … a mode that 87% of your clients prefer to think and make decisions in;

It's perfect for both seasoned helping professionals (to lend a visual element to activities that you might already do) or for newer coaches who can benefit from an organized structure and flow that is proven to work;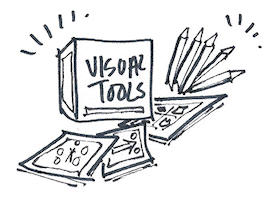 Our visual tools make coaching tangible – greatly increases the ease and efficiency of your client intake process (your clients literally SEE what they are signing up for … unlike other more amorphous ways of coaching);

The tools can be used either in-person (large wall size murals or small size templates), online and/or as homework assignments between calls (makes your coaching time very effective … you and your clients hit the ground running right away);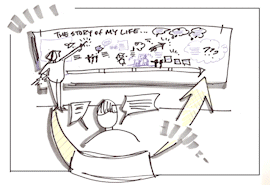 You also get support in 'template-izing' your own intellectual property to create your own signature systems and visual tools (should you have a specialty niche or content of your own that you would like to bring the power of visuals to);

This program also contains excellent marketing guidance (agendas, contracts, logos, models, suggested sales copy, etc) so you successfully add Visual Coaching to your menu of offerings (as a full-on brand or as a complement to your existing menu);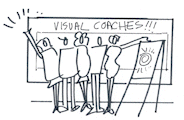 Because Visual Coaching is a new and exciting niche in the coaching field … it gives you a distinctive, creative edge. Plus you join a small yet growing global network of smart and kind professionals doing great work in the world – our community is supportive, innovative and fun!
To Apply:
Visual Coach Certification is by application — and requires two pre-requisites: SHIFT-IT Online (or private SHIFT-IT work with me or one of my Certified Visual Coaches) and Fundamentals of Interactive-Visuals (or proven equivalent experience).
If you resonate with this opportunity and feel you are a fit – we look forward to receiving your application. Apply Here.
---
MORE INFO
FUNDAMENTALS OF INTERACTIVE-VISUALS®
May 22-24, 2014, Victoria, British Columbia, Canada
For Consultants, Facilitators, Trainers, Content Experts, Coaches, Therapists, Scribes and Other Process Processionals Who Want to Learn the Basics About How to Work Visually with Groups and Individuals.
Over 87% of your facilitation, coaching, training and consulting clients are visual thinkers – learn powerful visual skills to boost the effectiveness of how you work with them. This professional skills training thoroughly covers custom chart work, visual scribing, visual facilitation and visual coaching (the four main applications of working visually with groups and individuals) so you can add these powerful tools to your own consulting, facilitation, coaching and training offerings. In-person version only offered once a year, so act fast to claim your spot.
Early Bird Until April 7, Just 12 Spots Left!
More Info and Online Registration
* Note: Pre-requisite for Visual Coach Certification and Magic Marker Mastermind
---
We love turning people onto the visual way of working … see you at these courses or others in the future that fit your specific needs.
Yours in visual expansion,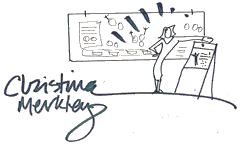 Christina Merkley
The SHIFT-IT Coach
and Interactive-Visuals Mentor
P.S. For an overview of our SHIFT-IT School curriculum, click here.
P.P.S. Dates of public workshops don't work for you? We also offer private trainings and apprenticeships (you come to us) as well as custom in-house workshops (we come to you).
---