FYI, this just in Jill Langer (2014 Magic Marker Mastermind member) and Ben Smith (Certified Visual Coach) both located in Calgary, Alberta, Canada area …. they are pulling together a local Meet Up Group for other Process Professionals working visually with groups or individuals (or those who are curious).  See summary and mindmap below.  Have a great gathering all and sending my support for developing a supportive local matrix there in Calgary!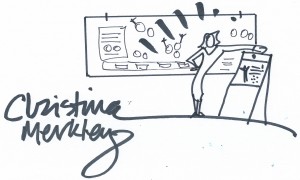 Calgary Visual Practitioners Meet-up Group Forming Now:
Are you a professional interested in building skills for using visuals in the workplace? The Calgary Visual Practitioners Meet-up Group is a new group designed to connect individuals interested in visual approaches to work and life. For our first meet-up session we are going to look at different ways to integrate visuals into meetings. Below are the details of the event.

Logistics:
 Saturday May 24, 2014
 9:00am-11:00am
 Waves Coffee House – 102 – 1019 17th Ave (Boardroom)

 Proposed Agenda:
 – Introductions
 – Agenda & overview
 – Why use visuals for meetings?
 – Elements of effective meetings
 – How visuals can make your meeting more effective, efficient & fun
 – Resource sharing
 – Brainstorming topics for future workshops/meet-up sessions
Feel free to share this invite with anyone else that you feel might be interested in this session. Please e-mail jill.langer@shaw.ca if you plan to attend so that we have a sense of numbers. Also we have create a LinkedIn Group page called "Calgary Visual Practitioners", please join the group if you are interest in being part of the conversation or would like to keep up to date about future meet-ups.
Thanks, Jill