Have you taken my Fundamentals of Interactive-Visuals course? Or do you have equivalent experience through other means? If so, you are eligible to attend our MAGIC MARKER RETREATS.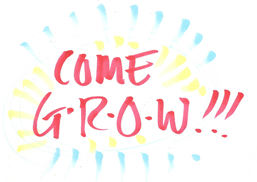 Getting your visual basics is half the equation – the other is competency and creation of a viable practice (whether you are internal or independent). These 2-day Boot Camps take your visual practice to the next level: chock full of at-the-wall drills, project brainstorming (bring work for feedback and ideas), and identity/brand/financial coaching. Work your brain, your fingers and dissolve your resistance, all in deep community with your visual tribe.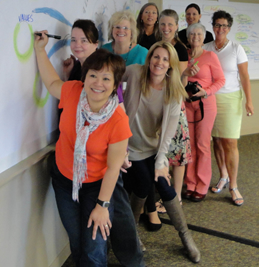 Our First Retreat (with a 20% launch special) is right around the corner November 7-8, followed by another in March and a final in June. Register for as many as you like – each one custom built to the needs of attendees. So you get your individual needs met at that particular point in your visual journey.
MAGIC MARKER RETREATS
In Beautiful Victoria, British Columbia, Canada
Nov. 7-8, 2014 * Just 7 4 Spots Left (20% Launch Special)
March 26-27, 2015 * Just 7 5 Spots Left
June 8-9, 2015, * Just 7 6 Spots Left
MORE INFO, TESTIMONIALS AND REGISTRATION
These powerful in-person retreats are for prior students of mine (or those who have gained equivalent visual experience elsewhere). Keeners ready to "rocket up" to the next level of visual skills development and business building.
These skill-honing experiences are open to all manner of Process Professionals (consultants, facilitators, trainers, coaches, therapists, recorders/scribes, etc.).
The Magic Marker Retreats …
Bring together determined, committed, smart, pragmatic Visual Keeners for skills acceleration and business building;
Help you effectively hone your business identity, brand and marketing (depending on where your process career is and what you next want to be, do and have);
Enhance your ability to communicate the benefits of your visual services and land good work (whether you are internal in an organization or a free agent);
Improve the professionalism and quality of your Interactive-Visual skills (via tailored feedback, demos and direct coaching);
Increase your confidence and ownership of your own unique style and aptitudes … be who YOU are and LIKE it;
Adapt to the needs of its members (you get what YOU want out of it) by co-developing the Retreat agenda);
Teach you how to create positive spirals of possibility, opportunity and abundance … and how to course correct when resistance (doubt, negativity and scarcity) try to take you down.
MORE INFO, TESTIMONIALS AND REGISTRATION
RIDE THE RISING VISUAL WAVE:
It's WONDERFUL timing to ride the visual waves that are sweeping our world. Its still niche, but this effective methodology is finally getting the recognition, understanding and excitement it richly deserves. And it's fascinating to see which areas of process work it will next enter. Come further develop your craft and strategically align your own process practice to take advantage of these practical and crowd-pleasing methods. See you soon!
Yours in expansion,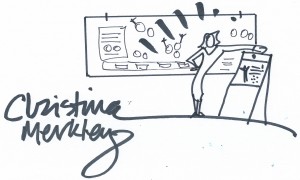 Christina Merkley
Interactive-Visuals Mentor
& The SHIFT-IT Coach
P.S. These Magic Marker Retreats are not for beginners to the visual way of working. Fundamentals of Interactive-Visuals (or equivalent experience) is required.
P.P.S. For SHIFT-IT School's full calendar of events, products and private coaching, click here.
---