As the fall mists of pretty Victoria, British Columbia softly swirl outside our windows, a small group of dedicated Process Professionals gather to hone craft, confidence and community.
Surrounded by whiteboards, flips charts, markers, pastels and various other instruments of our trade we hunker down in service of each person present … helping them get what they next want to master, bust through or attract.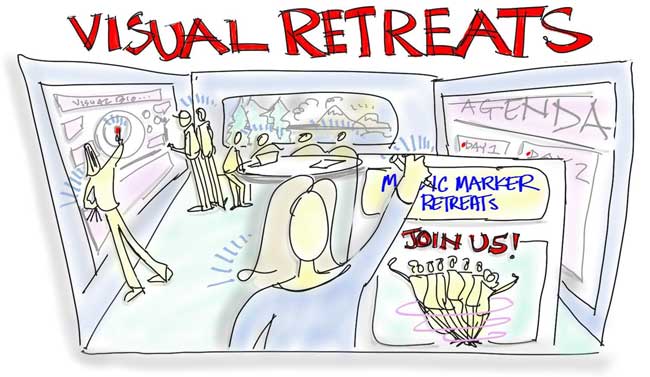 One practitioner is a seasoned facilitator, trainer and coach who is courageously charting her next chapter having recently resigned from a no-longer productive environment.

Another is a masters student wrapping up her communications studies … integrating working visually (graphic recording and graphic facilitation) into her post school career.

The third is a busy self employed Graphic Recorder seeking business building and team-building guidance including how to successfully refer excess work to fellow practitioners who won't poach her clients.
The remaining chairs around this 7-person mastermind are in the process of being claimed. The others (perhaps YOU?) come loaded with their own unique backgrounds and goals. All have a connection to process work (consulting, facilitation, training, coaching, therapy, scribing, etc.). And all are weaving 'working visually' into their craft to some extent or other. And all know the value of creating special time for themselves to solidify their skills, desires and decisions and the return on investment that brings on its heels.
MAGIC MARKER RETREATS
In Beautiful Victoria, British Columbia, Canada
Register for as many as you like – each one custom built to the needs of attendees. So you get your individual needs met at that particular point in your visual journey.
Nov. 7-8, 2014 * Just 7 4 Spots Left (20% Launch Special)
March 26-27, 2015 * Just 7 5 Spots Left
June 8-9, 2015, * Just 7 6 Spots Left
MORE INFO, TESTIMONIALS AND REGISTRATION
This November 7-8 Retreat comes with a 20% launch special (making it the lowest investment I have EVER structured a retreat around … as I didn't leave much time to get the word out given my busy fall).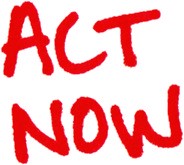 FYI, this is the LAST YEAR I will be doing advanced retreats specifically with a visual emphasis (in Sept 2015 and/or January 2016 I'm returning to my Biz & Life Accelerator format with various attendees (not just visual process professionals). So if you have ever wanted to receive advanced support from me within a visually-oriented cohort NOW IS THE TIME TO ACT.
Looking forward to having another intimate, magical experience at my favorite local facility. Dovetailing into a unique group of practitioners each go round. With paper posted, markers flying and spirits soaring!
See you in November (and/or March and/or June).
Yours in expansion,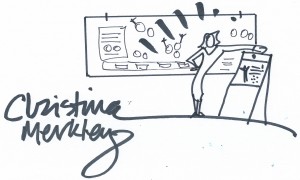 Christina Merkley
Interactive-Visuals Mentor
& The SHIFT-IT Coach
P.S. These Magic Marker Retreats are not for beginners to the visual way of working. Fundamentals of Interactive-Visuals (or equivalent experience) is required.
P.P.S. For SHIFT-IT School's full calendar of events, products and private coaching, click here.
---