FYI, I'm collaborating with two consultants in Regina, Saskatchewan to bring my visual skills workshop to that region on December 11&12th. If you are in the area, or are interested to travel to it, they are open to allowing others to join in on our action-packed two days.
FUNDAMENTALS OF WORKING VISUALLY
An Introductory/Basic Skills Workshop for Experienced Educators,
Project Leaders, Consultants, Facilitators (and other Process Professionals
who help groups and/or individuals see, think and make decisions).
 Graphic Facilitation, Scribing, Sketch Noting, etc. Has Taken the World by Storm!
Learn Practical Tips And Techniques That You Can Use For More
Effective Meetings, Trainings, Group Gatherings And Public Events …

This two-day workshop includes:
An overview of the history of the visual facilitation field and the range of visual approaches now being used with groups and individuals;
Explanation of the 'tools of the trade' (paper, tape, markers, helpful aids);
Hands on practice with basic shapes, lettering and simple icons;
Demos and practice sessions of Custom Studio Work, Graphic Recording, Graphic Facilitation, and Graphic Coaching;
Discussion of 'templates' and other pre-prepared products;
Tips on post-event reproduction and communications roll-outs;
Extensive handbook and 2 DVDs (so you can review materials again over time).

Note: this workshop is an adapted version of my Fundamentals of Interactive-Visuals course.
DESIRED OUTCOMES: By the end of the session participants will:
Understand Interactive-Visuals range (studio work, graphic recording/scribing, graphic facilitation and graphic coaching) and its powerful benefits in process work with groups and individuals.
Experience 'de-mystification – see how this work is not 'art' but a sophisticated process methodology of great benefit to process professionals who need to effectively engage and co-create with stakeholders.
Feel more secure with your ability to use Interactive-Visuals methods no matter your artistic level (again, it not about art, its about process … anybody can do this work if there is a will).
Understand logical next steps for integrating skills into your own practice areas.
Leave pleased with what you've learned and inspired to start applying immediately!
Agenda: (8:30-4:30)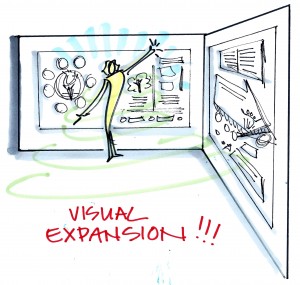 Day One:
Meeting Start-up (welcome, introductions, agenda, etc)
Historical Overview and Key Definitions
Materials, Paper Hanging, Basic Shapes,
Icons, Lettering, Coloring
Chart Work Demo and Practice
Graphic Recording Demo
Graphic Recording Practice
Closing Comments
Day Two:
Reflections
Concept of Templates / Tools on Market / Creating Your Own
Graphic Facilitation Demo (context map)
Integration / Putting It All Together (facilitation pairs)
Post Meeting Documentation
Graphics Community / Keeping It Going
Next Steps and Closing Comments
We currently have 10 interested folks, mostly with backgrounds in education, facilitation and strategic planning. Investment is $1500.00 Canadian. Includes extensive manual and 2 DVDs (plus lunch, workshop supplies, etc).
Interested? Contact my assistant Patricia Harris ASAP at admin@shift-it-coach.com and she'll hook you up with contact information to the organizers.
The SHIFT-IT Coach and Interactive-Visuals Mentor
---