I'm so glad my earlier self followed her instincts and pursued her interest in working visually. Twenty years later I continue to use visual skills in all the various Process Work I do, both with groups and individuals. And in mentoring other Process Professionals to effectively add the power of working visually to their process toolkits too.

There are SO MANY ways working visually can be integrated into your work and even life. Making these VERY valuable and productive skills that serve you for the rest of your career.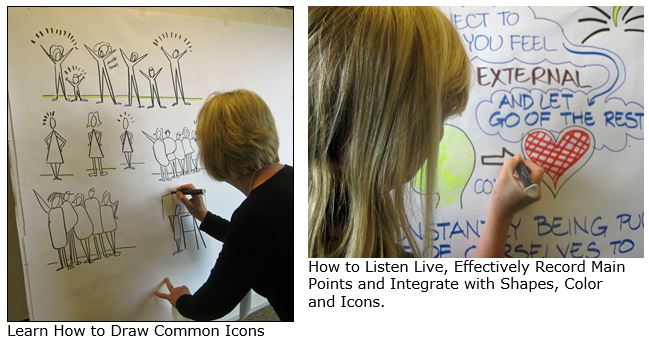 Visual Skills Help You:
Create effective pre-prepared 'push' materials to get your points across to your audience both in-person and in print (Studio Work);
Capture the key 'knowledge nuggets' of lectures, presentations, panels and other events … providing attendees with helpful visual summaries to aid in retention of information and sharing of it with others (Graphic Recording);
More effectively manage group process and gather the thoughts, feelings and decisions of groups that you lead, consult, facilitate or train (Graphic Facilitation);
More effectively manage individual or personal processes where you coach, counsel or otherwise guide individuals, couples and families (Graphic Coaching/Counseling);
And, add more colour, fun and play to your personal life (sketchnotes, journaling, memorial maps, birthday banners and cards for your loved ones, etc).
Here's even more info on WORKING VISUALLY:
The Main Ways to Work Visually
How Speakers, Authors and Trainers Work Visually
How Organizational Leaders, Consultants and Facilitators Work Visually
How Coaches, Therapists and Helping Professionals Work Visually
5 Ways Non-Artists Can Work Visually Too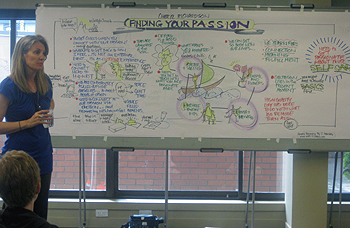 I've been teaching others to effectively work visually for 15 years now. And, if I don't say so myself have honed my teaching abilities to productively empower all sorts of people to wield a marker or stylus with chutzpah!
I offer 3 training formats, depending on how you best receive instruction and the kind of time and ability to travel you have at your disposal:
THREE FUN WAYS TO LEARN:
1. IN-PERSON INSTRUCTION (PUBLIC AND PRIVATE)
Once a year I offer a public 3-day Fundamentals of Working Visually workshop in beautiful British Columbia, Canada usually in June. A wonderful opportunity to gather with like-minded folks in person — where I put you through fun drills in a fully loaded learning lab environment. You'll be amazed what you can do after these powerful days! The most effective way to learn visual skills for those who are able to travel to me.
*** ACT QUICK: JOIN US NEXT WEEK:
JUNE 4-6, 2015, A FEW SPOTS STILL AVAILABLE ***
Additionally, private instruction in Victoria, British Columbia is also available. Or, if your organization is interested in developing internal capacity, I travel to you to provide customized In-House Training.
2. ONLINE INSTRUCTION BY LIVE TWICE WEEKLY WEBINARS
Twice a year (in the fall and in the spring) I offer a 9-week online version of the Fundamentals of Working Visually course. You set up your own impromptu studio on your end and join learners from across the globe as I work you step-by-step through the four main ways of working visually. A great option for those who can't travel to Canada but still want access to my live instruction and expertise.
3. HOME STUDY KIT: LEARN AT YOUR OWN PACE
The final option to get visual instruction direct from me is via my new Home Study Kit. This Kit follows the video recordings of a recent online class, however you pace yourself from the comfort of own surroundings – working through the material in your own timing. Additional private coaching is available to give you structure, accountability and feedback. Great if you want immediate access to visual skills training without having to wait for a live class or invest in travel.
Whichever option you choose, I look forward to helping you develop and integrate your new visual skills into your process practice!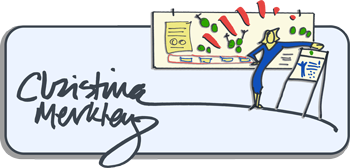 P.S. Book An Exploratory Chat: Not sure which option is best for you? My assistant Patricia, admin@shift-it-coach.com can answer most questions or ask her for a private Exploratory Chat with me directly. I'm happy to chat to help you figure out your best approach.