Graphic Facilitation Training: Online Starts Next Week …
FYI, the Online Version of our internationally acclaimed Fundamentals of Working Visually workshop starts in a week, Monday October 5th.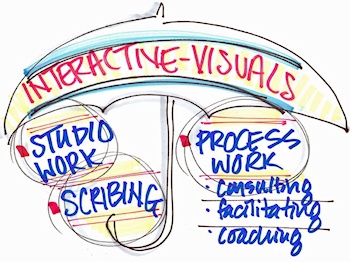 "Interactive-Visuals" is the umbrella term I use to sum up the four main ways of working visually with groups and individuals:
Studio Work
Graphic Recording
Graphic Facilitation
Graphic Coaching /Therapy
Working visually is a POWERFUL method to boost your process work with groups and/or individuals. If you aren't working at least somewhat visually with your clients you are missing out on an important and strategic professional edge — as up to 87% are Visual Thinkers.

This info-packed skills training is for Leaders, Managers, Consultants, Facilitators, Trainers, Educators, Coaches, Therapists, Scribes/Recorders, Illustrators, Graphic Designers, etc.
FUNDAMENTALS OF WORKING VISUALLY (ONLINE VERSION)
LIVE WEBINARS
Oct. 5 – Dec. 9, 2015
Mondays & Wednesdays, noon-1 pacific
(1pm mountain, 2pm central, 3pm eastern,
Europe: Evenings, AustralAsia: Early Mornings).
Act Now: Reserve Your Spot!
FOR FULL DETAILS AND ONLINE REGISTRATION
COURSE OVERVIEW:
Learn the historical story of the Interactive-Visuals field and what the four main applications are (so you can decide which suits you and your practice best);
Hear what the best supplies are and where to source them;

Receive icon libraries, visual resources and step-by-step directions on how to integrate visuals into your own practice (no matter where on the visual spectrum you fall .. no, you DO NOT need to be an artist to use Interactive-Visuals techniques);
Get precise, gentle, connect-the-dots instruction on how to 'draw' .. I sneak it up on you so get beyond any 'art phobia', fear or comparison problems you might have about your creative abilities (this work is really about PROCESS not art);

See varied examples and hear detailed explanations of real client work (culled from two decades of working nationally, internationally and digitally with corporate, not-for-profit, governmental and individual populations);
Practice your new skills and receive detailed feedback (the online experience enables us to create a real learning lab over 9 weeks … post your work and witness the work and feedback others receive too – very valuable!);

Receive supportive coaching on which steps to take to build or enhance your visual recording, visual facilitation and/or visual coaching career (I've successfully mentored hundreds of people from around the world and YOU CAN do this work too … just put one foot (or hand!) in front of the other!
Connect with individuals from diverse backgrounds and locations also interested in this visual niche — your global visual tribe! (private online forum where you virtually meet one another, upload your work, share tips, resources, etc).
Act Now: Reserve Your Spot!
FOR FULL DETAILS AND ONLINE REGISTRATION:
FYI, This Course Is a Pre-Requisite for Our Advanced Classes: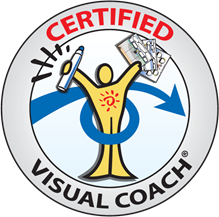 Fundamentals of Working Visually course acts as a pre-requisite for Advanced Courses:
Become a Certified Visual Coach
New Cohort Begins April 2016:
Visual Coach Certification®:
In-person Advanced Visual Boot Camp
June 6-7, 2016
Magic Marker Retreat
Looking forward to a productive training!
Yours in visual expansion,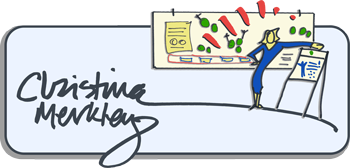 Christina Merkley
The SHIFT-IT Coach & Visual Skills Mentor
P.S. New? Need more info? For a good overview of the four main ways of working visually see 90-Minute Info Webinar.
P.P.S. Dates won't work? See Working Visually: Home Study Kit for self-paced option.
P.P.P.S. Rather do face-to-face? Then book a Private Training customized for your unique needs in gorgeous Victoria, British Columbia, Canada. Or come to the in-person public course offered June 2016.
P.P.P.P.S. Been at it a while? Need more advanced support? See Magic Marker Retreat, Visual Apprenticeship and Mentoring Via Distance Sessions for advanced offerings.