Quick shout out about fast approaching visual skills workshop in gorgeous Victoria, British Columbia, Canada. Early Bird ends at MIDNIGHT TONIGHT. So act fast to save on your spot at the wall …

In a highly dynamic learning environment, learn how to more effectively communicate and collaborate with groups and individuals … via the four main ways of working visually: Studio Work, Graphic Recording, Graphic Facilitation and Graphic Coaching.
THE FUNDAMENTALS OF WORKING VISUALLY
June 2-4, 2016
Beautiful Victoria, British Columbia, Canada
Early Bird Ends Tonight At Midnight, So Act Now:
Just 20 4 Spots Left

Visual techniques are smart to add to your process toolkit because: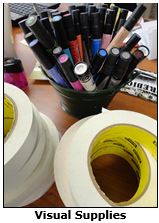 87% of population are Visual Thinkers;
Kinesthetic and Auditory Thinkers are engaged too (whole brain approach);
Greater clarity and communication of key concepts, decisions and agreements occurs;
Conflict reduces and collaboration, empathy and momentum increase;
It's a humane, transparent, healthy method … enjoyable for participants and practitioners alike;
Can easily be integrated into digital and online settings too;
One does NOT have to be artistic to work visually (it's about serving good process, not art … and I share lots of tricks that demystify) … if you ARE an artist you'll be able to insert your knack in various places too! Anyone can develop greater visual process chops!
You will emerge impressed with how much you learned, with the ability to immediately apply back in your own environment.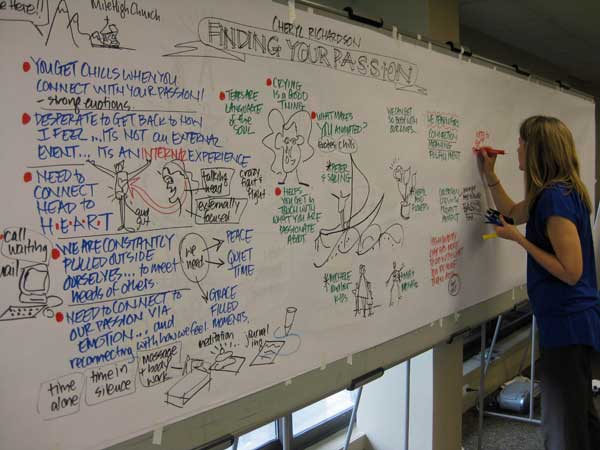 Being an early adopter of these techniques (20 years now) I've successfully mentored hundreds of people from across the globe.
I have extensive experience in corporate, governmental, non-profit, small business and solopreneur settings. So can help you in how you want to apply the skills.
This is the ONLY IN-PERSON public workshop I'm offering this year. I provide the walls, paper, markers and other goodies … and gently, step-by-step move you through these three powerful days of instruction.
This workshop also includes advanced access to valuable learning materials (videos, icon libraries, portfolios, lettering guide, etc.). Plus three private 1:1 mentoring sessions for detailed feedback and integration support after the course (for Deluxe participants).
Early Bird Ends Tonight At Midnight, So Act Now:
Just 20 4 Spots Left
Looking forward to hosting this powerful experience for you! Graphic Facilitation in British Columbia —and, if you haven't been here before, to introducing you to Victoria, British Columbia and the beauty of Canada's west coast!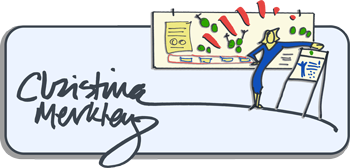 P.S. Add On Two More Days of In-Person Instruction: FYI, on June 6-7 in the same location I'm hosting an advanced 2-day Magic Marker Retreat (pre-requisite is the Fundamentals course or equivalent experience). Make the most of your travel – add on this advanced course for 5 full days of in-person instruction. Just 1 spot left.
P.P.S. Dates of this offering won't work for you? Don't want to travel to British Columbia? We now have a Home Study Version of this course available.
P.P.P.S. Private Training (you come to me) Distance Mentoring Sessions (by web conferencing) and customized In-house Workshops (I come to you) also available.