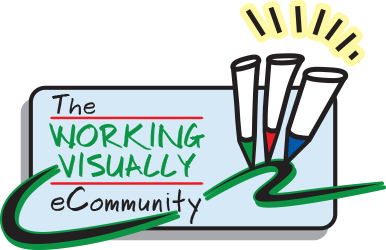 Hosted the December Drop-in Webinar for  The Working Visually eCommunity on Thursday, December 19th. This is a monthly support group for grads of our visual programs: Fundamentals of Working Visually, Intermediates of Working Visually, Fast & Loose Sketching and Visual Coach Certification. Visual Practitioners trained elsewhere are also welcome.  Emergent Agenda from Members each month. Fully Recorded. Membership includes Video Archives back to 2015.
This Month's Agenda Items:
1. Educator Makes Info Graphics for Inclusion Sector. Wants To Become Quicker and Loosen Her Style. Facilitated Inner Work Session to Identify Resistance and Brought in Her 2025 Future Self to Advise. Future Looks Bright – Lighter and More Joyful!
2. Graphic Facilitator With Niche in Strategy. Discussion of Future Trends, Positioning and Branding. How Visuals (PrePrepared and Real-Time) Help Her Hold Space and Pull Strategic Analysis and Decisions From Group, Which Are Then Pushed Out Through the System for Communication.
3. Internal Leader About to Attend Our January Online Training. Attending This eCommunity Gives Her Preview Glimpse at the Field and Practitioners Both Internal and Independent.
4. Independent Consultant Took Visual Skills Course a Few Years Back. Integrated Hand-Drawn Visuals Into Her Presentations. Reluctant to Tackle Wall and Space Issues In Her Rooms in Order to Work Real-Time. eCommunity Provides Shot in the Arm to Be More Proactive and Value the Power of Live, Real-Time Visuals.
5. Facilitator Struggling With Owning Her Worth, Value and Identity. Likes Working Visually Yet Confused on How to Differentiate Her Work from Those in Her Region Doing Studio Work and Graphic Recording. Big Ahhas in Today's Session About Her Sweet Spot and What Benefits and Results Her Clients Get From Her Work. Own the Results Her Clients Get!
6. Newer Practitioner Delighted with the Range of This Visual Work. Has Generated Gigs in Studio Work, Graphic Recording and Is Using Push Visuals to Share Her Training and Presentation Content… Including Her Remarkable Journey, She's Capturing in Her Own Book.
7. Visual Thinking Trainer Curious About Internal Corporate Roles That Will Enable Her to Advise Big Companies on How to Integrate Visual Thinking Concepts More Effectively and Widely.
Next gathering of The Working Visually eCommunity is Thursday, January 16, 11am pacific.  See you then!
Session Notes:
For more information on The Working Visually eCommunity click here.
---