---
Upcoming Online Courses:
VISUAL COACHING RETREAT
Pandemic Prices: Save 50%

Dive deep with like-minded and hearted people from across the globe. Visual techniques to draw your inner wisdom out. So you know how to be and do during these intense shift times. No art skills are required although if you are an artist you can use your flair to your heart's desire. Be forewarned this is a very powerful experience – if you do these maps you will shift!
This course is also available as a SHIFT-IT HOME RETREAT KIT. Process at your own pace from your own environment.
9 Live Zoom Webinars: January 21 – 23, 2022
*** Pre-requisite for Visual Coach Certification
*** Also available in Kit format if live times aren't doable.
---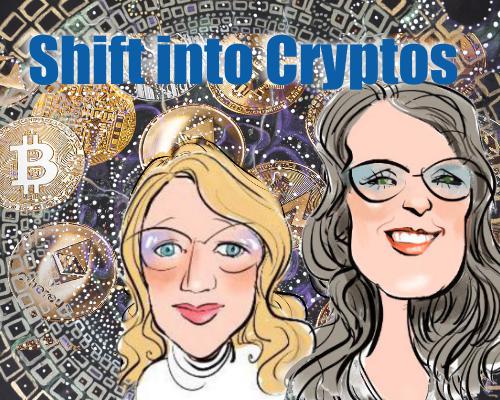 SHIFT INTO CRYPTOCURRENCIES
Brand New Course – Exciting!
A guided tour of the crypto space. A primer on how to safely buy, sell and store digital assets for folks with little or no experience with cryptocurrencies. Explains the fundamentals of blockchain and teaches you how to safely buy, sell and store cryptos. Delivered with a special nod to the needs of creative and/or spiritual folks, who often struggle with, or have not been particularly interested in, practical financial matters, including retirement.
10 Live Zoom Webinars: Thursdays, February 17 – April 21, 2022
Noon-1:30 pm Pacific Time
---
VISUAL COACH CERTIFICATION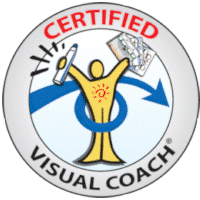 Pandemic Prices: Save 50%
Use my Visual Coaching techniques and tools in your internal job or external practice. For managers, coaches, counselors, therapists, HR professionals, financial advisors, mediators, disability specialists, teachers and more. Includes 40 visual tools, instruction and supervision plus a diverse international cohort of colleagues. Together we help ourselves, others and the planet shift!
12 10 Spots Left!
14+ Live Zoom Webinars: April 5 – December 31, 2022
Noon-2:00 pm Pacific Time

---
FAST & LOOSE SKETCH CLUB
The Fabulous Rhoda Draws Is Back!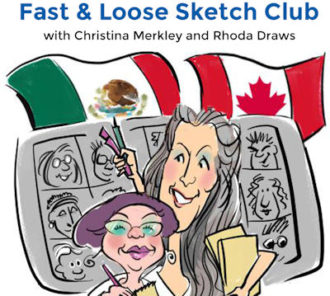 For Visual Practitioners and other Creatives who want to draw better and faster. A crash course in design whether you work analog (paper) or digital (tablet) or both. Come each week as we step-by-step help you to build your craft. With plenty of fun, laughter and bawdy humor (Rhoda's specialty).
12 Live Zoom Webinars: April 20 – July 6, 2022
9:30-11:00 am Pacific Time

*** Also available in Kit format if live times aren't doable.
---
Self Paced Kits:
Pandemic Prices: SAVE 50% 
Instant online access to my mentoring – learn at your own pace from your own home or office!
An effective way to receive quality instruction on my 8 most popular courses.
The Deluxe Level includes 3 private coaching sessions for one-to-one support.
Plus you currently SAVE 50% to assist during these intense times.

FUNDAMENTALS OF WORKING VISUALLY
Comprehensive Visual Skills Education
SHIFT INTO DIGITAL WORK
Select, Set Up and Use Digital Equipment
FAST & LOOSE SKETCHING
Crash Course in Design and Drawing
FAST & LOOSE SKETCHING: HEADS & HANDS
Additional Portrait and Caricature Support
CARTOON & STORYBOARD TECHNIQUES
Step-by-Step Instruction with Karen Lloyd
BUSINESS ESSENTIALS FOR PROCESS PROFESSIONALS
Money, Marketing and Mindset for Creatives
SHIFT-IT HOME RETREAT
Visual Coaching to Shift Your Life
PRACTICAL ENERGY WORK
Inner Work for Integration and Wholeness
Need Help Deciding?! Just write my assistant Patricia at admin@shift-it-coach.com to request an Exploratory Chat. I look forward to helping you weave the power of working visually into your work and life.
---
Free Support During These Intense Times:
Below are my two complementary services. Free. Open to everyone. Ongoing during these shift times.
---
SEVA 1: PROCESS POP-UPS ONLINE
Every few weeks I offer this drop-in Zoom webinar. A supportive group sprinkled from across the world, to process thoughts and feelings during these extraordinary times. We start with 10 minutes of meditation to settle our bodies and minds. Then it's spontaneous Inner Work where I match up what's arising from you with my bag of visual process tools. Different every time. Come when you can. Leave grounded and connected.
---
SEVA 2: VISUAL COACHING – ONLINE
I also give one-to-one sessions that allow more individualized attention. Bring whatever is most up for you and I apply the process/tool that my intuition says to use. You get the Visual Map afterwards. Videos are recorded and shared here in the eZine and on my ShiftItCoach YouTube Channel, where you can find a growing library on various topics to assist with parallel processing.
---