Yowza, the intensity continues on planet Earth … are you doing ok?!
I continue to work away (with my digital drawing tablet) helping folks from across the globe, navigate the catalytic period we are in.
It's amazing, deep and even shocking at times.
Nothing like living through and participating in the shift of ages.
Time, as you have likely noticed, is different. Things are moving FAST. So much is coming up to the surface to be seen and dealt with, both individually and collectively. The curse of living in interesting times.
In the midst, I continue to run SHIFT-IT School classes.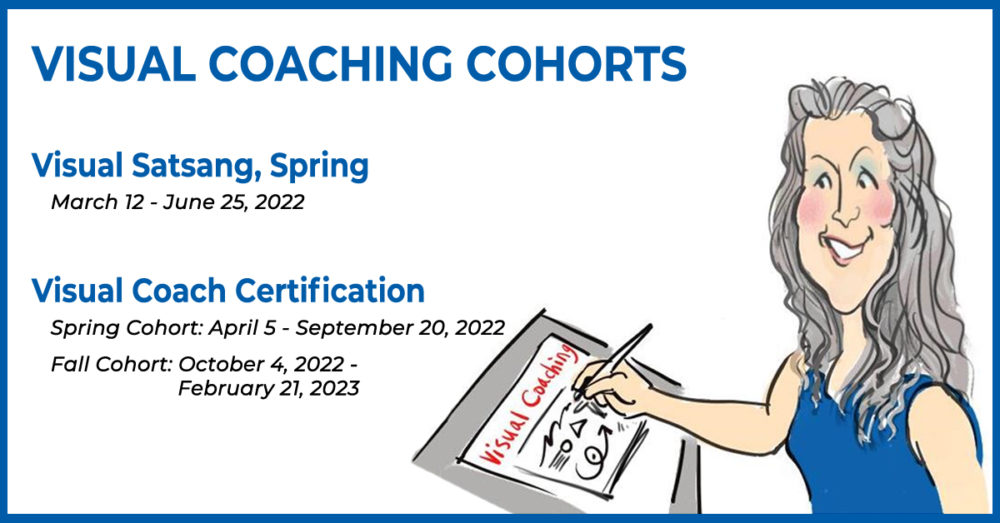 The new Shift Into Cryptos course has launched. We are three weeks in with my able co-host Chanel Monk. Talk about perfect timing, oy vey! It's all recorded, so latecomers are still welcome. It's a fascinating group and an uber timely topic.
On the Visual Coaching front, two online courses are fast approaching …
1. Next Visual Satsang Starts March 12th

Satsang means 'in the company of true people'.
These are small, intimate, online cohorts (limited to 10 members) where we meet over 16 sessions.
They are the leading edge of my work with advanced Visual Coaching. Non-dual in nature – everything from the mundane to the sacred is equally welcomed. Come as you are.
Techniques include meditation, self-inquiry, shamanic journeying, systemic constellation and more.
New cohort forming now. Gift yourself a space in our virtual living room.
10am-Noon Pacific Time
11 Mountain, 12 Central, 1 Eastern, Europe evenings
convert to your zone
CLICK FOR FULL DETAILS AND REGISTRATION
P.S. The techniques in this program are advanced (the Bonus Maps in my Visual Coach Certification). So this program is also excellent for Certified Visual Coaches or those on the path to becoming one.
---
2. Next Visual Coach Certification Starts April 5th (maybe)


Over a decade ago I began sharing my pioneering techniques and tools with other practitioners, in anticipation of the times we are now in.
For Coaches, therapists, counselors, activists and other helpers.
Three pandemic cohorts have been nurtured in recent short order.
I'm accessing whether there is demand for a Spring 2022 cohort too.
Please secure your spot now if you had your heart set on this particular timing.
Otherwise, I'll take a breather and return with a cohort in the fall.
12 10 Spots Left
Tuesdays – Online (15+ Sessions plus Client Work)
April 5 – December 31, 2022
Noon-2pm Pacific Time
1 Mountain, 2 Central, 3 Eastern, Europe evenings
convert to your zone
CLICK FOR FULL DETAILS AND REGISTRATION
Prerequisites: SHIFT-IT AND Fundamentals of Working Visually (or equivalent experience).
---
Again, all my best during these hectic times. While difficult, I have faith that these times (because they ARE here) is what humanity must process through, to successfully evolve to our next healthy level.
Much will change. Much needs to change. Here's to true evolution rather than technocratic dystopia. Together we shift it!
Love,




Christina Merkley
The SHIFT-IT Coach
www.shift-it-coach.com