Three Options: Basic, Deluxe and Repeater.
There are THREE LEVELS to choose from: Basic, Deluxe and Repeater. The Repeater is a perk for those who have attended before (or have purchased the Home Study Kit). Fully Free Repeater rates are only offered on the Online Annual Course not on In-Person Retreats (although Repeaters do qualify for a reduced rate).   Several payment plan options are available. Click the links under each option for full details.
Also, an important FYI … fees are in Canadian funds. Currently the Canadian dollar is low (it hasn't been this low for a decade), so for Americans, Europeans and some other locales this translates into additional savings for you! Now is a really good time to secure this experience. See currency converter.
---
10th Anniversary Special: Extended!
SHIFT-IT VISUAL COACHING SYSTEM
IN-PERSON MEXICAN RETREAT: SPRING 2020
April 14 – 16, 2020:
San Miguel de Allende, Mexico!
1. REPEATER PACKAGE

In-Person Retreat in World Heritage City, San Miguel de Allende, Mexico:

Facilitated Sessions Across 3 Days
Printed Full Color Map Pack

2. FIRST TIMER PACKAGE

Includes the Basic Package PLUS:

Digital SHIFT-IT Kit in Advance
Printed Bound SHIFT-IT Manual
10 Sturdy Colored Markers
Ongoing Membership in The SHIFT-IT eCommunity ($297.00 value)
Free Repeater Option in Any Annual Online Course

$120.00
3 Monthly Payments
Select

$285.00
3 Monthly Payments
Select

$82.00
5 Monthly Payments
Select

$91.00
10 Monthly Payments
Select
---
10th Anniversary Special: Extended!
SHIFT-IT VISUAL COACHING SYSTEM:
ANNUAL ONLINE COHORT – SPRING 2020
Via Live Online Webinars: 7 Saturdays: May 9 – June 20, 2020
11am – 12:30pm Pacific
Noon Mnt, 1pm Cntrl, 2pm Estrn, Europe: Evenings, AustralAsia: Early Mornings
See Time Converter for Your Area.
1. THE BASIC PACKAGE

Includes: 7 Live Webinars, 7 video & MP3 recordings. SHIFT-IT Retreat Kit (2 Digital Downloads: 300+ Manual plus Map Pack: 17 Visual Tools) and Participant Forum.

2. THE DELUXE PACKAGE

Includes: The Basic Package PLUS Printed Bound Manual, Color 11×17 Map Pack, 10 Pack of Markers PLUS 3 Private Coaching Sessions with Christina (45 Minutes Each Via Web Conference).

$497.00 $297.00
1 Payment
Select

$997.00 $797.00
1 Payment
Select

$197.00 $120.00
3 Monthly Payments
Select

$350.00 $285.00
3 Monthly Payments
Select

$110.00 $91.00
10 Monthly Payments
Select
---
3. THE REPEATER PACKAGE

Have you already attended SHIFT-IT Online and want to do it again? This handy Repeater Option is now completely FREE and is for those who are ready for their next round of transformation (prior SHIFT-IT Home Retreat Kit purchasers may also use). Email admin@shift-it-coach.com to request coupon code to attend as my guest.

$197.00
FREE
Select
---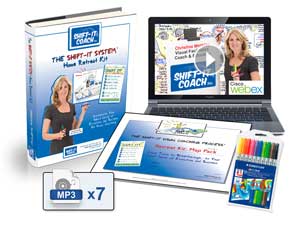 HOME RETREAT KIT OPTION:
Times of live class won't work for you? Don't want to wait until the next live class? FYI, The SHIFT-IT Home Retreat Kit is available 24/7. For full explanation of The Kit and instant online ordering, click here.
---
Please Note:
Fees are in Canadian Dollars, see www.xe.com for current currency exchange rates. Your credit card company will automatically convert and place on your monthly statement.
Canadian residents will be charged applicable taxes.
Payment plans include additional fees. The most economical plans are the one pays.
Payment Plans: First payment is immediate, then will automatically bill every 30 days from date of last payment until plan complete. Due to the timing of your registration, payment plans may run beyond the completion of the course. I know this, offer them as a convenience and expect my clients to honour their contractual agreements accordingly. Should you choose not to, know that your account will be turned over to a collections agency which could impact your credit rating for up to 7 years (so please use payment plans only if you have the ability and intent to fulfill them).
Refund Policy: Due to immediate access to class materials, there are no refunds given after purchase. In the event that you are not able to attend live sessions, you may follow along at your own pace via the recordings and Ning forum or you may transfer your spot to a future offering of SHIFT-IT Online (written notice of your desire to transfer must be received prior to the 2nd session).
Intellectual Property: The materials in this program are for your personal use only. If you are a coach or other helping professional who would like to learn and use my materials with your clientele, please see The VISUAL COACHING CERTIFICATION for application details.
SHIFT-IT Coach, Inc. All Rights Reserved. Terms and Conditions.