A NOTE FROM CHRISTINA:
I am having such a different-for-me year so far! As those of you who have been following my escapades know, I've had to vacate my usual work/live studio since September, due to construction right next door ... which has entered the oh-so-lovely blasting stage.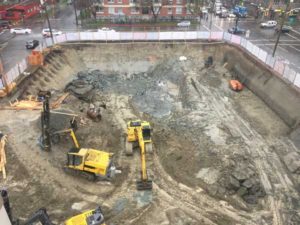 Online coaching and training and loud construction noises do not go together! It's going to be another 12-18 months until it'll be quiet enough to return.
Victoria, British Columbia currently has an abysmally low rental vacancy rate due to landlords doing Airbnb rather than providing usual rentals. Therefore, I was thankfully able to rent my place to a great young couple.
Finding an alternative place for myself and my sidekick JJ has been a little trickier. For the fall, I did a road trip travelling throughout Washington, Oregon and California ... playing a fun game of 'where's Waldo' with my online classes as my backdrop changed. Then I settled into a local housesit for 5 months, intending to move into a suite in a friend's house afterwards.
However, that friend took advantage of Victoria's in-demand real estate market and sold her home (she did well I'm happy to report). But no suite for me. However, another suite opened up to accommodate me ... one in my parent's home in the woods of Metchosin where I grew up. I'll be moving in at the end of this month - oy vey.
| | |
| --- | --- |
| West Coast Ringing Cedars | Fifty Shades of Green |
It's such a surreal experience to return home after all this time, a coming-full-circle. And also kind of perfect. With my increased energy sensitivities, due to my kundalini awakening, I've been craving earthy nature. And I have not one but two course manuals to write and a website to revamp, so quiet is also perfect.

Unfortunately not perfect ... my Mom, Bernadette (who has always been the healthy one of my folks) has developed a health condition. It's looking like she's nicely stabilized, however I'm happy to be close for a while, just in case.

Having had belongings in storage for a while, I'm looking forward to my things around me again including my larger recording and painting supplies. And settling in from this familiar-but-new location to oversee this season's remaining courses.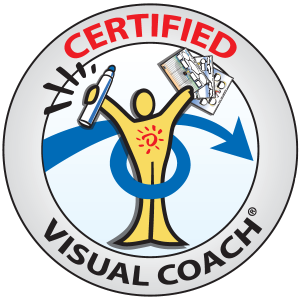 One of those upcoming courses is Visual Coach Certification. I'm currently wrapping up Exit Exams from the 2016 cohort.
Congrats Maki Svendsen from Norway, Lisa Dymond from British Columbia and Tracy Knutson from Saskatchwan so far!!! More announcements coming as more of the 2016 Visual Coaches successfully complete their exams.
I'm also concurrently doing Application Interviews for the new upcoming 2017 cohort that starts on April 4th ... apply now if it's the year for you to add Visual Coaching to your process toolkit!
Given all the Visual Coaching stuff going on, I've opted to write this issue's article on Visual Coaching, particularly the mix of having the coach create the visual record, the client create it ... and my favorite, having both do it!
Yours in SHIFTing IT,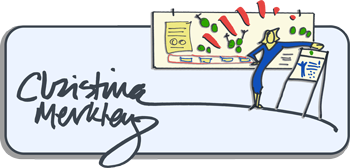 The SHIFT-IT Coach
& Process Skills Mentor
IN YOUR WORDS: CLIENT TESTIMONIAL
CONGRATS TO NEWLY MINTED VISUAL COACH LISA DYMOND
CANADIAN SPEECH PATHOLOGIST ADDS VISUAL COACHING TO HER
TOOLKIT TO ASSIST CHILDREN, ADOLESCENTS AND FAMILIES.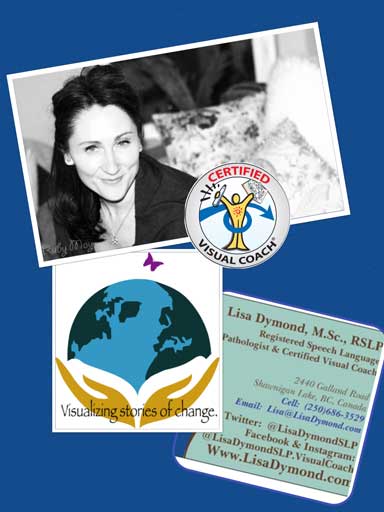 Lisa Dymond
Speech Pathologist & Certified Visual Coach
"Before Visual Coach Certification, I was drawing and printing on table-tops covered with big sheets of newsprint. I would sit with my clients and record elements essential to our session (e.g., goals, strategies, characters from their 'story' that day). With access to crayons, clients would pick up colours and add to the artifact, as they wished.
Now I have the portfolio of The SHIFT-IT System, with its 30 Visual Maps, to offer as a complementary process to older clients and/or families of children who are in speech therapy. As a complementary process, the client (child or spouse or adult) fits into a family system. SHIFT-IT exposes a more personal role for a family member that includes their own healing, rather than seeing the challenges of their family member as isolated & separate from the family system.
Visual Coaching is revelatory, integrative and mobilizing. The tools are novel and interesting in the way they capture and hold a client's attention, and thereby intention. They are also incredibly communicative because of the impact of metaphor that can be represented in graphics, and effective because of their inherent organization.
I'm also creating my own templates to aid conversational competence, which draws from my practice as a speech language pathologist, and are helpful to people of all ages. They work well for drawing out aspects of conversations that are often implicit, yet essential to successful communication exchanges between people. They bring the implicit into explicit, so we can talk about our talking!
Adding The SHIFT-IT System to my skill set now enables me to have a dual practice in both speech language pathology and Visual Coaching. Clients within each practice area will benefit from the combined expertise, which extends my services beyond clients needing speech/language therapy, into the general public who want to leverage Visual Coaching & The SHIFT-IT System, in particular."
Lisa Dymond
Speech Pathologist and Certified Visual Coach
www.facebook.com/LisaDymondSLP.VisualCoach
SHIFT-IT School: Classes, Products & Mentoring

For Beginners Or Repeaters:
FUNDAMENTALS OF WORKING VISUALLY®
Visual Skills for Process Work with Groups and Individuals
For Process Professionals who work with groups or individuals - managers, consultants, trainers, teachers, facilitators, therapists, coaches, scribes and others. Over 87% of your clients are Visual Thinkers so it only makes logical sense to work in ways that best reach them. This professional skills training thoroughly covers the four main ways of working visually: Studio Work, Graphic Recording, Graphic Facilitation and Graphic Coaching. Attracts participants from across the globe.
Two Options Left this Semester: in-person or via handy home study kit.
Early Bird Pricing until Apr. 20th
Just 20 15 Spots Left!

IN-PERSON VERSION IN VICTORIA, CANADA
IN-PERSON: 3 Day Intensive: June 1-3, 2017
Beautiful Victoria, British Columbia, Canada
Full Details and Online Registration
---
Available At Any Time
HOME STUDY KIT VERSION
Learn at Your Own Pace From
Your Own Environment
Full Details and Online Registration

Note: Pre-requisite for Visual Coach Certification. FYI, Repeater Option available on Feb. class for those who have taken before and want to repeat as a guest (write us for coupon code).
For Process Professionals Who Work With Individuals:
2017 VISUAL COACH CERTIFICATION®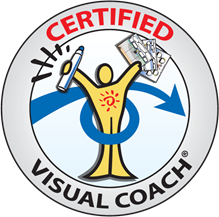 For coaches, counselors, therapists and others who work deeply with individuals. Add the power and innovation of Visual Coaching to your professional practice. Includes advanced Visual Coaching techniques, use of my SHIFT-IT System® with your clientele (17 visual maps), guidance in the 'template-izing' of your own intellectual property, plus marketing and biz development support.
Apply Now to Join 2017 Cohort
2017 VISUAL COACH CERTIFICATION
10-Weeks Online: April 4 - Dec. 31 2017
Tuesdays Noon-1:30 pm Pacific
Full Details and Application Process
Two Pre-requisites: SHIFT-IT Online and Fundamentals of Working Visually (or equivalent experience).
For Visual Keeners:
MAGIC MARKER RETREAT®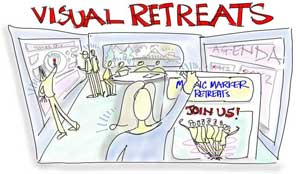 Getting your visual basics is half the equation - the other is competency and creation of a viable practice (whether you are internal or independent). This 2-day Boot Camp takes your visual practice to the next level: chock full of at-the-wall drills, project brainstorming (bring work for feedback and ideas), and identity/brand/financial coaching. Work your brain, your fingers and dissolve your resistance, all in deep community with Visual Practitioners.
Just 7 3 Spots Left
IN PERSON
2 Day Intensive: June 5-6, 2017
Victoria, British Columbia, Canada
Full Details and Online Registration
Note: Pre-requisite is Fundamentals of Working Visually (or equivalent experience). Each Magic Marker Retreat is a unique experience, come as many times as you like for continued inspiration and development!
For Visual Skills Grads
WORKING VISUALLY eCOMMUNITY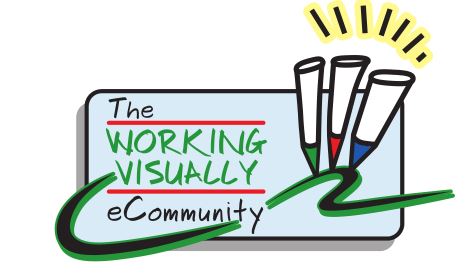 Are you a grad of one of my Visual Skills programs? If so, you qualify for access to our WORKING VISUALLY eCOMMUNITY for ongoing support. This community includes online forum filled with various topics related to working visually (media, announcements, skill development, technology, business development, inner work, etc.). Plus a monthly drop-in webinar and recording library.
Dates for upcoming webinars:
March 16, 11am pacific
April 20, 11am pacific
May 18, 11am pacific
June 15, 11am pacific
July 20, 11am pacific
August: off
Sept. 21, 11am pacific
Oct. 19, 11am pacific
Nov. 16, 11am pacific
Dec. 21, 11am pacific
FEATURED ARTICLE:
VISUAL COACHING: COACH DOES, CLIENT DOES ... OR BOTH!
To Listen Or Download Mp3 Version of This Article, Click Here.
A short definition of "Visual Coaching" or "Graphic Coaching" is ... the spontaneous use of writing and drawing as a mirroring effect during process work with individuals.
| | |
| --- | --- |
| A Client (an individual, couple, partner, family or group) is guided by a Process Professional (HR, coach, therapist, counselor, mediator, financial advisor, etc.) through specific processes that simulate specific kinds of thinking and/or feeling (life mapping, visioning, planning, resistance work, etc.). | |
The Client's perspective, reactions and answers are literally drawn out right in front of them ... in-person via paper or whiteboards or digitally via web conferencing with digital tablets.
My Background in Working Visually:
My adventures with Working Visually began in 1997 in San Francisco. I was a corporate meeting scribe working for Visual Meetings pioneer David Sibett, of The Grove Consultants ... travelling the world visually depicting all kinds of business, governmental and not-for-profit gatherings. But my real love was (and still is) using visual skills to help individual people make shifts in their personal and professional lives.
| | |
| --- | --- |
| | I already had a Master's Degree in Organizational Development, which equipped me for the business work I was doing. I supplemented that with coaching training (through The Coaches Training Institute), and Alchemical Hypnotherapy training (through The Alchemy Institute). And a gazillion other experiences along the way including Law of Attraction, Energy Work, Shamanic Practices. My kundalini awakening in 2009 really took things to the next level.before us on the world stage. |
Around that time of 2009 or so, I created my Visual Coach Certification, to mentor fellow Process Professionals on how to quickly weave the power of Visual Coaching into their practices too. As I had been posting my work on the internet, so folks from across the globe were finding it, and wanting to do it too.

As my Life Mission is to assist the maturation SHIFT that humanity needs to go through, I trusted that it was time to move beyond what I could personally do and expand through others. Through the amazing and diverse individuals who find their way to me, we get Visual Coaching and its magic into all sorts of professions, organizations, and regions. Visual and spiritual infiltration, haha!
I've learned A LOT through the years of my own practice and through mentoring others into this productive and loving methodology. One of the things I really respect is the versatility of the approach. That its gets good results when the Process Professional leads the Client AND when the Client leads themselves (with the use of Visual Maps and instructions). And, I think its greatest power lies in ...
ARTICLE CONTINUED ON BLOG ... CLICK HERE TO VIEW
---
For the full SHIFT-IT e-Zine Archives: Click Here
For the full SHIFT-IT Audio Library (mp3): Click Here

Christina Merkley
The SHIFT-IT Coach &
Process Skills Mentor


SHIFT-IT Coach, Inc. is a boutique training and coaching company specializing in visual and energetic process work for groups and individuals. Founded by Christina Merkley, pioneering Visual Facilitator and Coach, she works deeply with individuals, partners and conscious businesses to define and manifest what you really want. Christina also trains Process Professionals from across the globe in her innovative ways of working. For more information visit www.shift-it-coach.com and www.visualcoaches.com.
IN THIS ISSUE:
>>Featured Article: Visual Coaching: Coach Does, Client Does ... Or Both!
---
CONNECT WITH US:
---
BLOG ENTRIES:
Looking for more rich, SHIFT-IT content? Check out my blog for recent ramblings, resources and general interest features:
Inspiring Examples of Deep Inner Work
Organizational Development Consultant Melinda Collins Gives Thumbs Up On Our Graphic Facilitation Training
Our Shift From Type 0 to Type 1 Civilization Status
Graphic Facilitation Training: Susana Guardado Attracts A Fast Return On Her Investment
Reflection Retreat with 4 Visual Maps
Communications Specialist Alisa Gordaneer Successfully Applies Her New Visual Skills In University Settings
Click here to read The SHIFT-IT Blog.
---
EZINE ARCHIVES:
Browse past issues here.
Listen to the eZine here.
---
PRODUCTS: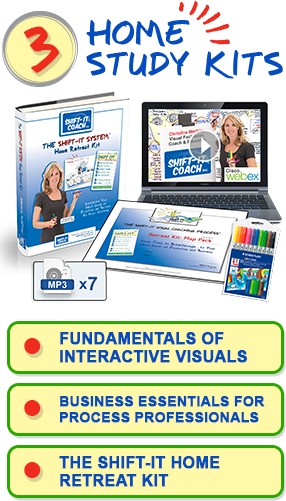 ---
Websites:
SHIFT-IT Coach, Inc
www.shift-it-coach.com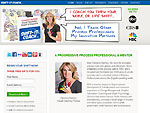 ---
---
Visual Facilitation
www.makemark.com