A NOTE FROM CHRISTINA:
Just wanted to take the opportunity to wish you and yours a wonderful holiday season ... full of hope, love, good cheer and, if you are so inclined ... creativity, sparkle and lots of juicy markers!

Today is our last day before two weeks of well - needed holidays (its been a BUSY year!). But before we go, there is one last ... and very special event to attend ... a GLOBAL WEBINAR with our THEO friends. And you are invited to attend as our special guests!
You are Invited to a Historic Global Webcast with THEO Friday December 21st, 2012 5:30 pm Pacific / 8:30pm Eastern
MORE DETAILS AND COMPLEMENTARY REGISTRATION
I've been collaborating with THEO and Sheila and Marcus Gillette in our co-lead THRIVE program this year and the new Accelerator coming in 2013. Bringing my grounded, visual approach to their big picture, spiritual perspective (a nice marriage of heaven and earth). Join us tonight to hear their take on the 2012 energy shift and how its lining us up for much needed change for 2013 and beyond.
"It is the culmination of the 5th dimensionary energy fully in place about the planet, and all embodied in humankind are affected by this fulfillment of timing, energetic shifts, and there is the alignment for masterhood now."-THEO
To further aid you with your prep for 2013, this issue's article is my annual share of a Mini SHIFT-IT Retreat, with 4 visual maps and instructions on how to conduct a fun personal visioning and planning retreat for yourself over the holidays. Enjoy!
Yours in acceleration,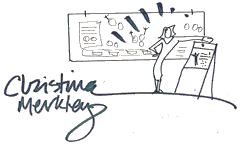 Christina Merkley,
The SHIFT-IT Coach
and Interactive-Visuals Mentor
"NOTHING BEATS THE IN-PERSON MAGIC MARKER MASTERMIND RETREATS"
Rosanna von Sacken
Consultant, Facilitator,
Visual Recorder

"I have had the privilege in taking a number of training programs with Christina, who has been a pioneer in moving forward visual recording, visual facilitation and visual coaching as professions in Canada and internationally. I learned a great deal through the Fundamentals of Interactive Visuals, and later through the Magic Marker Mastermind. I grew and honed my visual skills with Christina's support and coaching. I particularly enjoyed the camaraderie and friendships developed. Nothing beats the in-person MMM retreat where we shared ideas, drew madly in our graphic jams for difficult concepts, learned from each other and explored emerging tools and techniques.
Christina has shared her experiences and know how in the worlds of graphic recording, facilitation and coaching, which supported my vision of growing the visual side of my business that continues to manifest itself. It is an honor to have learned from one of the best. I can't help but smile when I spend hours doing what I love. Thank you, Christina."
Rosanna von Sacken
Consultant / Facilitator / Visual Recorder
Vancouver, British Columbia, Canada
www.advancedconsultingfacilitation.com
SHIFT-IT SCHOOL: UPCOMING COURSES

SHIFT-IT Online Group
7 Weeks Online: Feb. 2 – March 16, 2013
VideoCam Webinars: Saturdays, 10-11:30 a.m. Pacific
Only offered twice a year! Our signature coaching group – which gives you a powerful foundation to Become Your Next Self. Impactful experience that gets you what you next want in your personal and/or professional life. You develop a crystal clear vision, unravel your resistance ... and rapidly shift your world to a much more satisfying state. Leading-edge Law of Attraction wisdom coupled with practical real-world strategy --- all in our innovative 'Visual Coaching' style. Join this supportive community with other like-minded SHIFTers from across the globe, includes The SHIFT-IT Home Retreat Kit® with 17 visual maps.
Forming Now!
Full Details and Online Registration
Note: Pre-requisite for Visual Coach Certification. FYI, Repeater Option available for those who have taken this program before and want to refresh.
MAGIC MARKER MASTERMIND
Jan. 14 - June 17, 2013 6-Month Incubator
For Intermediate Visual Facilitators, Visual Coaches & Visual Scribes
For intermediate to advanced Visual Practitioners from across the globe. Intensive skill and biz development incubator that meets your unique needs. Learn and bond with fellow process professionals who unite in a shared mission to effectively use interactive-visuals with groups and individuals. Develop your brand, signature style, visual tools, graphic competencies and overall confidence in your use of productive visual techniques, whether you are internal in an organization or have an independent practice, business or content area.
Application Deadline: Today, December 21st
Just 1 Spot Left!
Full Details and Online Application Process
* Pre-requisite: Fundamentals of Interactive-Visuals (or equivalent experience)
THEO ACCELERATOR
Jan 15 –June 25, 2013, 6-Month Mastermind
A new spiritual mastermind co-lead with The Theo Group centered on manifesting your 'Soul-Centered Self'. For metaphysicians interested in integrating THEO's non-physical intelligence with Christina's down-to-earth SHIFT-IT approach --- a unique marriage of heaven and earth. Includes two in-person retreats plus online support using video technology. Deep community to support change agents in their light work in the world.
Application Deadline: December 31st
Just 4 Spots Left!
More Info and Online Application Process
VISUAL COACH CERTIFICATION
April 9 - June 11, 2013, Tuesdays, noon-1:30 pacific, 10 webinars

For coaches, therapists and other process leaders who work with individuals. This one-of-a-kind experience teaches you how to work visually with your clients and licenses you in our 17 map SHIFT-IT System®. Join our amazing international cohort of Certified Visual Coaches® and bring the power of the visual approach to your clientele and practice.
In-person Combo: Deadline to Apply is Jan 6th
Certification Only: Deadline to Apply is March 24th
More Info and Online Application Process
* Pre-requisites: Fundamentals of Interactive-Visuals and SHIFT-IT Online (or equivalent experience).
FUNDAMENTALS OF INTERACTIVE-VISUALS
May 30 - June 1, 2013, Victoria, British Columbia, Canada
Over 87% of your facilitation, coaching, training and consulting clients are visual thinkers - learn powerful visual skills to boost the effectiveness of how you work with them. This professional skills training thoroughly covers custom chart work, visual scribing, visual facilitation and visual coaching (the four main applications of working visually with groups and individuals) so you can add these powerful tools to your own consulting, facilitation, coaching and training offerings. In-person version only offered once a year, so act fast to claim your spot.
Early Bird Filling Now
More Info and Online Registration
* Note: Pre-requisite for Visual Coach Certification.
PRIVATE TRAININGS AND APPRENTICESHIPS
2012-13: Booked Privately in Victoria, British Columbia, Canada
Keen to become a Visual Facilitator, Coach or Scribe? Dates of our public workshops don't work or you desire faster, one-to-one attention? Christina Merkley has limited availability in 2012-13 for private trainings and apprenticeships customized for your unique needs.
FEATURED ARTICLE:
HOW TO DO VISIONING OVER THE HOLIDAYS
To Listen Or Download Mp3 Version of This Article, Click Here
Whether you've been doing personal visioning and planning work for a while, or are new to it, we can all benefit from doing a Mini SHIFT-IT Retreat every once in a while: checking in on how our life is going and what mid-course corrections we might want to make.
Ideal times to conduct a mini retreat are late December / early January when a brand new year is upon you, when you have some vacation time to step out of your usual existence, or the anniversary date of a particular event or coaching alliance (for example, clients will often do a review session like this on the anniversary date of their initial SHIFT-IT retreat with me to freshen things up).
The Benefits of the Mini SHIFT-IT Retreat:

These quick little retreats help you quickly appreciate what you have accomplished (what you've already manifested and attracted) - as well as identify what's next brewing on your horizon --- and the outer and inner shifts you will need to make to get there. They put your life into perspective. Giving you relief, satisfaction and an organized feeling -knowing you have taken a step to deliberately create what you want (not what you don't want).
How To Do a Mini SHIFT-IT Retreat:
Set aside at least 90 minutes where you can be alone and relaxed. Have paper and pen handy (and print off my Mini SHIFT-IT Retreat Tools ... link below). Relax. Put your feet up. Some good music on. Kick back.
1. Gratefully Acknowledge What You Have Received:
The key to receiving is 'having'. Before you embark on new visioning work, think back on what you have already received. Look back on your previous year. What have you received? What has come your way? What did you get? What was once a dream or desire that has now materialized? We can SO quickly forget what we have received and just move onto what we next want. Instead, write down your answers. SEE what you have indeed received. Gratefully acknowledge that you do receive (and plenty!). When you do this you tap into the energy and vibration of 'having'. That attitude of gratitude vibe goes out into the world and transmits a special kind of message. Attracts more 'having' back to you.
2. Make Peace With Your Present State
A lot of people who do visioning work get themselves bent out of shape - I've been guilty of this many times myself. We get so focused on our desired future that our present circumstances frustrate us. The more we can accept and make peace with our present state the better. By accepting I don't mean that you give up or stop desiring improvements. Just that you soften your energy around your now. Go into where you are. Accept it. Like it. Appreciate the role it is playing (as a necessary transitional bridge). Manifestation and change can take time, depending on what you are starting with and what you desire. Make the process easier by being ok with your present while you take steps to ensure a more satisfying future.
List out where you are now. How do you feel about your now? What is most up or down for you? What crossroads are you standing on now? What issues are stirring you up the most? What areas of life are doing well? Not doing well?
3. Focus on What You Now Desire:
Our wants and desires are alive and fluid and always changing. Take a moment to reflect on what you now desire. Given what you have already accomplished and where you currently are, what do you want for yourself now? As my favorite Law of Attraction teachers Jerry and Esther Hicks say "What rockets of desire have now been launched?"
What do you want the year ahead to hold for you? What do you want to manifest? What changes do you want to occur? Write out your answers. See what evolutionary nudges you are getting. List the whispers you are receiving about what is next for you. Get it down on paper! Even if it somewhat scares you because of its boldness or chutzpah! Don't censor. Give it it's first breathe of life by putting it in writing.
4. Flip Your Negative Thoughts:
Negative companions usually follow quickly on the heels of visionary thoughts ---- as soon as our rockets of desire are launched, bazookas get pulled out to shoot them down. Write down your instantaneous reactions to your list of wants. Notice your instant positive reactions and welcome them. Then, notice what negative thoughts come up when you write out what you want? What contradictory thoughts do you hear - doubts, uncertainties and self sabotage?
Capture in writing all of these negative reactions and then do the work of finding a better feeling thought to counter them - FLIP IT - FLIP IT GOOD!. Make the effort to change your internal programming - even just cleaning up one little degree of resistance can have a huge impact on your overall trajectory.
5. Identify and Take Your Next Steps:
When you get aligned with what you really, really want (your Personal Vision) certain things, people, places and steps will naturally start to emerge. Pay attention to the thoughts that swiftly follow FLIP IT work - the ideas, inklings and intuitions about what to do next.
What ideas do you get about easy, natural next steps? Given where you are and where you want to go, what little things can you begin to do to close the gap? What will make movement towards your goals that you can begin today? Write down your next steps and put accountability dates to them. Put them into your calendar and schedule. Find a support buddy, mastermind group or private coach to support and guide you.
Access to Mini SHIFT-IT Retreat Instructions and Maps
I've created several maps plus a detailed instruction booklet to guide you in doing the steps outlined above (I'm sharing them with you, my loyal SHIFT-IT e-Zine readers, as a New Year's gift!).
DOWNLOAD MAPS AND INSTRUCTION BOOKLET HERE
Happy SHIFTing everyone and keep telling your new 2013 story until it becomes your norm and your new vibration!
Blog Comments: Thoughts? Reactions? Have something to add? Click here to leave comments and read those left by others.
For the full SHIFT-IT e-Zine Archives: Click Here
For the full SHIFT-IT Audio Library (mp3): Click Here
©2012 Christina L. Merkley
WANT TO USE THIS ARTICLE IN YOUR E-ZINE OR WEB SITE?
You can, as long as you include this blurb and a functional link to my site:
Author's Bio: Christina Merkley, "The SHIFT-IT Coach" and creator of the SHIFT-IT System®, is a Visioning and Strategic Planning Expert specializing in Visual Thinking and Law of Attraction techniques. Based in charming Victoria, British Columbia, Canada, she works deeply with individuals, partners and conscious businesses to define and manifest what they truly want. And, trains other helping professionals in her innovative ways of working. For more information visit: www.shift-it-coach.com and www.visualcoaches.com
GET COACHED BY CHRISTINA
In the scheme of things, life is short. It's a shame not to live it in alignment with who you truly are. I have successfully SHIFTed my life to one of authenticity, creativity and abundance that is aligned with who I truly am.
Let me assist you in doing the same via private mentorship. I specialize in individuals who need to get their 'special it' into the world (entrepreneurs, biz owners, team leaders, teachers, consultants, facilitators, trainers, coaches, therapists, visual practitioners, etc.).
I coach you to build/enhance your internal or external practice or small business (including identity/brand, biz basics, creation of effective offerings, necessary systems (tech and socio) and marketing & sales). As well as having a satisfying personal life of supportive family, friends and community. Stop splitting your energy - create a congruent life that truly works for you!
Learn Interactive-Visuals Skills
Are you a process professional with a creative bend? Are you intrigued with the visual way I work with my clients? I've trained hundreds of facilitators, consultants, trainers and now coaches, counselors, social workers, etc from around the globe. Learn fundamental visual skills that you can use in your own work with groups and individuals. Come join the visual tribe!
About SHIFT-IT Coach, Inc. and Christina Merkley
Christina Merkley
The SHIFT-IT Coach &
Interactive-Visuals Mentor

Christina Merkley is The SHIFT-IT Coach --- a pioneering 'Visual Facilitator and Coach' who facilitates paradigm shifts in individuals, partners and companies. With an seasoned business background in change management and organizational development (past clients include: Hewlett-Packard, eBay, Stanford University, The Institute for the Future, British Broadcasting Corporation, and The American Institute of CPAs) Christina SHIFTed from the corporate landscape to a more holistic expression... combining her expertise in Visual Thinking techniques with personal growth and spirituality.
Through her SHIFT-IT School curriculum (including Fundamentals of Interactive-Visuals® and Visual Coach Certification®) Christina is a sought after mentor to Process Professionals across the world. She and her team guide consultants, facilitators, trainers, coaches, counselors, and other helping professionals to clarify their "IT' and get their unique contributions successfully out into the marketplace. Aiding the global SHIFT by training and encouraging skilled facilitators of organizational and personal processes.
IN THIS ISSUE:
>>Featured Article: How to Do Fun Visioning Over the Holidays
---
CONNECT WITH CHRISTINA:
Via Twitter, Facebook & Youtube
---
BLOG ENTRIES:
Looking for more rich, SHIFT-IT content? Check out my blog for recent ramblings, resources and general interest features:
The Joys and Challenges of Group Dynamics
Yes Virginia, There Is A Santa Claus ... You!
Your Seeming Procrastination May Actually Be Right Timing
The Positive Role of Angst and Discomfort
Click here to read the SHIFT-IT Coach blog.

---
EZINE ARCHIVES:
Browse past issues here.
Listen to the ezine here.


---
FEATURED PRODUCT:
The SHIFT-IT Home Retreat Kit®
---
Christina's Websites:
---
---