Now more than ever, people need skilled help to process feelings and determine actions. Add the power of Visual Coaching to your own toolkit, to more effectively help during these times of accelerated change.
Next Cohort Starts April 2, 2024 – Get Your 2 Prerequisites Done First!  

---
TABLE OF CONTENTS / QUICK LINKS
Visual Coach Certification is a comprehensive experience. There is plenty to explain so you can make an informed decision about joining. Scroll below for a thorough info page. To quickly access specific information, use these QUICK LINKS:
---
HISTORY OF VISUAL COACHING AND THIS CERTIFICATION:
I've been in the Visual Process Field since 1996, equipped with a Masters Degree in Organizational Development and Transformation (ODT) from The California Institute of Integral Studies in San Francisco, USA.
The early part of my career was travelling the globe as a Graphic Recorder taking visual meeting notes for many different kinds of companies including Hewlett-Packard, eBay, Stanford University, The American Institute of CPAs, British Broadcasting Corp, U.S. Department of Energy, The Institute for the Future and The Gordon and Betty Moore Foundation … to name a few.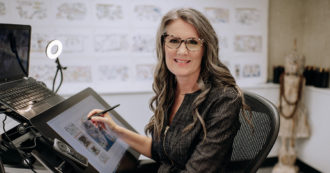 My early visual mentors were David Sibbet of The Grove Consultants International, and Jim Channon of Men Who Stare at Goats fame.
I eventually developed into a lead Graphic Facilitator and Coach with a specialty in Strategic Planning and Visioning and created my own company: SHIFT-IT Coach, Inc.
Being an early adopter of online technologies, I've trained 1000s of people from around the globe in Working Visually including many of the well-known names in the Graphic Recording / Graphic Facilitation field.
While I enjoyed facilitating large companies and training their employees in Graphic Recording, my passion was and still is personal growth and working very deeply with individuals. As individuals are the backbone of everything!
This led me to train as a Coach with The Coaches Training Institute (CTI) in 2000 and as a Hypnotherapist with The Alchemy Institute. Many years of more modalities followed (Appreciative Inquiry, NLP, Voice Dialogue, Trauma, Attachment Styles, Parts Work, BodyTalk, Enneagram, Systemic Constellations and Self Inquiry). I also had a Kundalini Awakening along the way. Given I was already well versed in Working Visually it was only natural for me to combine these modalities with visual note-taking.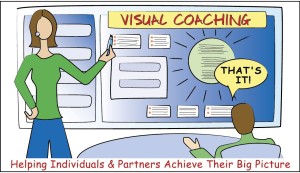 Over time I built a pioneering Visual Coaching practice (the first in the world) and eventually created my signature SHIFT-IT Visual Coaching System.
As Graphic Recording and Graphic Facilitation spread across the globe, slowly more and more people became interested, like I had, in applying these useful visual methods to process work with individuals.
So in 2010, I started my Visual Coach Certification, which trains and licenses others in my visual methods and suite of tools (37 maps and counting). This online program gives you a fast and supportive entry into this innovative and heartfelt niche – whether you work with your clients in-person or online (suddenly very relevant given global events).
---
---
We have Certified Visual Coaches sprinkled across the globe. The tools are primarily conducted in English, however, we are expanding into additional languages (German, Spanish and Italian with more coming).
Practitioners work in a variety of ways with their clients, both in-person and virtually by digital methods. Spontaneous work using blank paper of various sizes as well as paper and digital templates to corral specific kinds of thinking and feeling.
---
90-MINUTE OVERVIEW VIDEO:
See this "Intro to Visual Coaching" Info Webinar for more information about this powerful method and its benefits for you and your clients:
* Click Lower Right Corner for Expanded View
---
THE SHIFT-IT VISUAL COACHING SYSTEM:
As I experimented in the early days with Visual Coaching, I eventually settled into a 7-Step System that I named "SHIFT-IT" and created Visual Maps for each step (17 overall). Clients can be facilitated fully through this comprehensive process, or, you can cherry-pick relevant maps depending on your needs and how you like to work.
The Core Maps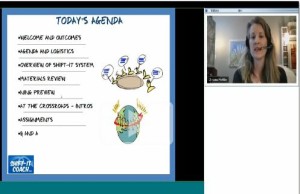 Click here for a video. At the 30-minute mark, the description of the SHIFT-IT System and Visual Maps begins.
There are two prerequisites for Visual Coach Certification. Going through SHIFT-IT yourself (so you understand it from the inside out). The other pre-requisite is The Fundamentals of Working Visually (or equivalent experience). For more information on these prerequisites, click here.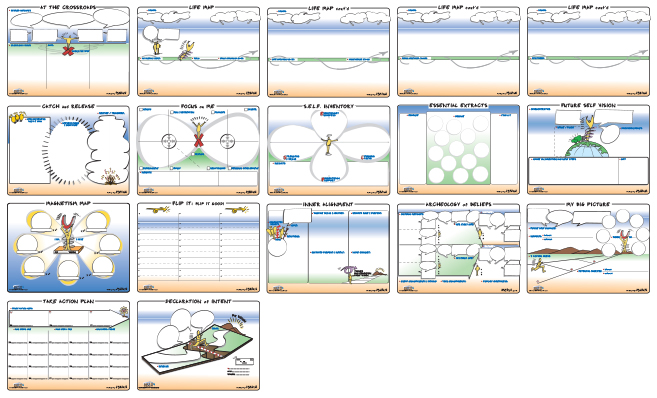 Plus 20 Additional Bonus Maps:
Over the years I have created many Visual Maps to support various kinds of process work with individuals. I've added these 20 additional Bonus Maps to Certification, to give you even more handy ways to engage your clients depending on your background and interests. For more info, click here.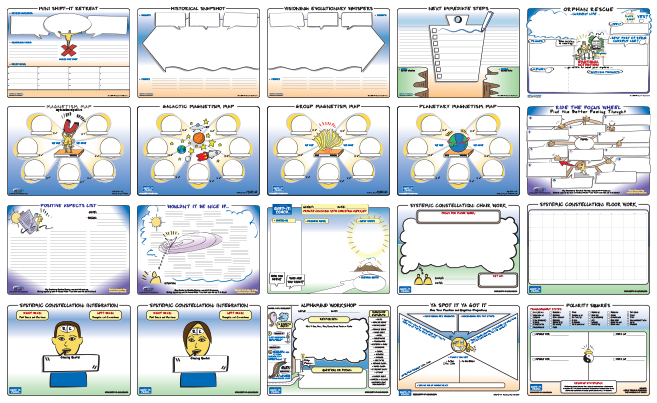 ---
---
PROGRAM OUTCOMES:
THOROUGHLY TRAINS YOU IN VISUAL COACHING TECHNIQUES – both online (via digital drawing tablet and web conferencing tech) and in-person;
CERTIFIES YOU IN THE CORE 17 VISUAL TOOLS PLUS 20 BONUS TOOLS – 37 Visual Maps in total;
PROVIDES EXPERT INSTRUCTION, MATERIALS AND SUPPORT – in a progressive online learning environment;
TEACHES YOU HOW TO CREATE YOUR OWN VISUAL TOOLS FROM YOUR OWN INTELLECTUAL PROPERTY – for those who are already seasoned coaches or content providers;
GIVES YOU HELPFUL MARKETING ASSISTANCE AND TOOLS – to establish a successful practice or enhance an existing one; and
INTRODUCES YOU TO YOUR GLOBAL VISUAL TRIBE – dedicated people like you who are also integrating these useful skills into their process toolkit. Learn within a supportive community.
CLICK HERE TO REGISTER AND SELECT PAYMENT OPTION
---
---
---
A NOTE ABOUT THE PRE-REQUISITES:
This program is for folks who have already been trained to ethically work with individuals in some clearly defined role or capacity. It attracts Coaches, Therapists and various kinds of Counsellors. As well as Human Resource Professionals, Managers, Supervisors, Educators, Lawyers, Mediators, Financial Advisors, etc.
I am not teaching you how to do your role, I am teaching you how to add "Working Visually" to that role via my methods and tools.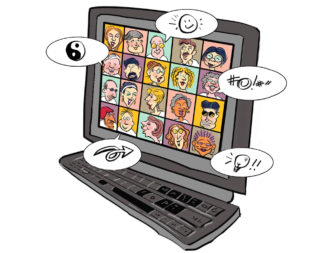 There are two prerequisites required: Fundamentals of Visual Coaching (or equivalent experience) and The SHIFT-IT System.
Fundamentals of Visual Coaching trains you in the underlying skills used in Visual Coaching at large, including working digitally by document camera and/or drawing tablet (if you choose to do so).
The SHIFT-IT System pre-requisite is required in order for you to make an informed decision about whether my tools suit your practice, as they form the base of this Certification. Plus in order to hold these spaces for others, you first need to experience them yourself.
If you do not have these prerequisites, please complete them first and then apply for Certification. See the info below on your options to obtain the prerequisites. In some circumstances, I allow simultaneous completion (i.e. do your pre-requisites as you go along) however it's a lot of work at once!
---
1st Prerequisite: Fundamentals of Visual Coaching
*** For details and registration click here.
Online Course Option:
Debut Deal Savings!
November 1, 2023 – January 17, 2024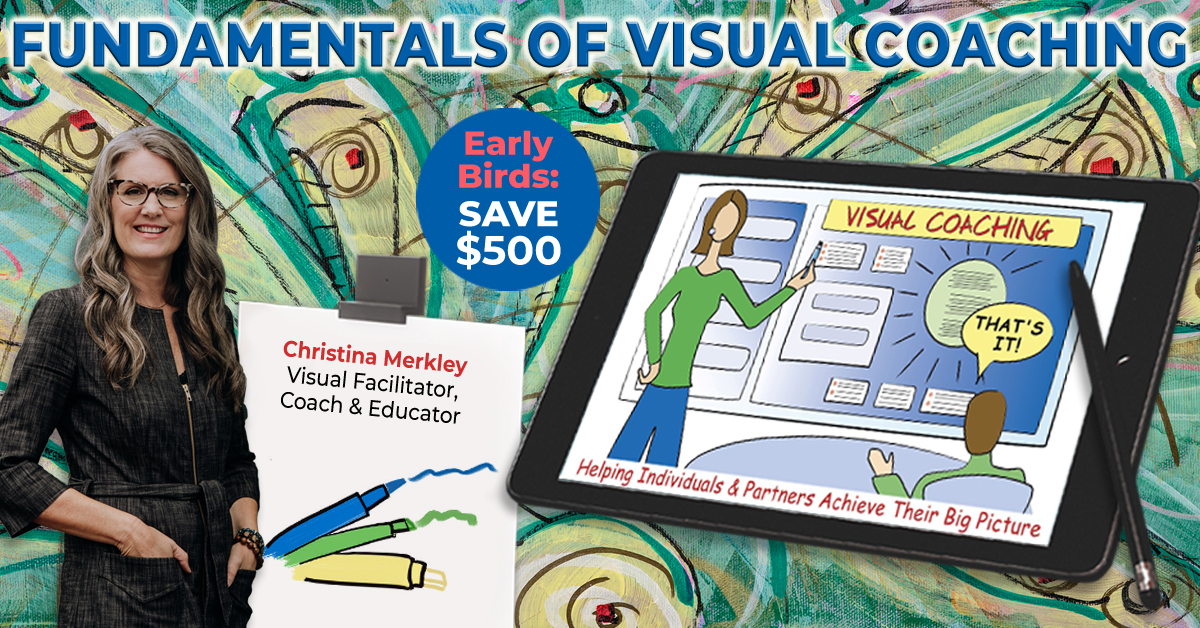 10 3-Hour Webinars
Wednesdays, Noon – 3:00 pm Pacific Time
In-Person Course Option:
Early Bird Pricing Ends June 3!
Summer Camp: August 7-9, 2024
3 Day Intensive: 9 am – 5 pm
Victoria, British Columbia, Canada
Note: This pre-requisite updated in 2023, previously it was Fundamentals of Working Visually. Contact us at admin@shift-it-coach.com if you wish to use the previous course as your pre-requisite.
---
2nd Prerequisite: The SHIFT-IT Visual Coaching System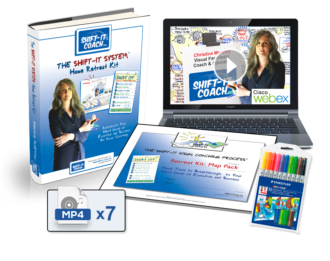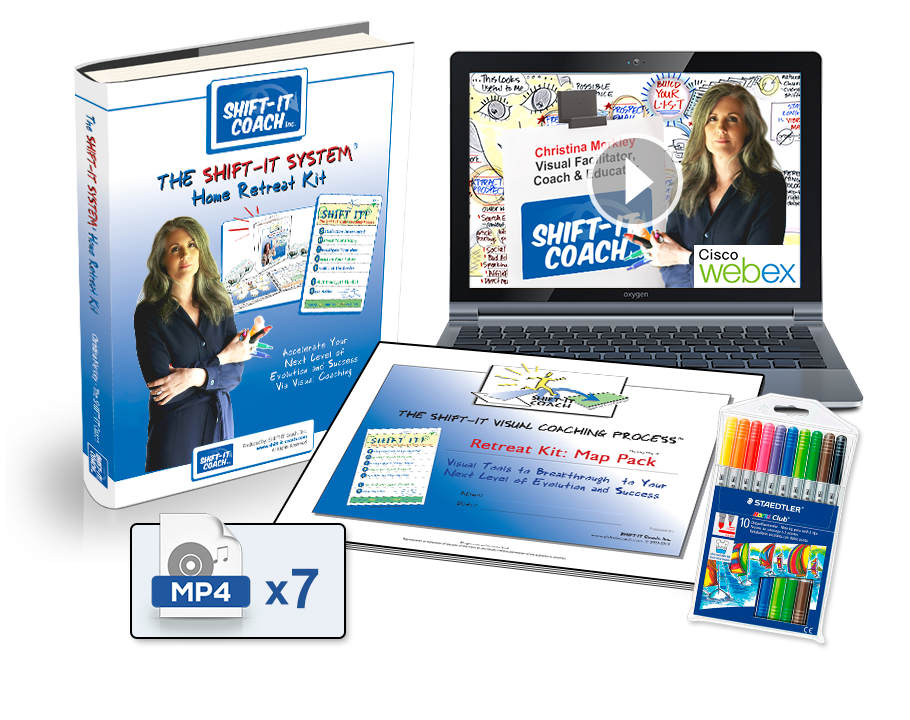 *** For details and registration, click here.
Home Retreat Kit Option:
Save 50%: Self-Paced Learning Anytime
Online Course Options:
Save 50%:  September 15, 16 & 17, 2023
3-Day Online Retreat (Intensive Format)
Save 50%: January 20 – March 2, 2024
7-10 Week Online Retreat – Saturdays 2-4pm Pacific Time (Extended Format)
---
DATES AND TIMES
CLICK HERE TO REGISTER AND SELECT PAYMENT OPTION
---
---
TWO BRANDS TO CHOOSE FROM
This program attracts people who do various kinds of roles with individuals including coaches, therapists, counselors, financial advisers, mediators, HR professionals, disability specialists and the like. Some of these folks are very comfortable with the Visual Coach brand and value having that precise wording. Others, for various reasons, desire a more general wording without 'coach' or even 'visual' in their credential. To accommodate various needs I offer a two-brand approach, so upon graduation, you can pick the brand that best suits your particular practice. Either "Certified Visual Coach" or "Certified in SHIFT-IT Maps".
---
FREQUENTLY ASKED QUESTIONS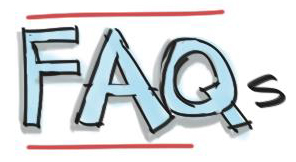 Here are some other frequently asked questions …
How Many Certified Visual Coaches Are There?
Who Is Accepted? | What Are Other Participants Like?
How Can You Effectively Train Us Through Webinars?
What's this "Big Web Breakthrough" You Keep Talking About?
What Are The 17 SHIFT-IT Maps in Detail?
What are the Additional 13 Maps in Detail?
What If I'm Scared by the Drawing/Art Stuff?
Do You Offer Scholarships or Discounts?
Can You Give Me More Info About This Approach Overall?
Testimonials
Fees, Payment Plans & Registration
---
---
TESTIMONIALS
---
APPLICATION INTERVIEW AND FEES: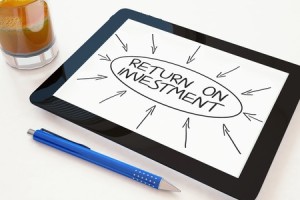 I'm teaching you how to fish for less than what is costs a client to do a private retreat with me.  Why?! Because Visual Coaching is an excellent way to work and the world needs it!
My life mission is to be of service to others. There is only so much I can do by myself.  Together we exponentially help MANY people across the globe during a VERY important turning point for humanity on our planet. Our collective shift!
Application Interview: Upon registration, you complete an Application Interview where you can ask any questions and I determine your fit for the program.  If you would like to have this interview prior to registering, please book a time here.

---
WHAT'S INCLUDED:
16 Live Online Training Webinars: 2-hours, every second week;
14 Optional Drop-In Office Hours: 2-hours, mostly every second week;
Full Recordings: video and MP3 of every session plus PDFs of webinar slides;
Online Forum with Direct Feedback: extensive supervision and feedback as you progress;
Mid Way Video Review of Your Client Work: feedback as your live client work;
17 SHIFT-IT eBooks & Maps: step-by-step directions and examples;
22 Bonus Visual Maps: for even more visual options for your clients;
BIPOC Versions of Maps: so all clients are respectfully reflected via imagery and color;
Multi-Languages: English, German, Spanish and Italian (more as requested);
Case Study Library:  demonstration videos of each exercise with 6 different clients;
3 Private Coaching Sessions: individual sessions for one-to-one help;
Marketing Aids: Graphics, logos, thumbnails, copy examples, agendas & contracts;
Final Video Exam: review and feedback of live client exam to finish the program;
Directory Listing: in Certified Visual Coach Directory – bravo and congratulations!
Any New Visual Maps Added in the Future: get new tools as I invent them!
Home Study Kit: Business Essentials for Process Professionals (10-Module Study Kit $247.00 value).
Home Study Kit: Fast & Loose Sketching (10-Module Study Kit $247.00 value).
Home Study Kit: Sketching Heads & Hands (7-Module Study Kit $2477.00 value).
---
THREE LEVELS TO CHOOSE FROM.
Honestly Choose Which Applies to You.
 Spring 2024 Cohort Starts April 2, 2024
Full Suite of Payment Plans Available
CLICK HERE TO REGISTER AND SELECT PAYMENT OPTION
---
IN CLOSING …
I'd like to express how appreciative I am with the way this Program has unfolded over the years and the quality of people it attracts. I look forward to you joining our upcoming cohort.
Thank you for your participation and for the work that together we do in the world – to midwife our own shifts and in our clients that we are so fortunate to work with. And hopefully in the world at large too!
Yours in Visual Expansion,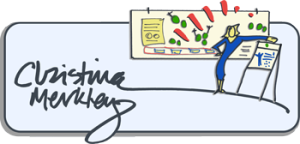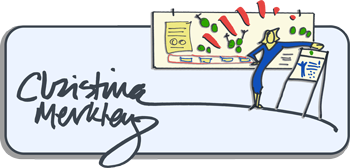 Christina Merkley, Pioneering Visual Coach
P.S. Further questions? Just email admin@shift-it-coach.com. Additionally you can request a Free 30-Minute Exploratory Chat so you and I can talk directly if you have any questions.
---
More Testimonials:
Visual Thinkers Unite!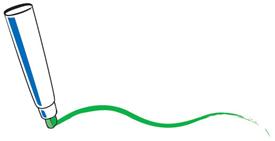 ©SHIFT-IT Coach, Inc.