Next Cohort Begins September 2020.
Extended 10th Anniversary Sale: 50% off (all levels and plans)

For Process Professionals. Add The Power of Working Visually With Individuals To Your Practice.  Online, International Cohort. Includes 30 Visual Tools!
The 2019 cohort SOLD OUT! Now I'm hosting the next Visual Coach Certification cohort on Sept. 22, 2020 – Feb. 9, 2021. Join with other Process Professionals from across the globe to add Visual Coaching to your process toolkit this year. You and your clients will love it!
---
TABLE OF CONTENTS / QUICK LINKS
Visual Coach Certification is a comprehensive experience. There is plenty to explain so you can make an informed decision about joining. Scroll below for a thorough info page. To quickly access specific information, use these QUICK LINKS:
---
HISTORY OF VISUAL COACHING AND VISUAL COACH CERTIFICATION:
I've been in the Visual Process Field since 1996, after completing a Masters Degree in Organizational Development from The California Institute of Integral Studies in San Francisco. My day job back then was traveling the globe as a Visual Practitioner for various kinds of corporate, governmental, and not-for-profit events.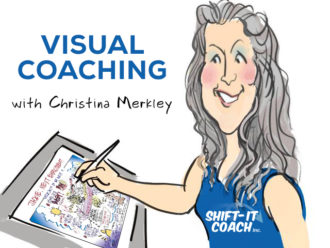 I began as a "Graphic Recorder" – a visual scribe who assists leaders, consultants, facilitators, and trainers. My first mentor was David Sibbet of The Grove Consultants International whom I worked with for several years. Eventually, I formed my own practice and evolved into being a full-on "Graphic Facilitator" – process design and lead facilitation. My specialty is Strategic Planning, Visioning, Scenarios, Team Building and Conflict Resolution.
Back then Coaching was just emerging as a distinct role onto itself and I was fortunate to be at the nexus point of this new field — taking training with The Coaches Training Institute (CTI) in 2000. It was then that I began experimenting with combining coaching with 'visuals'. I also trained in Alchemical Hypnotherapy and became heavily immersed in Appreciative Inquiry, Law of Attraction, and Shamanic practices.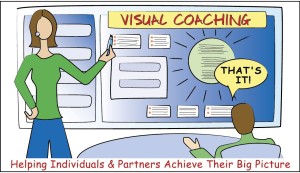 I built a pioneering Visual Coaching practice (the first in the world) and eventually created my signature SHIFT-IT Visual Coaching System, with its foundation of visual exercises (each with its own map).
As interest in my innovative Visual Coaching work grew, other Process Professionals from across the globe wanted to use my methods and tools too. Since 2009 I have been doing exactly that — empowering other Process Professionals to work visually with their own clientele. Giving you a fast, professional, and enjoyable entry into this pioneering niche.
---
---
Currently, we have 60 Certified Visual Coaches, sprinkled across the globe. The SHIFT-IT tools are primarily conducted in English, however, we are beginning to expand into other languages too. Practitioners work in a variety of ways with their clients, both in-person and virtually by digital methods. Spontaneous work using blank paper of various sizes as well as paper and digital templates to corral specific kinds of thinking and feeling.
---
90-MINUTE OVERVIEW VIDEO:
See this "Intro to Visual Coaching" Info Webinar for more information about this powerful method and its benefits for you and your clients:
* Click Lower Right Corner for Expanded View
---
THE SHIFT-IT VISUAL COACHING SYSTEM:
As I experimented in the early days with Visual Coaching, I eventually settled into a consistent 7-Step System which I named "SHIFT-IT" and created Visual Maps for each step (17 overall). Clients can be facilitated fully through this comprehensive process, or, you can cherry-pick relevant maps depending on their needs and how you like to work.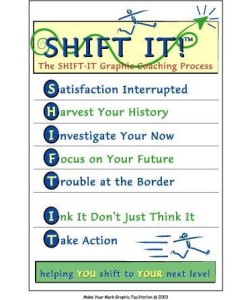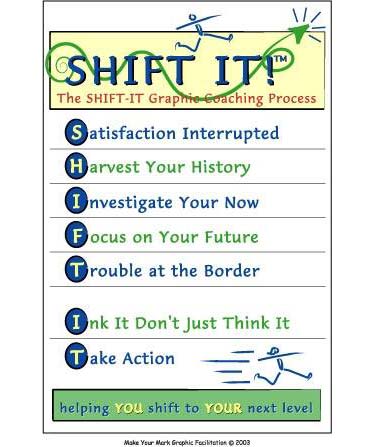 The SHIFT-IT name is an acronym:
Satisfaction Interrupted
Harvest Your History
Investigate Your Now
Focus on Your Future
Trouble at the Border
Ink It, Don't Just Think It
Take Action
The Core Tools: 17 Visual Maps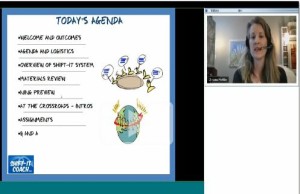 Click here for a video overview of the SHIFT-IT System. Video is from one of my SHIFT-IT courses and begins with an overview of the course and my forays into Visual Coaching (in case you want to listen to that story). At the 30 minute mark, the description of the SHIFT-IT System and Visual Maps begins.
There are two pre-requisites for Visual Coach Certification, going through SHIFT-IT yourself is one of them (so you understand this transformational process from the inside out before you hold the container for others). The other pre-requisite is The Fundamentals of Working Visually (or equivalent experience). For more information on these pre-requisites, click here.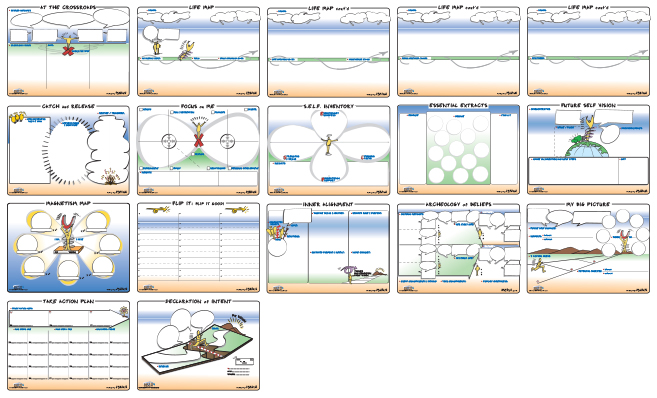 Plus 13 Bonus Maps:
Over the years I have created many Visual Maps to aid in my coaching practice. I've added 13 additional Bonus Maps to Certification, to give you even more handy ways to engage your clients. For more info, click here.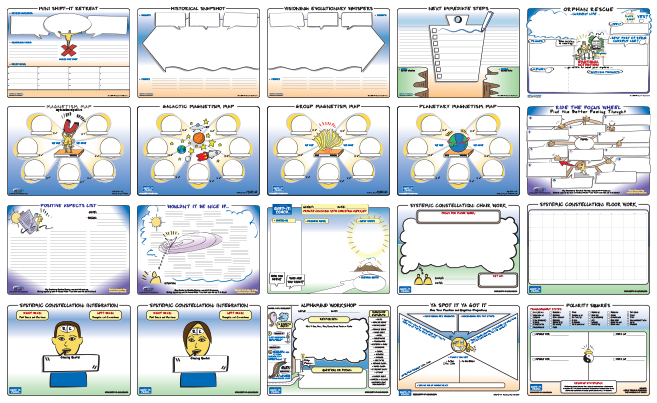 ---
---
Additional Info on Visual Coaching: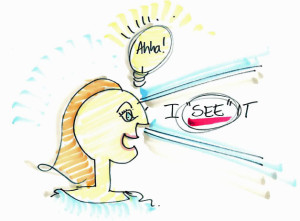 Using the visual approach with clients is practical, efficient and … fun! Clients understand what they are in for (as they can literally see the coaching process laid out in front of them) plus they quickly form an emotional attachment to their maps as you go along.
They keep the maps as a visual record of their coaching sessions and often share them with their loved ones and trusted advisers like counselors, accountants, financial advisors, even realtors (if a certain type of geography or home is in their future!).
Over the years, I've shared a TON about the power of working visually with individuals, see these links for more info:
The Four Ways to Work Visually (with Video)
Why Working Visually Is Powerful in Coaching and Personal Growth
How Coaches, Therapists, and Other Professionals Can Work Visually
Visual Coaching Acclimatization
Visual Coach Certification Enhancements
For additional articles, click here. For podcasts, click here. For additional videos, click here.
---
PROGRAM OUTCOMES: WELCOME TO SHIFT-IT SCHOOL!
THOROUGHLY TRAINS YOU IN VISUAL COACHING TECHNIQUES: both in-person and virtual/digital methods;
CERTIFIES YOU IN THE CORE 17 VISUAL TOOLS PLUS 13 BONUS TOOLS: 30 Visual Maps and instructions in total;
PROVIDES EXPERT INSTRUCTION, MATERIALS AND SUPPORT: in a progressive online learning environment;
TEACHES YOU HOW TO CREATE YOUR OWN VISUAL TOOLS FROM YOUR OWN INTELLECTUAL PROPERTY: for those who are already seasoned coaches or content providers;
GIVES YOU HELPFUL MARKETING ASSISTANCE AND TOOLS: to establish a successful practice or enhance an existing one;
INTRODUCES YOU TO YOUR GLOBAL VISUAL TRIBE: wonderful, dedicated people like you who are also integrating these useful skills into their process toolkit. Learn within a supportive community.
---
---
WHAT'S INCLUDED:
CERTIFICATION PROGRAM:
10 90-Minute Live Training Webinars: Tuesdays, April 2 – July 9th, noon-1:30 pacific (April 2, 16, 30. May 14, 28. June 11, 18, 25. July 2 & 9.);
4 90-Minute Support Webinars: Sept. 10, Oct. 8, Nov. 12, Dec. 10, noon-1:30 pacific,
Full Recordings: video and MP3 of every session plus PDFs of webinar slides;
Online Forum: for 24/7 sharing with your global cohort;
17 SHIFT-IT eBooks & Maps: for easy sharing with clients;
13 Bonus Visual Maps: for even more visual options for your clients;
Case Study Library:  demos of each map with various clients;
3 30-Minute Private Coaching Webinars: private 1:1 mentoring with Christina;
Marketing Aids: Web Graphics ( logos, models and thumbnails), sales copy examples, agendas & contracts;
Directory Listing: in Certified Visual Coach Directory – bravo and congratulations!
Any New Visual Maps Added in the Future: as new tools are invented!
Bonus Course: Business Essentials for Process Professionals (10-Module Home Study Kit $497.00 value!).
Memberships in 2 Ongoing eCommunities: Working Visually eCommunity and SHIFT-IT eCommunity.
---
---
---
A NOTE ABOUT PRE-REQUISITES:
There are two pre-requisites required: Fundamentals of Working Visually (or equivalent experience) and The SHIFT-IT System. Plus some sort of prior training or education that ethically enables you to work with individuals in some kind of helping or professional capacity.
I'm not training you from the ground up on coaching, rather I am training you how to weave Visual Coaching techniques and my specific Visual Tools into your work with individuals. This Certification best serves launched and functioning Process Professionals, although more junior or beginning Process Professionals may be admitted depending on circumstances.
The Fundamentals of Working Visually pre-requisite course trains you in the underlying visual skills that are used in Visual Coaching. If you already are a Visual Practitioner of some sort (having received training from a different instructor) you are welcome to submit examples of your work to determine equivalency.  The SHIFT-IT System pre-requisite is required, in order that you understand the system first as a participant yourself before you are trained in how to effectively hold that space for others.  If you do not have these pre-requisites you'll need to secure them first then apply for Certification. In some circumstances, concurrent meeting of the requirements may be allowed.
---
Info on Fundamentals of Working Visually:
There are multiple ways to meet your Fundamentals of Working Visually pre-requisite. For info click here.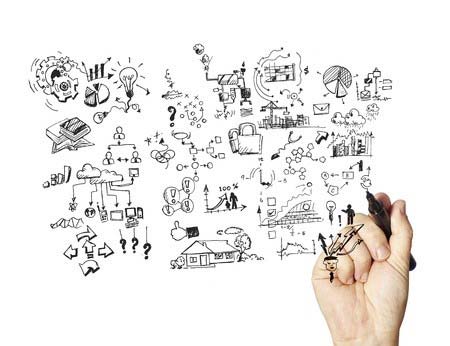 Online Course Options:
Winter 2020: Jan. 20 – April 1, 2020
18 Live 60 Minute Webinars
Monday & Wed: noon-1 pm pacific
In-Person Course Options:
Spring 2020: July 9-11, 2020
3 Day Intensive: 9 am – 5 pm
Victoria, British Columbia, Canada
Home Study Option: If you have missed the live offerings, or the dates don't work, see Working Visually Home Study Kit.
---
Info on SHIFT-IT: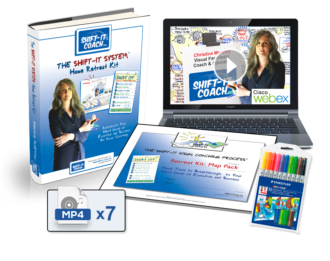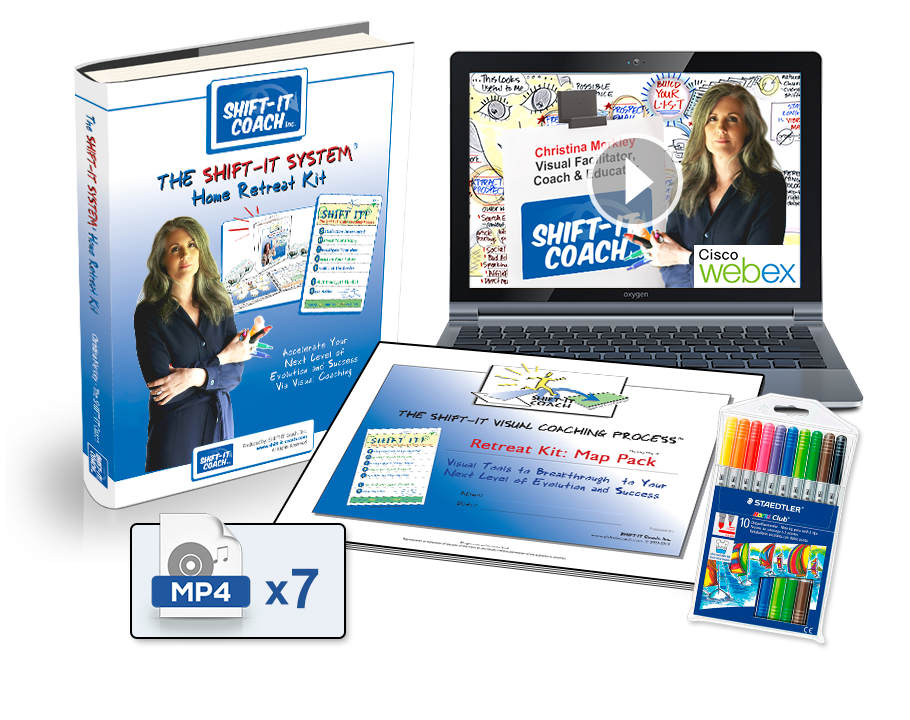 There are several ways to meet your SHIFT-IT pre-requisite. Privately with me or one of our Certified Visual Coaches, or via SHIFT-IT Online or the Home Study. For more info click here.
Online Course Option:
Summer 2020:
3-Day Online Retreat (via 9 webinars)
Aug. 28-30, 2020
Friday – Sunday
Home Study Option: If you have missed the live offering or the dates don't work, see SHIFT-IT Home Retreat Kit
---
CERTIFICATION SCHEDULE: Four Phases
Training Phase:
Tuesdays, Sept. 22, 2020 – Feb. 9, 2021
SOLD OUT:
Write admin@shift-it-coach.com for waitlist.
12-1:30pm pacific (1 mountain, 2 central, 3 eastern, Europe: evenings, Austral-Asia: Early Mornings, see time converter for your zone)
*Exact dates: Sept 22, Oct. 6, 20, Nov. 3, 17, Dec. 1, 15, Jan. 12, 26, Feb. 9.
For in-depth explanation of The SHIFT-IT Visual Coaching System, including enlarged views of Visual Maps: click here.
* Please note that it is mandatory to attend at least 7 of the 10 training webinars live. Barring extenuating circumstances, should you miss more than three modules you will need to start the Program over again at the next offering (so please lock these dates into your calendar now to preserve them!).
---
---
---
[TWO BRANDS] CHOOSE WHAT WORKS BEST FOR YOUR PRACTICE
This program attracts various kinds of Process Professionals who work with individuals, including coaches, therapists, counselors, financial advisers, mediators, HR professionals, disability specialists and the like. Some of these Professionals are very comfortable with the Visual Coach brand and value having that precise wording. Others, for various reasons, desire a more general wording without 'coach' or even 'visual' in their credential. To accommodate various needs I offer a two-brand approach, so upon graduation, you can pick the brand that best suits your particular practice. Either "Certified Visual Coach" or "Certified in SHIFT-IT Maps".
---
FREQUENTLY ASKED QUESTIONS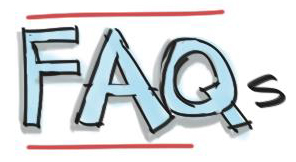 Here are some other frequently asked questions …
How Many Certified Visual Coaches Are There?
Who Is Accepted? | What Are Other Participants Like?
How Can You Effectively Train Us Through Webinars?
What's this "Big Web Breakthrough" You Keep Talking About?
What Are The 17 SHIFT-IT Maps in Detail?
What are the Additional 13 Maps in Detail?
What If I'm Scared by the Drawing/Art Stuff?
Do You Offer Scholarships or Discounts?
Can You Give Me More Info About This Approach Overall?
Testimonials
Fees, Payment Plans & Registration
---
---
TESTIMONIALS
---
INVESTMENT AND APPLICATION PROCESS: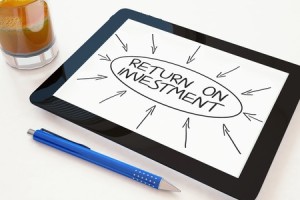 This quality program is a wise career investment for dedicated Process Professionals. Proven guidance to weave both spontaneous and structured visual scribing into your process work with individuals. And bring the visual way of working to your own unique process moves as well. With a fast return on investment as you implement into your work.
Upon completion, you are  granted an individual "FOR LIFE"  licence to my Visual Coaching techniques, the SHIFT-IT Visual Coaching System and the 30 Visual Maps … to use in your own practice. Additionally, as a graduate, you receive any additional maps added to this program in the future.
As an elite coach, over the years I've increased the rates I command.  The fee for this Certification is what it costs for a Private Client to have a 2 Day Visual Coaching Retreat with me. In essence, I'm teaching you how to fish (and equipping you with proven hook, line and rod) for what it costs for one client to work with me.  Why, because this is an excellent way to work and my life purpose is to make as big a shift as I can. I intend to die knowing I've lived my life honorably and have left a legacy for others that I can be proud of.   By empowering you to do what I do, we make Graphic Change in the world during a very important turning point.  Most trainees recoup their investment quickly, some even during their training period! All appreciate the power, fun and meaningfulness that this way of working adds to their life.
Below Are Two Payment Levels: For Profit and Not for Profit. Please choose which level suits your specific situation. Handy payment plans are offered.  Should you need a longer plan, just ask. All funds are in Canadian currency, see www.xe.com for current conversion rates. Your credit card company will convert your purchase amount on your credit card statement.
Application Interview: Upon registration, we'll do an Application Interview where you can ask any questions and I can determine your fit for the program.  If you would like to have this interview prior to registering, please book a time here.  Otherwise, you'll receive this and other logistical information upon registering below.
---
TWO LEVELS TO PARTICIPATE: For-Profit and Not-for-Profit. Choose Which Applies to You.
SOLD OUT:
Write admin@shift-it-coach.com for waitlist.
---
IN CLOSING …
In closing, let me just express how appreciative I am with the way this Program has unfolded over the years and the quality of people it attracts.  I look forward to you joining our upcoming cohort for this special program.
Thank you for your participation and for the work that together we do in the world – to midwife our own shifts and in our clients that we are so fortunate to work with.
Yours in Visual Expansion,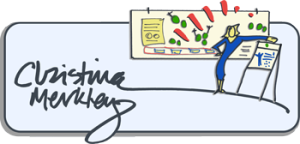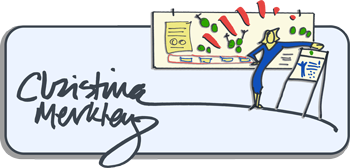 Christina Merkley, The SHIFT-IT Coach and Process Skills Mentor
P.S. Further questions? Just email admin@shift-it-coach.com. Additionally you can request a Free 30-Minute Exploratory Chat so you and I can talk directly if you have any questions.
---
More Testimonials:
Visual Thinkers Unite!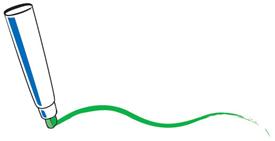 ©SHIFT-IT Coach, Inc.