I'm Christina Merkley and as "The SHIFT-IT Coach" I help you shift your professional and/or personal life for the better.
I'm a pioneer in a very effective modality called 'Visual Coaching' … using visuals to literally SEE YOUR OWN ANSWERS (given that over 82% of the population are Visual Thinkers).
I work with dedicated and creative people from across the globe who seek satisfaction in work and life. People who wish to clarify and fulfill their mission, purpose and passion.
Some of my clients travel to work in person with me in gorgeous Victoria, British Columbia, Canada where I'm based. However, the majority of my work is now done online, either privately or in public courses, including SHIFT-IT Online.
Although I have licensed an international cohort of Certified Visual Coaches® I personally facilitate this course so you get direct access to my pioneering experience and energy.
---
TABLE OF CONTENTS / QUICK LINKS
My SHIFT-IT System  is a deep experience. As such, there is plenty to explain about it so you can make an informed decision to do it. For those who want to skip ahead, here are a list of links so you can get to your info fast!
Background on Visual Coaching
Course Overview and Outcomes
Delivery Options and Dates
Frequently Asked Questions
Testimonials
What's Included
Fees, Levels and Payment Plans
More Testimonials
---
BACKGROUND ON VISUAL COACHING:
I've been in the Visual Process Field since 1996, after completing a Masters Degree in Organizational Development in San Francisco. My day job back then was traveling the globe as a Visual Practitioner for various kinds of corporate, governmental and not-for-profit clients.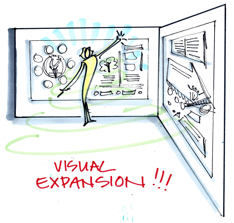 I began as a "Graphic Recorder" – a scribe who takes visual notes during meetings. Eventually, I developed into a "Graphic Facilitator" – one who designs and leads those meetings while simultaneously taking the visual notes. My specialty as a Facilitator is Strategic Planning, Visioning, Scenarios, Team Building and Conflict Resolution.
Back then Coaching was just emerging as a distinct role onto itself and I was fortunate to be at the nexus point of its emergence – taking training with The Coaches Training Institute (CTI) in 2000. There I began experimenting with combining coaching with the visual way of working. I also trained in Alchemical Hypnotherapy and became heavily immersed in Appreciative Inquiry, Law of Attraction and Shamanic practices.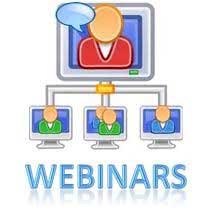 While I continued to work with corporate clients, I also built a successful Business and Life coaching practice and created my signature system: The SHIFT-IT Visual Coaching System, with its suite of Visual Maps.
For years, the only option to work with me was to come to my studio and work in person. Over time, as technology progressed, I expanded my practice to work remotely with individual clients and coaching groups — first by phone, then eventually using webinars and my digital drawing tablet (which is the technology we use in this course).

---
COURSE OUTCOMES:
SHIFT-IT literally shows you your own wisdom and gets you to act on it!
Through this Online Course You:

Outline Your Current Crossroads (What Brings You to SHIFT-IT At This Time);



Map Your Life To Date (See and Make Peace With Your Past);


Analyze Your Now (See Where You Are Currently Satisfied and Where You Aren't);



Create A Compelling Vision (Define What You Now Want);


Identify and Eliminate The Blocks To Your Vision (Soften Internal Resistance and Self-Sabotage);


Get Into Aligned Right Action (Participate In Your Own Rescue).
SHIFT-IT is a 7-stage process … and we tackle it step-by-step over 7 sessions. On each session, I explain the maps for that session and demonstrate them with volunteers. Then, you complete your own maps from there.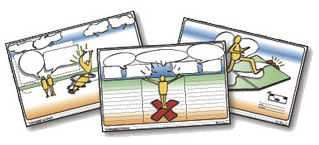 ---
EXPLANATION OF MY SHIFT-IT SYSTEM:
If you like detail, click here for a thorough explanation of  The SHIFT-IT System along with several Case Studies of each of the maps.
Additionally the video below begins with an overview of the Annual SHIFT-IT Online Course and my history with Visual Coaching. At the 30 minute mark, my description of the SHIFT-IT System and Visual Maps begins. Or, you can read the content below.
*Click Bottom Right Corner to Expand View
Download the video, right click here and choose 'Save File As'.
The SHIFT-IT name is an acronym: the name is comprised of the first letter of each of the seven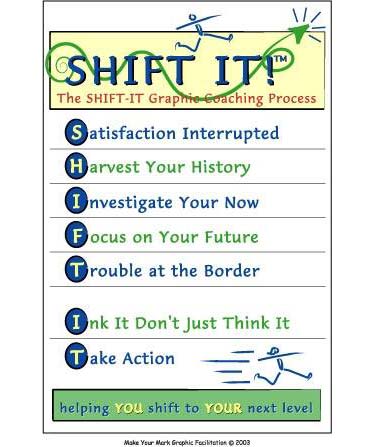 S

atisfaction Interrupted

H

arvest Your History

I

nvestigate Your Now

F

ocus on Your Future

T

rouble at the Border

I

nk It, Don't Just Think It

T

ake Action
Let me explain a little bit about each stage and what we do each session… and show you the handy Visual Maps we use.
BE REASSURED: don't let the pictures and visual-nature of the materials concern you — you don't have to be an artist or literally draw even a stick figure if you don't want to. The base drawing has already been done for you. All you need to do is add your own personal content as we go. And, if you are an artist or like to doodle, you can do so to your heart's content too!
---
Session One: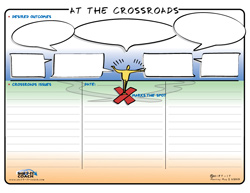 Usually, people are drawn to SHIFT-IT when their general satisfaction has been interrupted in some way. It may be that you have reached one set of goals, and are wondering what is next. Or, you may have hit a life milestone and are re-grouping as a result (sold business, left job, graduation, divorce, kids leaving the house, significant birthday, retirement, etc).
Or you may be frustrated by having not yet reached the potential you inherently feel you have and are ready to break through. Whatever the reasons, at the first stage of this process, you map the current crossroads you are standing at. The issues that you are currently facing and your desired outcomes.
---
Session Two:


The second step of the SHIFT-IT is to 'Harvest Your History'. Who you are today is a culmination of your experiences, beliefs, and exposures. You are in the midst of your own unique evolutionary process. Nothing happens in a vacuum… there is always a larger context that can help you make greater sense of your past and your desired future. This session you visually record your life-to-date. Tracking where you have been to better understand your past, your influences, and how you have created your current reality … with special emphasis on harvesting your beliefs and programming. And releasing those that no longer serve you so you can move forward with grace.
---
Session Three:


The third session of SHIFT-IT is to 'Investigate Your Now'. This is an opportunity to view your present reality. To see what is going on for you right now (X marks the spot). How satisfied and dissatisfied you are in the different areas of your life. What do you have going for you (your strengths and skill sets) and what do you most need to learn (your learning and developmental areas). And taking an inventory of the materials, assets and resources that you currently have at your disposal. You are going to need them moving forward!
---
Session Four:


The fourth session of SHIFT-IT is to 'Focus On Your Future'. After analyzing your past and your present circumstances, you are now ready to define the future you truly desire. In this module you state and proclaim what you really want. A chance to dream BIG. You create your own Personal Vision which becomes your magnet. Pulling your positive desires towards you.
---
Session Five:


Our fifth session is all about your 'Trouble At The Border' – the border between what you say you want and where you now are.  This is a hugely important step – a step that most other strategic planning programs ignore. Whenever you create a Vision, you MUST deal with the resistant energy that arises in opposition to it. You uncover your blocks, doubts, uncertainties (that Itty Bitty Sh!tty Committee inside your head that doesn't want you to move out of your stagnant, but comfortable, safety zone).
---
Session Six:


The sixth session is "Ink It Don't Just Think It". You can't stop with just thinking about your life. You must create an overarching, holistic plan that is put down on paper. This is the move that pulls all of your thinking into one cohesive picture: Your Big Picture Plan.
It bridges the gap between your current reality and the reality that you want to create. It starts organizing you and getting you clear on the next steps you will need to take.
This stage transitions you from the land of dreaming into the LAND OF DOING.
Now you are ready to assume responsibility and start taking aligned and consistent action!
---
Session Seven:


The final step of SHIFT-IT is "Take Action". With proper energetic alignment your Vision is being magnetized as long as you are open and allowing of it. But just because that magnetism is at work, doesn't mean you get a completely free ride – you still need to take an active role in your own transformation by following the hunches, intuitions and urges that come to you. Success comes to people who take responsibility for themselves and actually implement their next steps. This final phase of the process gets you down to a detailed, S.M.A.R.T plan (specific, measurable, actionable, realistic and timely). And supports you in doing your steps, via a healthy, supportive, and encouraging environment.
Merkley Maps #16-17: Take Action Plan and Declaration of Intent

---
DELIVERY OPTIONS AND DATES:
There are several ways you can do SHIFT-IT: via the Annual Online Course or via the Home Retreat Kit. Also via Private Coaching (with me or one of my Certified Visual Coaches).  If you are a Process Professional who works visually with individuals (or wants to) see our Visual Coach Certification which enables you to use my visual techniques and tools with your own clientele.
Where Is The Course Held and How Do I Get There?
ANNUAL ONLINE COURSE:

The Online Version is an annual 7-week program conducted online via live webinars (90 minutes each, plus bonus Q&A time afterward). To participate, you require a computer with decent internet speed (ideally with an embedded or attached videocam). Plus a computer headset for audio connection (a dial-in U.S. phone number is also available). All sessions are video and mp3 recorded for easy replay (should you miss a webinar or want to re-listen).
How the Technology Works – it's simple!
At the appointed time, you join us online via your computer to interact live with me and your course colleagues. You also receive an extensive training handbook and access to additional training videos. Plus, we also have a private online forum, which allows us to communicate between sessions (post and comment on assignments, share resources, etc). An awesome way for you to share your work, receive feedback and connect with me and your course colleagues!
HOME RETREAT KIT: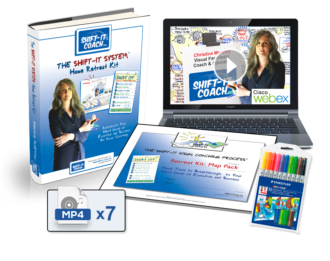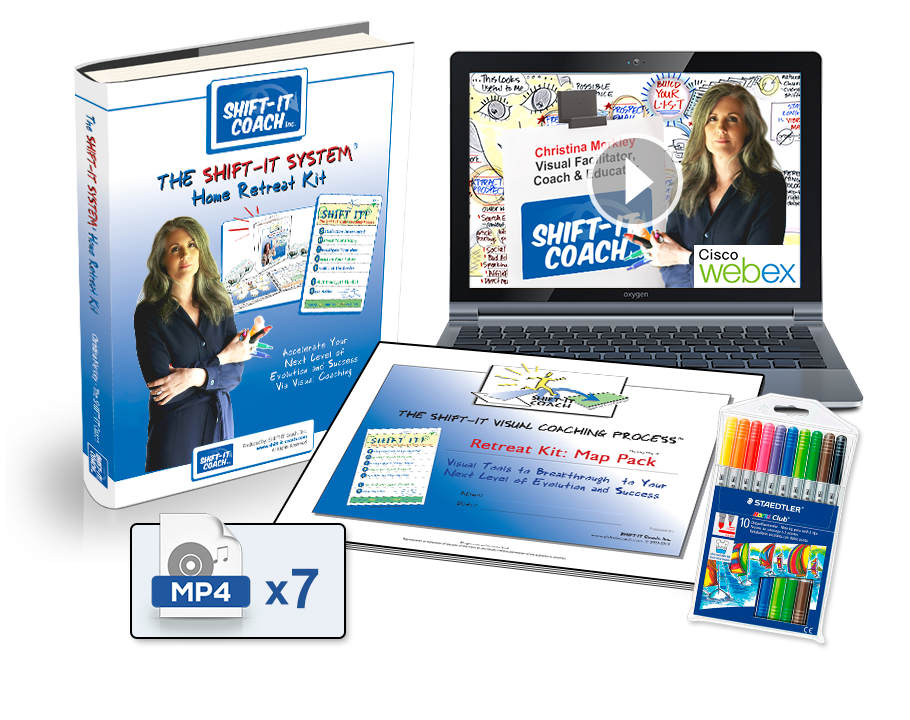 The Home Retreat is held … well, at your home! I've taken a recent course and converted it into a Home Study product (available 24/7), that you can purchase immediately and work your way through the same material, at your own pace, in the comfort of your own surroundings. More Info and Instant Access

---
FREQUENTLY ASKED QUESTIONS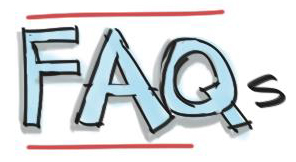 Here are some other frequently asked questions …
How Many People Are In Each Group?
Who Comes & What Are They Like?
What Kinds of Results Happen?
When Will You Offer This Course Again?
What Is The Home Retreat Kit Option?
Do I Have to Draw to Participate?
Do I Have to Divulge My Private Stuff?
Is SHIFT-IT Religious?
Can I Use Your SHIFT-IT Maps With My Own Clients?
Can I Work Privately With You Or A Certified Visual Coach?
Do You Offer Scholarships or Discounts?
Testimonials
What's Included
Fees, Levels and Payment Plans
More Testimonials
---
TESTIMONIALS:
---
WHAT'S INCLUDED?
Annual Online Course:
BASIC PACKAGE:
7 Live Webinars: 90-minutes each;
Generous Bonus Q&A After Each Class: I stick around for as long as it takes;
Webinar Recordings: video and MP3 of every session;
Digital SHIFT-IT Kit : downloadable 300 page Handbook & Map Pack;
Private Online Forum (for 24/7 connection with your class mates and me);
Free Ongoing Membership in The SHIFT-IT eCommunity: a $297 value
Free Repeater Option in Any Annual Online Course: when you are ready for your next round!
DELUXE PACKAGE:
Everything in the Basic Package, PLUS …
Printed Bound SHIFT-IT Manual: so your printer can take a break;
Printed Full Color Map Pack: full color 11×17 workbook which you keep as a journal of your journey;
10 Sturdy Colored Markers: with washable ink for writing and drawing in your Map Pack;
3- 45-Minute Private Coaching Sessions with Christina Merkley: as a Deluxe Purchaser you save significantly off of my regular coaching rates. FYI, these sessions are conducted via handy Web Conference Technology (so we can SEE each other and the live Visual Coaching I do with you via my digital tablet). Great for navigating any maps you want help on and for implementation support as you take your Vision and Plan out into the world;
---
FEES, LEVELS AND PAYMENT PLANS:
There are THREE LEVELS to choose from: Basic, Deluxe and Repeater. The Repeater is a perk for those who have attended before (or have purchased the Home Study Kit). Fully Free Repeater rates are only offered on the Online Annual Course not on In-Person Retreats (although Repeaters do qualify for a reduced rate).   Several payment plan options are available. Click the links under each option for full details.
Also, an important FYI … fees are in Canadian funds. Currently the Canadian dollar is low (it hasn't been this low for a decade), so for Americans, Europeans and some other locales this translates into additional savings for you! Now is a really good time to secure this experience. See currency converter.
CHOOSE YOUR OPTION:
Click links below to register for the option of your choice.


---
In closing, if you are attracted to Visual Coaching I hope I have made it clear as to why this course is a smart investment in you and your future. I look forward to coaching you and introducing you to your wonderful colleagues!
Yours in visual expansion,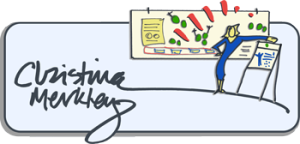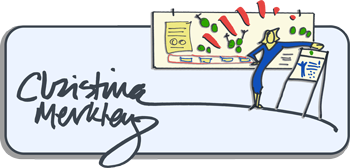 Christina Merkley,
The SHIFT-IT Coach
P.S. Further Questions? Email admin@shift-it-coach.com. You can also request a free '30-Minute Exploratory Chat' to chat directly with me if you'd like.

---
MORE SATISFIED CLIENTS RAVE!