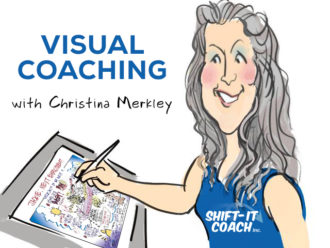 I'm Christina Merkley and as "The SHIFT-IT Coach" I help you shift work and life for the better.
I'm a pioneer in Visual Coaching. Using hand-drawn visuals to literally draw your own answers out.
I work with people from across the globe. People who are (or wish to be) in their power and craft a life that truly suits them.
Some of my clients travel to work in person with me in gorgeous Victoria, British Columbia, Canada where I'm based. However, the majority of my work is online, either privately or in public courses.
---
TABLE OF CONTENTS / QUICK LINKS
Quick links so you can scan fast!
Background on Visual Coaching
Course Overview and Outcomes
Delivery Options and Dates
Frequently Asked Questions
Testimonials
What's Included
Fees, Levels, and Payment Plans
More Testimonials
---
BACKGROUND ON VISUAL COACHING:
I've been in the Visual Process Field since 1996, after completing a Masters Degree in Organizational Development from The California Institute of Integral Studies in San Francisco.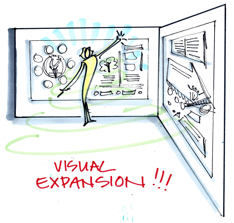 I began as a "Graphic Recorder" – a scribe who takes visual notes during meetings. Eventually, I developed into a "Graphic Facilitator" – one who designs and leads meetings while simultaneously taking the visual notes. My specialty as a Facilitator is Strategic Planning, Visioning, Scenarios, Team Building and Conflict Resolution (full bio here).
Back then Coaching was just emerging as a distinct role onto itself and I was fortunate to be at the nexus point of its emergence. My original coach training was with The Coaches Training Institute (CTI) in 2000. I started blending coaching with the visual way of working. And weaving in other useful skills from Hypnotherapy, Neuro-linguistic Programming, Appreciative Inquiry, Parts Work, Systemic Constellation, and many other modalities.
I built a successful Business and Life coaching practice and created my signature system: The SHIFT-IT Visual Coaching System, with its suite of Visual Maps. I was an early adopter of online technology which enabled me to develop a geographically diverse clientele. In addition to my private practice, I train and mentor others who are also responsible for holding various kinds of process containers for individuals and groups (managers, supervisors, consultants, community organisers, coaches, educators, trainers, therapists, counselors, advocates, financial advisors, etc) via Visual Coach Certification.

---
SHIFT-IT OUTCOMES:
The SHIFT-IT Visual Coaching System Equips You To:

See, Understand and Make Peace with Your Past;


Pinpoint Your Current Dilemmas and Crossroads;


Analyze Where You Are Currently Satisfied and Where You Aren't;



Create A Compelling Vision of What You Now Really Desire;



Identify and Remove Blocks, Entanglements, and Sabotage;



Create Movement, Momentum, and Flow.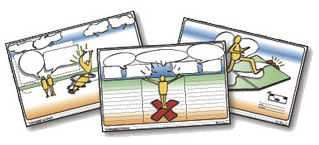 ---
THE SHIFT-IT VISUAL COACHING SYSTEM:
This video shares my history with Visual Coaching and gives an overview of The SHIFT-IT System. For more info, click here.
*Click Bottom Right Corner to Expand View
Download the video, right-click here and choose 'Save File As'.
The SHIFT-IT name is an acronym: the name is comprised of the first letter of each of the seven stages.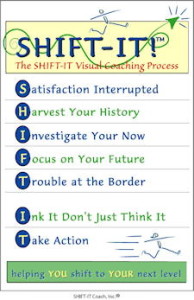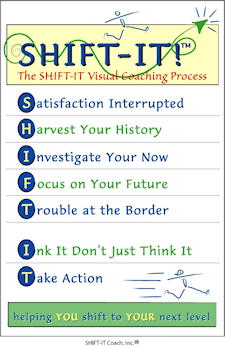 S

atisfaction Interrupted

H

arvest Your History

I

nvestigate Your Now

F

ocus on Your Future

T

rouble at the Border

I

nk It, Don't Just Think It

T

ake Action
Let me explain a little bit about each stage and the handy Visual Maps.
BE REASSURED: don't let the pictures and visual-nature of the materials concern you — you don't have to be an artist or draw even a stick figure if you don't want to. The base drawing has already been done for you. All you need to do is add your own personal content as we go. And, if you are an artist, you can doodle and sketch to your heart's content!
---
Stage One: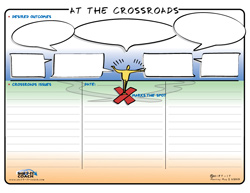 Usually, people are drawn to SHIFT-IT when their general satisfaction has been interrupted in some way.
It may be that you have reached one set of goals, and are wondering what is next. Or, you may have hit a life milestone and are re-grouping as a result (sold business, left job, graduation, divorce, empty nest, significant birthday, retirement, etc). Or you may be frustrated by having not yet reached the potential you inherently feel you have and are ready to break through.
Whatever the reasons, at the first stage, you map the current crossroads you are standing at.
---
Stage Two:


The second stage is to 'Harvest Your History'. Who you are today is a culmination of your experiences and the meaning you attached to those experiences (your beliefs). You visually record your life-to-date. Track where you have been to better see your narrative … with special emphasis on beliefs and conditioning. Releasing that which no longer serves so you can move forward with grace.
---
Stage Three:


The second stage is to 'Investigate Your Now'. An opportunity to view what is happening for you right now (X marks the spot). How satisfied and dissatisfied you are in the varied areas of your life. What do you have going for you (your strengths and skill sets) and what do you most need to drop or add (developmental areas). Taking an inventory of the materials, assets, and resources you have at your disposal. You are going to need them moving forward!
---
Stage Four:


The fourth stage is to 'Focus On Your Future'. You are now ready to define the future you desire from here (at the individual, partner, group, planet, and even galactic level). Human beings are creator beings. Its also my sincere pleasure to introduce you to your Future Self – your best darn coach and ally!
---
Stage Five:


Our fifth stage is 'Trouble At The Border' – the line between where you are and where you say you want to be. This is hugely important – something most strategic planning programs ignore. When you create a Vision, you must deal with the resistant energy that arises in opposition and/or acknowledge any wisdom that is knowingly putting your brakes on. Here you uncover your blocks, conflicts, and entanglements (the Itty Bitty Sh!tty Committee that has a stack in the status quo), deal with interfering outside forces and listen to deeper guidance beyond your personality self.
---
Stage Six:


The sixth stage is "Ink It Don't Just Think It". Don't just think about your life. Draft a plan instead. This stage organizes your thinking into one cohesive picture: Your Big Picture Plan.
It bridges the gap between your old world and your new world. It gets you clear on your main strategies.
You transition from the land of visioning into the LAND OF DOING. Or, for folks who do way too much, into the LAND OF BEING (learning to chill, trust and relax!).
---
Stage Seven:


The final stage is "Take Action". With proper energetic alignment, magical things happen. However, you also need to take an active role in your transformation by following your hunches, intuitions, and urges. Mature people take responsibility and implement it. Often over and over again. Here you get a detailed, S.M.A.R.T plan (specific, measurable, actionable, realistic, and timely). And the support to take your steps, via a healthy and encouraging support network.
Merkley Maps #16-17: Take Action Plan and Declaration of Intent

---
DELIVERY OPTIONS AND DATES:
There are several ways you can experience The SHIFT-IT Visual Coaching System:
Where Is SHIFT-IT Held and How Do I Get There?
IN-PERSON RETREATS:
The In-person Retreat is a 3 Day intensive held in various physical locations. Unfortunately the scheduled Spring 2020 San Miguel de Allende, Mexico event had to be cancelled due to the pandemic. As time progresses we'll post future events as they emerge.
ONLINE RETREATS:
These Online Retreats are offered in various formats. The Summer 2020 SHIFT-IT Retreat is an intensive format. It is held over three consecutive days on August 28-30, 2020. There are 3 online sessions each day (90 minutes each). In between sessions you use the provided SHIFT-IT Maps and online forum. It is recommended you fully preserve all three days in your calendar including evenings to work on your maps.
Session Times:
8:00 am – 9:30 am, Pacific (9 Mnt, 10 Cntrl, 11 Estrn)
11:30 am – 1:00 pm, Pacific (12:30 Mnt, 1:30 Cntrl, 2:30 Estrn)
3:00 pm – 4:30 pm, Pacific (4 Mnt, 5 Cntrl, 6 Estrn)
Time Zone Converter. Video and mp3 recordings provided.
---
HOME RETREAT KIT: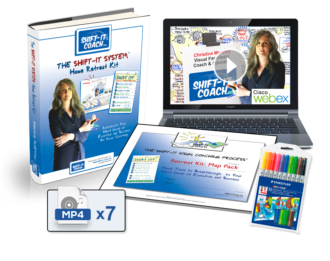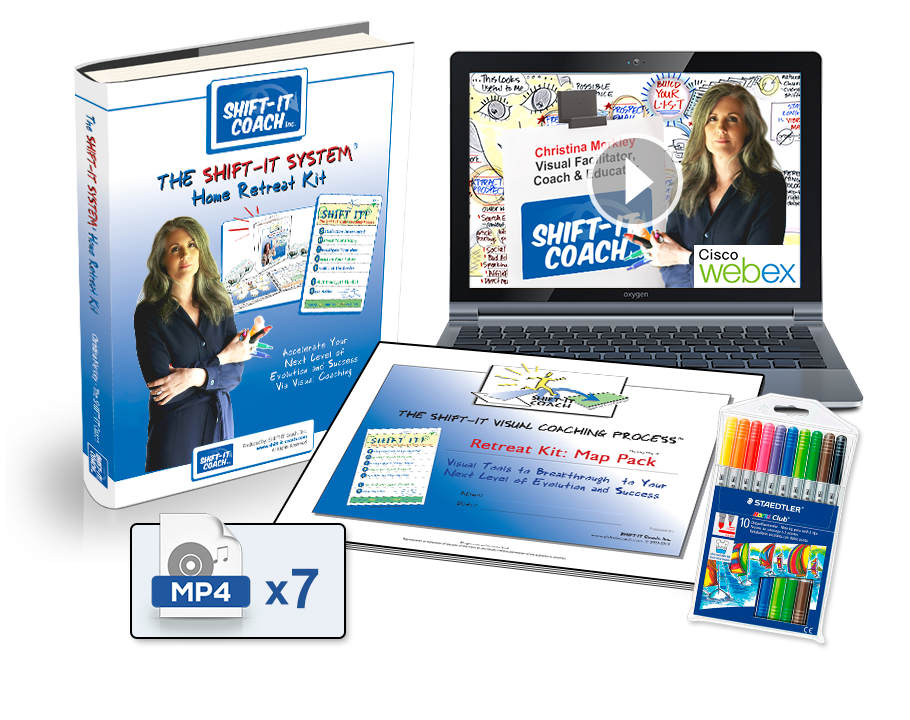 Dates and times of the Live Retreats aren't convenient for you? No problem, there is another option. Work on your own at your own pace via the Home Retreat Kit. More Info and Instant Access

---
FREQUENTLY ASKED QUESTIONS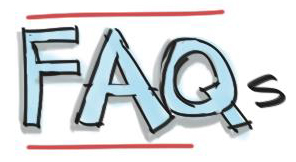 Answers to commonly asked questions …
How Many People Are In Each Group?
Who Comes & What Are They Like?
What Kinds of Results Happen?
When Will You Offer This Course Again?
What Is The Home Retreat Kit Option?
Do I Have to Draw to Participate?
Do I Have to Divulge My Private Stuff?
Is SHIFT-IT Religious?
Can I Use Your SHIFT-IT Maps With My Own Clients?
Can I Work Privately With You Or A Certified Visual Coach?
Do You Offer Scholarships or Discounts?
Testimonials
What's Included
Fees, Levels, and Payment Plans
More Testimonials
---
TESTIMONIALS:
---
WHAT'S INCLUDED?
Online Retreat:
BASIC PACKAGE:
Includes:
9 Live Webinars: 90-minutes each;
Webinar Recordings: video and MP3
Digital SHIFT-IT Kit: downloadable 300-page Handbook & Map Pack;
Online NING Forum
Free Drop-In Process Groups;
Free Repeater Option: when you are ready for your next round!
DELUXE PACKAGE:
Includes everything in the Basic Package, PLUS …
Printed Bound SHIFT-IT Manual: so your printer can take a break;
Printed Full Color Map Pack: full-color 11×17 workbook which you keep as a journal of your journey;
Colored Markers: for writing and drawing in your Map Pack;
3- 45-Minute Private Coaching Sessions with Christina Merkley: reduced from my regular coaching rates.
Repeater and Accessibility: Same as Basic Package.
---
FEES, LEVELS, AND PAYMENT PLANS:
There are FOUR LEVELS to choose from: Basic, Deluxe, Repeater, and Accessibility.
Payment Plans: are available in each option.
Repeater: is a perk for those who have attended before (or have purchased the Home Study Kit).
Accessibility: is for marginalized and/or financially disadvantaged folks.
Currency: Fees are in Canadian currency. Currently, the Canadian dollar is low which translates into additional currency savings for some ( Americans, Europeans, and some other locales). See the currency converter.
CHOOSE YOUR OPTION:
Click links below to register for the option of your choice.
---
I look forward to coaching you with visuals!
Yours in visual expansion,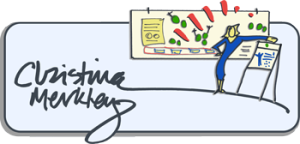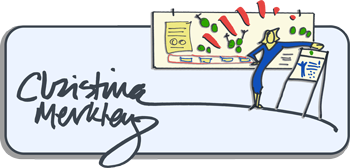 Christina Merkley,
The SHIFT-IT Coach
P.S. Further Questions? Email admin@shift-it-coach.com. Request a free '30-Minute Exploratory Chat' with Christina to determine which option is best for you.

---
MORE SATISFIED CLIENTS RAVE!