I'm Christina Merkley and as "The SHIFT-IT Coach" I help you see and shift your life.
I'm a pioneer in a niche methodology called Visual Coaching. Using spontaneous hand-drawn visuals to literally draw your inner wisdom out.
I work with people from across the globe.
Some clients come to my rural studio just outside of beautiful Victoria, British Columbia, Canada. The majority of my clients join me online, either privately or in one of my public courses.
Below is my signature Visual Coaching course – The SHIFT-IT Retreat.
You have your own wise answers inside of you. Take a Retreat with my SHIFT-IT Maps to draw them out!
---
TABLE OF CONTENTS / QUICK LINKS
Quick links so you can scan fast!
Background on Visual Coaching
Course Overview and Outcomes
Delivery Options and Dates
Frequently Asked Questions
Testimonials
Fees, Levels, and Payment Plans
More Testimonials
---
BACKGROUND ON VISUAL COACHING:
I've been in the Visual Process Field since 1996, after completing a Masters's Degree in Organizational Development and Transformation.
I began as a "Graphic Recorder" – a scribe who takes visual notes during meetings. Eventually, I developed into a "Graphic Facilitator" – one who designs and leads meetings while simultaneously taking visual notes. My specialty as a Facilitator is Strategic Planning, Visioning, Scenarios, Team Building and Conflict Resolution (full bio here).
In 2000, as Coaching was emerging as a distinct role in itself, I trained with The Coaches Training Institute (CTI) in California, USA.
Given I was already working visually, it was natural for me to incorporate visual methods into my coaching and into the other modalities I do with clients: Hypnotherapy, Neuro-linguistic Programming, Appreciative Inquiry, Parts Work, Voice Dialogue, Systemic Constellation, Polarities, Self Inquiry and more.
Eventually, all of this innovative experimentation wove into my SHIFT-IT Visual Coaching System, with its suite of Visual Maps.
In the early days, I was limited to working in-person with large paper (like Graphic Recorders and Graphic Facilitators do) and to clients who were either local or willing to travel to me.
However, as technology advanced, I moved into online delivery, which expanded my client reach internationally, with no need for travel.
Nowadays I run a busy international private practice and my SHIFT-IT School. Working with people like you who want to use visual methods to shift your lives.
Also training other process peeps (facilitators, mediators, coaches, therapists, financial advisors, educators and the like) to use my methods and tools with their own clients.

---
RETREAT OUTCOMES:
Through the SHIFT-IT Visual Coaching Retreat You:

See, Understand and Make Peace with Your Past;


Pinpoint Where You Are Currently Satisfied and Where You Aren't;



Create A Compelling Vision of What You Want Next;



Identify and Overcome Doubts, Resistance and Self Sabotage;



Create Forward Movement, Momentum and Flow.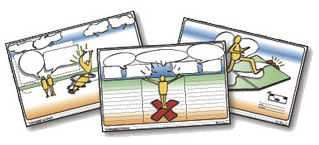 ---
OVERVIEW OF SHIFT-IT SYSTEM:
The video covers my history and gives an overview of The SHIFT-IT System. For more info, click here.
*Click Bottom Right Corner to Expand View
The SHIFT-IT name is an acronym: the name is comprised of the first letter of each of the seven stages.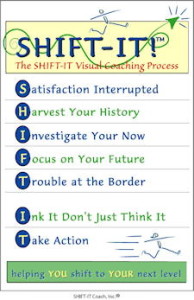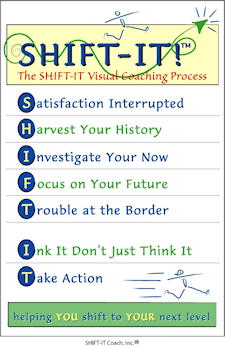 S

atisfaction Interrupted

H

arvest Your History

I

nvestigate Your Now

F

ocus on Your Future

T

rouble at the Border

I

nk It, Don't Just Think It

T

ake Action
Let me explain a little bit about each stage and the handy Visual Maps.
BE REASSURED: don't let the pictures and visual nature of the materials concern you – you don't have to be an artist or draw even a stick figure if you don't want to. The base drawing has already been done for you. All you need to do is add your own personal content as we go. And, if you are an artist, you can doodle and sketch to your heart's content!
---
Stage One:

People are drawn to SHIFT-IT when their general satisfaction has been interrupted in some way.
It may be that you have reached one set of goals, and want to design your next ones. Or, you may have hit a life milestone or are navigating a transition. Or you may be frustrated by having not yet reached the potential you inherently feel you have and are ready to breakthrough.
Whatever the reasons, at the first stage, you map the current crossroads you are standing at.


---
Stage Two:


The second stage is to "Harvest Your History". Who you are today is a culmination of your experiences and the meaning you attached to those experiences (your beliefs). You visually record your life to date. Track where you have been to better see your narrative … with special emphasis on beliefs, conditioning and identification. Releasing that which no longer serves so you can move forward with grace.
---
Stage Three:


The third stage is to "Investigate Your Now". An opportunity to view what is happening for you right now (X marks the spot). How satisfied and dissatisfied you are in the various areas of your life. What do you have going for you (your strengths and skill sets) and what do you most need to drop or add (developmental areas). Take an inventory of the materials, assets, and resources you have at your disposal. You are going to need them moving forward!
---
Stage Four:


The fourth stage is to "Focus on Your Future". You are now ready to define the future you desire from here (at the individual, partner, group, planet, and even galactic level). Human beings are creator beings. It's also my sincere pleasure to introduce you to your Future Self –your best darn coach and ally!
---
Stage Five:


Our fifth stage is "Trouble at the Border" – the line between where you are and where you say you want to be. This is hugely important – something most strategic planning programs ignore. When you create a Vision, you must deal with the resistant energy that arises in opposition to it. And/or acknowledge any wisdom that is putting on your brakes for good reason. Here you uncover and move beyond your blocks, resistance and entanglements. Getting your inner energy aligned, clean and clear.
---
Stage Six:

The sixth stage is "Ink It Don't Just Think It". Don't just think about your life. Draft a plan instead. This stage organizes your thinking into one cohesive picture: Your Big Picture Plan.
It bridges the gap between your old world and your new world. It gets you clear on your main strategies.
Your transition from the land of visioning into the LAND OF DOING. Or, for folks who do way too much, into the LAND OF BEING (learning to chill, trust and relax!).


---
Stage Seven:


The final stage is "Take Action". With proper energetic alignment, magical things happen. However, you also need to take an active role in your transformation by following your hunches, intuitions and urges. Mature people take responsibility and implement it in their lives. Often over and over again. Here you get a detailed, S.M.A.R.T plan (specific, measurable, actionable, realistic and timely). With support and encouragement to take your steps with accountability.
---
DELIVERY OPTIONS AND DATES:
There are several ways you can participate in a SHIFT-IT Visual Coaching Retreat:
Where are Retreats Held and How Do I Get There?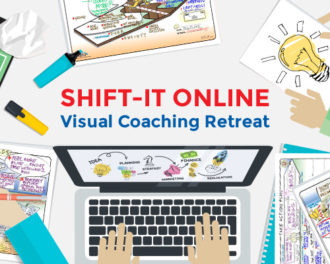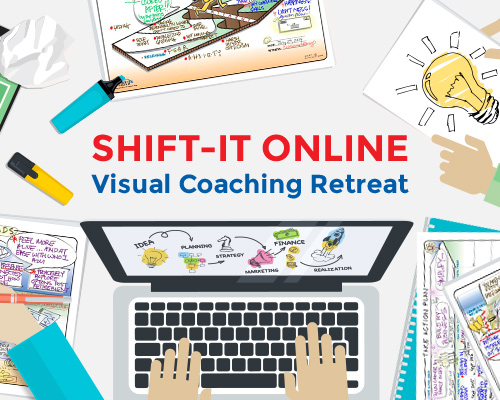 IN-PERSON RETREATS:
Public In-person Retreats (including San Miguel de Allende, Mexico retreats) are on hold until further notice.
ONLINE RETREATS:
Online Retreats are offered several times a year via an intensive format. Held over 3 consecutive days, with 3 online sessions each day (90-minutes each). SHIFT-IT is a deep inner work process. It is recommended you keep work and other activities as minimal as possible during the 3 days of the Retreat. Leaving you to concentrate on filling in your own Visual Maps and using the private online forum to connect with other retreat members and Christina.
Session Times:
8:00 am – 9:30 am, Pacific Time  convert to your zone
11:30 am – 1:00 pm, Pacific Time  convert to your zone
3:00 pm – 4:30 pm, Pacific Time convert to your zone
All sessions are fully recorded with quick turnaround times. If you need to miss a session, due to time-zone differences or other reasons, you can catch up on what you missed via the recordings. Plus the provided Retreat Manual gives full instructions.
---
HOME RETREAT KIT: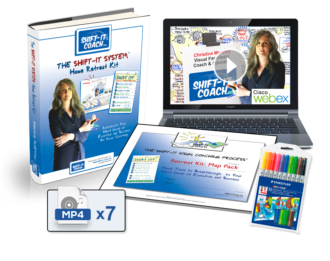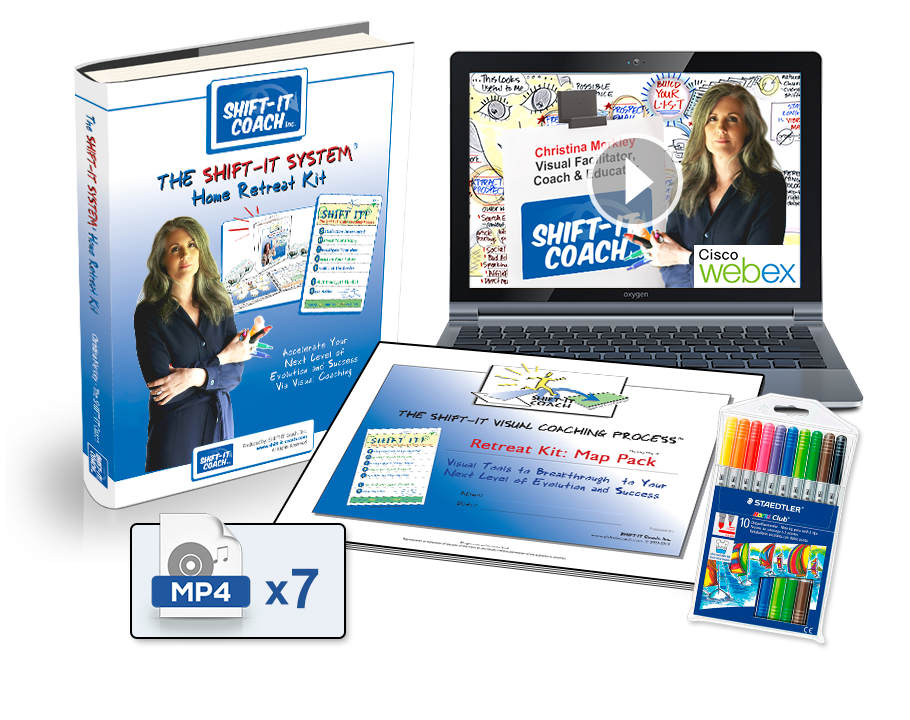 Timing of the Live Retreats don't work? There is another option. Work on your own at your own pace via the Home Retreat Kit. Deluxe members get 3 Zoom Sessions with Christina for private coaching.
---
FREQUENTLY ASKED QUESTIONS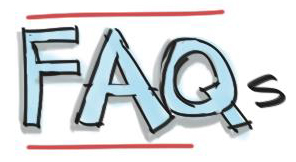 Answers to commonly asked questions …
How Many People Are in Each Group?
Who Comes & What Are They Like?
What Kinds of Results Happen?
When Will You Offer this Course Again?
What Is the Home Retreat Kit Option?
Do I Have to Draw to Participate?
Do I Have to Divulge My Private Stuff?
Is SHIFT-IT Religious?
Can I Use Your SHIFT-IT Maps with My Own Clients?
Can I Work Privately with You or a Certified Visual Coach?
Do You Offer Scholarships or Discounts?
Testimonials
Fees, Levels, and Payment Plans
More Testimonials

---
TESTIMONIALS:
---

FEES, LEVELS, AND PAYMENT PLANS:
ONLINE RETREAT: Fall 2022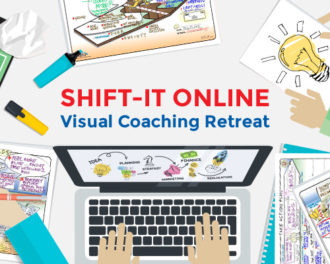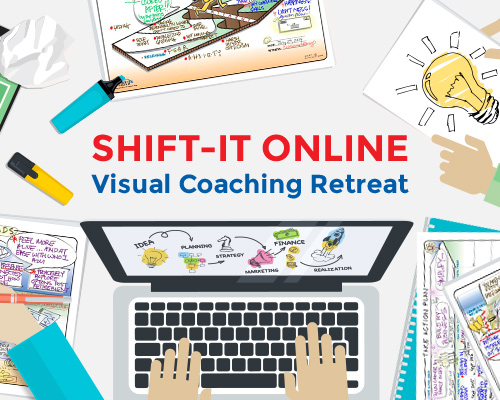 September 9, 10 & 11, 2022:
3 Zoom Sessions Each Day
Session Times:
8:00 am – 9:30 am, Pacific Time  convert to your zone
11:30 am – 1:00 pm, Pacific Time  convert to your zone
3:00 pm – 4:30 pm, Pacific Time convert to your zone
FOUR OPTIONS TO CHOOSE FROM BELOW. PLEASE SELECT CAREFULLY.
OPTIONS DEPEND ON YOUR SHIFT-IT EXPERIENCE, WHETHER YOU DESIRE PRIVATE TIME WITH CHRISTINA, AND ALSO YOUR FINANCIAL CIRCUMSTANCES.  GIVEN GLOBAL UNCERTAINTIES, PANDEMIC RATES ARE EXTENDED FOR NOW.
---
BASIC OPTION – $497.00 $248.50 CAD ($193 USD)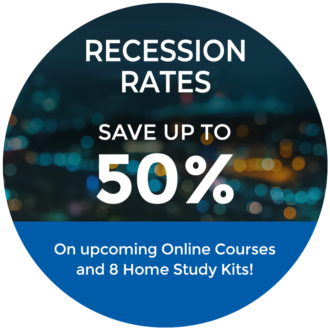 Includes:
9 Live Webinars: 90-minutes Each;
Webinar Recordings: Video and MP3;
Digital SHIFT-IT Handbook and Map Pack;
Private Online Forum for Retreat Interactions;
Ongoing Connection via Public Visual Satsangs; and
Cheaper Rate on Your Next Round!
PAYMENT OPTIONS
1 payment of $497.00 $248.50 CAD ($193 USD*)
3 monthly payments of $182.00 $91.00 CAD ($71 USD*)
7 monthly payments of $85.00 $42.50 CAD ($33 USD*)
---
DELUXE OPTION – $997.00 $498.50 CAD ($387 USD)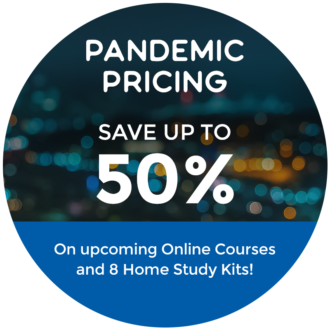 Includes everything in the Basic Package, PLUS …
Printed Bound SHIFT-IT Manual;
Printed Full Color Map Pack;
Colored Markers; and
Three 45-Minute Private Coaching Sessions with Christina: significantly reduced from regular coaching rates – great deal!
PAYMENT OPTIONS
1 payment of $997.00 $498.50 CAD ($387 USD*)
3 monthly payments of $350.00 $175.00 CAD ($136 USD*)
10 monthly payments of $110.00 $55.00 CAD ($43 USD*)
---
ACCESSIBILITY & REPEATERS – $247.00 $123.50 CAD ($96 USD)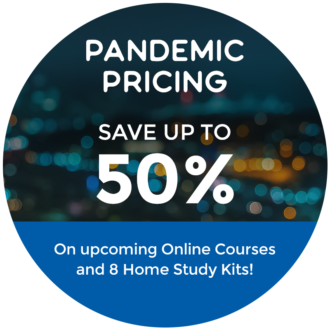 Same as Basic Level. For folks who can't afford regular plans due to currency devaluation and/or pandemic difficulties. Please be honest so people who truly need them aren't left out. If you require a greater subsidy email us with a brief explanation.
Repeaters are also welcome to use this subsidized rate – those who have done SHIFT-IT before (via Christina or one of her Certified Visual Coaches) and are ready for your next round!
PAYMENT OPTIONS
1 payment of $247.00 $123.50 CAD ($96 USD*)
3 monthly payments of $85.00 $42.50 CAD ($33 USD*)
7 monthly payments of $40.00 $20.00 CAD ($16 USD*)
---
CERTIFIED VISUAL COACHES – FREE!
Certified Visual Coaches and folks currently enrolled in Visual Coach Certification may participate free of charge. Email us for a coupon code to zero out the fee.
---
* Fees are in Canadian Funds. USD fees quoted are approximate. Exact exchange rates fluctuate and depend on the day/time purchased and the policies of the credit card used (see www.xe.com for daily rate). Plus applicable taxes for Canadian residents. Payment plans are legal contracts to be fulfilled per the terms stated. The 1 pay is the most affordable option, as payment plans include additional fees. The first payment is immediate, then pulled every 30 days until complete.
---
HOME RETREAT KIT:
Immediate Download (work at your own pace)
Basic

$497.00 $248.50

Deluxe

$997.00 $498.50

More Info
---
I look forward to coaching you with visuals!
Yours in visual expansion,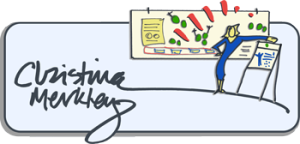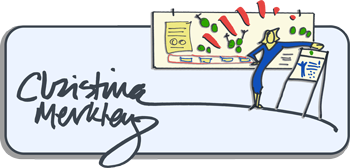 Christina Merkley,
The SHIFT-IT Coach
P.S. Further Questions? Email us and request a free '30-Minute Exploratory Chat' with Christina to determine which option is best for you.

---
MORE SATISFIED CLIENTS RAVE!