Free Process Popups every few weeks (scroll below for info and registration).
Also Free Individual Visual Coaching Sessions (click here for info).
Online and open to all. Recorded.
DATE OF NEXT POPUP:
Next date: Thursday, November 11, 1-3pm Pacific
(convert to your zone)
---
REGISTRATION AND LOGISTICS: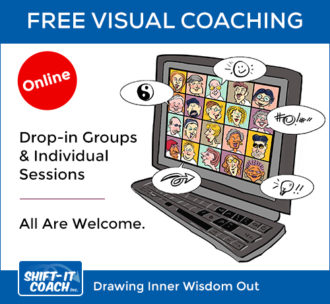 Process PopUps are free, online and open to all. We meditate together, share stories from around the world, and use various processing techniques (Self Inquiry, Constellations, Orphan Rescue, Visioning, etc.) to meet what is arising during these intense times.
Browse videos at the bottom of this page to get a feel for what they are like.
Days and times vary. So if the upcoming date doesn't work, register anyways to receive video recordings and announcements on next dates.
Check your spam filters if you can't find our emails, especially Gmail (promotions folder). Need Help? Contact my assistant Patricia at admin@shift-it-coach.com.
---
VISUAL TOOLS TO HELP YOU PROCESS:
Visioning:
Future Self eBook
Magnetism Map eBook
Individual Magnetism Map (vision – solo)
Duo Magnetism Map (vision – male & female)
Duo Magnetism Map (vision – male/male)
Duo Magnetism Map (vision – female/female)
Group Magnetism Map (vision – group)
Planetary Magnetism Map (vision – planet)
Galaxy Magnetism Map (vision – galaxy)
Action Planning:
Inner Work:
Flip It, Flip It Good eBook
Orphan Rescue eBook
Focus Wheel Map
Polarity Square Map

---
VIDEO LIBRARY AND COMPLETED MAPS:
38. October 18, 2021
Online Process Group
Being With Loss: Dad, Creativity And Integrity
SUMMARY:
After 10 minutes of meditation (which we always do), we hear reports on previous Inner Work and then determine which topics are coming up to be met now.
Loss was present in many forms this gathering.
The unexpected loss of a parent (condolences Matteo and well wishes to Mario).
The disappointment of not being able to more fully actualize creativity in what seemed at first to be a promising environment.
The loss (and found!) of integrity … and one's Inner Towanda!.
Plus the necessity of mourning those who are falling away before one can fully embrace those who come to fill the vacuum. And to the embodiment of ESSENCE. Yes, please!
Thank you everyone for your honesty, vulnerability and strength. Such an honor to draw this deep wealth out!
---
---
VISUAL MAPS:

---
---
37. September 23, 2021
Online Process Group
Ressurection Of A Powerful Woman
Summary:
After 10 minutes of meditation (which we always start with), we heard reports (check-ins) and then settled in on what to focus on today.
Joy brought forward some deep processing she's in the midst of. Work and relationship issues that rest on the shoulders of earlier Family of Origin dynamics – more specifically on THE INNER MASCULINE with roots to her FATHER.
As she talked, I zeroed in on her mixed emotions about VISIBILITY. The desire to get herself and her work more out into the world, yet a discomfort in doing so too.
I rattled off several ways we could enter into the topic: Self Inquiry, Orphan Rescue, AlphaMind and Polarity Square. Funny enough I managed to pull off all of them in the course of this wide-ranging session.
We started with a Polarity Square, given VISIBILITY AND INVISIBILITY were present. We all helped build it, which is a benefit in doing group processing.
Then we shifted into Self Inquiry, helping Joy meet the emotion of HATE, which was present for her and which quickly lead into physical sensations in her head.
That quickly lead into the PAST LIFE RECALL of being killed as a POWERFUL WOMAN. Which lead into an ORPHAN RESCUE of her past self via her ALPHAMIND.
And then into ANOTHER ORPHAN RESCUE of a younger self from this life who was intimidated by her PHYSICIAN FATHER. Her Male Guide from AlphaMind acting as a surrogate father figure. And a mysterious BIRD WOMAN with a SOFT NEST who arrived at the perfect time.
To top it all off we had her MIND/INTELLECT wanting to get in on the rescues. So we offered it LIBERATION. Must have done the trick given it was anointed with a gold crown – the ability to connect with HER ANCESTRY. Her Mind now has a SPIRITUAL PURPOSE to GROW UP and EXPAND OUT. Yes please, handy things for a Visual Coach to possess!
Was a lovely session for Birthday Girl Joy – quite the present! And Lisa's Birthday was the next day so parallel processing for her too, yes! One never knows what will happen with live Process Popups. This one was a special delight with people so well versed in the depth methodologies.
---
---
Visual Maps:
---
---
36. July 20, 2021
Online Process Group
We Ride the Waves of Joy and Grief
Summary:
At this gathering a mix of emotions was present. The majority were riding the waves of grief, having recently lost loved ones with a myriad of feelings depending on the relationships. While one was bopping along in the midst of joy.
With a natural polarity in our midst, we did a Polarity Square on Grief and Joy. Feeling into the desire for joy and also the fear of joy. As well as the fear of grief and desire for it. Going to all four quadrants rather than just the well-travelled ones. Making the less travelled ones more conscious.
With the balancing of the Polarity Square as a helpful base, newcomer Carrie bravely did a Self Inquiry to meet the 'lid on her chest'. Step by step engaging the various levels of her consciousness and consciousness at large. In the process, loosening the heaviness of her heart and finding support, humility, gratitude and shining light.
Remarkable terrain covered, thank you, everyone!
---
Session Maps:
---
---
35. June 25, 2021
Online Process Group
Professional & Personal Positivity
Summary:
Carly dropped by looking for a group she could skim some positivity off. However, being the only one who came, she got 90 minutes of individualized attention instead!
After 10 minutes of meditation, we check in to see what's most up for her and which of my many processes is a fit.
We start with the Abraham-Hicks Focus Wheel process. Given she's on the hunt for 'professional positivity'. Watch as she step-by-step extracts PLENTY of positivity out of the new leadership position she in the midst of going for.
With her professional side now buzzing at a high frequency, her focus turns next to her personal evolution.
I switch the processing tool to Self Inquiry.
Consciousness (her own and the one that links us all) expertly guides her.
She meets her pride in what she has accomplished to date and the reassurance that all has been in right timing.
Now is the time to provide for herself what she provides for others: safety, boundaries, and protection.
Her own enhanced safety provides a solid foundation for herself and her glorious work. Which is ready for the next level.
She's guided to trust and engage with more confidence.
A strong partnership between her Mind and her Soul is forged. The body can root and claim itself.
All in the name of greater service in the world. Yes, please!
Thanks for coming to play Carly. A pleasure to draw out your best from within!
---
---
Session Maps:
---
---
34. June 7, 2021
Online Process Group
From Funky to Sunny
Summary:
We did our 10 minutes of meditation to set the field. Then checked to see what was present today. Three Self Inquiries emerged – Estelle, Terry, and Karen.
* Estelle was feelin' funky. Her long-awaited retirement is around the corner however she is conflicted about it. Part of her is exhausted and just wants to rest. Another part knows she has a big part to play in the movement kicked off by her well-received TedTalk. Watch her keep meeting this polarity of parts until the sun comes out. From grey to light. Nice!
* Don't think Terry's conscious mind was following his Inquiry but his subconscious mind sure was. Watch as he unpacks the pain of physical isolation given most in his area of Western Canada are afraid to connect. How consciousness guides him from his Mind to his Heart, his love for his daughters, and his appreciation for his inner circle and the power of hugs … and a good scotch!
* Karen's excited by the intuition in our gathering. I invite intuition to take up more space in her world. Which instantly evokes hesitation from an inner part. An Orphan Rescue emerges from when her parents divorced at the tender age of 4. Mom having no time for intuition and creativity and Dad seemingly taking them with him. She pulls her Orphan close and reeducates her. Reframing stuckness and worries about performance and perfection. Momentum for paper, color, and messing around is provoked!
---
---
Session Maps:
---
---
---
---
33. May 17, 2021
Online Process Group
The Journey Of Her Spiritual Self [Systemic Constellation]
Summary: 
We always start with 10 minutes of meditation – a treat to sit in stillness together. Then we see what arises and follow that.
This session we have two Self Inquiries from two American women, each meeting the pain and fear of not belonging as they transition to their next chapter.
A.L. is White from bible belt country.
C.F. is Black from the twin cities.
Both are Boomers navigating next steps while pushing the envelope of their environments, histories, and hurts.
Both being called to express their presence, passion, and spirituality in greater more direct ways – each in her own unique way.
Doodling and spirit dolls for A.L.
Cross-race processing and mentoring that transcends intentional divisions for C.F.
Thank you both for your transparency, vulnerability, and beauty. You deeply belong and are welcome here.
---
---
Session Maps:
---
---
32. April 29, 2021
Online Process Group
The Journey Of Her Spiritual Self [Systemic Constellation]
Summary: 
We start with 10 minutes of meditation and then reports about Inner Work and what is arising now.
Peggy raises her hand. She's been contemplating the various sides of herself lately – physical, mental, emotional and spiritual.
She's aware of her Doer, her practical side. She'd like to get to know her spiritual side more. Learn to live more from her heart.
I employ the Systemic Constellation modality to aid her quest.
Denise represents Peggy. Peggy represents the Doer. I represent the Spiritual Self.
Watch as we meet the community of Peggy. Learning universal lessons for all. A human experience with the energetic journey. It's not the endpoint, it's the journey!
Thank you Peggy – what a trip!
---
SESSION VIDEO:

---
SESSION MAP(S):
---
---
---
31. April 8, 2021
Online Process Group
Artist Befriends Head, Heart & Gut
Every few weeks I offer a drop-in processing group to assist with these intense times. Here is the latest one, including summary notes, video, and visual map.
Summary:
We start with 10 minutes of meditation and then reports about Inner Work and what is arising now.
J.C. a Tech Analyst and Artist from Australia raises her hand. Through her, we embark on a journey of Self Inquiry through the terrain of hyper-awareness and anger. Into the realm of the three brains: head, heart, and gut. Forging an alliance of tools up and down the spine. Something every artist can benefit from …
---
J.C begins by noticing hyper-awareness to health, politics, and science. We greet all three – 'you are welcome here'. Come to Satsang.

Next comes anger. We greet both the 'yes' and the 'no' of anger.

The authentic yes of it doing its job of alerting when boundaries are being violated.

And the authentic no of 'no good coming of it' and 'burns down'. No thank you. We don't like that.

A scared Orphan emerges from the depths for rescuing. Come here, come here. You are safe.

Curiosity wants to make friends with Boundaries. Has wanted to for a long time. Yes, please.

MIND pops in with some discomfort and a judgment of 'you are so weird'.

Hello Intellect, thank you for your love. Thank you for your service. Are you getting a bit tired holding everything up? Being a lone head on a stick?!

Heart arrives. Yes, please. "Let's move away from connecting dots, shall we?'. A different language from the step-by-step or logical. Yes, the language that we paint from.

Gut chimes in with 'I listen' and 'I hear'. 'I'm tuned in'. I am nervous to lead but I can guide. But what if I fail?

But what if you fly says the Heart!

A spinal connection between all three emerges. Head, heart, and gut unified by the spine. All of their tools in the toolkit. Yes, please!

Voice. Expansion. Room. Spaciousness. Authentic. Equipped. Unity.

The nervous system's feedback loop.

The mind recognizes that all three brains are included and welcomed in The SHIFT-IT maps.

Yes to maps. Yes to community.

Community inside and community outside.
---
30. March 21, 2021
Online Process Group
All Her Mixed Relations
Every few weeks I offer a drop-in processing group to assist with these intense times. Here is the latest one, including summary notes, video, and visual map.

---
Session Map:
---
Summary:
As per our custom, we start with 10 minutes of meditation and then hear reports and areas of focus.
Laurie is a mother, healer, and legal student in British Columbia Canada who has just completed a challenging first year of law school.
Of indigenous heritage, she is angry at the western, colonial system of legal education and practice and with the challenges of being a mother of a son with shared custody.
Through Self Inquiry Laurie meets and welcomes her anger and her desire to push it all away.
And instead, she greets it, says hello, and 'you are welcome here'. In doing so a shift of relief and calm eventually emerges.
Next is a layer of recognizing herself as an Empath with healing gifts and the need to create energetics boundaries with her 120 classmates… "I can be part of everything without feeling everything".
We invite her boundaries to liberate which they do 'to infinity' … as her mission is BIG so her perspective needs to be big too.
Next comes concern about having to return to in-person attendance and the childcare logistics of her son, particularly the necessity of communicating with his father, which can be hard.
A headache comes from holding 'loads and loads' of information.
We invite her Mind to rest, release and liberate from the cramped confines of her cranium.
She literally 'frees her mind' to the accompaniment of a music lyric … "free your mind and the rest will follow".
Next up are her shoulders and hip. Both seeking liberation too … rest, rest. Ease. Grace. Softness. Yes, please.
Out of a block in the hip comes fear connected to her 8-year-old Inner Child … it's not safe. An Orphan Rescue, hush hush, come here, it's safe.
And the Mind recognizes the number 8 — an overlay with her son's current age. He too has to deal with divorced parents just like she did back in the day.
The Mind also connects 15 and 40. The age of her mother versus herself regarding motherhood. Compassion and love sent to her 15-year-old mother.
Compassion extends to not only her mother but to her mother's 4 sisters too. Who all became mothers at young ages … a pattern.
5 Grannies and a Great Grandmother appear to send their love and support. She's a Haida Princess whose name means "voice that is heard". And kisses on a soft cheek. Yes!
CONNECTION TO MY CULTURE is what arises next.
Two grandfathers appear. White grandfathers.
"I am of mixed heritage even though I usually only focus on the indigenous ones".
Scotland and New Zealand. A Great Aunt. Spiral. RNA. DNA. Cellular level. Yes, please.
Another great grandmother wants to make herself known. French. Haisla.
All of her mixed relations see and support Laurie's Mission of going to western colonial law school in order to balance it with indigenous, holistic law and with her healing gifts.
Hands on her back. We have your back.
Eyes and hearts aware of and approving of her modern path. You are not alone. We are with you. Ask for our help. We are here to help.
Matriarchal lines. Patriarchal lines. Many geographies and races.
You are not alone. We are with you. We approve. We help. We love. Together through and in you. Yes, please!
Thank you Laurie for your beautiful Inquiry … an honour to map your inner wisdom out. All my mixed relations …
---
29. February 25, 2021
Online Process Group
We Sit With Crazy
Process Popups to assist with these activating times.
Here are the latest video and visual maps.
Summary:
Sometimes the smaller the Process Popup the deeper the depths. Also, fascinating synchronicities and piggybacking can occur … which was the case here.
Theme is 'CRAZY' descendants of wounded women and the RISE TO A BIGGER HEARTED SELF.
Both women shifted, each in her own unique ways.
---
Inquiry 29A: Ancestral Healing with Orphan Rescue
Anne began by saying hello to PRESSURE. Then RESISTANCE and FEAR. Then fear of THOUGHTS IN THE HEAD. Then fear of CRAZY.
YOU BELONG was said to crazy ancestors across the mists of time. The empathic ones often have this gift. Not crazy … subtle energy sensitive. Then work on the feeling place of HEALTHY SEPARATION and BOUNDARIES. Yes, please!
Memories from the age of 10-14. Mother's questions and father's affairs. Orphan Rescue. HUSH HUSH. IT WASN'T YOUR FAULT. I'M HERE.
Energy rises to the HEART. OPEN. BREATHE. Yes, please! Intellect wary of father's open-heart surgery. IT'S OK, IT'S OK. AN OPEN HEART IS SAFE.
Intellect worries the Orphan will rise again. APPLY INNER GRANDMOTHER. SHE KNOWS WHAT TO DO AND BE.
Big bow to consciousness through the form of Anne – Namaste!
---
Inquiry 29B: Monster Mom, Mandalorian Warrior, and Baby Yoda
With Anne complete I check in with the other two. How are you? How did that land? Parallel processing?
Denise got lots from Anne's inner work until she didn't. All good until the softening and tears. Her WARRIOR ARMOR rose instead. HARD PROTECTION. So that became our entry portal …
---
Hello MONSTER MOTHER. SHAME. STIGMA. WHAT WILL PEOPLE SAY. You must be the crazy one, not me. DUTIFUL DAUGHTER. Easier that way, until it wasn't.
FRUSTRATION. ANGER. AUTHENTIC NO. EXPANSION. BEING ME. Yes please! MANDALORIAN WARRIOR's armor is heavy. PUT IT DOWN. REST. REST. Yes, please!
BABY YODA is so cute! The DIVINE. LIGHT. SPARKLY. COLORFUL. CONNECTION. Yes, please!
This is ODD. BEING is unfamiliar territory. My work is to BE. BECOME more acquainted with BEING rather than DOING. I AM. Rather than I KNOW.
Big bow to consciousness through the form of Denise. I look forward to future reports!
---
28. February 11, 2021
Online Process Group
This was a sweet Satsang.
We started with 10 minutes of Meditation together from our global perches.
Then we met what wanted to arise.
First a Self Inquiry with Lola.
Anxiety about family dynamics and Inner Warriors protecting Innocence. Eventually settling into 'The Acceptance of Acceptance'.
Then an Inquiry with LB about her decision to vaccinate given her elderly client.
Meeting the polarities of trust and distrust and healthy and unhealthy conversations.
Soothing a long ago Orphan related to a needy Dad and embodying the Conscious Adult – yes, please!
Thanks Lola and LB for your beautiful Inner Work. Namaste.
---
#28A INQUIRY: LOLA MEETS ANXIETY
---
28B INQUIRY: VACCINE WORRY
---
Session Video:

---
27 January 21, 2021
Online Process Group
#27 HER BELLY SAYS SHUT UP AND ROLL
LB continues to process the effects of being harshly carjacked. She's understandably frustrated by the toll the ordeal has taken on her body, emotions, and life. In this Self Inquiry, she meets her body aches and turtle shell of protective coating. Behind them is an intense longing for sweetness, dolce, and softness. Watch her bravely sit with her sharp intellect to eventually find the deep wisdom of her Belly. It wisely beckons for her to 'shut up and roll'. To adopt the Rolly Polly goofy wisdom of her new puppy. And the curiosity of her heart. Wishing you all the best with this shift LB!
---
Session Video:

---
26 December 30, 2020
Online Process Group
#26 Visual Coaching: Video and Maps from Process PopUp
A: SELF INQUIRY: PEGGY MEETS TIRED
Peggy is tired (something many can relate to). The duality of 'do' and 'rest' lives in her shoulders. An opening occurs and sleep beckons however an Orphan pops up. An inner child who equates sleep with sickness – no thank you. Sleep can in fact keep you/us from sick. Body hurts emerge with their natural anecdotes of expansion and movement with the request for more meditation – yes, please. A snake ends with 'life is about learning'. How wise!
---
B: LOUISA'S SELF INQUIRY: WHALE CHANGES EVERYTHING
Watch Louisa come for round two, where a recent private session left off. She's right on the crux of a surfacing. An ancient whale from her/our unconscious depths. She longs to stay with the energy of a new operating point with life moving forward. Where she knows what she's doing and thrives. No to her/our old warrior ways. Yes to softer strength, clarity, and gentleness. It's new and unfamiliar however she wants it. It's going to be OK. Up and out – yes, please!
---
C: DAN: SELF INQUIRY: WHERE OH WHERE ARE MY MARKERS?!
Dan's markers have gathered dust. He misses the internal group within government who works visually – the flip-charts, markers, and chalk. The faces! He craves being together and doing what he loves. His father Hugh died at 94 alone in his care home – respectful bow. The Last Square Rigger book from his papers – visually attractive, yes! Thanks for the reflection back. Visuals are so good for that. Will hang this up. Map to a rich 2021.
---
D: EVERYONE: 2021: WOULDN'T BE BE NICE IF
Kristin did this process a few PopUps ago and reports it worked! Her employer paid for a digital drawing tablet and approved her for Visual Coach Certification! So as a closing move, we all played this fun visioning game from Abraham-Hicks. Listen in as we find the feeling place of Art grants. Planet and people first. Travel to Australia. Continuation of innovation and creativity. Roofs over all heads. Being paid to be part of the solution. Embrace of the visual dimension. Dancing together. Love flow. Empowerment to act. The removal of obstacles and roadblocks. The beginning of something wonderful. YES PLEASE!!!
---
Session Video:
---
25 December 13, 2020
Online Process Group
25A: MY SERVICE WORK DOESN'T PAY ENOUGH
Process PopUp #25A: The free Process PopUps seem to be morphing into a Satsang structure, at least this one did. We began with 10 minutes of Meditation to connect with stillness for our nervous systems. Then 3 rounds of Self Inquiries. Here's Laurie as she sits with her conflicted emotions about work. Meaningful yet not well-paid service work vs well-paid government work that's not meaningful. See how consciousness reassures her that 'we'll do it together'. Yes! (December 13, 2020 – Visual Coaching)
---
Session Map:
---
25B: HOLY SPIRIT EVOKES GRATITUDE
Process PopUp #25B: Consultant Renee has a deep religious faith and prayer practice. Prior she felt like a gypsy who didn't fit. Now she sees it all as prep for the decade upon us. "I was made for these times," she says. However, a bigness is emerging that provokes fear. Watch her meet her human desire to control and how the Holy Spirit swoops in with grace and gratitude. (December 13, 2020 – Visual Coaching)
---
Session Map:
---
25C: THE INJUSTICE OF THE JUSTICE SYSTEM
Process PopUp #25C: Lisa was carjacked and assaulted by a troubled young man. She navigates the American courts as a crime victim with PTSD who has lost the use of her exquisite hands to do massage and create her art. It's currently a tough situation. However, inquiry points to beacons of light in the forms of a new puppy and a monastic granny unit in a new client's home. To be continued … (December 13, 2020 – Visual Coaching)
---
24 November 26, 2020
Online Process Group
24A: WAIT & WORRY FOR C-19 TEST RESULTS
Process PopUp#24A: Susan's brother tests positive after a family gathering. Now she and her whole family await their results. Parallel process as she meets worry, her responsibility as a nurse, and her identity as one who likes to follow the rules. And how her chest held the secret – to liking herself and the imposed isolation of quarantine. (November 26, 2020 – Visual Coaching)
---
Session Map:
---
24B: STAND TALL IN MY OWN LIFE
Process PopUp#24B: Thanksgiving is hard without kids and grandkids. Her adult daughter almost OD'd again. Denise finds it hard to not be co-dependent and try to 'fix it'. Watch this touching Self Inquiry of heaviness and tiredness. How her Inner Teenager holds the key to stand tall and take responsibility for her own heart. Beautiful and educational Inner Work. Deep bow to the sage in you! (Nov 26, 2020 – Visual Coaching)
---
Session Map:
---
23A. November 11, 2020
Online Process Group
FROM RESTLESS TO SETTLED
Process PopUp#23A: Kristin came with a slew of polarities tugging at her. It's been a year since she implemented her "Daily Doodle" routine. Bringing fun, high vibes, and a looser style to her visual work in the Inclusion field. Now she's been approached for a book series. Watch as I work with her resistance to this next creative endeavor and how quickly she shifts. Plenty of ahhas and head nods on this one. Ahhhhh the natural ups and downs of The Creative Process – the only way is through! (November 11, 2020 – Visual Coaching)
---
Session Audio:
---
Session Map:
---
23B. November 11, 2020
Online Process Group
POLARITY SQUARE: FIGHT VS PEACE
Process PopUp#23B: Members expressed discomfort at the levels of animosity in the public sphere regarding the U.S. election. We opted for a Polarity Square on the duality of Fight and Peace. To bring greater understanding and balance with these poles, both internally and externally. Thanks to our trio for processing this collective discomfort. Powerful and mature Inner Work. (Nov 11, 2020 – Visual Coaching)
---
Session Audio:
---
Session Map:
---
22. October 20, 2020
Online Process Group
RETREAT TO RECONNECT
Process PopUp#22A: Yiely works in Canadian healthcare. She wonders how to best support herself, coworkers, and clients. We go straight to consciousness to get answers. Through a field with a black hole, she encounters supportive beings … more than she can count. Their gusto creates very full lungs and planted feet. Plus her spirited pets reveal their sage nature and the wise duality of retreat to reconnect.
(October 21, 2020 – Visual Coaching)
---
Session Audio:
---
Session Map:
---
FIRST WIVES CLUB
Process PopUp#22B: Denise resonated with Dee's Done With Corporate from a few weeks past. She's on her own journey to make a team of her old and new selves. Watch as consciousness flashes The First Wives Club. That she's worth it. Can own it. That its more life into life. Tragedy to empowerment. Floating – yes, yes, yes! For self and for others. (October 7, 2021 – Visual Coaching)
---
Session Audio:
---
Session Map:
---
---
21. October 7, 2020
Online Process Group
I GOT FIRED YESTERDAY
Process PopUp#21A: Wendi is reeling from being fired yesterday. From a spiritual, community-based not-for-profit. Understandably angry given lack of warning or proper closing. She and her co-workers were callously called 'dandelions spread to the winds'. Ouch. Watch her meet her shaking anger, her honed mind, and her Camino Trail credo. Whew, Wendi! (October 7, 2020 – Visual Coaching)
---
Session Audio:
---
---
CARJACKED BY A METH ADDICT
Process PopUp#21B: During lockdown, LB was carjacked by an 18-year-old meth addict. Now she's in a post-traumatic swirl of medical, legal, and justice issues. Yet also feels responsible for the fate of the wounded young man. Watch her courageously meet her load of burdens including a visit from the depths of shame. By grace, a guardian butterfly gives her answers and points the way to her true island-sized nature. Yes, yes, yes. (October 7, 2020 – Visual Coaching)
---
Session Audio:
---
Session Map:
---
20. September 3, 2020
Online Process Group
We Shift Despair and Spin
Process Group #20 – 2020 Shifts (Sept. 19, 2020 – Visual Coaching). Today is a milestone- 20th Free Process Popup to assist with 2020. On today's gathering, we hold space for both Susan and Connie. Susan's entry point is despair. Connie's entry is the feeling of spinning in place. Watch them courageously meet their now. All is not lost. In fact, a loving heart and a potential Florida getaway are found. Bring it 2020!
---
---
Session Audio:
---
Session Map:
---
---
19. September 3, 2020
Online Process Group
Jude Meets Fire of Collective Trauma
Process Group #19 – 2020 Shifts (Sept. 3, 2020 – Visual Coaching). Sooooo much in this Conscious Inquiry as Jude meets what arises. Collective Trauma. Ancestral Trauma. Family Divisions. Intersectional Privilege. Catholic Guilt. Politics. Kenosha (30 miles away). See consciousness rise beyond fuel and fault to seize the art of letting go and learning to see the stars in everyone. Ho!
---
Session Audio:
---
Session Map:
---
18. August 23, 2020
Online Process Group
Union's Seal of Approval
Process Group #18A – 2020 Shifts (August 23, 2020 – Visual Coaching).
Kristin resides pretty high on the emotional scale. As a Canadian Administrator in K-12 education, she's excited for fall classes to begin so she can assist teachers to assist kids. We help her prepare for the school season ahead, including Union recognition of visual facilitation and other creative contributions.
---
Session Audio:
---
Session Map:
---
The Jazz of Emotions and Being
Process Group #18B – 2020 Shifts (August 23, 2020 – Visual Coaching).
Whew, leader Connie is holding a lot: COVID, BLM, Californian Fires, and ongoing Privilege Shame. Plus a bossy, exhausting Left-Brain needling her about constant action. Watch her Right Brain valiantly defend her art studio, creativity, and the need for just BEING. How Practical Energy Work is imperative now to support her in order to support others.
---
Messages from Wise Mrs. Mason
Process Group #18C – 2020 Shifts (August 23, 2020 – Visual Coaching).
"I Feel Lost", says Barb, overwhelmed by caregiver role with adult kids and aging parents in the midst of 2020 chaos. Suffering from 'outrageously productive' conditioning cemented in childhood via her community organizer Mother. An Orphan Rescue unfolds with black leader Mrs. Mason sharing her wisdom and love. The strength of slow. The importance of community. More acceptance. Less expectations. And, keep true to who you are!
Session Audio:
---
Session Map:
---
17. August 11, 2020
Online Process Group
Estelle's Shift: Frustration to Energized
Process Group #17A – 2020 Shifts (August 11, 2020 – Visual Coaching).
Estelle comes to Process PopUp frustrated. I facilitate Conscious Inquiry to help her meet and unfold the various layers of her upset. A quick Orphan Rescue – old conditioning from her past that Joy=Punishment. Then some Ancestral Healing around 'everything must be perfect or I'll die'. Then some repatterning on her empty nest syndrome. She ends energized with ideas popping!
---
Session Audio:
---
Session Map:
---
Organizational Constellation on Bickering Team
Process Group #17B – 2020 Shifts (August 11, 2020 – Visual Coaching).
Renee is an accomplished Organizational Consultant who is having problems with a project team. Watch as we use the Systemic Constellation method to tap into the spatial and energetic dynamics of the conflict. And how 'money' and 'community' hold important info on how to get everyone on the same page.
---
Session Audio:
---
Session Maps:
---
---
16. August 1, 2020
Online Process Group
Facilitators Jam on Tricky Dilemmas
Process Group #16A – 2020 Shifts (August 1, 2020 – Visual Coaching).
Visual colleagues huddle over a variety of professional and personal issues. No funds for an outside facilitator in our non-profit, how do I do it from within? Planetary Magnetism Map – I appreciate it now, can I use with my team? In my community, liberals are more challenging than red necks – what is really wanted here? Months of sheltering in place impacts my family – how do we regain harmony?
---
Session Audio:
---
Session Map:
---
Painter Shifts From Doom to Liberation
Process Group #16B – 2020 Shifts (August 1, 2020 – Visual Coaching).
A usually upbeat American Visual Practitioner feels impending doom. Covid, BLM, mail-in ballots, social media, fake news, vaccines, misinfo … boiling point. Watch her step-by-step inquiry, meeting all as it is … including allies from below and above. Impending doom? Or could it actually be impending liberation?! Earth and Gut Microbes say "Thank the Lord someone is giving voice to that possibility". Just F'ing Paint!
---
Session Audio:
---
Session Map:
---
15. July 23, 2020
Online Process Group
Why Can't I Focus and Act?
A collective theme emerged this week – frustration at not being able to effectively focus and act. Martha and Karen processed this theme one after the other. Watch as consciousness guides all of us through their inquiries. From agitation to trust. From perfection to nice. From no movement to moving in a new feeling way. Ahhhhhhh that feels better!
---
Session Audio:
---
Session Maps:
---
---
14. July 12, 2020
Online Process Group
Graphic Facilitation: Yes, and No
Visual practitioners Melynda and Antonio brought forth two dilemmas – whether to apply their visual skills or not, to hot situations happening around them. See Melynda find her 'yes' to bridge fear for a just cause – renaming streets in her Virginia, USA community. And see Antonio say no to his itchy facilitator hands – his inner guidance points instead, to letting go of the need to be a savior.
---
Session Audio:
---
Session Maps:
---
---
13. July 2, 2020
Online Process Group
Her Side and His Side
When one works in groups, especially during the current intensity, the likelihood of triggering is high. In this session triggers quickly occurred between a woman and a man. This session was exceptional as both rose to the occasion and processed their side of the street. Compassionately revealing what lay underneath. So grateful! Grace Was on the Case. Thank you Jude and Michael for your precious teachings.
Session Video:
---
Session Audio:
---
Session Maps:

Click Image to Enlarge
---
---
12. June 22, 2020
Online Process Group
Peg Moves Her Energy Work Online
This makes it a dirty dozen – 12 drop-ins so far to assist folks during 2020! Played around with a new opening and Meeting Start-Up – doing my best to feel and accommodate what this container wants to be. Then some Conscious Inquiry with Peg as calibrates with providing Therapeutic Touch via online delivery. Beautifully thoughtful. Parallel processing for many as she contemplates her journey and the humility it has gifted.
Session Video:
---
Session Audio:
---
Session Map:
---
11. June 14, 2020
Online Process Group
Polarity Square: Division and Unity
Process Group #11 – 2020 Shifts (June 14, 2020 – Visual Coaching). We are in the midst of intense times. Our planetary collective is wrestling with hugely important topics of power, privilege, race, restructuring, etc. As a small group sprinkled across North America, we processed the Division/Unity polarity via a Polarity Square. Triggers galore with illuminating bits. Thanks all for doing the work!
---
Session Video:
---
Session Audio:
---
Session Map:
---
10. June 4, 2020
Online Process Group
Connie Meets Anger, Grief, and Grace
Today's group held space for Connie, an American Academic and Civic Leader to process anger and grief in the wake of the pandemic, Central Park Karen, cousin's covid death, George Floyd's murder, protests, riots, and systemic issues in multiple institutions (civic, academia, catholic church, unions, and police). Flows to awe of grace and dignity of the oppressed.
---
Session Video:
---
Session Map:
---
9. May 24, 2020
Online Process Group
Polarity Square: Vulnerability vs Security
Process PopUp#9 – Pandemic Support (May 24, 2020 – Visual Coaching)
As North America ventures out from lock-down, the theme of this week was 'vulnerability' in its many guises. From a retired social worker grappling with being labeled elderly. To a biz professor wary of the actions of some in her state. To a teacher and administrator with a specialty in inclusion. I opted to use the Polarity Square technique to help us explore the full spectrum of the Vulnerability/Security polarity and its many riches. Fruitful inner work – thank you all for our insights!
---
Session Video:
---
Session Audio:
---
Session Maps:
---
8. May 14, 2020
Online Process Group
Slow Down to Welcome What's Really There
Process PopUp #8 – Pandemic Support (May 14, 2020 – Visual Coaching).
Working visually to help people see and shift thoughts and feelings during these unusual times. Instead of templates, I did emergent notes via Inquiry – a powerful consciousness technique that works with exactly where one is in the moment. See a busy therapist who realizes she needs some time off. And a budding Graphic Recorder calms her smokin' monkey mind – turns out her true nature is good for business too! Next PopUp is Sunday, May 24. All are welcome.
---
Session Video
---
Session Audio:
---
Session Maps:
---
---
7. May 7, 2020
Online Process Group
Real vs Fake News: Who's Right?!
Our examination of polarities continues … this time the juicy territory of real vs fake news. Follow along as these courageous processors tackle controversial territory. Discovering many motivations are not only the same but honorable. The results – increased understanding and humility. Well done and thank you, crew. Next PopUp is May 14, join us!
To download the video right-click here and choose "Save File".
---
2. Session Audio:
To download the audio right-click here and choose "Save File"
---
3. Session Maps:
---
---
4. Zoom Chat – Polarity Work: Real vs Fake News: Who's Right? Click Here
---
6. April 30, 2020
Online Process Group
Polarity Work: Victim & Victimizers
Process PopUp #6 – Pandemic Support (April 30, 2020 – Visual Coaching).
Our online Process Group is back! Still open for all (spread the word) however registration now required to keep container safe. What a powerful return we had … doing mature examination and owning of the Victim/Victimizer polarity within us. So we can more skillfully and compassionately understand the victimizers outside of us too. Really important Inner Work for these triggering times. Get the map and do yours too!
---
---
2. Session Map: Polarity Squares
---
3. Session Audio:
To download the audio right-click here and choose "Save File"
---
4. Zoom Chat – Polarity Work: Victim & Victimizers Click Here
---
5. April 9, 2020
Online Process Group
Magnetism Maps: Embody Your Future
Online Process Group #5 – COVID (April 9, 2020 – Visual Coaching).
By virtue of being human, we have extraordinary abilities to focus and create. Learn how to vision and embody at five distinct levels: individual, duo, group, planet, and galaxy. With companion "Magnetism Maps' to do it visually!
1. Session Video:
---
2. Session Audio:
To download the audio right-click here and choose "Save File As"
---
3. Session Map: Magnetism Maps
---
4. April 2, 2020
Online Process Group
Inner Work: Rescue Your Orphans
Online Process Group #4 (April 2, 2020 – Visual Coaching)
How to consciously use present-day charges and triggers to uncover and integrate unconscious trauma from earlier in your life, your ancestry or even past lives and the collective unconscious. Powerful Right Brain technique to connect, communicate, and transmute in partnership with your subconscious. It always knows!
1. Session Video:
---
2. Session Audio:
To download the audio right-click here and choose "Save File As"
---
3. Session Map: Orphan Rescue
---
4. Zoom Chat – Rescue Your Orphans: Click Here
---
3. March 26, 2020
Online Process Group
Future Selves Speak on Corona
Online Process Group #3 on March 26, 2020 (Visual Coaching).
Overview of Emotional Scale and Bill Bridge's Transition Model – which helps us understand the 'neutral zone' when an old reality ends before a new one begins … and how challenging it is to be suspended in mid-air. Christina guided us through another one of her process tools, called The Future Self Vision. Guiding us to connect with a powerful inner ally – our self who lives in a positive future out beyond the current troubles. We each connected to our Future Selves and relayed their wisdom, perspective, and gifts. Comforting and uplifting!
1. Session Video:
---
2. Session Audio:
To download the audio right-click here and choose "Save File As"
---
3. Session Notes:
---
4: Future Self Advice: Click Here (PDF)
---
2. March 19, 2020
Online Process Group
Inner Angels Vs Inner Devils
Online Process Group #2 – COVID (March 19, 2020 – Visual Coaching)
Begins with the info shared from a colleague in Italy and a colleague who works with infectious disease in Canada. Christina shared The Emotional Scale to give us a shared language to identify and articulate our feelings (who are we today?). With world events rapidly changing in the week since our last gathering, we again did a Flip It, Flip It Good map — hearing from both the Devils and the Angels that sit on our shoulders (or live elsewhere in our somatic). A powerful evening of global connection. We may be physically isolated but we aren't socially!
1. Session Video:
---
2. Session Audio:
To download the audio right-click here and choose "Save File As"
---
3. Session Notes:
---
4. Flip It, Flip It Good Map
---
1. March 12, 2020
Online Process Group
Corona Hits Graphic Facilitation Field
Online Process Group #1: March 12, 2020:
This Pop-Up was specifically for Visual Skills students and colleagues. We shared fast-moving developments from Europe and North America as meetings (our livelihood) are being canceled everywhere. Christina facilitated a group 'Flip It: Flip It Good' exercise – drawing out collective fears (devils) and finding authentic counters (angels). As well as a 'Planetary Magnetism Map' to help use the contrast of the present situation to launch 'rockets of desire' for Earth's future.
---
1. Session Video:
---
2. Session Audio:
To download the audio right-click here and choose "Save File As"
3. Session Notes: 
---
4. Flip It, Flip It Good Map
---
5. Planetary Magnetism Map
---