Free Process Popups every few weeks (scroll below for info and registration).
Also Free Individual Visual Coaching Sessions (click here for info).
Online and open to all. Recorded.
DATE OF NEXT POPUP:
Next date: Saturday, January 29, 3-5pm Pacific Time (convert to your zone). (convert to your zone)
---
REGISTRATION AND LOGISTICS: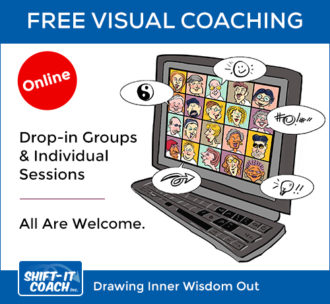 Process PopUps are free, online and open to all. We meditate together, share stories from around the world, and use various processing techniques (Self Inquiry, Constellations, Orphan Rescue, Visioning, etc.) to meet what is arising during these intense times.
Browse videos at the bottom of this page to get a feel for what they are like.
Days and times vary. So if the upcoming date doesn't work, register anyways to receive video recordings and announcements on next dates.
Check your spam filters if you can't find our emails, especially Gmail (promotions folder). Need Help? Contact my assistant Patricia at admin@shift-it-coach.com.
---
VISUAL TOOLS TO HELP YOU PROCESS:
Visioning:
Future Self eBook
Magnetism Map eBook
Individual Magnetism Map (vision – solo)
Duo Magnetism Map (vision – male & female)
Duo Magnetism Map (vision – male/male)
Duo Magnetism Map (vision – female/female)
Group Magnetism Map (vision – group)
Planetary Magnetism Map (vision – planet)
Galaxy Magnetism Map (vision – galaxy)
Action Planning:
Inner Work:
Flip It, Flip It Good eBook
Orphan Rescue eBook
Focus Wheel Map
Polarity Square Map

---
VIDEO LIBRARY AND COMPLETED MAPS:
---
40. December 20, 2021
Online Process Group
Meeting Blindness, Assisted Suicide and Future Selves
SUMMARY:
We begin with ten minutes of Meditation to settle into Stillness. Next are Reports. Then our agenda organically emerges from the shares.
First up is L.B, a regular participant who shares that a degenerative eye condition is suddenly accelerating. She may be blind within a few years. Via Self Inquiry she spots several synchronicities including a past longing to be a Guide Dog host. Plus understandably not wanting to see so many hard things just outside her window. Something has to give, does it need to be her eyes?
Next is Sharon who offers her home to her long-suffering strong niece as a possible location for physician-assisted suicide. Tears flow as the Sangha holds space. Concern for the fledgling teen who is defining themselves. Protection, tenderness, preparation and self-support are met. Leading to an opening. Opening, you are welcome here.
Terry joins us for the first time. A visual practitioner contemplating how to best use her skills. I facilitate a meeting with her Future Self – the best Coach for her. Others travel to meet theirs at the same time via parallel processing. Much wisdom is shared between timelines. Water, tree and rock all share their medicine. Reassurance that the roots are planted. Gonna go and gonna flow!
---
VISUAL MAPS: