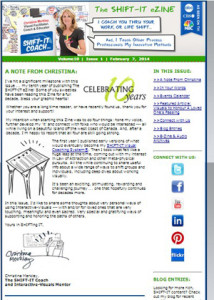 WHAT'S THE 'IT' YOU WANT TO SHIFT?!
Better Career / Business?
Increased Money / Prosperity?
Improved Health / Body / Fitness?
More Satisfying Relationships?
Or some combination of those Big Four?
GET SUPPORT, IDEAS & NEW POSSIBILITIES:
It can be challenging to make significant shifts in life without support, ideas, and a sense of what is possible. Often the people, places and situations that surround us keep us mired in our status quo.
Regular Publication to Keep You Tapped In:
The SHIFT-IT e-Zine is a monthly online newsletter, delivered into your mailbox every few weeks – a little taste of freedom, creativity and upbeat energy to keep you tapped into what you really want and how to get it.
The e-Zine includes:
Notes From Christina
Monthly Articles
New & Recommended Resources
Workshops & Products Announcements
Client Experiences & Guest Authors
Tips, Techniques and Suggestions
And much, much more.
PLUS UPON SIGN-UP, YOU'LL IMMEDIATELY RECEIVE MY THREE FREE GIFTS
GOODIE #1:
Special Report:
This Special Report contains one of my innovative Visual Coaching tools: the Focus on Me Map.
GOODIE #2:
90-Minute Webinar: Introduction to Interactive-Visuals
Interested in the visual way of working with groups and/or individuals? This webinar provides an informative overview of "Interactive Visuals".
GOODIE #3:
Subscription to The SHIFT-IT eZine
To keep you moving in the direction of what you want (and to continue to whet your visual appetite) … you also receive a subscription to The SHIFT-IT e-Zine (published every few weeks or when I can find the time to write).
What Readers Are Saying:
"Your website has been such a valuable part of my process – both in my personal growth and in helping me visualize what it is I want to do with my life. Thanks for being a part of my North Star!"
– Gina L, Tennessee, USA
"I've been perusing your site recently – cool stuff. I like what you are doing, and how you are working … your approach speaks to me!"
– Georges M., Melbourne, Australia
"By the way, your articles in your newsletter are wonderful. Would you mind if we publish some of them in our monthly newsletter as well?"
– Bart B, Leadership Ottawa, Canada
"I just wanted to say that your most recent email on How to Create Work You Really Love came in at a perfect time for me. … And your newsletter reminded me to focus on what is really important. I wanted to thank you for that. Warm wishes from Indonesia!"
– Budhita K., Indonesia
"I really liked this article, it's so very true! I particularly liked the section on 'where there is a will, there is a way' and 'seeking out positive role models' … Finally, a thank you for providing me with excitement and passion for my visual facilitation future, I will keep you posted!"
– Barbara B., United Kingdom
"Christina, thank you for the newsletter. I just have to compliment you on the excellent organization and presentation of information. It is very exciting to see what you are doing and how effectively you communicate."
– Ann H, Portland, Oregon
"Dear Ms. C, the verbiage in your latest is particularly incisive and on target. You are putting it all together and then putting it out there. Champion quality effort! Gold medals! You are progressing to a television show at the minimum. Oprah next please. You make proud of the business we are in. Big hugs."
– Jim Channon, Hawaii
JOIN MY FANTASTIC INTERNATIONAL COMMUNITY of SUBSCRIBERS
people all over the world who are shifting their work and life for the better!
SIGN UP NOW
To join these readers and this obviously supportive community, simply insert your email into the sign up box below.
You'll quickly receive a confirmation email that must be replied to (this is an opt-in only email list — so YOU MUST CONFIRM YOUR SUBSCRIPTION via the email confirmation you will shortly receive in order to complete your sign up process).
As an added delivery method, please ensure that Christina@shift-it-coach.com is in your address book (so your mail filters recognize and accept delivery from my name).
Please note: pop up blockers may interfere with your sign up process. If you are entering your information, and nothing seems to be happening, please disable your pop up blocker to be able to view and enter the sign up bubbles. Or simply email us at ezine@shift-it-coach.com with your first name and email address and we'll enter you into the system.
For more frequent, up-to-date and more irreverent ramblings view weekly or even daily posts at: Christina's Blog.