3 WAYS TO LEARN: ONLINE, IN PERSON AND VIA HANDY HOME STUDY!
For Leaders, Managers, Consultants, Facilitators, Trainers, Teachers, Coaches, Therapists, Lawyers, Accountants, Analysts and Others Who Work with Groups and Individuals. Also for Illustrators, Designers, Artists, Scribes and Other Creatives.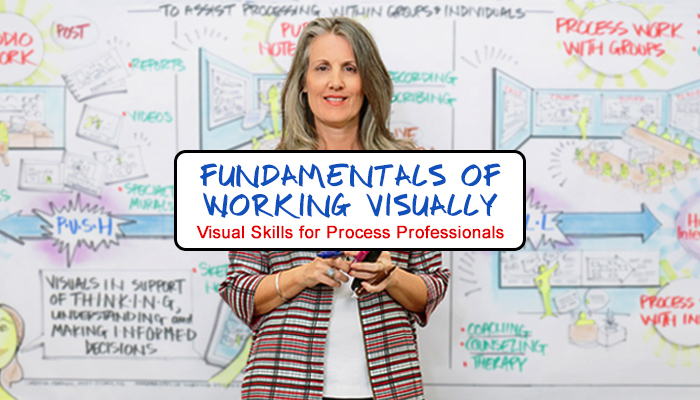 ---
TABLE OF CONTENTS / QUICK LINKS
FYI, like all of my programs, this course is a comprehensive, high-quality experience. As such, there is plenty to explain about it so you can make an informed decision about your registration. This is a thorough info page, for those who want to skip ahead, here are a list of hyperlinks so you can get to your info fast!
---
OVERVIEW AND DEFINITIONS:
The Fundamentals of Working Visually is a comprehensive, useful, and fun training where you learn the foundational theory and skills of working visually… then roll up your sleeves and do it yourself!
With this graphic facilitation training, you emerge with a thorough understanding of the different ways visuals can be used with groups and individuals … and are pleasantly surprised by how much YOU can apply immediately. Thoroughly covers Graphic Facilitation, Graphic Coaching, Graphic Recording and Studio Work (the four main ways of working visually).
Plus you meet other dedicated people doing good work in the world –– members of your global visual tribe!
---
Before we discuss the workshop in depth, let me explain a bit about the term 'Working Visually'. I've been a Visual Practitioner since 1994, and I've worked extensively in all four main applications: Graphic Facilitation (extracting strategic thinking and decisions from groups) and Graphic Coaching (extracting strategic thinking and decisions from individuals and partners), Graphic Recording (live visual meeting notes), and Studio Work (carefully prepared paper, digital and video materials).
Obviously these are a mouthful of terms … so
I just simplify it and use the term 'Working Visually'. As the unifying factor is using visuals in process work to help groups and individuals think, communicate and collaborate. The underlying base skills are the same … just applied in different ways depending on the populations you work with and the role you provide for them.
VIDEO AND ARTICLES:
I've written extensively on the various applications of this work and have taught over a 2500+ Process Professionals from around the globe on how to successfully integrate these useful skills into their own toolkits.
If you aren't familiar with Working Visually (and even if you are) below are helpful resources to understand the work overall and to get a feel for my style and approach.
[Video] The Four Main Ways To Do Visual Process Work: Below is an excerpt from a recent online training. Watch me explain the four main way of working visually: Studio Work (creating pre-prepared materials), Graphic Facilitation (process work with groups), Graphic Coaching/Counseling (process work with individuals) and Graphic Recording (visual summary notes of speakers, panels, etc).
Additional FREE 90-Minute Info Webinar: Would you like to watch a longer introductory info webinar about this work? If so, sign up for the THREE FREE GOODIES at the top-left hand side of this site. Alternatively, you can register here.
Articles:
How Organizational Leaders, Consultants and Facilitators Can Use Interactive-Visuals
How Speakers, Authors & Trainers Use Interactive-Visuals
How Coaches, Therapists and Other Helping Professionals Use Interactive-Visuals
The History of the Graphic Facilitation and Graphic Recording Fields.
Common Formats for Working Visually
Tips for Color Use in Visual Process Work
The Merits of In-Person Vs Virtual
5 Ways Non-Artists Can Work Visually Too
Yes, Your Creativity Is Valuable & Worth Developing
7 Tips to Build Your $50-300K Process Practice
For more articles and audios, click here.
A few examples of Working Visually:
---
---
---
---
---
---
---
---
---
---
---
---
---
---
---
---
The Visual Skills I Teach You Can Be Applied to a Full Range of Processes for Both Groups and Individuals:
Here are some of the many benefits of working visually for you to consider …
THE BENEFITS OF WORKING VISUALLY:
While Working Visually is pleasing to the eye these methodologies are WAY MORE than just pretty pictures! That's because they…
Engage Clients via the Learning Modality They Prefer Most (87% of people are visual thinkers);
Sky Rockets the Process of Making Critical Decisions;
Enhance Retention & Understanding Of Key Themes And Main Ideas;
Increase Clarity And Comprehension (People Literally See What They Mean);
Boost Learning For Visual And Kinesthetic Learners (and still gets the auditory types too);
Heighten Thinking Levels (Enables Higher and More Complex Levels Of Dialogue And Discussion);
Revitalize Energy And Interest Levels… Makes Sessions More Enjoyable and Interesting;
Lower Misunderstandings And Helps Resolve Conflict (people feel acknowledged and heard when their ideas are recorded verbatim);
Help Clients See How They Are Being Interpreted;
Creates A Visual Memory (that can be referred back to);
Equips Participants With A Unique and Tangible 'Takeaway' Of Their Experience (Paper Or Digital);
Ensures Easy Sharing And Communication Of The 'Gestalt' Of Their Session;
Makes You Stand Out From the Crowd (and makes sales conversations more engaging and increases client closing rates … clients literally see what they are purchasing).
---
ABOUT YOUR TRAINER: CHRISTINA MERKLEY
I've trained over 2500+ people from across the english speaking world in working visually with groups and individuals and have personally mentored many of the prominent practitioners in this industry.
With a Masters degree in Organizational Development, I've been using visuals in Process Work since the 1990s when I was based in San Francisco working with David Sibbet's The Grove Consultants International.
I began my career in corporate, governmental and not-for profit settings via change management and strategic planning interventions … first as a Graphic Recorder (support scribe) then eventually as a lead Graphic Facilitator (process design and facilitation).
Prompted by a strong inner calling I was compelled to integrate visuals with coaching, personal development and spirituality, eventually birthing my SHIFT-IT Visual Coaching System® and helping to shepherd this specialty niche worldwide via Visual Coach Certification®.
In 2009 I had a kundalini awakening which expanded my consciousness deeper into metaphysics and energy work. From beautiful Victoria, British Columbia (on the west coast of Canada) I host my SHIFT-IT School with a full curriculum of in–person and online programs that attracts people from across the globe.
For a visual depiction of my journey see the Whiteboard video below:
---
Partial Client List
Technology:

Microsoft
Institute for the Future
Hewlett-Packard
Digital 4Sight
eBay
Stanford University, IT
Computer Sciences Corp. (CSC)
Nightfire Software Solutions

Healthcare:

Santa Clara Valley: Public Health
St. Mary's Health Network
Kaiser Permanante
Blue Shield
Health Technology Center

Government:

U.S. Department of Energy
BC Buildings Corp
Public Solutions
Parks Canada
BC Ministry of Family & Children
Land Title & Survey Authority

NASA

Foundations:

Gordon & Betty Moore Foundation
Kauffman Foundation
Dewitt-Wallace Readers Digest
Stupski Family Foundation

Associations:

Forum of American School Superintendents
American Institute of Architects (AIA)
American Institute of CPAs (AICPA)
California Association of Realtors
California Association of CPAs
Ass'n of Web Entrepreneurs
Nat'l Ass'n of Women Writers
Maryland Ass'n of CPAs

Other:

British Broadcasting Corp. (BBC)

Young Entrepreneurs Org. (YEO)
Chemainus First Nations
Royal Roads University
Great Canadian Dollar Stores
Villages Pizza
Zenmed / Raging Creations
Comox Valley Economic Dev. Society
Contech Electronics
Journey Middle School
Sir James Douglas Elementary School
Single Parent Resource Center
Hill Enterprises, Inc.
Lorrie Morgan-Ferrero / Red Hot Copy
Three E Training
Camosun College
City of Victoria
Motor Dealer Council of BC
Port Coquitlam School District
Tourism Victoria
Michael Port / Book Yourself Solid
United Way of Lower Mainland
Sooke Principals and VP Ass'n
BC OD Network
O.U.R. EcoVillage
---
TRAINING OUTCOMES:
Through this course you: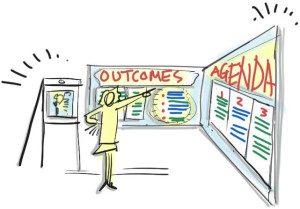 Thoroughly Understand What Working Visually Is All About And Have Your Eyes Opened To The MANY Ways These Skills Can be Applied;
Receive Practical Instruction in the Four Main Applications: Graphic Facilitation, Graphic Coaching, Graphic Recording and Studio Work (and identify which applications(s)you are most interested and comfortable in);
Feel The Markers And All The Other Creative Supplies In Your Hands … That You Now Have Free License To Play With – As Part Of Your Work!
Receive Plenty of Direct and Supportive Feedback On Where You Currently Stand. Know That This Work Isn't A Hard New Beginning, But Rather A Natural Build Upon Who You Already Are And What You Already Do (that you can immediately bring into your work and start applying);
Be Inspired And Impressed By the Interesting People From Across the World Whom You'll Meet, Learn From, Make Connections and Share Resources With;
Exit With A Renewed Interest in Your Profession – Knowing You've Found Something That Really Suits You And The Way You Operate In The World. That You Don't Have To Suppress Your Creative Side – There Is A Way to Enjoyably And Profitably Express It!
---
AGENDA:
DAY 1 (Online: Sessions 1-6):
History Of The Field, Definitions And Terminology;
Four Main Applications (Graphic Facilitation, Graphic Recording, Graphic Coaching and Studio Work);
Supplies, Logistics and Space Considerations;;
How To Hang And Handle The Large Wall Size Paper;
Basic Marker Skills (How To Hold, Color Selection, Textures, Lettering);
Drawing Basics (Lines, Shapes, Icons, Basic and Advanced Icon Libraries);
Common Formats (How to Structure Your Charts);
Studio Work ('Push' Charts, Agendas, Models, Process maps, Explainer Videos, etc.);
Graphic Recording / Scribing (Spontaneous, Live Visual Notes);
Demo of Graphic Recording (Watch Me Do It!);
Practice Rounds and Feedback ( You Do It Too!);
DAY 2 (Online: Sessions 7-12):
Graphic Facilitation (Applying Visuals to Group Processes: Change Management, Organizational Development, Strategic Planning, Visioning, Conflict Resolution,etc. );
Demo of Graphic Facilitation (Watch Me Do It!);
Practice Rounds and Feedback (You Do It Too!);
How to Make Your Own Facilitation and Coaching Templates;
Photo Management and Post-Meeting Documentation (photography, scanning, report creation);
DAY 3 (Online: Sessions 13-18):
Graphic Coaching (Applying Visuals to Coaching, Counseling, Therapy and Other
Personal Growth Venues);
My Journey as a Visual Coaching Pioneer (Including the Creation of My SHIFT-IT Visual
Coaching System);
Demo of Graphic Coaching (Watch Me Do It!);
Practice Dyads (Do It With a Partner!);
How to Involve Clients in Creating Their Own Visuals;
Non-Drawing Ways To Bring The Power Of Visuals Into Your Work;
Money, Marketing and Sales (How to Successfully Contract and Set Your Fees);
Successful Partnering: How to Collaborate with Others (including Illustrators & Designers) and How to Build Facilitator/Recorder Teams;
Healthy Mindset (Common Blocks to Working Visually and How to Bust Through Your Resistance);
Next Steps and Integration: Keep Your Momentum and Development Going!
Additional Bonus: Video Interviews
Neuroscience and Working Visually with Dr. Mandy Wintink
Explainer Videos with Liisa Sorsa and Disa Kauk
Tablets and Working Digitally with Rachel Smith
Materials and Supplies with The Grove Consultants
Materials and Supplies with The Neuland Company
PLUS VALUABLE IMPLEMENTATION SUPPORT:
Free Membership in our Working Visually eCommunity Upon Graduation (Online Forum With Monthly Drop-in Webinars and Video Library of Past Webinars);
Plus the DELUXE VERSION of this Training Includes Three 45-Minute Private Mentoring Sessions.
---
Delivery Options and Dates:
There are several ways you can participate in The Fundamentals of Working Visually: Online, In-Person and via a handy Home Study Kit. Also Private Training (you come to me) and In-House Trainings (I come to you) are also possible.
Where Is The Training Held and How Do I Get There?
ONLINE VERSION OF COURSE:
The Online Version is a live 9-week program conducted via twice-a-week webinars (60 minutes each, plus bonus Q&A time afterward). To participate, you require a computer with decent internet speed (ideally with an embedded or attached videocam). Plus a computer headset for audio connection (a dial-in U.S. phone number is also available). All sessions are video and mp3 recorded for easy replay (should you miss a webinar or want to re-listen).
How the Technology Works – it's simple!
At the appointed time, you join us online via your computer to interact live with me and your course colleagues. You also receive an extensive training handbook and access to additional training videos. Plus, we also have a private online forum, which allows us to communicate between sessions (post and comment on assignments, share resources, etc). An awesome way for you to share your work, receive feedback and connect with me and your course colleagues!
IN-PERSON VERSION OF COURSE:
The in-person version of this workshop is held once a year in Spring in beautiful Victoria, British Columbia, Canada. Victoria is a great little city with world-class amenities.

Upon registration, you receive the logistics for our meeting location – including travel options (ferry is one way to get here, the other is air). You are sent info on three hotels near the meeting site. Should none of these hotels strike your fancy, no problem, Victoria is a full-service tourism destination with many more to choose from. My assistant at admin@shift-it-coach.com, is available to answer your travel and accommodation questions.
In the meantime, here's Info on Travel to Victoria, B.C. For a wealth of additional info visit Tourism Victoria's website.
HOME STUDY VERSION OF THE COURSE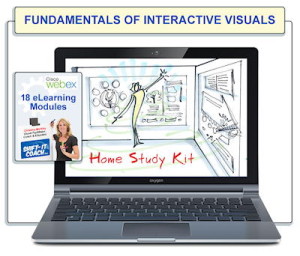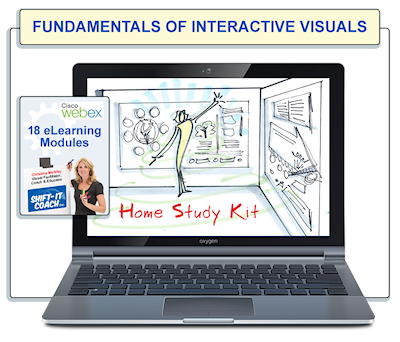 The Home Study Version is held … well, at your home! I've taken a recent Online Version of the course and converted it into a Home Study product (available 24/7), that you can purchase immediately and work your way through the same material, at your own pace, in the comfort of your own surroundings. More Info and Instant Access
---
FREQUENTLY ASKED QUESTIONS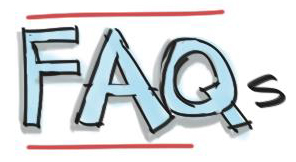 Here are some other frequently asked questions …
How Many People Are In Each Training?
Who Comes | What Are Other Participants Like?
Can't Make Dates. When Do You Offer Again?
What If I'm Scared by the Drawing/Art Stuff?
What If I Already Have Experience in Visual Field?
Are You Training Us On Your Visual Coaching Tools?
I Can't Attend Live, What Is Your Home Study Option?
I Want Customized Training, What Can You Do?
Do You Offer Scholarships or Discounts?

---
TESTIMONIALS:
What past participants say about their experience with this training:
For more testimonials, click here.
---
WHAT'S INCLUDED?
Online Training:
9 Weeks of Bi-Weekly Live Webinars (18 hours of online instruction)
Q&A After Each Class (I stick around for as long as it takes);
Webinar Recordings (video and MP3 of every session);
Digital Handbook & 10 Instructional Videos;
Private Online Forum (for 24/7 connection with your class mates and me);
After Graduation: Invite to the Working Visually eCommunity (free monthly drop-in webinars).
In-Person Workshop:
Three Full Training Days (9-5 schedule);
Printed Handbook
Markers Plus Use of All Materials (miles of paper, tape, cutters, pastels, stencils, etc.);
Morning and Afternoon Snacks (Plus Optional Dinner Attendance on 2nd Evening);
After Graduation: Invite to the Working Visually eCommunity (free monthly drop-in webinars).
Additional Bonus Videos: Whether you take this class online or in-person, you also receive these bonus videos with special guests:
Neuroscience and Working Visually with Dr. Mandy Wintink
Explainer Videos with Liisa Sorsa and Disa Kauk
Tablets and Working Digitally with Rachel Smith
Materials and Supplies with The Grove Consultants
Materials and Supplies with The Neuland Company
Art Lettering by Heather Martinez
PLUS VALUABLE IMPLEMENTATION SUPPORT:
Free Membership in our Working Visually eCommunity Upon Graduation (Online Forum With Monthly Drop-in Webinars and Video Library of Past Webinars … THIS IS A VERY VALUABLE PERK);
Plus the DELUXE VERSION of this Training Includes Three 45-Minute Private Mentoring Sessions.
---
ADDITIONAL 3 DAYS OF IN-PERSON TRAINING: SAVE $500:
After the in-person 3-Day Fundamentals of Working Visually I take a day off and then host my annual 3-Day Magic Marker Retreat. This Retreat is an advanced intensive for grads of my Fundamentals program (or those with demonstrated equivalent experience). It is the only in-person advanced retreat that I host each year.
I intentionally run these programs back-to-back as a convenience for those traveling to train with me in person (in order to make the most out of your trip). Also good for locals who are serious about getting up to speed in a fast and fun manner. This makes for an intense week however the generated momentum and up-leveling in your understanding and skills is why I continue to offer this option.
My courses aren't cheap, they are serious professional development which reaps a large return on investment for those who apply what I teach. I do offer a price break for those who wish to do these two courses consecutively back-to-back in one go. Enter the code below into the coupon code field of our secure online shopping cart at the time of purchase to save $500.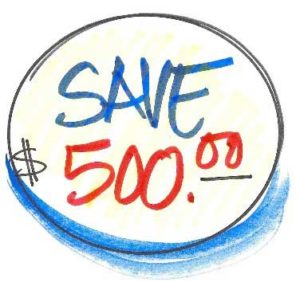 FYI, you are of course welcome to break these courses into two trips (i.e. do Fundamentals first and return at a later year for the Magic Marker Retreat), however, you are not eligible for use of the coupon.
Coupon Code:
MAGICCOMBO
---
YOUR TRAINING INVESTMENT:
When you take valuable professional training don't just look at what it costs, look at what it's truly WORTH to you overall. The going day rate for Visual Practitioners is $500 on the low end and $2500 in the mid-range. Some higher-end consultants using visual methods charge $5000+. My day rate is $3000, so in essence, I'm teaching you my craft for less than what it costs to hire me for one day.
The cost of this workshop can be recouped quickly using your new skills. Or if you're internal, in the satisfaction of doing your work in a whole new way that pleases you and your employer (perhaps saving them from having to bring in an external resource). The price of this training is very fair given how you are being 'taught to fish' – a skill that can keep you feed, happy and intrigued for years to come (let alone all the great insights, breakthroughs and results your clients will reap). As you can read in the testimonials, some participants recoup their investment within weeks and many go on to create new careers or enhance existing ones.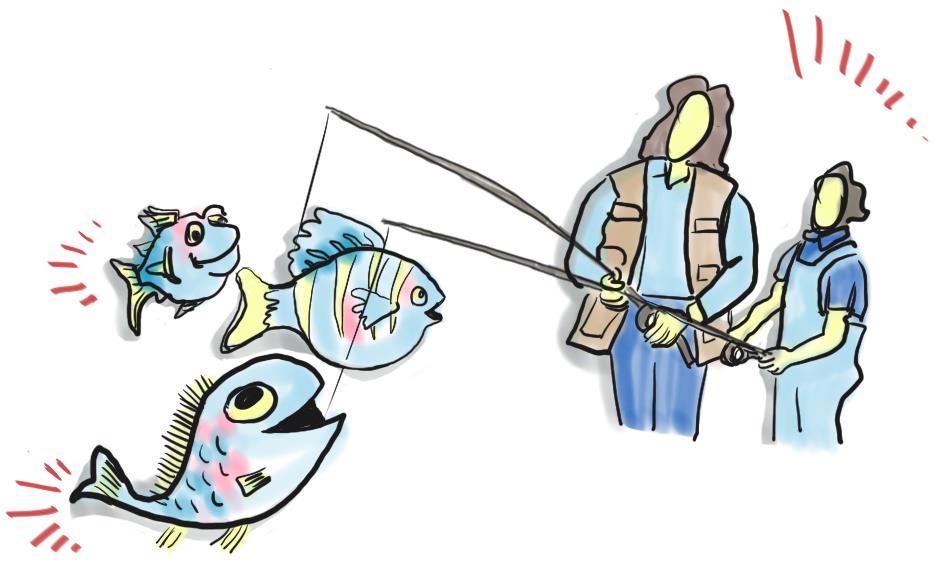 Also, an important FYI … fees are in Canadian funds. Currently, the Canadian dollar is low (it hasn't been this low for a decade), so for Americans, Europeans, and some other locales, this translates into additional savings for you! Now is a really good time to secure these highly useful skills. See currency converter.
---
FEES, LEVELS, AND PAYMENT PLANS:
There are THREE LEVELS to choose from: Basic, Deluxe and Repeater. The Deluxe includes three Private Mentoring Sessions at a special rate (45-minutes each delivered by web conferencing). The Repeater is a FREE perk for those who have attended before (the live online course or have purchased the Home Study Kit). Early Bird Rates, if in effect, are listed. Several payment plan options are available. Click the links under each class for full details.
REGISTER FOR AN UPCOMING TRAINING:
Click links below to register for the upcoming training of your choice.

In closing, if you are attracted to the visual way of working, I hope I have made it clear as to why this training is a smart professional investment. Fundamentals of Working Visually is one of the very few places IN THE WORLD where you can receive quality instruction in the full range of visual skills for use in process work with groups and individuals. I look forward to training you and introducing you to your wonderful colleagues!
Yours in visual expansion,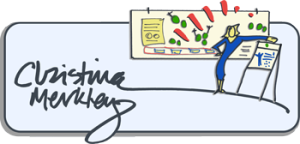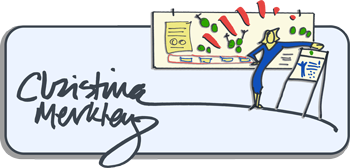 Christina Merkley,
Process Skills Mentor & The SHIFT-IT Coach
P.S. Further Questions? Email admin@shift-it-coach.com. You can also request a free '30-Minute Exploratory Chat' to chat directly with me if you'd like.
P.P.S. Sometimes people are really pulled to come to this training and don't quite understand why, as it's an intuitive hunch, not a rational decision. Like my previous attendee Val, who wrote 10 weeks afterwards to tell me she landed an Executive Director position at double her salary by using 'visuals' to seal the deal (she used a visual template to not only interview the Board that was interviewing her, but to engage the front line staff as well – which they loved!). She and her initially skeptical husband were very happy with her return on investment from this training and that she followed her intuition to come!
---
MORE TESTIMONIALS
I look forward to you joining us!