For Process Professionals Who Work Visually With Groups and/or Individuals


---
TWO NICHE EXPERTS HELP YOU
DRAW HEADS AND HANDS!
NOW AVAILABLE IN A HOME STUDY KIT. LEARN FROM THE COMFORT OF YOUR OWN HOME!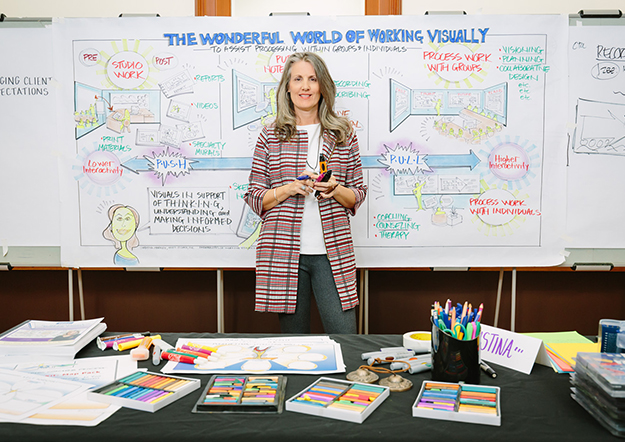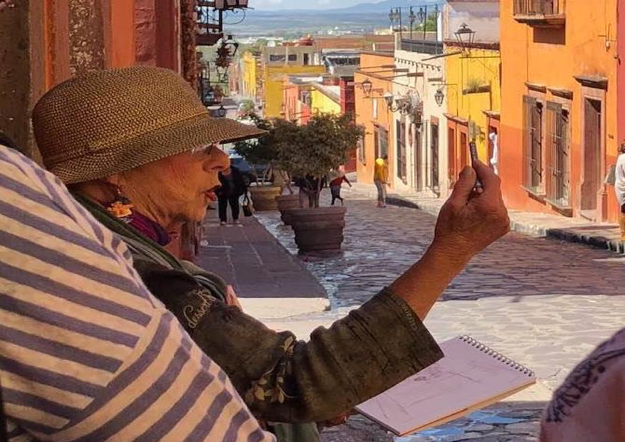 Rhoda Draws and Christina Merkley have joined forces to assist Graphic Facilitators, Graphic Recorders and other creatives in applying Fast and Loose drawing techniques to studio and real-time creations. Their full Fast & Loose Sketching curriculum is now available in a Home Study Kit.
This new Heads and Hands Home Study Kit provides specific additional focus on faces, emotions and hand gestures. You are welcome to purchase whether or not you have already taken the fuller Fast & Loose Sketching program as we are not making it a prerequisite at this time (although it'll certainly be handy for context if you have done it).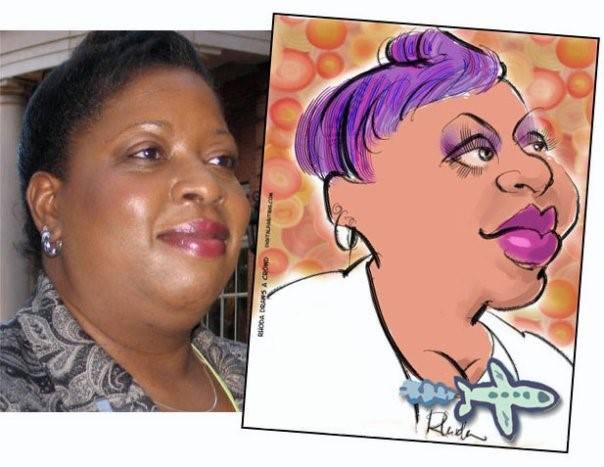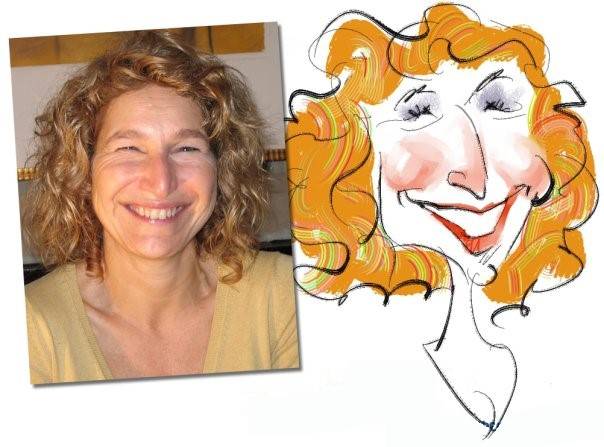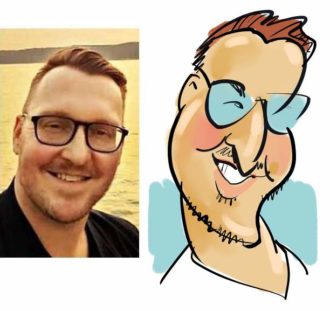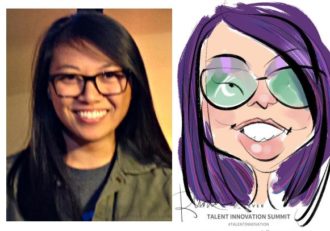 ---
HOME STUDY KIT OUTCOMES:
Learn Fast & Loose Techniques To Quickly Depict Faces, Emotions and Gestures;
Integrate This Fast Drawing Approach Into Your Own GR/GF Practice (or Other Artistic Expressions) to Please Clients and Yourself;
Get Immediate Access to the Same Content As Rhoda and Christina's Live Courses Without Travel or Having to Wait for the Next Offering;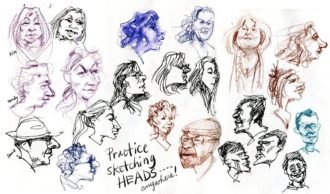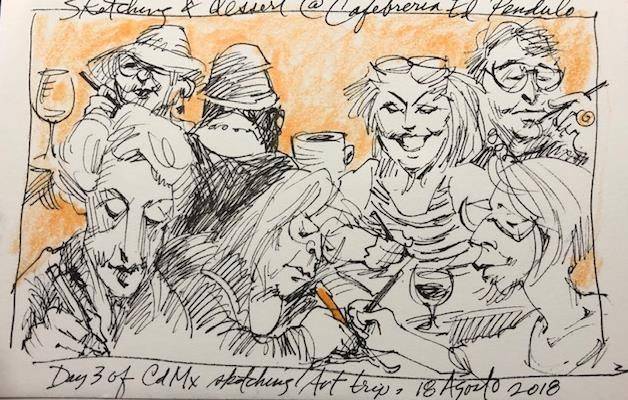 ---
CURRICULUM:
7 eLEARNING MODULES THAT YOU COMPLETE AT YOUR OWN PACE:
This Home Study Kit follows the path of a live online course led by Rhoda and Christina. You follow along via the video recordings and other course materials at your own pace.
MODULE 1: INTROS AND LAUNCH
Meet Rhoda Draws and Christina Merkley and Their Students from Around the Globe;
Understand the 4 Distinct Applications in The Niche GR/GF Field. What Christina Calls The 4 Animals: Studio Work, Graphic Recording/Scribing, Visual Process Work with Groups and Visual Process Work with Individuals;
Understand the Common Places that Heads and Hands Weave Into the Work;
Hear Rhoda's "Fast and Loose" Principles That Likely Push Your Status Quo;
Learn About Common Sketching Materials and Supplies and Where to Source Them Depending on What Size and Delivery Method You Use;
Get Tips for Working in Digital Environments: Hardware and Software Suggestions, including Brushes and Specialty Effects;
Determine Your Current Sketching Capacity (No Competition) Which Helps You Chart Progress Over Time.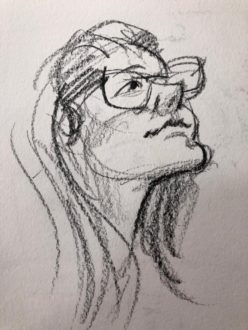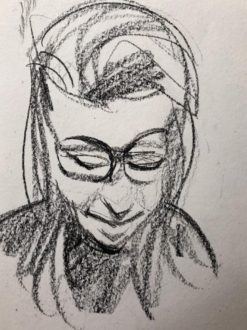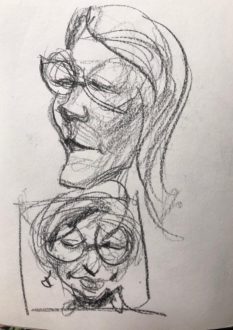 MODULES 2-6: DEEP DIVE INTO FACES, EMOTIONS AND GESTURES
Get Extensive Practice in Drawing Faces, Emotions and Gestures Via Live Models and From Photos;
Receive Guidance on Face and Hand Proportions, Composition and Other Essential Foundations;
Develop a More Effective 'EYE' and Properly Choose and Depict the People You Want to Sketch;
Make Effective Decisions About Black & White Simplicity and/or More Complicated Color Applications;
Determine the Line Between Sketching and Caricature and Push Into Caricature If So Inclined (Rhoda Is a Skilled Caricaturist);
Develop More Sophistication with Fore, Middle and Background Nuances;
Receive Tips for Working in Live, Spontaneous and Crowd Conditions and Handling Client Politics;
Get Inner Work Assistance to Overcome Analysis/Paralysis, Comparison-itis, Perfectionism, and Other Self-Imposed Limitations
Guided Assignments to Apply What You Learn into Your Own Unique Practice;
Grow Your Skill and Confidence and Really Improve Your Sketching Comfort and Know-How!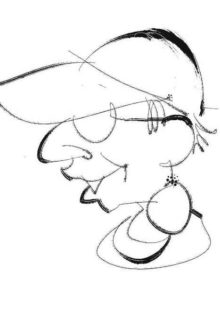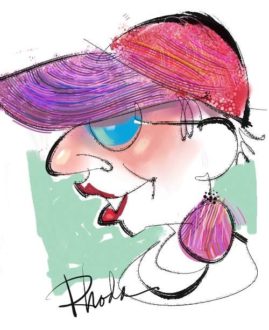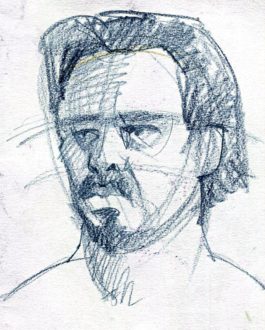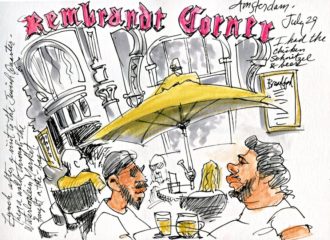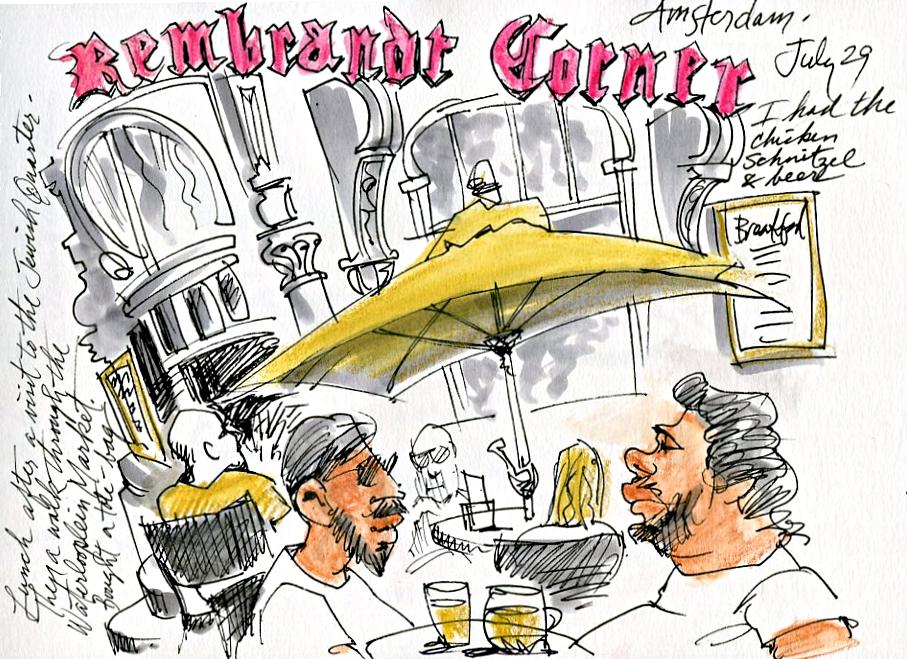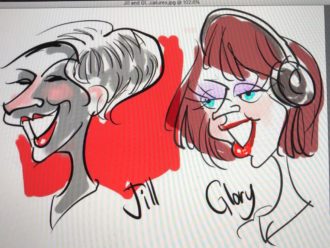 MODULE 7: COURSE CLOSURE
Review and Feedback of Previously Posted Assignments.
---
WHO THIS PROGRAM IS DESIGNED FOR:
This Home Study Kit is specifically designed for Visual Process Professionals — people who help groups and/or individuals think, feel and process in corporate, governmental, not-for-profit and other settings. Consultants, Facilitators, Trainers, Managers, Supervisors, Coaches, Counselors, Therapists, Graphic Recorders and the like.
You most likely have invested in some beginner or even advanced training in the niche skills of Graphic Recording and/or Graphic Facilitation (with Christina Merkley or other instructors in the field). And would like to broaden your ability and confidence in live, spontaneous sketching, drawing and caricature.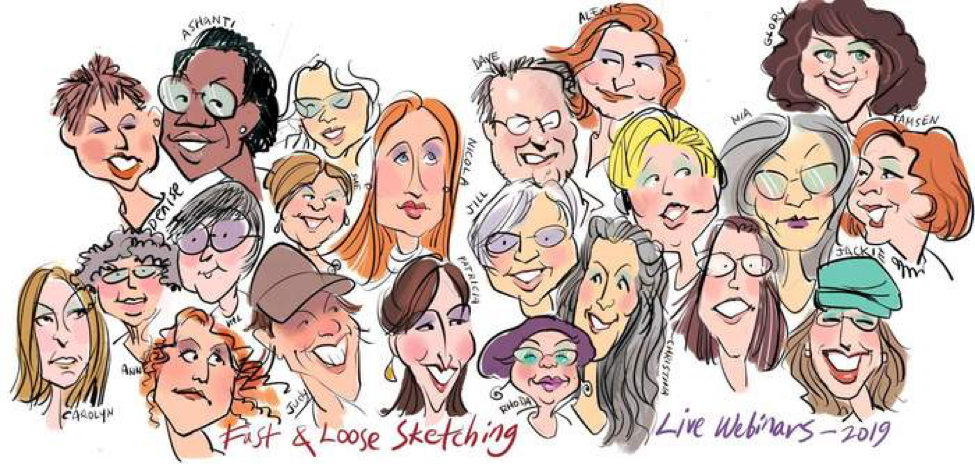 Other people who benefit from this course are artists, illustrators, graphic designers, urban sketchers and other creatives who want to loosen their style and drop perfectionism and design rules. Particularly if you are curious or contemplating trying to transfer your existing skills into the live and speedy Graphic Recording and/or Graphic Facilitation profession.
Please also see Fundamentals of Working Visually for more in-depth guidance about the niche GR/GF field. Rhoda and Christina also offer a full Fast & Loose Sketching curriculum available in Live Online Course or Home Study Kit. 
---
ABOUT YOUR INSTRUCTORS: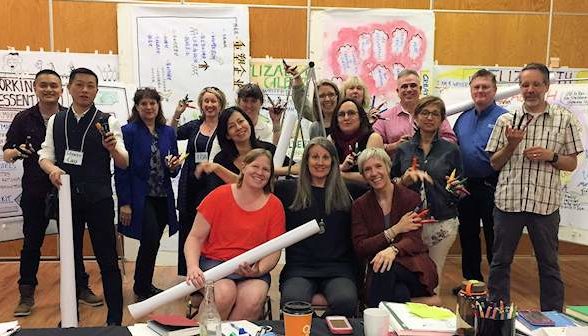 Christina Merkley is a seasoned Visual Practitioner specializing in Organizational Development and Change Management with a niche in Strategic Planning and Visioning with groups and individuals. A well-respected trainer and mentor in the GR/GF field she's trained 2500+ including many prominent personalities in the field. For more info see www.shift-it-coach.com
Rhoda Draws (yes that's her real last name!) is a professional artist with a specialty in caricature, cartooning and urban sketching. She's a salty presence at business conventions, meetings, and events across North America and pioneered video trainings for Corel's Painter programs. Formerly based in San Francisco she now calls world heritage city San Miguel de Allende, Mexico her home, where she hosts sketching retreats and tours. For more info see www.rhodadraws.com

---
HOW TO ACCESS AND USE THE HOME STUDY KIT: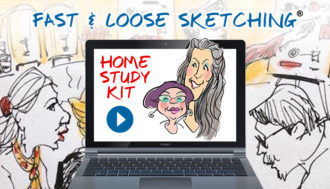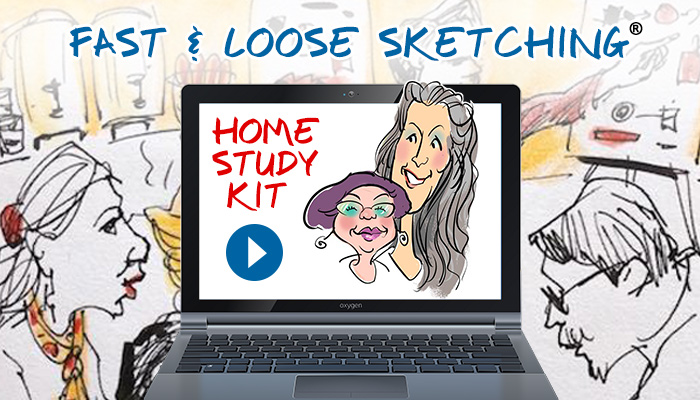 The Fast & Loose Sketching: Heads and Hands Kit is immediately available via online purchase. Upon registration, you receive a personalized membership to Christina's SHIFT-IT School with access to all Kit materials.
We encourage you to proceed through the material in the order it is laid out, however, access to all modules is immediately given in case you want to follow the beat of your own drum.
The program is in English. A computer, tablet or phone is required to view and/or download videos and MP3s. A standard PDF Reader is required for documents. The program is divided into 7 Modules (listed earlier on this page) with additional Bonus Videos. You simply watch the videos and read the PDFs on each module and follow along with the assignments.
---
WHAT'S INCLUDED:
Three handy payment plans depending on your needs.
FYI, fees are in Canadian funds. Your Credit Card converts into your currency at the time of purchase. Currently, the Canadian dollar is low (it hasn't been this low for a decade), so for Americans, Europeans and some other locales, this translates into additional savings of 25% or more! See currency converter.
---
CHOOSE YOUR PAYMENT PLAN BELOW:
COURSE FEE: $497.00
$248.50
Includes:
7 90-min Video Recordings
Video And Mp3 Recordings Of Each Webinar
Webinar Notes and Handouts
Extensive Sketching Portfolio by Rhoda
Graphic Recording / Graphic Facilitation Resources by Christina
Online Forum Notes of Interaction and Feedback
| | |
| --- | --- |
| 1 PAYMENT OF | $497.00 $248.50 CAD ($196 USD*) |
| 3 PAYMENTS OF | $182.00 $91.00 CAD ($72 USD*) |
| 7 PAYMENTS OF | $85.00 $42.50 CAD ($33 USD*) |
PAYMENT TERMS:
---
---
We're happy to pool our knowledge and experience to assist you to up-level your drawing of Heads and Hands.
Yours in visual expansion,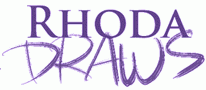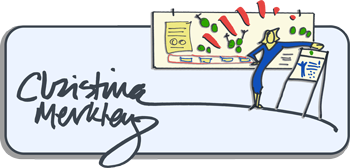 P.S. Questions? Email admin@shift-it-coach.com. Feel free to request an Exploratory Chat with Christina to discuss this Kit.