For Process Professionals and Creatives Who Work Visually With Groups and/or Individuals

TWO NICHE EXPERTS HELP YOU DRAW FASTER and LOOSER!
This Session Has Been Postponed Due to Illness
Convert to your time zone here.
The niche field of Graphic Recording and Graphic Facilitation (GR/GF) has taken the world by storm as it radiates from North American and European urban centers out across the globe. The pandemic has interfered with in-person applications depending on local conditions, however this field is tenaciously adapting and morphing into the digital terrain.  
As a result, more and varied Process Professionals are using spontaneously created visuals to help people effectively think and feel. Both as employees embedded in various kinds of organizations (corporate, governmental and not-for-profit) and as self-employed independents in the gig economy.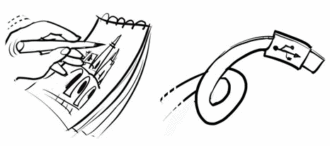 Given the live nature of the GR/GF approach (whether analog or digital) Practitioners need to be able to listen, write, and DRAW FAST in order to quickly mirror the thoughts and feelings of clients.
Process Professionals who aren't artists need to develop good-enough sketching and caricature skills.
Creatives who do possess formal art training need to release perfectionism and standard rules in order to work in the speedy manner that GR/GF work demands
This live online course caters to both audiences – Process Professionals who have no, or little, formal art training. And/or Creatives who do have formal art training and need to loosen and quicken their style for the GR/GF market. 
This program is also great for anybody who just wants to relax, get in the zone, and soothe your nervous system by sketching. Ahhhhhhhh.  Great community and fun. A little oasis during these hectic times!  
---
---
COURSE OUTCOMES:
Learn the Fast & Loose Techniques to Boost Your Drawing Speed – Whether You Work In-Person, Online or Both.
Integrate this Fluid Drawing Approach Into Your Own Life and Work – for Personal Pleasure, More Satisfied Clients and a Healthier Bottom Line.
Receive Personalized Feedback and Encouragement From Two Niche Experts and Connect with an International Cohort During These Transformational Times (no travel required).
---
AGENDA OVERVIEW:
SESSION 1: INTROS AND LAUNCH
Understand the 4 Distinct Ways that Visuals are Created in this Niche Field. What Christina Calls The 4 Animals: Studio Work; Graphic Recording/Scribing; Visual Process Work with Groups; and, Visual Process Work with Individuals.
Get an Overarching View of the Common Places to Weave Fast & Loose Sketching Into those Four Animals.
Be Introduced to Your Fascinating Cohort Mates from Around the Globe and the Digital Infrastructure We Use to Connect.
Do a Bench Mark to Determine Your Current Sketching Level to Help See Your Progress Over this Course.
SESSIONS 2 & 3: MATERIALS AND DESIGN BASICS
Materials and Supplies and Where to Source, Depending on What Size and Delivery Method You Use.
Working Digitally: Hardware and Software Recommendations including Brushes; and, Specialty Effects.
Guidance on Foundational Basics and Design Sense Including Composition, Perspective and Color.
Learn How to Properly "SEE" the Objects, Scenes and People to Weave Into Your Charts.
Guided Assignments to Apply What You Learn.
SESSION 4 & 5: GESTURE DRAWING
Move Beyond Beginner Icons (Outline Drawing) to Consciously Employ Shadows, Tones and Depth for a More Artistic and Sophisticated Aesthetic.
How to Take In the Overall Sweep of a Space or Place and Quickly Depict Surroundings and Significant Things.
How to Quickly Capture Figures, Gestures and Dynamic Movements.
Appreciation of the Role of 'Happy Accidents' and Serendipity … How Your Right-Brain Knows Before Your Left-Brain Does (so put it in charge!).
More Guided, Structured Assignments To Do, Do, and Do!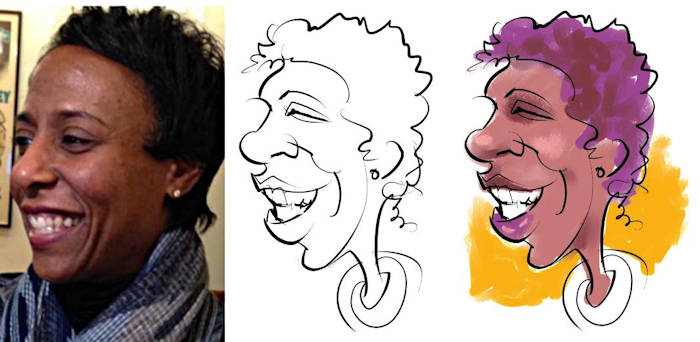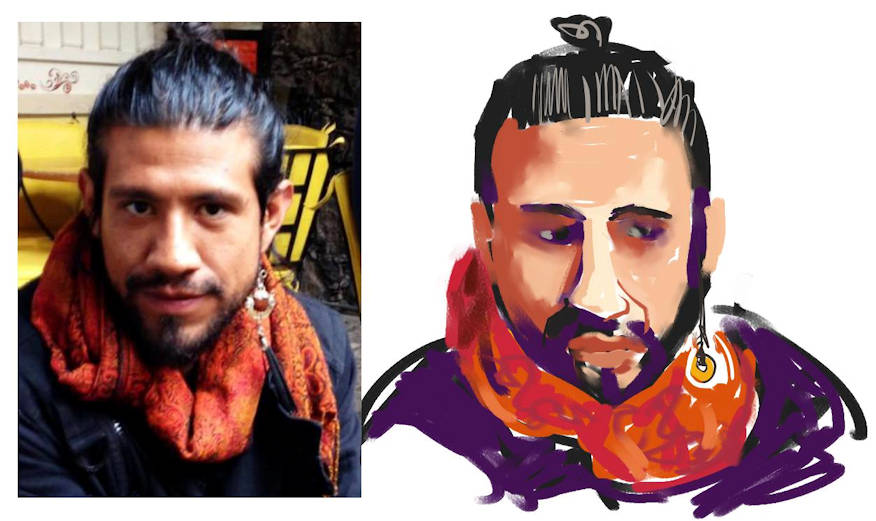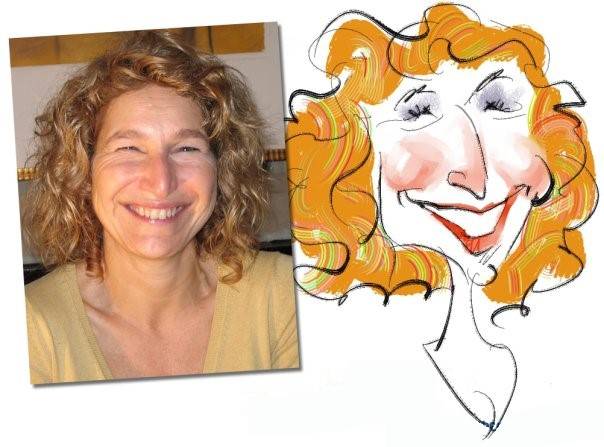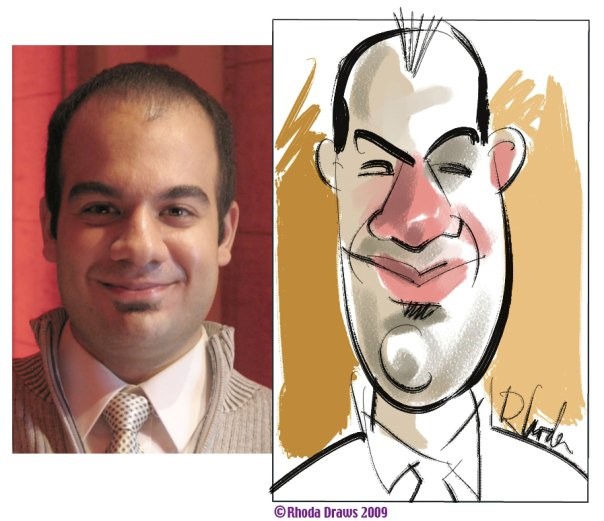 SESSIONS 6 – 8: FACES AND FEATURES
Get the 'Double Click' on Faces: How to Do Caricatures of Leaders, Speakers and Other People You Need to Quickly Depict (Stop Avoiding and Dive In).
Watch Rhoda Sketch Course Members and From Photos. Do The Same Following Her Lead (she breaks it down step by step).
Frankly Discuss Client Politics and Power Dynamics in the Room (How To Be Safe Yet Also Be True to What is Really Happening).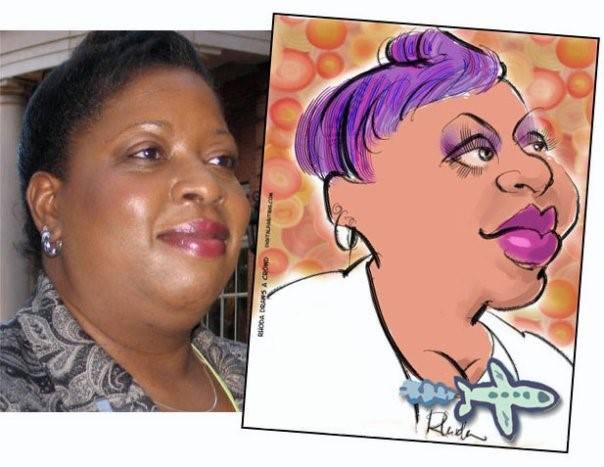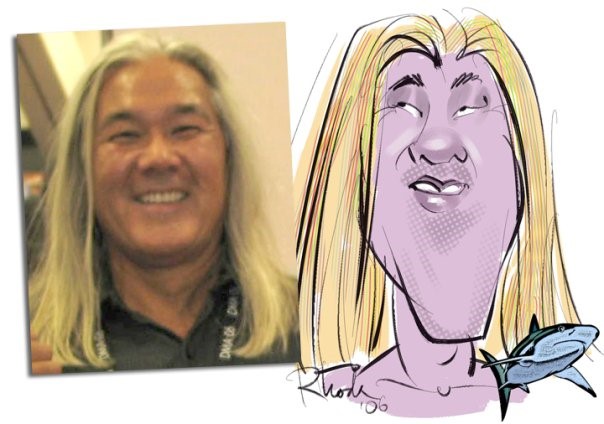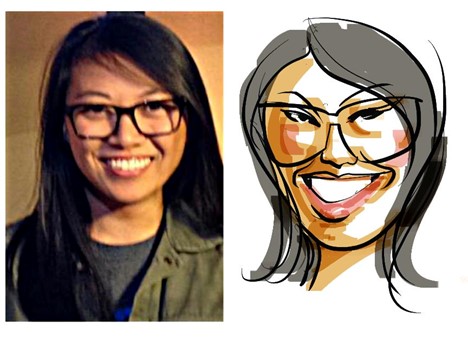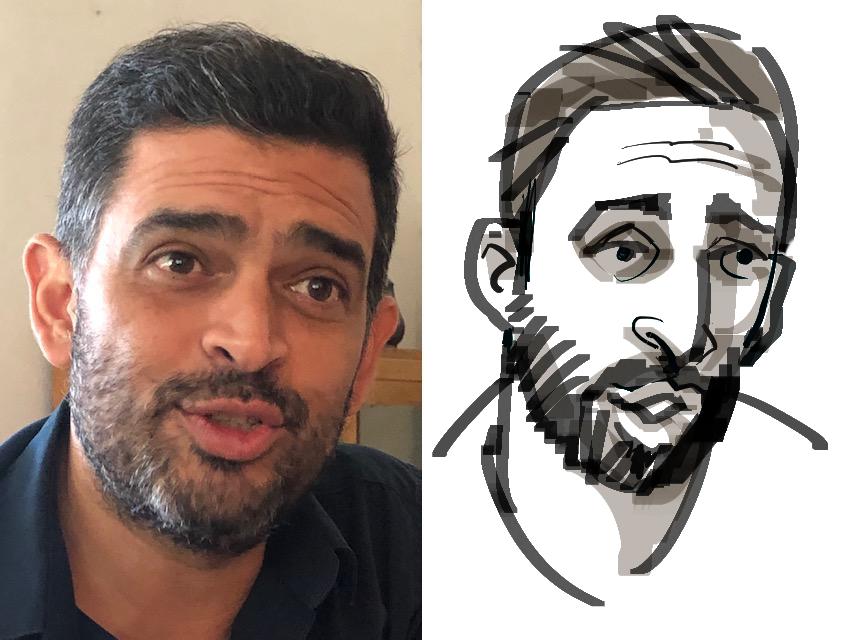 SESSIONS 9 – 11: LIVE ZOOM ROUNDS
Practice, Practice, and More Practice.  Drawing Rounds and Lots of Feedback as We Employ the Fast & Loose Sketching Techniques and You Integrate, Integrate, and Integrate … the Only Way Out Is Through!
Coaching and Inner on How to Overcome Analysis/Paralysis, Comparison-itis, Perfectionism and Other Self-Imposed Limitations … Break Free!
The Business Side of Our Professions – What Our Careers Are Like, How We Find Clients, What Do We Charge, Generational Dynamics As So Many Generations Work Together, How We Are Handling the Pandemic, What We Think the Future Holds for Analog and Digital Applications of this Work, and More! 
SESSION 12: FINAL Q&A AND COURSE CLOSURE
A Final Opportunity for Basic Level Members to Ask Questions, Receive Feedback, and Express Closing Comments. 
THREE ADDITIONAL SESSIONS FOR DELUXE MEMBERS
Continued Feedback, Coaching and Community plus Two Private Mentoring Sessions – One With Rhoda and One With Christina.
---
WHO THIS PROGRAM IS DESIGNED FOR:
This program is specifically designed for Visual Process Professionals – people who help groups and/or individuals think, feel and process in corporate, governmental, not-for-profit and other settings using visual skills. Consultants, Facilitators, Trainers, Managers, Supervisors, Coaches, Counselors, Therapists, Graphic Recorders and the like. 
You most likely have already completed some beginner or even advanced training in the niche skills of Graphic Recording and/or Graphic Facilitation (with Christina Merkley or other instructors in the field) and would like to broaden your ability and confidence in live, spontaneous sketching, drawing and caricature.
This course is also useful for creatives: artists, illustrators, graphic designers, urban sketchers and others who want to loosen their style and drop perfectionism and design rules. Particularly if you are curious about entering the live and speedy Graphic Recording and/or Graphic Facilitation profession. See Fundamentals of Working Visually for more in-depth guidance in doing so.
---
ABOUT YOUR INSTRUCTORS: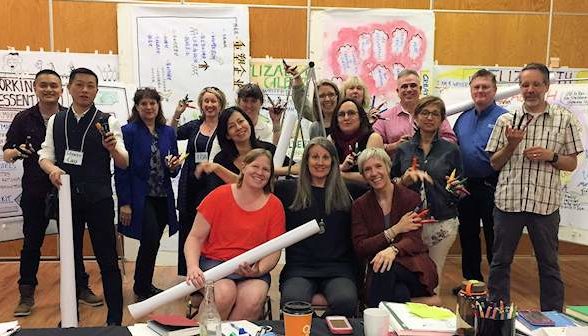 Christina Merkley is a seasoned Visual Practitioner specializing in Organizational Development and Coaching.  A well-respected trainer and mentor in the GR/GF field she's trained 1000s from across the globe including many prominent personalities in the field. A Canadian, her base is in Victoria, British Columbia where she maintains a busy facilitation and coaching practice and runs her online SHIFT-IT School. For more info see www.shift-it-coach.com
Rhoda Draws (yes that's her real last name!) is a professional artist with a specialty in caricature, cartooning and urban sketching. She's a salty presence at business conventions and pioneered video trainings for Corel's Painter programs. Formerly based in San Francisco she now calls world heritage city San Miguel de Allende, Mexico her home. She hosts in-person sketching retreats and tours, and sketches and teaches online via Zoom. For more info see www.rhodadraws.com

---
DATES AND TIMES:
Fast & Loose Sketch Club is offered via 12 Weekly 90-Minute Webinars. It is also immediately available through a Home Study Kit – work from home, at your own pace.
FAST & LOOSE SKETCH CLUB®
Postponed Until Further Notice

Convert to your time zone here.
For Deluxe Purchasers: Three Additional 90-minute Webinars on


---
WHERE IS THE TRAINING AND HOW DO I GET THERE?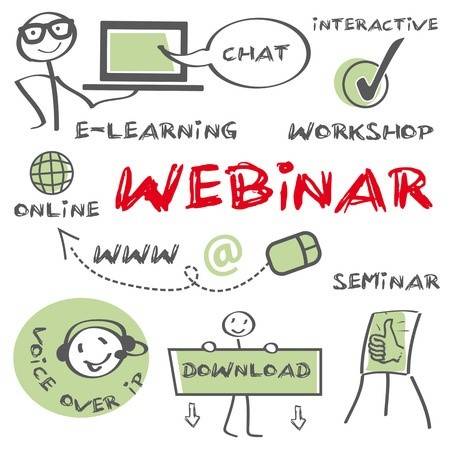 This is an online course conducted via live weekly webinars on Zoom. We extensively use a digital forum to post assignments and give/receive feedback as we go along.  
There is no travel required, you simply connect from your own geographic location via the digital device of your choice (computer, mobile phone, or tablet).  
All sessions are fully recorded for easy replay should you miss a session or want to review. 
If your schedule or time zone doesn't allow for attendance at the live sessions, you can still participate – just follow along via the Recordings and connect via our online forum. It's fun!
---
WHAT'S INCLUDED:
There are four levels to this program: Deluxe, Basic, Accessibility and Repeater. Plus handy payment plans depending on your needs.
FYI, fees are in Canadian funds. Your Credit Card converts into your currency at the time of purchase. Currently, the Canadian dollar is low, so for Americans, Europeans and some other locales, this translates into additional savings of 20% or more! See currency converter.
---
CHOOSE YOUR LEVEL OF PARTICIPATION BELOW:
BASIC MEMBER – $497.00 ($371 USD*)
Includes:
12 90-min Live Webinars
Video and Mp3 Recordings of Each Webinar
Presentation Slides and Handouts
Generous Q&A after Each Live Webinar
Organized Assignments and Infrastructure
Online Forum for Interaction and Feedback
PAYMENT OPTIONS
1 payment of $497.50 CAD ($371 USD*)
3 monthly payments of $182.00 CAD ($135 USD*)
7 monthly payments of $85.50 CAD ($67 USD*)
---
DELUXE MEMBER – $997.00 ($744 USD*)
Everything in the Basic Level Plus:
3 Additional Webinars
45-Minute Private Mentoring Session with Christina Merkley
45-Minute Private Mentoring Session with Rhoda Draws
PAYMENT OPTIONS
1 payment of $997.50 CAD ($744 USD*)
3 monthly payments of $350.00 CAD ($261 USD*)
10 monthly payments of $110.50 CAD ($82 USD*)
---
ACCESSIBILITY MEMBERS AND REPEATERS
Includes:
Same content as Basic Members, however special rate for marginalized and/or financially disadvantaged folks to reduce barriers of entry. If you have already taken this program (via a previous online course, in-person retreat, or Kit) and are ready for another round, you may use this rate too. We freshen it every time!
PAYMENT OPTIONS
1 payment of $247.00 CAD ($194 USD*)
3 monthly payments of $85.00 CAD ($67 USD*)
7 monthly payments of $40.00 CAD ($31 USD*)
PAYMENT TERMS:
---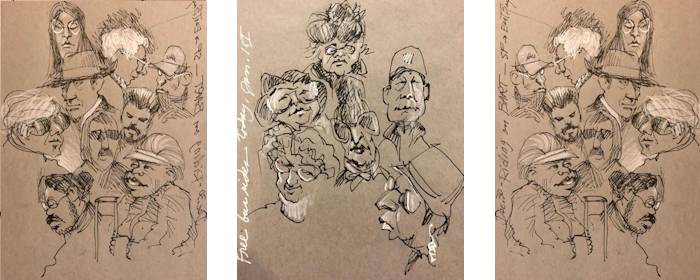 ---
We're both very excited to assist you to up-level your drawing skills and speed. See you soon!
Yours in visual expansion,