Professional Online Study Kit Teaches Process Professionals From Across the Globe!
For Managers, Leaders, Consultants, Facilitators, Trainers, Coaches, Therapists, Scribes and Others Who Work with Groups and Individuals. Also for Illustrators, Designers, Artists and Other Creatives.
AVAILABLE IN 18 MODULE HOME STUDY KIT
PLUS 2 ADDITIONAL KITS NOW INCLUDED!
Can't do the times of my live courses? This Home Study Kit is a convenient way for you to get immediate access to my Fundamentals of Working Visually course. The material has been honed from my organizational development, change management, facilitation and coaching experience across a broad range of corporate, governmental and not-for-profit settings.
This Kit covers all four ways of working visually:
Studio Work (pre-prepared visuals);
Graphic Recording (live, spontaneous note-taking);
Graphic Facilitation (visually facilitating processes with groups);
Graphic Coaching (visually facilitating processes with individuals);
FYI, I am no longer offering this course publicly, although private trainings (you come to me) and in-house trainings (I come to you) are possible. Instead, I'm focusing my public trainings exclusively in the Graphic Coaching genre via Fundamentals of Visual Coaching. This Kit gives you access to not only Visual Coaching but the other genres too, if those are also of interest to you.
---
Now get 3 Kits for the price of 1!
Additionally, I'm bundling Fundamentals of Working Visually with two additional Kits! On companion topics that are also of interest to budding visual practitioners.

Quick Links:
Curriculum: 18 Modules
How To Access and Use The Kit
About Your Trainer: Christina Merkley
Your Training Investment
What's Included and Payment Options
Testimonials
---
HOME STUDY CURRICULUM: 18 TRAINING MODULES
In this Kit you follow a 9-week online class (that met twice a week) as they make their way step-by-step through the program. You are guided in the same order as the class you are watching. You witness their ah-hahs and insights and in turn, apply the material to the specifics of your own situation.

1. Kick-Off
2. Context & Definitions
3. More Definitions & Benefits
4a. Space, Supplies & Create Your Studio
4b. Hanging Paper, Graphic Aerobics & Lettering
5. Zen of Icons
6. Formats & Your First Studio Piece
7. Feedback
8. Graphic Recording: Demo & Assign
9. Feedback
10. Graphic Facilitation: Demo and Assignments
11. Feedback
12. Graphic Coaching: Demo and Assignments
13. Christina's Coaching Journey & SHIFT-IT
14. Photo Management, Documentation & Reports
15. Money, Marketing & Biz Development
16. Mindset and Resistance Busters
17. Next Steps and Action Plans
18. Class Closure and Implementation Coaching
PLUS BONUS VIDEOS:
The Neuroscience of Working Visually with Dr. Mandy Wintink;
The Ins and Outs of Whiteboard Videos with Liisa Sorsa and Disa Kauk;
Working Virtually (digital technology: tablets, smartboards, etc.) with Rachel Smith;
Materials and Supplies with Laurie Durnell of The Grove Consultants;
Materials and Supplies with Guido Neuland of The Neuland Company.

PLUS TWO ADDITIONAL HOME STUDY KITS: 
Shift into Digital Work: Navigate your hardware and software choices in order to also work digitally. This Home Study Kit mirrors the live online course led by Christina, Lisa Moore, and Karen Lloyd.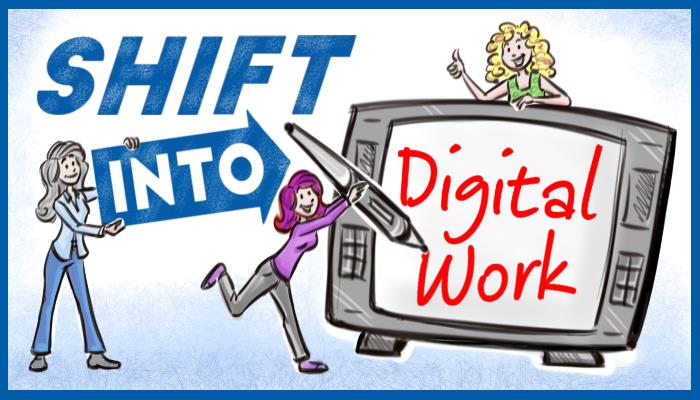 Cartoon and Storyboard Techniques: Unlock the secrets of animation storytelling guided by Animation Director Karen Lloyd. Learn how to craft captivating cartoons and storyboards that resonate with your clientele.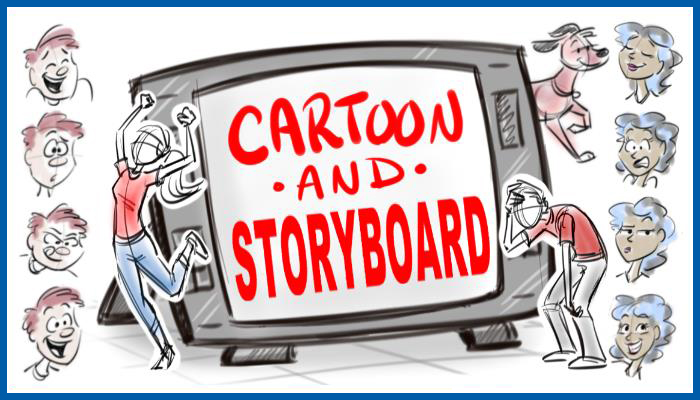 PLUS QUALIFY FOR THE REPEATER OPTION ON LIVE ONLINE COURSE:
Interested in the Fundamentals of Visual Coaching, which greatly expands on the Visual Coaching module in this Kit? As a purchaser of this Fundamentals of Working Visually Kit, you qualify for the Repeater Rate – another great savings!
---
HOW TO ACCESS AND USE THE HOME STUDY KIT:
The Home Study Kit is instantly available via instant online purchase. Upon registration, you receive a private password to my SHIFT-IT School and access to the Fundamentals of Working Visually class area. I encourage you to proceed through the material in the order it is laid out, however, access to all modules is immediately given in case you have an urgent need to view certain topic areas.
The program is in English. A standard video/audio player is required to view videos and MP3s, and a PDF Reader to download and read the documents. The program is divided into 18 Modules (listed earlier on this page). You simply watch the videos, read the PDFs on each module and follow the assignments.
You are instructed on the materials you need to source (paper, markers, tape, etc.) and how to set up a Studio Space to do your assignments. Private coaching (Deluxe Option) is available to answer questions and provide you with feedback on your work and guidance on your business development.
---
YOUR TRAINING INVESTMENT:
When you take valuable professional training don't just look at what it costs, look at what it's truly WORTH to you overall. The going day rate for Visual Practitioners is $500 on the low end and $2,500 in the mid-range. Some higher-end consultants using visual methods charge $5,000+. My day rate is $3,000, so in essence, I'm teaching you my craft for less than what it costs to hire me for half a day.
T
he cost of this training can be recouped quickly using your new skills. Or if you're internal, in the satisfaction of doing your work in a whole new way that pleases you and your employer (perhaps saving them from having to bring in an external resource). The price of this training is very fair given how you are being 'taught to fish' – a skill that can keep you fed, happy and intrigued for years to come (let alone all the great insights, breakthroughs and results your clients will reap). As you can read in the testimonials, some participants recoup their investment within weeks and many go on to create new careers or enhance existing ones.
Also, an important FYI … fees are in Canadian funds. Currently, the Canadian dollar is low, so for Americans, Europeans, and some other locales, this translates into additional savings for you! Now is a really good time to secure these highly useful skills. See currency converter.
---
ABOUT YOUR TRAINER: CHRISTINA MERKLEY
Christina Merkley coaches individuals and partners, facilitates groups, and is an internationally respected teacher.
Through her SHIFT-IT School, she has trained thousands in all aspects of working visually. One of a handful of early Graphic Facilitation trainers, she's been a supportive midwife in the global spread of the specialty.
With a Masters Degree in Organizational Development and transformation (ODT), she began her career in San Francisco as a Graphic Recorder and Facilitator, initially employed by David Sibbet and The Grove Consultants International. Her organizational clients have included Hewlett-Packard, Stanford, The American Institute of CPAs, the U.S. Department of Energy, the British Broadcasting Corporation, The Institute for the Future, The Gordon and Betty Moore Foundation and NASA.

Her love of personal growth drew her to the emerging field of Coaching, where she naturally integrated visual methods into process work with individuals, partners and intimate groups. She is the creator of the SHIFT-IT Visual Coaching System®, with 40+ visual tools.
In 2009, she experienced a kundalini rising that heightened her intuitive and energetic sensitivities.
A trauma-informed practitioner, Christina is well versed in many modalities: Strategic Planning, Visioning, Scenarios, Team Performance, Conflict Resolution, Appreciative Inquiry, Alchemical Hypnotherapy, Neurolinguistic Programming, Voice Dialogue, Parts Work, BodyTalk, Shamanic Journeying, Systemic Constellations, Compassionate Depossession and Psychopomp, The Unconditional Model and Non-Dual Inquiry.
Christina lives in beautiful Victoria, British Columbia, Canada. Metchosin on the ancestral lands of the Sc'ianew First Nation.

---
FEES, LEVELS AND PAYMENT PLANS:
There are TWO LEVELS to choose from: Basic and Deluxe. Plus various payment plans.

OPTION 1: BASIC PACKAGE:
18 Videos of Class Webinars (Plus Class Notes and MP3s)
10 Instruction Videos
Digital Handbook | 15 Chapters
3 Icon Libraries (Basic, Advanced and Personal);
Color Portfolio & Lettering Guide
Contracting & Agenda Examples
Summaries of Class Forum Discussions
BONUS VIDEOS:
The Neuroscience of Working Visually with Dr. Mandy Wintink;
The Ins and Outs of Whiteboard Videos with Liisa Sorsa and Disa Kauk;
Working Virtually (digital technology: tablets, smartboards, etc.) with Rachel Smith of The Grove Consultants;
Materials and Supplies with Laurie Durnell of The Grove Consultants;
Materials and Supplies with Guido Neuland of The Neuland Company;
Lettering with Heather Martinez.
PLUS THE TWO ADDITIONAL KITS:
| | |
| --- | --- |
| 1 Payment | $997.00 $497 CAD |
| 3 Monthly Payments | $350.00 $175.00 CAD ($133 USD*) |
| 10 Monthly Payments | $110.00 $55.00 CAD ($42 USD*) |
OPTION 2: DELUXE PACKAGE:
Includes the Basic Package PLUS These Extras:
Printed Handbook: Mailed to you, so your printer can take a break;
Three, 45-Minute PRIVATE MENTORING SESSIONS with Christina Merkley, ($797 value!) Make the most of your investment by securing private mentoring. Great for feedback on your work and for mindset, marketing and business development support. Save off of my regular coaching rates.
| | |
| --- | --- |
| 1 Payment | $1497.00 $748.50 CAD ($567 USD*) |
| 3 Monthly Payments | $515.00 $257.50 CAD ($195 USD*) |
| 7 Monthly Payments | $227.00 $113.50 CAD ($86 USD*) |
| 10 Monthly Payments | $163.00 $81.50 CAD ($62 USD*) |
PAYMENT TERMS:
* Fees are in Canadian Funds. The USD fees quoted are approximate. The exact exchange fluctuates and depends on the day/time purchased and the policies of the credit card used (see www.xe.com for daily rate). Plus applicable taxes for Canadian residents. Payment plans are legal contracts to be fulfilled per the terms stated. The 1 pay is the most affordable option, as payment plans include additional fees. The first payment is immediate, then pulled every 30 days until complete.
SHIFT-IT Coach, Inc. Terms and Conditions.
In closing, if you are attracted to the visual way of working, I hope I have made it clear why this Home Study Kit is a smart and convenient professional investment. I look forward to training you!
Yours in visual expansion,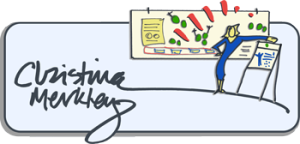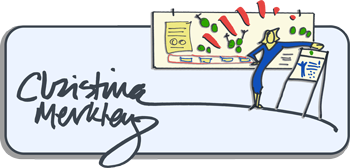 P.S. Further Questions? Email admin@shift-it-coach.com. You can also request a free '30-Minute Exploratory Chat' to chat directly with me if you'd like.
P.P.S. Sometimes people are really pulled to come to this training and don't quite understand why, as it's an intuitive hunch, not a rational decision. Like my previous attendee Val, who wrote 10 weeks afterwards to tell me she landed an Executive Director position at double her salary by using 'visuals' to seal the deal (she used a visual template to not only interview the Board that was interviewing her, but to engage the front line staff as well – which they loved!). She and her initially skeptical husband were very happy with her return on investment from this training and that she followed her intuition to get it!
---
TESTIMONIALS
What past participants say about their experience with my trainings:
HER ENCOURAGEMENT GAVE ME THE CONFIDENCE TO FULLY STEP OUT AS A VISUAL RECORDER – NOW I HAVE SO MUCH BUSINESS I'M CRAVING TIME TO CATCH MY BREATH!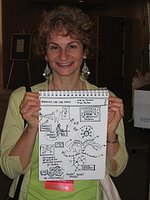 "I've now taken two of Christina's workshops and both have been excellent. She creates a lively and stimulating atmosphere, showers us with valuable resources, and is unfailingly helpful both during the workshop and in post-workshop coaching. It's great to have a generous pro like Christina share her expertise. Her encouragement gave me the confidence to fully step out as a Graphic Recorder, and she's continued to show a real interest in my progress – even made me one of her Preferred Partners! Now I have so much business I'm craving time to catch my breath! Amazing and exciting."
Avril Orloff
Graphic Recorder
Vancouver, British Columbia, Canada
I HAVE LEARNED SO MUCH … BEST 9 WEEKS EVER SPENT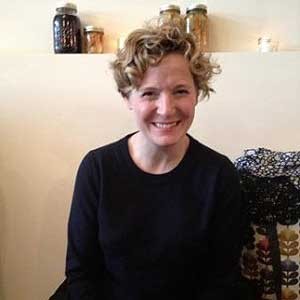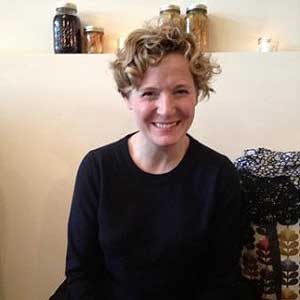 "I took the online version of Fundamentals of Interactive-Visuals, via the weekly webinars. Best 9-weeks ever spent!
I am already in the Graphic Recording field but still being new to the industry, decided to register for this 'fundamentals' course. I learned so much in that well spent 9 weeks and it's made my practice stronger for it, particularly in better space and role negotiations with clients, improved formatting of my wall charts and how to effectively handle World Cafe events.
The ongoing support given during and after the class has been great. I'm looking forward to taking more workshops with Christina in the future."
Anne Mann
Graphic Recorder | Designer
Seattle, Washington, U.S.A.
www.annemannstudio.com
I FOUND HER COURSE CONTENT TO BE THOROUGH, KNOWLEDGEABLE AND WELL ORGANIZED …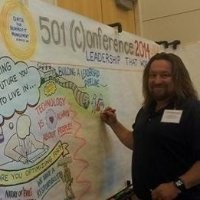 "Christina Merkley offers a number of fantastic programs (both online and in-person) for personal and professional development in and around the various fields related to Graphic Facilitation.
In attending Fundamentals of Interactive-Visuals I found her presentations and course content to be thorough, knowledgeable, and well organized …her utilization of current technology to be convenient, practical (and highly advantageous)…and, her manner and personality to be professional, yet warm and encouraging as well. I highly encourage other Process Professionals to take advantage of the many wonderful growth opportunities Christina has to offer!"
Greg Whicker
Graphic Recorder and Illustrator
Los Angeles, California, U.S.A.
www.facilitationgraphics.com
GAVE ME THE KNOWLEDGE AND SKILLS TO PURSUE MY VISION TO OPERATE MY OWN PROCESS BUSINESS … NOW WITH 'VISUALS' AS A TANGIBLE TOOL TO ASSIST.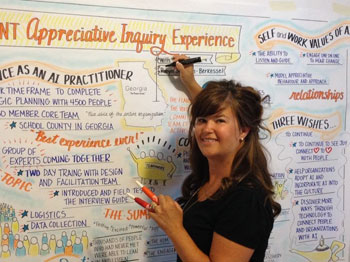 "I was introduced to the world of Graphic Recording in 2009 during a professional development seminar for teachers. I was fascinated by the increased level of engagement from participants as the use of the visual medium increased their interest and buy-in. I continued to observe Graphic Recording in various venues and used a Graphic Recorder in my thesis research.
I began to seriously consider Graphic Recording Graphic Facilitation as a career path and was fortunate to find Christina's Fundamentals of Working Visually. I traveled to lovely Victoria British Columbia for 3 packed days with her and a fabulous room full of diverse Process Professionals.
Returning home I set up my studio and within 5 days had completed my first pro bono mural, for a local organization, which is now proudly displayed in their lobby!
Fast on its heels, Christina referred a quick turnaround project from Florida. He loved his mural and I loved my first taste of providing Studio Work from a distance (was an effective and fun experience). I received my first pay cheque 2 weeks after completing the course! I definitely want to do more!
I believe strongly in the power of working visually and its application is so wide ranging. I'm using charts directly in my teaching, templates to interactively engage my groups, and having a blast creating murals and visual aids (and doing Graphic Recording) for other teachers, presenters, leaders and consultants.
I'm SO GLAD I followed my instincts to pursue work that speaks so strongly to me. And that I have Christina as my mentor to coach me. Ok Calgary and world-at-large, me and my markers are here!"
Joleyne Mayers-Jaekel, MA
Graphic Recorder | Mural Maker
ViClarity Inc., Calgary, Alberta, Canada
NOW MY VISUAL WORLD IS DIVIDED INTO 2 PARTS: BEFORE AND AFTER TRAINING WITH YOU
Professionally organized. Clearly informed to participate effectively;
Highly detailed materials, perspectives, techniques, methods, samples, videos and other resources;
Gave me a wide perspective about how can I integrate my landscape architecture, drawing, coaching, team facilitation and training skills;
Satisfied my left brain: What the distinctions of the work are: recorder, facilitator, coach. What my strengths and weaknesses are. What my vision as a Visual Practitioner is and what I want to create for my practice here in Turkey and why. My next steps all wrapped up in a visual action plan.
And my right brain jumped in to the depths of the visual ocean with Christina's leadership: listening, being in the moment, creativity, sharing, generosity, integrity, professionalism, vulnerability, flexibility, openness to learning, spirituality and alignment with visual / metaphorical world inside of me…
"Fundamentals of Interactive-Visuals was a birthday present from my dear boss. I would attend the online seminars and then excitedly share ideas with my work team. With their curiosity and support I am integrating visuals into the consulting, training and coaching work we do with our clients. This has so exceeded my expectations … I'm on my way!"
Sema K. Tezar, Visual Practitioner
Ankara, Turkey
Denge Merkezi Training and Consultancy