Q. How Many People Attend the Online Course?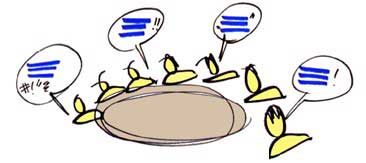 A. Totally varies. Biggest group has been around 40. Smallest group has been 7. Usually somewhere in between. Some people register but due to time zone challenges or busy schedules participate via watching the recordings and posting in the forum rather than being live on every webinar.

---
Q. Who Comes | What Are Other Participants Like?
A. Usually a good blend of folks come. From different geographies, ages, races, genders, etc.
I tend to attract people who are creative, intuitive and spiritual.  Usually in some sort of change, transformation or empowerment process.  I also attract people from the Helping Professions (consultants, coaches, therapists, counselors, facilitators, teachers, trainers, scribes, etc.) some of whom take SHIFT-IT in order to satisfy one of the pre-requisites for Visual Coach Certification®.

---
Q. What Kinds Of Results Happen?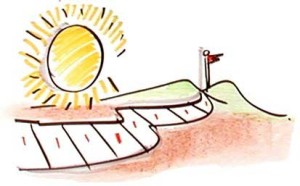 A. My job as your Coach is to create a safe (but not too safe) container for you to do your inner work in.  As an adult learning experience, the results you get depend on you.
I've personally facilitated 1000s people through my SHIFT-IT System® over the decades … and now with my Certified Visual Coaches those numbers continue to grow.
Some people choose to focus the SHIFT-IT System on their personal life: improve or end relationships, manifest new ones, get pregnant (10 SHIFT-IT babies so far!), move, buy or sell homes, enhance friendships, boost sensuality and sexuality, handle body challenges (weight, fitness, health, disability, aging, etc.), develop hobbies and creativity, navigate empty nest and other transitions, retirement, loss of loved ones, mortality and the death transition … plus many more personal subjects.
Others focus on work, finances and the professional arena: volunteerism, education, training, jobs, career planning, solopreneurship, entrepreneurship, biz partners and patrons, client attraction and retention, increase income, pay off debt, accumulate assets, handle inheritance and other windfalls, plan for and adapt to retirement … plus many more professional subjects.
From the testimonials from past SHIFT-IT participants you can see the range of people and SHIFTs that occur through this powerful process. What are the "ITS" you want to SHIFT? Come, we'll help you make them!
---
Q. When Will You Offer This Course Again?
A.  One or two retreats (in-person and/or online) are offered each year.  There is also a Home Retreat Kit that is available at any time. Or you can work privately with me or one of our Certified Visual Coaches.

---
Q. What Is The Home Retreat Kit Option?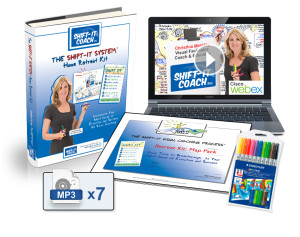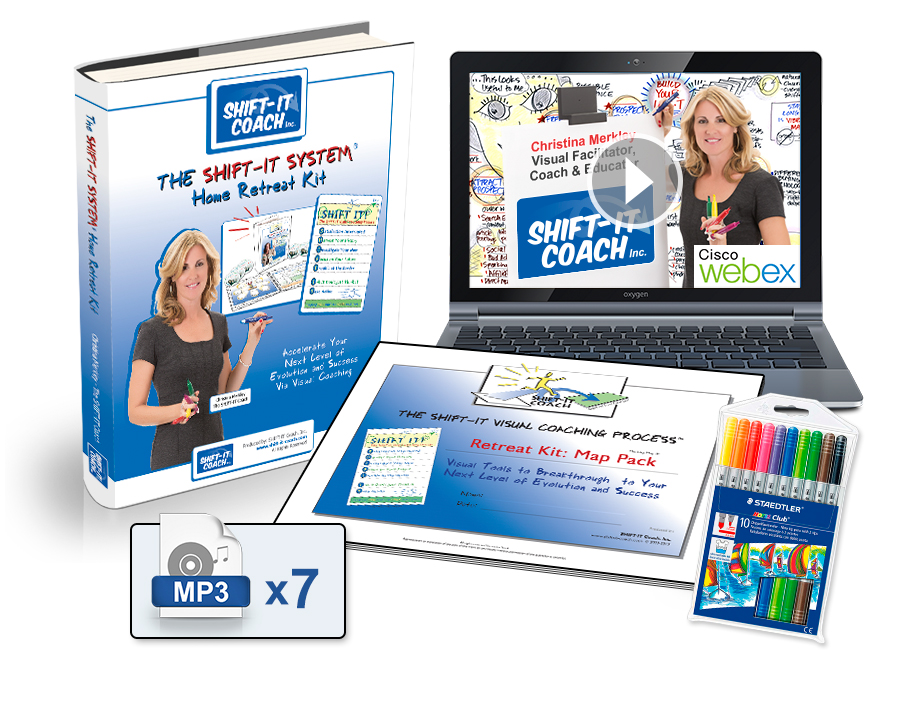 A. The Home Retreat Kit contains the same information as the live Retreat (in fact you watch a live online retreat and follow along as they go through the material).
This Kit allows you to do your own Retreat in the comfort of your own environment and control the pace and timing of your integration.  Great for people who 'want it NOW' or who can't attend the live Retreats.  The Deluxe Level of this Kit comes with three private coaching sessions with Christina.  Remember that as a Kit Purchaser you qualify for Repeater Rates at future Retreats.

---
Q. Do I Have To Draw To Participate?
A. No, you don't. My SHIFT-IT Maps are the foundation of this program. They are structured templates (forms) that you fill in with your reflections, thoughts, feelings and insights. The drawing is already done for you. How you choose to fill the SHIFT-IT maps is totally up to you (it's not an art contest, its thoughtful reflection work we are doing).  Simply printing or writing on them is totally fine. It's only you who needs to be able to decipher them.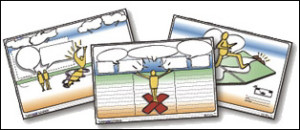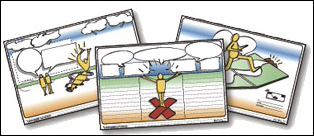 However, if you are comfortable with doodling, drawing, coloring, etc. (or it intrigues you to give that sort of thing a try) then you are welcome to weave in your own creativity onto the base I provide.
Even though I am known for my visual approach I am not the world's greatest artist. I keep my own graphics pretty simple (choosing instead to focus on content capture and rapport with my clients when I work live). Chances are there will be people in the course who are talented creatives. And you can join me in ohhing and ahhing over their creations without feeling like you have to perform at the same level. To each their own.

---
Q. Do I Have to Divulge My Private Stuff?
A. The amount and depth of your personal self-disclosure is totally up to you. You can attend the SHIFT-IT Retreats without sharing anything about your own specifics.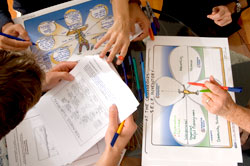 Yes, I work with volunteers as demonstrations. However I only work with people who are comfortable volunteering (thankfully there are always plenty). I also use myself and my own journey as examples.
The bulk of your work during the Retreat will be done on your own – in-between sessions using the SHIFT-IT maps and materials.  You are encouraged to upload your Maps into our private forum. However your level of participation in the private forum is totally up to you.
After doing this group for years, I find that some people's initial reluctance to participate publicly dissipates as the group progresses – a very pleasant, safe and enjoyable container is created – with new friendships being forged.
That said, if you really aren't a group person, then private coaching with me one of my Certified Visual Coaches® may be a better option.

---
Q. Is SHIFT-IT Religious?
A. I like it when people ask me this question as it allows me to address several important things.
No, my SHIFT-IT System is not religious.  People from many different faith traditions have participated in it and I welcome and respectfully cherish that diversity.
SHIFT-IT is about honestly and courageously looking at yourself. It's a deep experience. I use visual techniques and very deep exercises to help you encounter and draw your own inner wisdom out.
I am a spiritual person and this does impact how I coach at times and the language I use.  You are welcome to adapt any of my language to suit the tenets of your faith.  I take no offence to that and honor your need to use language that is right for you.
I have had an innovative even alternative career path (see My Left Brain Story).
I have also had an unusual personal path, including kundalini awakening (see My Right Brain Story).
You may want to read those blog posts to determine if I'm someone you want to be coached by.
There are lots of good coaches in the world, so its best to find ones that truly suit you.
---
Q. Can I Use Your Shift-It Maps With My Own Clients?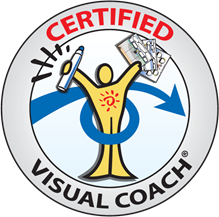 A. The SHIFT-IT Retreats including the Kit (and all associated materials) are for your personal use only.  I don't mind if you share them within your household … that is totally fine.  However, if you wish to use my Visual Coaching techniques and tools with your own clientele I respectfully direct you to Visual Coach Certification.

---
Q. Can I Work Privately With You Or A Certified Visual Coach?
A. Yes!  I do work privately with clients, both online and in-person in Victoria, British Columbia, Canada. And I am very proud of the Certified Visual Coaches who are sprinkled geographically across our planet for you to choose from. Many of whom work privately online with clients and also offer in-person options in their regions.

---
Q. Do You Offer Scholarships or Discounts?
A. My programs are transformational with great return on investment for those who apply themselves – many cite them as the best courses they have ever taken or as significant turning points in the trajectory of their professional and personal lives.
I offer Early Birds, Seasonal Sales and Payment Plans. Should you like a different payment plan than what is offered, just ask.
As a Canadian, all of my prices are in Canadian currency (CAD). Therefore for some nationalities, there are significant price savings due to currency exchange (i.e. Americans and some European currencies).  For other nationalities the currency rates work in the other direction and make my pricing prohibitive. To check your currency, go here.
Upon the purchase of a SHIFT-IT Retreat or Home Retreat Kit you qualify for Repeater rates.
I also offer Free Visual Coaching Support.
Additional Accessibility: It's important to me that my work be inclusive and widely available. That's why I offer an Accessibility Rate for those who truly need it. Additionally, at time of writing, the world is in financial recession (even if some governments refuse to admit it). So since 2020 I've reduced this course by 50% … cause these kinds of times is when coaching can really be of assistance.
---
Return to Main Page and Registration
---