A NOTE FROM CHRISTINA:
| | |
| --- | --- |
| It's been a fascinating fall so far ... I feel like my Inner Being has pushed the accelerator button ... sending me into rocket mode! Ahhas, insights, breakthroughs, clarity, momentum ... is happening at such a rapid speed. Do you feel that push of energy too? And I'm not talking caffeine! The intensity factor seems to have gone up another notch with our individual and collective SHIFTS. And those who are sensitive can consciously feel the acceleration occurring. It can be very uncomfortable at times (as negativity and old ways of being are transmuted) but an exciting process for sure! | |
I'm fastening my seatbelt because next week we start our "Thrive in the Time of Awakening" program with Sheila and Marcus Gillette and THEO. Every time I co-lead this program, I go through another phase of rapid acceleration in my own process ... and the blessing of witnessing that in Sheila & Marcus and all the participants too.

THEO has tracked the acceleration of energy over the last decades --- and explains what is going on and how it impacts not only our individual lives but the course of our world too. And how we can responsibly navigate this SHIFT. Can't wait to see what happens this next round!
As I see acceleration, shifts and rapid progress happening all around, I thought I'd write this issue's article on "Trust Your Rapid Acceleration" ... as sometimes the signs of a breakthrough get misread as a breakdown. If you can see from a larger vantage point, the chaos gets reinterpreted as a phase in a larger, perfect process ... one that leads to the actualization of desires previously launched.
Yours in Visual Expansion and SHIFTing IT,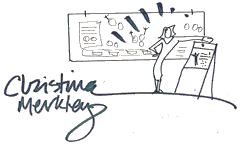 Christina Merkley,
The SHIFT-IT Coach
and Interactive-Visuals Mentor
P.S. Great info on how to effectively navigate your SHIFT ... 2 MP3 Downloads of Ask THEO Live Radio shows are available courtesy of Sheila and Marcus Gillette (one with Mary Morrissey and the other with yours truly, click here).
"CHRISTINA'S HIGH-QUALITY COURSES TEACH MUCH MORE THAN HOW TO DEVELOP A VISUAL TOOLKIT."
Jocelyn Ring
Strategist/Visual Facilitator/Consultant
"I took Christina's SHIFT-IT Online course, which solidified that I wanted to work in a visual way, and introduced me to the concept of "inner work."
Next, I took her Fundamentals of Interactive Visuals and began to use all the new tools in my brand strategy practice. I was enjoying this work, but was feeling that there was another big leap forward for me.
The Magic Marker Mastermind helped me put the pieces of the puzzle together and clarify the new path for my business. The MMM provided some great "a-ha" moments for me. This mastermind really helped me craft the vision for my ideal career and life that I am now living. I also learned that I didn't have to start from scratch; I could leverage and incorporate all of my valuable business experiences (corporate finance and equity research on Wall Street, an MBA, co-founder/entrepreneur at a start-up, branding and business strategist and my right-brain/left-brain mindset) into my new practice – where visuals support my strategic process.
Christina's high-quality courses teach much more than how to develop a visual toolkit. She is very knowledgeable in OD, strategic visioning and processes all of which are key components of my practice. She has also successfully made the transition from the corporate world to running her own thriving business so she understands the journey and is very helpful to students who are on the same path.
I learned not only from Christina, but also from my fellow masterminders. Christina attracts very smart, accomplished and interesting people from diverse backgrounds to her courses and creates a wonderful container for them. They were, and continue to be, very generous with their time, knowledge and support. I was amazed at what everyone accomplished during the course and in our time together during the retreat - we blazed through an aggressive agenda in two days!"
Thanks, Christina and fellow MMMers!
Jocelyn Ring
Strategist/Visual Facilitator/Consultant
Charleston, SC USA
www.theringeffect.com
Thrive in the Time of Awakening (with THEO)
12 Weeks: Oct. 2 - Dec. 18, 2012 (Webinars, Tuesdays, 5-7 p.m. Pacific)
This collaboration with Sheila & Marcus Gillette and THEO is deep inner work --- to help you find and integrate wounds that have held you back from manifesting your life purpose. For the spiritually minded. with a focus on 'soul integration' and 'orphan rescue' work. An intimate opportunity to receive direct guidance from THEO and practical coaching from me --- a fascinating marriage of heaven and earth. Supportive, international community of lightworkers from across the globe. Take advantage of 2012's transformative energies to create a life that is truly soul directed.
Starts This Tuesday!
Full Details and Online Registration
Note: This Thrive program will act as a foundational pre-requisite for a 6-month THEO Accelerator, January – June, 2013.
Fundamentals of Interactive-Visuals
(Online Version)
9 Weeks Online: Oct 15 -Dec 12, 2012
VideoCam Webinars, Mon & Wed, noon-1pm Pacific
Over 87% of your facilitation, coaching, training and consulting clients are visual thinkers – learn powerful visual skills to boost the effectiveness of how you work with them. This in-online, professional skills training thoroughly covers custom chart work, visual scribing, visual facilitation and visual coaching (the four main applications of working visually with groups and individuals) so you can add these powerful tools to your own process toolkit. This is the online version of my popular 3-day fundamentals training (no travel required).
Starts October 15th:
Full Details and Online Registration
* Note: Pre-requisite for Visual Coach Certification - only option of taking online this year (so if you don't want to travel for Certification 2013, be sure to register for this fall version of FIV). FYI, Repeater Option available for those who have taken FIV previously and are ready to refresh.
SHIFT-IT SCHOOL: At a Glance for 2013
SHIFT-IT ONLINE GROUP
Jan. 19 - March 3, 2013, 7 Online Webinars
More Info Coming Soon
---
BIZ BASICS FOR VISUAL PRACTITIONERS
Jan-Feb 2013, 7 Online Webinars

More Info Coming Soon
---
THEO ACCELERATOR
Jan-June, 2013, 6-Month Spiritual / Soul Integration Accelerator Pre-requisite: Thrive in the Time of Awakening (or equivalent experience)
More Info Coming Soon
---
MAGIC MARKER MASTERMIND
Jan. 14 - June 17, 2013
6-Month Intensive for Visual Facilitators, Visual Coaches & Visual Scribes
For intermediate to advanced Visual Practitioners. Intensive skill and biz development incubator following your process and it's unique needs. Learn and bond with fellow process professionals from around the globe who unite in a shared mission to effectively use interactive-visuals with groups and individuals. Develop your brand, signature style, visual tools, graphic competencies and overall confidence in your role in the visual field, whether you are internal in an organization or have an independent practice or business.
Applications Now Being Received: 5 Spots Left:
Full Details and Online Application Process
* Pre-requisite: Fundamentals of Interactive-Visuals (or equivalent experience)
---
VISUAL COACH CERTIFICATION
April 9 – June 11, 2013, Tuesdays, noon-1:30 pacific, 10 webinars

For coaches, therapists and other process leaders who work with individuals. This one-of-a-kind experience teaches you how to work visually with your clients and licenses you in my 17 map SHIFT-IT System®. Join our amazing international cohort of Certified Visual Coaches® and bring the power of the visual approach to your clientele.
Online Combo: Deadline to Apply is October 1st
In-person Combo: Deadline to Apply is January 6th
Certification Only: Deadline to Apply is March 24th
More Info and Online Application Process
* Pre-requisites: Fundamentals of Interactive-Visuals and SHIFT-IT Online. Don't want to travel? See fall schedule for online version of Fundamentals of Interactive-Visuals (the only way to do Certification without travel).
---
FUNDAMENTALS OF INTERACTIVE-VISUALS
(in person version) May 30 - June 1, 2013, Victoria, British Columbia, Canada

More Info and Online Registration
FEATURED ARTICLE:
TRUST YOUR RAPID ACCELERATION
To Listen Or Download Mp3 Version of This Article, Click Here
Do you feel a vague or constant sense of pressure? Is there anxiety but not necessarily a sense about what (or about everything)? Do you have part of the picture but not the full puzzle figured out yet … but feel frustratingly compelled to do so? If so, you have the signs of being in the midst of a creative acceleration. Your life is SHIFTing … you just haven't reached a fuller awareness yet as to what.
Many of the people who find their way to SHIFT-IT Coach, Inc. exhibit those symptoms. Often its instinct that is driving you … something in the visuals, color, energy, emotion, tone and feel of who I am and what I (or one of my students) do, resonates with you. That's because you too are a cultural creative … and we are talking your language … a language that you need to speak more.




The Siren Call of Paper, Markers, Color!
The Leap:

 

So, you take the leap. You register for some sample, program or product that I offer (some of you suspiciously wary about the kooky lady on the internet … while others more confident in your selection, due to knowing someone who's had a good experience). And then you dive into your outer and inner work (if you don't put it off for months or years or self sabotage somehow in the first few sessions … unfortunately that happens for some).

Exposure and Exploration:
Once you have taken the leap, you enter into a new phase of exposure and exploration. I have two tracks at SHIFT-IT Coach … one is an outer world track and the other is an inner world track --- and they intertwine (because both outer skills and inner alignment is needed to succeed with anything). For when you take a holistic approach (using both your left and right brain) your development accelerates.

Image Source: www.cartoonaday.com (from Facebook)
Outer Work Track: (left brain):
Our Outer Work track is skill based --- I teach you solid, practical, useful interactive-visuals and business development skills to enhance your existing work and/or to create a new livelihood. If you are new to the visual way of working you begin with Fundamentals of Interactive-Visuals, then work your way into Magic Marker Mastermind and/or Visual Coach Certification.
You are attracted to the visual way of working because it's highly effective and puts your process work on high octane fuel (plus the visual way of working is FUN --- for your clients (87% of which are visual thinkers) AND for you!). Helping you become an effective visual practitioner serves my life mission of provoking societal change (every visual practitioner I mentor, who does good work, helps change the world). And I serve your life purpose by helping you find, develop and express your innate talents in an accelerated fashion. It's a win/win … for you, me and our world.
Inner Work Track:
The Inner Work track is about your internal clarity, feelings and commitments. Some of you who find your way to us are clear the SHIFTs that you want to make in your professional and/or personal life. But some need assistance in that department. Or, you want to learn how to be of assistance to others who are in that sacred confusion zone.
Through SHIFT-IT you define your Next Self, address your resistance, organize your steps and COMMIT to the process of actualizing yourself. Your Next Self may or may not involve interactive-visuals (as people who use SHIFT-IT as a clarity tool come from all walks of life, ages, industries, professions and niches).
One of the modules of The SHIFT-IT System is called "Trouble at the Border". It is a module designed to identify and work through your resistance … the negativity, blocks and fears that you may have about what you want. My advanced work at SHIFT-IT Coach, Inc. is deep congruency work --- helping you SHIFT your internal belief system and energy so you are a match to what you want.
Thrive in the Time of Awakening and The THEO Accelerator (info coming soon), plus Private Coaching is where this deep congruency work is done - breaking through your blocks so you manifest what you want.
Integration and Life Launch:
After completing your Outer and/or Inner Work with SHIFT-IT Coach, Inc. you enter into an integration phase ... where you take what we have taught you and integrate it into your own unique circumstances. Many are embedded in organizations throughout the world, doing internal change agent work. Others are independent professionals and small business owners getting your own 'it' into the world. Often there is a mirroring or duplication phase where you mimic what you have learnt from us ... but as you keep with it in integrity ... your own authentic and original style and offerings emerge. Our courses accelerate your learning and development ... however it's you and your Higher Self who emit your own special flavour, expression and tone out in the world. All of us doing our part we form an international community of process professionals who mid-wife change in its many levels.
---
Blog Comments: Thoughts? Reactions? Have something to add? Click here to leave comments and read those left by others.
For the full SHIFT-IT e-Zine Archives: Click Here
For the full SHIFT-IT Audio Library (mp3): Click Here
©2012 Christina L. Merkley
WANT TO USE THIS ARTICLE IN YOUR E-ZINE OR WEB SITE?
You can, as long as you include this blurb and a functional link to my site:
Author's Bio: Christina Merkley, "The SHIFT-IT Coach" and creator of the SHIFT-IT System®, is a Visioning and Strategic Planning Expert specializing in Visual Thinking and Law of Attraction techniques. Based in charming Victoria, British Columbia, Canada, she works deeply with individuals, partners and conscious businesses to define and manifest what they truly want. And, trains other helping professionals in her innovative ways of working. For more information visit: www.shift-it-coach.com and www.visualcoaches.com
GET COACHED BY CHRISTINA
In the scheme of things, life is short. It's a shame not to live it in alignment with who you truly are. I have successfully SHIFTed my life to one of authenticity, creativity and abundance that is aligned with who I truly am. Let me assist you in doing the same via private mentorship. I specialize in individuals who need to get their 'special it' into the world (entrepreneurs, biz owners, team leaders, teachers, consultants, facilitators, trainers, coaches, therapists, visual practitioners, etc.). I coach you to build/enhance your internal or external practice or small business (including identity/brand, biz basics, creation of effective offerings, necessary systems (tech and socio) and marketing & sales). As well as having a satisfying personal life of supportive family, friends and community. Stop splitting your energy - create a congruent life that truly works for you!
Learn Interactive-Visuals Skills
Are you a process professional with a creative bend? Are you intrigued with the visual way I work with my clients? I've trained hundreds of facilitators, consultants, trainers and now coaches, counselors, social workers, etc from around the globe. Learn fundamental visual skills that you can use in your own work with groups and individuals. Come join the visual tribe!
ABOUT CHRISTINA MERKLEY:
Christina Merkley
The SHIFT-IT Coach &
Interactive-Visuals Mentor

Christina Merkley is The SHIFT-IT Coach. Creator of the SHIFT-IT System®, she guides individuals, partners and conscious companies in defining and getting what they really, really want.

A teacher of Law of Attraction, she is also an expert in visual meeting techniques, strategic planning and visioning: having worked for such notable companies as BBC, Readers Digest Funds, eBay and Stanford University. After a move from San Francisco, she now lives in charming Victoria, British Columbia, Canada - where she maintains a vibrant coaching, facilitation and training practice.
IN THIS ISSUE:
>>Featured Article: Trust Your Rapid Acceleration
---
CONNECT WITH CHRISTINA:
Via Twitter, Facebook & Youtube
---
BLOG ENTRIES:
Looking for more rich, SHIFT-IT content? Check out my blog for recent ramblings, resources and general interest features:
The Positive Role of Angst and Discomfort
The Importance of a Safe Haven for Your Authentic Self
Keep Perspective on Your Developmental SHIFT
How to Successfully Launch a Visual Practitioner Career or Hobby
Click here to read the SHIFT-IT Coach blog.

---
EZINE ARCHIVES:
Browse past issues here.
Listen to the ezine here.


---
FEATURED PRODUCT:
The SHIFT-IT Home Retreat Kit®
---
Christina's Websites:
---
---