A NOTE FROM CHRISTINA:
Spring has finally sprung here on Vancouver Island in British Columbia, Canada where I am. We've had a cooler than usual winter for us, so spring was delayed by a few weeks. But its making up for lost time now, everything is bursting into yummy delicate shades of green and bloom.
As I've mentioned in previous eZines, I'm having to temporarily relocate from downtown Victoria, due to a large construction project next to my home and studio. Blasting and webinars do not mix! After an extended road trip, and a house sit, I've temporarily moved out to a rural area about an hour west of the city, called Metchosin, where I grew up.
| | |
| --- | --- |
| Booted Out By Construction | Back to Rural Metchosin for a Bit |
The name Metchosin is the anglicized version of the native "Smets-Schosen", which means "place of stinking fish". Local legend maintains that many years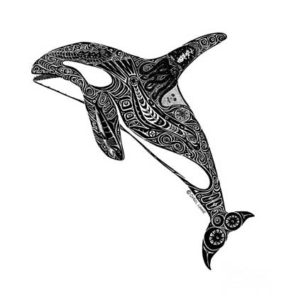 prior to the Europeans' arrival, an orca beached and died, and that everywhere that could smell it became part of Metchosin. The town's museum, which was once its one-room school, has whale vertebrae on display. Metchosin's community symbol is, perhaps unsurprisingly, an orca.
The beach is a few miles from where I am, so no Orcas. But I do have be to alert to the resident Vancouver Island Black Bear in the neighborhood. Its emerged from its winter sleep and is raiding garbage cans ... so I wear a string of bells around my neck when I take JJ for his walks so I don't surprise it!
This move to the woods has really been delicious (my teenage self who couldn't wait to get the heck out of here to explore the world, is laughing at my changed tone!). My Graphic Recording and Graphic Facilitation career took me all over the world ... and now I can honestly way there is no place like home. I'm appreciative to live in such a beautiful and grounded place. And from here be able to assist folks from all over the globe through the magic of technology.
Massive technological shifts coincided with my ability to build SHIFT-IT Coach, Inc. and my SHIFT-IT School. Incrementally, over a decade, I have gone from being home only 5-6 days out of the month (due to extensive travel to clients) to working primarily from home via web conferencing.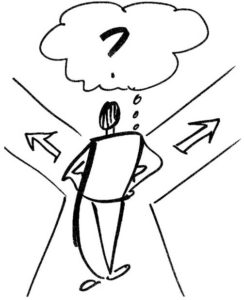 There have been pros and cons to this shift. And, with even more technological change rapidly impacting the process community, I'm finding myself contemplating this organic to synthetic shift very deeply. Its impact on my little ol' life as well as the larger societal implications.
Technology itself is neutral ... it's the consciousness of its creators and those who use the creations that bode the impact for humanity. We are at an amazing and powerful crossroads as a species. I, as I'm sure you do too, hope we navigate this transition wisely with not only our left-brain intellect but with our right brain heart and soul too. Our future collectively and individually literally depends on it.
So that's the subject I've decided to write today's eZine article on, "Where Tech is Headed for Process Professionals and Humanity". The 'Organic and/or Synthetic Dilemma' that faces us all. It's upon us as Process Professionals and as human beings.
Yours in SHIFTing IT,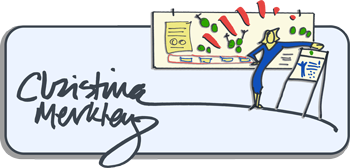 The SHIFT-IT Coach
& Process Skills Mentor
IN YOUR WORDS: CLIENT TESTIMONIAL

CHICAGO LEARNING AND PERFORMANCE CONSULTANT MARY MCGUINNESS ADDS VISUAL COACHING TO HER REPERTOIRE
I Achieved 100% of My SHIFT-IT Plan So Decided To Bring Visual Coaching To My Clients to Achieve Success in Their Careers, Businesses and Workplaces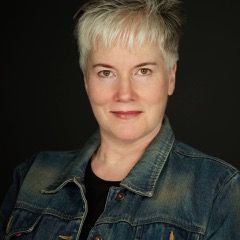 Mary McGuinness
Innovation Coach and Consultant
& Certified Visual Coach
"For years I have been incorporating visuals into my work as a facilitator of organization and leadership development in higher education. Attracted to Christina's work in the field of Visual Coaching, I took part in the SHIFT-IT program in 2014 to support my decision to leave university life and pursue independent work as a coach and consultant. Through the program I crafted a vision and action plan that not only kept me focused on a successful career move, but also on creating the lifestyle I craved.
Three years later, I had achieved 100% of my plan and decided to learn how to bring Visual Coaching to my coaching clients who are intent on identifying and achieving success in their careers, businesses, and workplaces.
Christina has been a skillful and generous teacher, mentor and master of the Visual Coach Certification Program. She provides pointed and actionable feedback in the 1:1 coaching sessions, and facilitates helpful and insightful discussions with an impressive cohort of adult learners. I was immediately able to apply the practices and tools with my clients who are empowered, encouraged and actively aligning their actions to their big picture plans.
It's a privilege to be a partner in this work and to help others "draw out" their thinking and better see their strengths, talents and potential. Furthermore, it is exceptionally rewarding to gauge progress and celebrate the amazing results!"
Mary McGuinness
Innovation Coach and Consultant
& Certified Visual Coach
Oak Park IL
Marymcguinness.com

SHIFT-IT School: Classes, Products & Mentoring

For Beginners Or Repeaters:
FUNDAMENTALS OF WORKING VISUALLY®
Visual Skills for Process Work with Groups and Individuals
For Process Professionals who work with groups or individuals - managers, consultants, trainers, teachers, facilitators, therapists, coaches, scribes and others. Over 87% of your clients are Visual Thinkers so it only makes logical sense to work in ways that best reach them. This professional skills training thoroughly covers the four main ways of working visually: Studio Work, Graphic Recording, Graphic Facilitation and Graphic Coaching. Attracts participants from across the globe.
Two Options Left this Semester: in-person or via handy home study kit.
Early Bird Pricing until Apr. 20th
Just 20 10 Spots Left!

IN-PERSON VERSION IN VICTORIA, CANADA
IN-PERSON: 3 Day Intensive: June 1-3, 2017
Beautiful Victoria, British Columbia, Canada
Full Details and Online Registration
---
Available At Any Time
HOME STUDY KIT VERSION
Learn at Your Own Pace From
Your Own Environment
Full Details and Online Registration

Note: Pre-requisite for Visual Coach Certification. FYI, Repeater Option available on Feb. class for those who have taken before and want to repeat as a guest (write us for coupon code).
For Visual Keeners:
MAGIC MARKER RETREAT®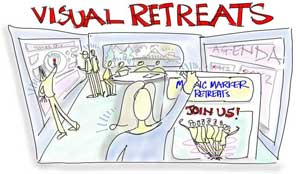 Getting your visual basics is half the equation - the other is competency and creation of a viable practice (whether you are internal or independent). This 2-day Boot Camp takes your visual practice to the next level: chock full of at-the-wall drills, project brainstorming (bring work for feedback and ideas), and identity/brand/financial coaching. Work your brain, your fingers and dissolve your resistance, all in deep community with Visual Practitioners.
Just 7 3 Spots Left
IN PERSON
2 Day Intensive: June 5-6, 2017
Victoria, British Columbia, Canada
Full Details and Online Registration
Note: Pre-requisite is Fundamentals of Working Visually (or equivalent experience). Each Magic Marker Retreat is a unique experience, come as many times as you like for continued inspiration and development!
For Visual Skills Grads
WORKING VISUALLY eCOMMUNITY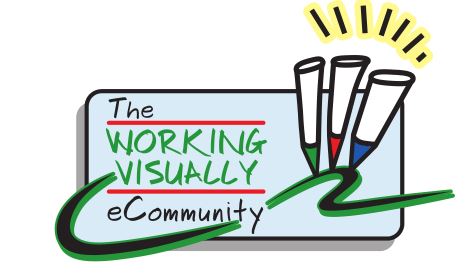 Are you a grad of one of my Visual Skills programs? If so, you qualify for access to our WORKING VISUALLY eCOMMUNITY for ongoing support. This community includes online forum filled with various topics related to working visually (media, announcements, skill development, technology, business development, inner work, etc.). Plus a monthly drop-in webinar and recording library.
Dates for upcoming webinars:
April 20, 11am pacific
May 18, 11am pacific
June 15, 11am pacific
July 20, 11am pacific
August: off
Sept. 21, 11am pacific
Oct. 19, 11am pacific
Nov. 16, 11am pacific
Dec. 21, 11am pacific
FEATURED ARTICLE:
WHERE TECH IS HEADED FOR PROCESS PROFESSIONALS
AND HUMANITY
To Listen Or Download Mp3 Version of This Article, Click Here.
For the sake of this article I'm going to out myself age-wise ... I'm a Gen Xer born in 1968, so that makes me 48. My generation is the last straddle generation where modern technology is concerned. We are the last generation who has personal memory of what life was like before computer technology arrived on the scene. And it's within our lifetime that humanity is navigating the amazing yet treacherous terrain of integrating synthetic tools with our organic natures.
The Early Influences of Computer Tech for Process Professionals:
As a Gen Xer, I played Pong as a kid, the first video game. My first job out of school was for the provincial government here using Wang Dos computers (remember them?!).

As an early entrant into the Graphic Recording and Graphic Facilitation field in San Francisco in the 1990s, I had to rely on humongous room-size photo stat cameras before digital cameras came along. Now my phone and an app cover the majority of my repro needs.



Desktop publishing, digital cameras, scanners, large document sharing, email bandwidth, pdfs, cell phones and eventually web conferencing and digital tablets have facilitated big changes in my process career and ability to interact with my clients ... as they probably have yours too.
Where Tech is Headed ... Quickly:
As a Process Professional, my practice has been transformed by technology. I used to travel so much that there were times that I was home only 5-6 days out of the month. I basically lived out of a suitcase. And I looked at my mentors and thought, "no, this is not what I want for myself". So, I had to figure out a different way of doing things and thankfully I had timing on my side as a tech advancement happened just as I was coming up as a process lead.
Nowadays, my commute is more often than not down my hallway, where I work by web conference with my drawing tablet and my dog on my lap. And rural bandwidth is good enough now that I can do it from the middle of the British Columbian woods!

I still work in-person in my training, facilitation, coaching and energy work practice. But the percentage of my in-person work is now less than my online work. I work with English speakers from across the globe on my various subject specialties. Technology allows us to bypass travel if we don't have the time, energy or budget for it.



At the Tablet with JJ
Right now the tech I'm using is pretty basic: web conferencing (Webex or Zoom) and I screen share my drawing tablet (22HD Wacom Cintiq) with my clients, who I can also see via videocam and hear via speakers.
I create spontaneous visual notes from a blank page in Sketchbook Pro and/or select pre-prepared templates from my SHIFT-IT Visual Coaching System® which I write and draw upon. In tech jargon, what I'm doing is still very flat or"2D".
Virtual Reality Is Almost Upon Us:
In speaking with other GR/GF colleagues who are also interested in where tech is going, its looking like the details are still up for grabs but overall we are moving from the 2D into the 3D. And fast!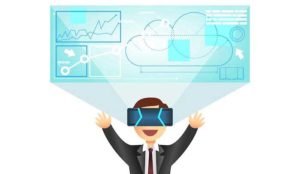 It took a decade for tech to fulfill my early visions of working virtually with my coaching clients. Those in the know say it'll be 3 years or sooner when Virtual Reality (VR) environments and tools (smart glasses, 3D drawing, and holographic simulations) will be really doable for use in training and process oriented settings. See Object Theory, AltSpaceVR, and Tiltbrush.
Just how doable and for whom is ...
ARTICLE CONTINUED ON BLOG ... CLICK HERE TO VIEW
---
For the full SHIFT-IT e-Zine Archives: Click Here
For the full SHIFT-IT Audio Library (mp3): Click Here

Christina Merkley
The SHIFT-IT Coach &
Process Skills Mentor


SHIFT-IT Coach, Inc. is a boutique training and coaching company specializing in visual and energetic process work for groups and individuals. Founded by Christina Merkley, pioneering Visual Facilitator and Coach, she works deeply with individuals, partners and conscious businesses to define and manifest what you really want. Christina also trains Process Professionals from across the globe in her innovative ways of working. For more information visit www.shift-it-coach.com and www.visualcoaches.com.
IN THIS ISSUE:
>>Featured Article: Where Tech is Headed for Process Professionals and Humanity
---
CONNECT WITH US:
---
BLOG ENTRIES:
Looking for more rich, SHIFT-IT content? Check out my blog for recent ramblings, resources and general interest features:
Visual Coaching: Coach Does, Client Does ... Or Both!
In Your Words: Congrats To Newly Minted Visual Coach Lisa Dymond
Advanced Visual Skills: Two Upcoming Opportunities To Expand Your Reach
Inspiring Examples of Deep Inner Work
Organizational Development Consultant Melinda Collins Gives Thumbs Up On Our Graphic Facilitation Training
Our Shift From Type 0 to Type 1 Civilization Status
Graphic Facilitation Training: Susana Guardado Attracts A Fast Return On Her Investment
Reflection Retreat with 4 Visual Maps
Click here to read The SHIFT-IT Blog.
---
EZINE ARCHIVES:
Browse past issues here.
Listen to the eZine here.
---
PRODUCTS: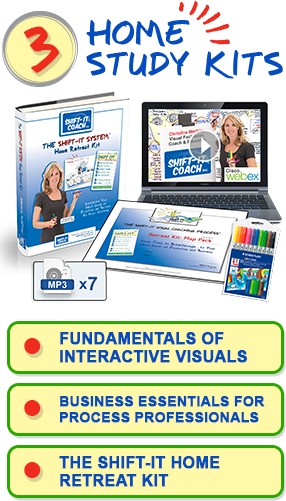 ---
Websites:
SHIFT-IT Coach, Inc
www.shift-it-coach.com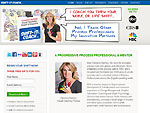 ---
---
Visual Facilitation
www.makemark.com