Wow is all I can say about these final weeks of 2012 ... wow, wow, wow! Things are happening fast and it's a fascinating time.
A wonderful experience this fall has been the THRIVE program that I jointly lead with Sheila & Marcus Gillette and THEO. Its not every day that a physical world coach like me gets to pair not only with a brilliant couple but also brilliant non-physical intelligence! I have adored tag teaming on THRIVE to marry heaven and earth. And feel very honored to have the opportunity to do such leading edge work.
THEO has been guiding us about the ramp up of energy that is currently occurring on the planet and its impact on individuals, groups and systems. All around us we are witnesses BIG shakeups – which holds the opportunity for much needed improvements and enhancements. Change is not the easiest thing for us human beings ... transitions are difficult. But it's worth it when we get to the other side --- to a new level of order that works so much better than the old.
This week we are launching a new, advanced program with THEO, called The THEO Accelerator. It's a 6-month Mastermind for spiritually-oriented folks --- designed to support you in manifesting your Full Soul-Centered Self.
Whether your desire is to manifest or enhance a business, change your career, improve or attract a conscious partnership, increase your connectivity with guides & mentors (including refining your own intuitive abilities) improve your health and well-being, or just live a more joyful and peaceful existence ... this cohort is now forming of like-minded people from around the globe.
Spaces are going quick, so check it out if you are interested, we'd love to have you join us for this one-of-a-kind experience (and I'll be weaving the visual way of working through our retreats and online forums).
As for this issue's article ... in honor of THRIVE and the other groups I get to play in, I've written an article on developmental process for groups, based off of the classic Tuckman Model for team dynamics. Hope it gives you good food for thought.
Yours in acceleration,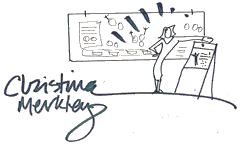 Christina Merkley,
The SHIFT-IT Coach
and Interactive-Visuals Mentor
"BENEFITED IMMENSELY FROM MY PRIVATE TRAINING WITH CHRISTINA"
Ivy and Christina,
At-the-Wall in Victoria, B.C.

"I benefited immensely from my Private Interactive-Visuals Training with Christina Merkley --- she's a great trainer and mentor.
From my two days with her in Victoria, I emerged with a much deeper understanding and appreciation of the diverse range and applications of Interactive-Visuals ... SO much more than the visual recording I was first aware of. I was amazed by Christina's skills and her readiness to impart her knowledge including pointing out little details that make a BIG difference.
The improvement in my craft is very apparent --- including my speed in recording and the logic trail of my custom chart work (both in paper and digital). The many examples and resources in the handbook are so useful as I integrate these new skills into my work and life.
So far I've made a 5-meter mural of my organization's employee proposition, a visual leadership framework and did a presentation on visual thinking. I'm continuing to do visual recording both small size in notebooks and on ipad and once I'm more expert (and brave!) will graduate to large size recordings at company meetings. I'm also contemplating how to apply the visual way of working to childhood education specifically with children with learning difficulties to better cope with formal education.
I keep Christina informed about my progress and value her continued support and encouragement."
Ivy Neo
Human Resources Manager
Singapore
SHIFT-IT SCHOOL: UPCOMING COURSES

SHIFT-IT Online Group
7 Weeks Online: Feb. 2 – March 16, 2013
VideoCam Webinars: Saturdays, 10-11:30 a.m. Pacific
Only offered twice a year! Our signature coaching group – which gives you a powerful foundation to Become Your Next Self. Impactful experience that gets you what you next want in your personal and/or professional life. You develop a crystal clear vision, unravel your resistance ... and rapidly shift your world to a much more satisfying state. Leading-edge Law of Attraction wisdom coupled with practical real-world strategy --- all in our innovative 'Visual Coaching' style. Join this supportive community with other like-minded SHIFTers from across the globe, includes The SHIFT-IT Home Retreat Kit® with 17 visual maps.
Forming Now!
Full Details and Online Registration
Note: Pre-requisite for Visual Coach Certification. FYI, Repeater Option available for those who have taken this program before and want to refresh.
MAGIC MARKER MASTERMIND
Jan. 14 - June 17, 2013 6-Month Incubator
For Intermediate Visual Facilitators, Visual Coaches & Visual Scribes
For intermediate to advanced Visual Practitioners from across the globe. Intensive skill and biz development incubator that meets your unique needs. Learn and bond with fellow process professionals who unite in a shared mission to effectively use interactive-visuals with groups and individuals. Develop your brand, signature style, visual tools, graphic competencies and overall confidence in your use of productive visual techniques, whether you are internal in an organization or have an independent practice, business or content area.
Application Deadline: Monday, Dec. 17, 2012
Just 1 Spot Left!
Full Details and Online Application Process
* Pre-requisite: Fundamentals of Interactive-Visuals (or equivalent experience)
THEO ACCELERATOR
Jan 15 –June 25, 2013, 6-Month Mastermind
A new spiritual mastermind co-lead with The Theo Group centered on manifesting your 'Soul-Centered Self'. For metaphysicians interested in integrating THEO's non-physical intelligence with Christina's down-to-earth SHIFT-IT approach --- a unique marriage of heaven and earth. Includes two in-person retreats plus online support using video technology. Deep community to support change agents in their light work in the world.
Application Deadline: December 31st
Just 7 Spots Left!
More Info and Online Application Process
VISUAL COACH CERTIFICATION
April 9 – June 11, 2013, Tuesdays, noon-1:30 pacific, 10 webinars

For coaches, therapists and other process leaders who work with individuals. This one-of-a-kind experience teaches you how to work visually with your clients and licenses you in our 17 map SHIFT-IT System®. Join our amazing international cohort of Certified Visual Coaches® and bring the power of the visual approach to your clientele and practice.
In-person Combo: Deadline to Apply is Jan 6th
Certification Only: Deadline to Apply is March 24th
More Info and Online Application Process
* Pre-requisites: Fundamentals of Interactive-Visuals and SHIFT-IT Online (or equivalent experience).
FUNDAMENTALS OF INTERACTIVE-VISUALS
May 30 - June 1, 2013, Victoria, British Columbia, Canada
Over 87% of your facilitation, coaching, training and consulting clients are visual thinkers – learn powerful visual skills to boost the effectiveness of how you work with them. This professional skills training thoroughly covers custom chart work, visual scribing, visual facilitation and visual coaching (the four main applications of working visually with groups and individuals) so you can add these powerful tools to your own consulting, facilitation, coaching and training offerings. In-person version only offered once a year, so act fast to claim your spot.
Early Bird Filling Now
More Info and Online Registration
* Note: Pre-requisite for Visual Coach Certification.
PRIVATE TRAININGS AND APPRENTICESHIPS
2012-13: Booked Privately in Victoria, British Columbia, Canada
Keen to become a Visual Facilitator, Coach or Scribe? Dates of our public workshops don't work or you desire one-to-one attention? Christina Merkley has limited availability in 2012-13 for private trainings and apprenticeships customized for your unique needs.
THE JOYS AND CHALLENGES OF GROUP DYNAMICS
To Listen Or Download Mp3 Version of This Article, Click Here
Back in the day when I studied Organizational Development, we learned a model of development for teams called The Tuckman Model. And it's something I've come back to again and again in the decades since in my facilitation and coaching work ... it's a model that has really stood the test of time, not only in my practice but for process consultants across the globe.
In a nutshell, it's a model that explains and normalizes the natural stages that a coach-and-client, group, team, organization, community or other entity goes through in terms of getting to high performance. There is a polite, forming stage, a challenging storming stage, a stabilizing norming stage (where things pop into a higher level of order) and the juicy performing stage where advancement leaps occur ... where the rewards of the early stages are reaped.

I am of the firm belief that this model also works for individuals and for communities. So I'm choosing to share it here in the e-Zine for the benefit of my private coaching clients and those I work with in our SHIFT-IT Online Group and our THRIVE programs (this article is modified from a THRIVE forum post of last week).
Forming:
When any group or team is formed (including a coach-and-client partnership and online coaching groups), members can expect to go through some predictable and normal stages in acclimatizing to each other and their shared tasks. This first stage is a polite, beginning phase where the parties meet and get acquainted and get a sense of the articulated (or unarticulated) ground rules of how they will operate. Formalities are preserved and in short, everyone is on good behavior, keeping apprehensions, reservations or concerns (if there are any) to her or himself.
For new coaching clients or participants in coaching groups ... this first stage is where they may not be sure about how things will go with the coach or the coaching group or what the experience will be. They are willing to jump in and go for it but it's an unknown stage --- where clients take a leap of faith and hope for the best. During this stage it's normal to be confused about how things fully work, how to use various technologies or communication routes, to be more shy or quiet than usual, and to be unsure or not totally confident about the other players involved. Its all brand new and untested.
Storming:
After the forming stage it's natural to morph into the storming phase. And while uncomfortable (especially with all this amped up energy we are being bathed in during this latter part of 2012) this stage is also perfectly normal and to be expected from a process point of view.
| | |
| --- | --- |
| | This is where we find ourselves agitated, triggered or activated about things going on in the coaching alliance or coaching group. The niceties of the first stage have fallen away and individualistic feelings are now felt and expressed (either passively or directly). Members are still primarily functioning as separate individuals ... the unity or synergy of later stages has yet to appear. In fact, the individuals involved must successfully navigate the important storming phase in order to graduate to greater coherence. This storming phase can be quick (a matter of minutes) or long (days, weeks, months or years --- if the members have to stay in the group for employment or other reasons ... resulting in toxic environments that process professionals are often brought into to help resolve if possible). |
There is such an opportunity inherent in the storming stage if members can communicate their feelings and work through them --- that leads to greater understanding and empathy and operating at a higher level ... move into 'we' rather than just a set of separate 'I's.
Norming:
Once (if) partners and groups make it through the storming stage then stability starts to happen in the more peaceful Norming stage. Things start to make sense, ahhas, breakthroughs and paradigm shifts occur. The feelings that are up for each individual come into visibility and the sharper edges get polished down through communication and aligned actions. With less activation and more general optimism and team spirit the tone of interactions take on a pleasant and enjoyable feel - of one for all and all for one. Norms and successful systems and ways of operating are established and members work successfully together.
High Performance:

With continued focus on our higher intentions and continuing to 'work out the bugs' as they emerge, we reach the holy grail ... High Performance ... or in THEO lingo "Emotional Mastery". When we stick with the coach, group, team, organization or community long enough to work it out naturally on our own (or through the aid of a skilled process worker) the norming stage gets institutionalized and then the Flow or Synchronicity that author Mihaly Csikszentmihalyi speaks of kicks in.

High Performance is a joy to be in. It's that powerful alliance between a coach and client that is so beneficial and enjoyable for both ... or in the case of a coaching group, team or organization a thrill for all involved. Its those communities or companies that stand the test of time ... where members stay for long stretches of time not because they have to but because they want to. Or, if they do leave (adjourn, because it's time and things have come to a natural conclusion) it's done with a happy heart and with good feelings ... with fond memories being created and cherished. A touchstone or measurement for future alliances.
Adjourning:
Most partnerships, coaching groups, teams, groups, organizations and communities come to a natural end at some point (either through changes in conditions or changes in the needs of individuals). As such, there is a wonderful opportunity to close things out in a conscious and honoring way. To be thankful and appreciative of the experience and to wish all members well on their next steps and diverging paths.
| | |
| --- | --- |
| It always a sadly sweet experience for me to bid farewell to a high performing client or group. SHIFT-IT and Interactive-Visuals work is powerful stuff (as is the collaborative work that I do with The THEO Group) and it's an honor to be a stepping stone on people's paths and do good work together. A good coach or teacher knows that endings are part of the deal --- successful process professionals want to empower their clients as quickly as possible not breed dependency. Client will move onto new experiences (either with you or with somewhere else) and Tuckman's cycle plays out again, to whatever level it needs to, in the new container. ; | |
Not So Neat and Orderly:
A final thing to emphasize before I conclude is that these stages don't happen in a neat and orderly fashion ... the map is not the territory. And there is no guarantee that High Performance will indeed be reached (however the good news is, with consistently applied emotional mastery and aligned actions, the odds get highly stacked in our favour!).
Where the first graphic is handy for explaining the overall model and its stages. The graphic below shows how the stages actually happen in a much more organic and haphazard way.
Our process with coaches, groups, teams, organizations and communities will most likely not process in a neat orderly fashion. In fact, Tuckman's model actually shows us that it is naïve to think otherwise. At times, we may feel like we have moved backwards or are going in the wrong direction. Our stages will jump all over the place and there is the real risk of being taken out by storming or reaching a plateau with norming and going no further. That is just the nature of development work --- and what makes it so DARN exciting too!
I wish you all the best on your journey of unfoldment in whatever alliances you are a part of and thank you for letting me share my ponderings (and making the link between coaching and spirituality work with a well worn process model from the consulting world). I hope it will give you support in understanding your own unique journey with the people and groups you are in connection with.
P.S. If you are interested in learning more about deep process work for your own development, our THRIVE course is adjourning however from that foundational platform an advanced experience called The THEO Accelerator is forming ... for those seeking longer term support for their manifestations in 2013 and beyond. Participation in THRIVE is a pre-requisite however a Home Study Kit is available. Read more to see if this leading edge program is a match for you!
Blog Comments: Thoughts? Reactions? Have something to add? Click here to leave comments and read those left by others.
For the full SHIFT-IT e-Zine Archives: Click Here
For the full SHIFT-IT Audio Library (mp3): Click Here
©2012 Christina L. Merkley
WANT TO USE THIS ARTICLE IN YOUR E-ZINE OR WEB SITE?
You can, as long as you include this blurb and a functional link to my site:
Author's Bio: Christina Merkley, "The SHIFT-IT Coach" and creator of the SHIFT-IT System®, is a Visioning and Strategic Planning Expert specializing in Visual Thinking and Law of Attraction techniques. Based in charming Victoria, British Columbia, Canada, she works deeply with individuals, partners and conscious businesses to define and manifest what they truly want. And, trains other helping professionals in her innovative ways of working. For more information visit: www.shift-it-coach.com and www.visualcoaches.com
GET COACHED BY CHRISTINA
In the scheme of things, life is short. It's a shame not to live it in alignment with who you truly are. I have successfully SHIFTed my life to one of authenticity, creativity and abundance that is aligned with who I truly am.
Let me assist you in doing the same via private mentorship. I specialize in individuals who need to get their 'special it' into the world (entrepreneurs, biz owners, team leaders, teachers, consultants, facilitators, trainers, coaches, therapists, visual practitioners, etc.).
I coach you to build/enhance your internal or external practice or small business (including identity/brand, biz basics, creation of effective offerings, necessary systems (tech and socio) and marketing & sales). As well as having a satisfying personal life of supportive family, friends and community. Stop splitting your energy – create a congruent life that truly works for you!
Learn Interactive-Visuals Skills
Are you a process professional with a creative bend? Are you intrigued with the visual way I work with my clients? I've trained hundreds of facilitators, consultants, trainers and now coaches, counselors, social workers, etc from around the globe. Learn fundamental visual skills that you can use in your own work with groups and individuals. Come join the visual tribe!
ABOUT CHRISTINA MERKLEY:
Christina Merkley
The SHIFT-IT Coach &
Interactive-Visuals Mentor

Christina Merkley is The SHIFT-IT Coach. Creator of the SHIFT-IT System®, she guides individuals, partners and conscious companies in defining and getting what they really, really want.

A teacher of Law of Attraction, she is also an expert in visual meeting techniques, strategic planning and visioning: having worked for such notable companies as BBC, Readers Digest Funds, eBay and Stanford University. After a move from San Francisco, she now lives in charming Victoria, British Columbia, Canada - where she maintains a vibrant coaching, facilitation and training practice.
IN THIS ISSUE:
>>Featured Article: The Joys and Challenges of Group Dynamics
---
CONNECT WITH CHRISTINA:
Via Twitter, Facebook & Youtube
---
BLOG ENTRIES:
Looking for more rich, SHIFT-IT content? Check out my blog for recent ramblings, resources and general interest features:
Yes Virginia, There Is A Santa Claus ... You!
Your Seeming Procrastination May Actually Be Right Timing
The Positive Role of Angst and Discomfort
The Importance of a Safe Haven for Your Authentic Self
Click here to read the SHIFT-IT Coach blog.

---
EZINE ARCHIVES:
Browse past issues here.
Listen to the ezine here.


---
FEATURED PRODUCT:
The SHIFT-IT Home Retreat Kit®
---
Christina's Websites:
---
---