A NOTE FROM CHRISTINA:
The season continues to whip by, with us fulfilling our fall courses and preparing for the 2013 curriculum too.
As I was thrilled to announce last issue, Tamsyn Hawkins from the United Kingdom is joining our team. And we're working with several other folks this season to lay the groundwork for greater volumes that are being attracted.
For years I have deployed an online model in SHIFT-IT Coach, Inc ... partnering with 'virtual contractors' ... independents who operate their own businesses working from their own locations. And I've successfully coached many creative solo practitioners to do the same. It's a great model for a certain level of business.
However, now I and SHIFT-IT Coach, Inc are going to the next level ... we're transitioning from the virtual model to a 'bricks and mortar' approach ... creating a corporate headquarters here in Victoria, British Columbia, Canada with an office and 'real' employees to better serve our global network of clients and mentees.
| | |
| --- | --- |
| * As my hair color continues to change (and people remark on how blond I now am (covering up gray!) ... I've updated my biz pics this month ... and we'll have to do another series when Tamsyn and other team members join me in the office ... it will soon be more than just me gathered around the flip chart moving forward! | |
It won't happen all at once --- we've got a 12-18 month window that we're playing with ... and we will continue to work with many of our virtual partners moving forward, but geez is it exciting to take things to a more sophisticated level! The manifestation of my Vision set many years ago is coming into fruition and I'm tickled pink.
Getting here has taken a lot of hard work, calculated risk, dedication, discipline and sheer good luck. Given that, the subject of this issue's ezine is "Yes Virginia, There Is a Santa Clause ... You!" Dedicated to folks who sometimes have a naïve perspective about how to manifest things in their personal and professional lives.
Keeping doodling and keep believing! Yours in appreciation and Visual Expansion,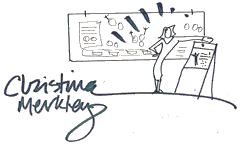 Christina Merkley,
The SHIFT-IT Coach
and Interactive-Visuals Mentor
"HAVE BEEN THOROUGHLY PLEASED WITH THE RETURN ON MY TRAINING INVESTMENT"
Sandy Carter, Ph. D.
Leadership & Change Management
Consultant, Healthcare Industry

"My Private Training with Christina was transformational! I had my consulting model in my head and could intuitively move my healthcare clients through the various levels of how I could work with them, but I could not talk about it or "see" it in a structured sense until I did a 2-day Private Training with her.
She was able to take my thinking and words and translate them into a visual Story Map. As we constructed this visual tool I "saw" my consulting process emerge in front of my eyes and could direct her to expand here or delete there. We worked in partnership (me using skills she taught me just the day before) in a way that flowed and made me much more certain about the range of my work and its high value.
Within days of my training, I took my wall mural to an executive sales meeting with potential clients to test drive it. They quickly understood the three levels of my practice (individual, group and system) and were very excited to engage me. I landed a lucrative contract and my Story Map has become a powerful and inspirational marketing and education tool. One that explains my work in a style representative of myself as a Visual Thinker.
My training was part of Visual Coach Certification®. The SHIFT-IT tools fit well with the leadership work I do (given my background as a Psychotherapist) and I continue to receive helpful marketing and financial mentoring from Christina. All in all I highly recommend the opportunity to work with her and have been thoroughly pleased with the return on my investment."
Sandra Carter, Ph. D.
Leadership & Change Management Consultant, Healthcare Industry
Michigan, U.S.A.
SHIFT-IT SCHOOL: UPCOMING COURSES

SHIFT-IT Online Group
7 Weeks Online: Feb. 2 – March 16, 2013
VideoCam Webinars: Saturdays, 10-11:30 a.m. Pacific
Only offered twice a year! Our signature coaching group – which gives you a powerful foundation to Become Your Next Self. Impactful experience that gets you what you next want in your personal and/or professional life. You develop a crystal clear vision, unravel your resistance ... and rapidly shift your world to a much more satisfying state. Leading-edge Law of Attraction wisdom coupled with practical real-world strategy --- all in our innovative 'Visual Coaching' style. Join this supportive community with other like-minded SHIFTers from across the globe, includes The SHIFT-IT Home Retreat Kit® with 17 visual maps.
Full Details and Online Registration
Note: Pre-requisite for Visual Coach Certification. FYI, Repeater Option available for those who have taken this program before and want to refresh.
MAGIC MARKER MASTERMIND
Jan. 14 - June 17, 2013 6-Month Incubator
For Intermediate Visual Facilitators, Visual Coaches & Visual Scribes
For intermediate to advanced Visual Practitioners from across the globe. Intensive skill and biz development incubator that meets your unique needs. Learn and bond with fellow process professionals who unite in a shared mission to effectively use interactive-visuals with groups and individuals. Develop your brand, signature style, visual tools, graphic competencies and overall confidence in your use of productive visual techniques, whether you are internal in an organization or have an independent practice, business or content area.
Application Deadline: Monday, Dec. 17, 2012
Just 3 Spots Left!
Full Details and Online Application Process
* Pre-requisite: Fundamentals of Interactive-Visuals (or equivalent experience)
VISUAL COACH CERTIFICATION
April 9 – June 11, 2013, Tuesdays, noon-1:30 pacific, 10 webinars

For coaches, therapists and other process leaders who work with individuals. This one-of-a-kind experience teaches you how to work visually with your clients and licenses you in our 17 map SHIFT-IT System®. Join our amazing international cohort of Certified Visual Coaches® and bring the power of the visual approach to your clientele and practice.
In-person Combo: Deadline to Apply is Jan 6th
Certification Only: Deadline to Apply is March 24th
More Info and Online Application Process
* Pre-requisites: Fundamentals of Interactive-Visuals and SHIFT-IT Online (or equivalent experience).
THEO ACCELERATOR
Jan-June, 2013, 6-Month Spiritual / Soul Integration Accelerator Pre-requisite: Thrive in the Time of Awakening (or equivalent experience)
More Info Coming Soon
FUNDAMENTALS OF INTERACTIVE-VISUALS
May 30 - June 1, 2013, Victoria, British Columbia, Canada
Over 87% of your facilitation, coaching, training and consulting clients are visual thinkers - learn powerful visual skills to boost the effectiveness of how you work with them. This professional skills training thoroughly covers custom chart work, visual scribing, visual facilitation and visual coaching (the four main applications of working visually with groups and individuals) so you can add these powerful tools to your own consulting, facilitation, coaching and training offerings. In-person version only offered once a year, so act fast to claim your spot.
Filling Now, Early Bird in Effect
More Info and Online Registration
* Note: Pre-requisite for Visual Coach Certification.
PRIVATE TRAININGS AND APPRENTICESHIPS
2012-13: Booked Privately in Victoria, British Columbia, Canada
Keen to become a Visual Facilitator, Coach or Scribe? Dates of our public workshops don't work or you desire one-to-one attention? Christina Merkley has limited availability in 2012-13 for private trainings and apprenticeships customized for your unique needs.
FEATURED ARTICLE:
YES VIRGINIA, THERE IS A SANTA CLAUS ... YOU!
To Listen Or Download Mp3 Version of This Article, Click Here
I'm in the midst of fulfilling our fall programs here at SHIFT-IT Coach, Inc. Have completed SHIFT-IT Online Group, and am in the middle of Thrive in the Time of Awakening & The Fundamentals of Interactive-Visuals ... plus am navigating interesting curriculum and biz expansions for 2013 and beyond.
There is a bit of a theme happening these last weeks that comes to the fore when I sit down to write this ezine. It's a theme about manifestation and what it takes to create a fulfilling life. And it's a theme about the balance of magic, wonder and awe with the pragmatics of good old-fashioned hard work, discipline and follow-through.
With Fundamentals of Interactive-Visuals I'm guiding process professionals through the ins and outs of learning and implementing visual skills into their own practices. With THRIVE, we're doing deep inner work (called Soul Integration) to identify and heal fragmented aspects of ourselves that are interfering with our ability to live full Soul-Centered lives.
Certified Visual Coach® Alison Crow
developing her viz skills.

Banner for THRIVE Class
with The THEO Group
In both classes the intent is to empower people to take responsibility for their own development. We give them the skills but it's really up to them to use them and go through the process of integrating them into their own experience. Like learning any new skillset its takes commitment, persistence and lots of application to reap the rewards --- to go from being 'consciously incompetent' at something to being 'unconsciously competent' ... on the route to mastery.
The Resistance Wall
| | |
| --- | --- |
| At around the half way mark of both programs what I call 'The Resistance Wall' starts to predictable show up. The early glamour wears off for some folks, when they realize that visual work and spirituality work ... well, they are 'work'. That a magic wand doesn't magically anoint them with new skills or a new state in life just by signing up ... they have to commit to their development process to reap the rewards. If they do, they get awesome results. If they don't ... they won't. | |
Doing and Being:
The development process is not only an outward one of taking action, but also an inner one of softening resistance, frustration and negative self-talk. The learner follows instruction and completes recommended exercises and processes but also has to concurrently manage their emotional landscape. Learning how to 'allow' their process as it is ... to not demand instant results but make their natural unfoldment ok, good and perfect. The 'being' is just as important as the 'doing' ... in fact without more relaxed being the doing can often get stopped in its tracks. This is where folks start falling of the radar screen ... getting busy in other things, deciding they don't want it after all, or my personal favorite ... blaming the teaching or container and other forms of acting out.
You Are Your Own Santa Claus:
I love magic and wonder ... and I love creativity, flow and synchronicity.

And I also love things being 'easy'. And am a big believer that when there is passion there is easiness or at least pleasure and enjoyment.

All the fabulous right brain stuff!
You are probably aware of the famous "Yes Virginia, There is a Santa Claus" New York Sun editorial. It's a lovely sentiment that continues to stand the test of time. However, I would put a twist on it: Yes Virginia, There is a Santa Claus ... and it's an energy that resides in you! Magic is not some outside force that grants good stuff to some people and not to others. It's the natural effect of lining up your internal energy in such a matter that you become a Vibrational Match to the things that you say you want. And its also taking plenty of aligned actions along the way too.
Alignment is An Inside Job:
A good teacher, coach or mentor can certainly help you in reframing your thoughts into more productive patterns. But they can't be there with you 24/7. Eventually you need to take more and more of that job on yourself. And, it's not really about thoughts at the deeper level anyway. It's about the feelings that those thoughts activate in your physical and emotional bodies.
Soothing Thoughts for your Development Path

So, if you are an Interactive-Visuals or THRIVE student, or anyone who is in the process of becoming your Next Self, here are some soothing statements to reassure the negative beast within ... and hopefully bring some stabilization and calm to your development path:
Any new skillset takes investment in time and resources to develop, that is normal and ok.
Nobody is perfect to begin with (in fact what is perfection anyway ... its more about 'good enough is good enough for now').
Anyone who is good at something went through an awkward growth stage at some point in their development, so why should I be an exception?
I'm good at lots of things, its just going to be a process to over time get good at this too.
Most people aren't savants ... they don't magically wake up being exceptional at something – like Malcolm Gladwell writes about in Outliers, the research shows that it takes 10,000 hours to reach mastery.
Thankfully I don't have to reach mastery in order for my new skill to be of good use.
Comparison is only useful to a certain level, if its not making me feel good to look at other people's output, then I can stop doing that and focus on, accept and love my own unique journey.
There are learning curves for everything. Training wheels are normal to start with. Eventually I'll move through my mimic stage to develop my own signature style. For now the mimic stage is fine granted I give credit where credit is due and respect intellectual property boundaries.
My teacher's responsibility is to provide a useful and well organized curriculum, its my responsibility to implement it.
I'm doing great. I'm proud of myself. This is a journey that I can relax into. I don't have to have it all figured out and implemented this red-hot minute!
I trust my process. I trust life. Life is good. I'm fortunate to live in this time and space and have the access that I do.
I'm really appreciative of this experience I have drawn to myself. Its fascinating, I'm learning a lot. I'll figure out how to apply it all as I go along.
For now, I can enjoy my process. It's uniquely mine. Nobody else in the multiverse is me. I'm contributing to the whole by just being authentically me.
Blog Comments: Thoughts? Reactions? Have something to add? Click here to leave comments and read those left by others.
For the full SHIFT-IT e-Zine Archives: Click Here
For the full SHIFT-IT Audio Library (mp3): Click Here
©2012 Christina L. Merkley
WANT TO USE THIS ARTICLE IN YOUR E-ZINE OR WEB SITE?
You can, as long as you include this blurb and a functional link to my site:
Author's Bio: Christina Merkley, "The SHIFT-IT Coach" and creator of the SHIFT-IT System®, is a Visioning and Strategic Planning Expert specializing in Visual Thinking and Law of Attraction techniques. Based in charming Victoria, British Columbia, Canada, she works deeply with individuals, partners and conscious businesses to define and manifest what they truly want. And, trains other helping professionals in her innovative ways of working. For more information visit: www.shift-it-coach.com and www.visualcoaches.com
GET COACHED BY CHRISTINA
In the scheme of things, life is short. It's a shame not to live it in alignment with who you truly are. I have successfully SHIFTed my life to one of authenticity, creativity and abundance that is aligned with who I truly am.
Let me assist you in doing the same via private mentorship. I specialize in individuals who need to get their 'special it' into the world (entrepreneurs, biz owners, team leaders, teachers, consultants, facilitators, trainers, coaches, therapists, visual practitioners, etc.).
I coach you to build/enhance your internal or external practice or small business (including identity/brand, biz basics, creation of effective offerings, necessary systems (tech and socio) and marketing & sales). As well as having a satisfying personal life of supportive family, friends and community. Stop splitting your energy – create a congruent life that truly works for you!
Learn Interactive-Visuals Skills
Are you a process professional with a creative bend? Are you intrigued with the visual way I work with my clients? I've trained hundreds of facilitators, consultants, trainers and now coaches, counselors, social workers, etc from around the globe. Learn fundamental visual skills that you can use in your own work with groups and individuals. Come join the visual tribe!
ABOUT CHRISTINA MERKLEY:
Christina Merkley
The SHIFT-IT Coach &
Interactive-Visuals Mentor

Christina Merkley is The SHIFT-IT Coach. Creator of the SHIFT-IT System®, she guides individuals, partners and conscious companies in defining and getting what they really, really want.

A teacher of Law of Attraction, she is also an expert in visual meeting techniques, strategic planning and visioning: having worked for such notable companies as BBC, Readers Digest Funds, eBay and Stanford University. After a move from San Francisco, she now lives in charming Victoria, British Columbia, Canada - where she maintains a vibrant coaching, facilitation and training practice.
IN THIS ISSUE:
>>Featured Article: Yes Virginia, There is a Santa Clause... YOU!
---
CONNECT WITH CHRISTINA:
Via Twitter, Facebook & Youtube
---
BLOG ENTRIES:
Looking for more rich, SHIFT-IT content? Check out my blog for recent ramblings, resources and general interest features:
Your Seeming Procrastination May Actually Be Right Timing
The Positive Role of Angst and Discomfort
The Importance of a Safe Haven for Your Authentic Self
Click here to read the SHIFT-IT Coach blog.

---
EZINE ARCHIVES:
Browse past issues here.
Listen to the ezine here.


---
FEATURED PRODUCT:
The SHIFT-IT Home Retreat Kit®
---
Christina's Websites:
---
---