A NOTE FROM CHRISTINA:
I'm so remiss on writing the e-Zine ... cause these first weeks of the year have been so busy!!! Three programs have successfully launched, including two that have had in-person retreats. Plus we've been adding new staff to our team to grow SHIFT-IT Coach, Inc to the next level (welcome Lilia and Tamsyn ... it's been wonderful having you jump into the swirl!).
In mid-January our Magic Marker Mastermind members gathered in Victoria, British Columbia to kick off 6-months of specialized visual mentorship. Limited to just 7 people for individualized attention (ok, we snuck in an 8th) this group supports one another to take their own visual practices up to the next level. Spread across North America, it's lovely to come together, pick up our markers and meet in person ... work online for a few months, then return again in May for more face-to-face time.

Magic Marker Mastermind 2013,
Limited to Just 7!
Then January 26-27, I joined my collaborators, Sheila and Marcus Gillette in Los Angeles, California to kick off our THEO Accelerator ... a spiritually focused Mastermind of 21, to Manifest Your Soul-Fulfilled Self. All participants AND facilitators of the SHIFT our world is going through, this dynamic group assembled for the first time ... although given our Soul Family nature it all felt wonderfully familiar to meet face-to-face.

The 2013 THEO Accelerator (first cohort ever!)
In addition to these two special masterminds, we also kicked off our SHIFT-IT Online experience (7 online sessions that works you step-by-step through our signature SHIFT-IT System®) ... visual strategic planning for heart based individuals).
I hope your year has taken off with a satisfying bang too --- interesting energies about our planet at this time! I've decided to write this issue's article on "Give ... Yet Also Know Your Worth" ... a little bit about the Law of Reciprocity for those who are natural Givers.
Yours in acceleration,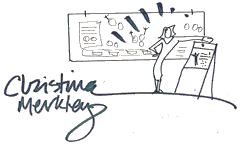 Christina Merkley,
The SHIFT-IT Coach
and Interactive-Visuals Mentor
P.S. Looking for Content Development / Writing Assistant: Given how long it takes me to write e-Zine and blog posts these days, we are on the look out for a great, visually-oriented person to help us with the prep of this e-Zine plus other writing for blog and social media. If you love the visual way of working, have social media suave, enjoy interviewing, writing and assembling info on topics of interest for SHIFT-IT readers (process work, interactive-visuals, law of attraction, business basics, etc.) please contact [email protected] to express your interest in teaming with us.
"I TRUSTED MY INSTINCTS TO CALL A WOMAN IN CANADA ..."
Sharon Pannone
Life Journey Coach
Internet Show Host

"I think 'overwhelmed' and 'ready' are the best words to describe me the day I trusted my instincts to call a woman in Canada I had never met. That woman was Christina Merkley. I had found her via her info on manifestation, law of attraction and using visuals to Become Your Next Self. I wondered if she would mentor me ... YES, that is how bold I was. To my great surprise Christina picked up the phone and gave me her time and the gift of listening. I explained that I thought coaching was where I belonged. Christina shared some stories from her own fascinating journey and said "if coaching is really the direction you want to go, I suggest you get some good coach training as a starting place, cause it's a real, distinct role onto itself ... if you find you like it, swing back for our Visual Coach Certification down the line."
That was a Thursday; and by Monday I was registered with a base training she recommended --- by Friday was on a flight to Chicago. It's been two years and my journey has been AMAZING --- I'm now a coach (having gone on for advanced training too), am happily re-settled and partnered (in work and life) in Florida and am an internet show host.
I recently contacted Christina to thank her for giving one of the greatest gifts I feel one person can for another ... to listen and believe. And I also extended an invitation to her to be a guest on 'Embrace The Journey With Sharon' so others can benefit from her generous and knowledgeable spirit. I have found my North Star, a place where I listen and share inspiring, motivating and positive wisdom in our world through the journeys of others. My hope is we all find our North Star and remember those along our journey who shine their light for us to see. Thank you, Christina."
Sharon Pannone
Life Journey Coach / Internet Show Host
Sarasota, Florida
www.AmazingUniverseTV.com
P.S. Sharon's interview with Christina airs March 5th.
SHIFT-IT SCHOOL: UPCOMING COURSES

VISUAL COACH CERTIFICATION
April 9 – June 11, 2013, Tuesdays, noon-1:30 pacific, 10 webinars
For coaches, therapists and other process leaders who work with individuals. This one-of-a-kind experience teaches you how to work visually with your clients and licenses you our SHIFT-IT System® (17 visual maps as complete process or piecemeal). Join our amazing international cohort of Certified Visual Coaches® and bring the leading-edge power of the visual approach to your own clientele and practice.
Apply Now for 2013 Cohort: Application Deadline is March 24th
More Info and Online Application Process
*** Pre-requisites: Fundamentals of Interactive-Visuals and SHIFT-IT Online (or equivalent experience).
FUNDAMENTALS OF INTERACTIVE-VISUALS (in person version)
May 30 - June 1, 2013, Victoria, British Columbia, Canada
Over 87% of your facilitation, coaching, training and consulting clients are visual thinkers – learn powerful visual skills to boost the effectiveness of how you work with them. This professional skills training thoroughly covers custom chart work, visual scribing, visual facilitation and visual coaching (the four main applications of working visually with groups and individuals) so you can add these powerful tools to your own consulting, facilitation, coaching and training offerings. In-person version only offered once a year, so act fast to claim your spot.
Early Bird Filling Now
More Info and Online Registration
* Note: Pre-requisite for Visual Coach Certification and Magic Marker Mastermind.
BIZ BASICS FOR VISUAL PRACTITIONERS (and other Process Professionals)
7 Online Sessions, May-June, 2013 (dates to be announced)
Developing one's craft is only part of the puzzle in having a successful consulting, facilitation, training, speaking, coaching or therapeutic practice ... understanding and successfully implementing solid business practices is another. Previously my 'outer work' model to create and maintain a successful professional practice has only been available to students in our longer-term masterminds. Now this practical and much needed info is offered, for the first time ever, in a condensed online format. Topics include: owner and biz archetypes, clarity of identity and positioning, brand formation, accounting and bookkeeping structures, website & design considerations, sales funnel creation & marketing (including online and social media), pricing and effective collection policies, tech and administrative support (team building), partnering and joint ventures.
Details Coming Soon
PRIVATE BIZ COACHING AND VIZ SKILL APPRENTICESHIPS
2013: In person in Victoria, BC, Canada and/or Via Video Conference
Keen to integrate the visual way of working into your consulting, training or content rich business? On the fast track to becoming a Visual Facilitator, Coach or Scribe? Christina Merkley has limited availability in 2012-13 for private business coaching and visual skills apprenticeships customized for your unique needs. Get the power of a highly skilled and supportive visual pioneer working one-to-one on your success!
* Exploratory Chat with Christina to discuss your goals and determine which package best for you. Email [email protected] to book.
FEATURED ARTICLE:
GIVE ... YET ALSO KNOW YOUR WORTH
To Listen Or Download Mp3 Version of This Article, Click Here.
Given the supportive and personal nature of the work we do here at SHIFT-IT Coach, Inc., its not unusual for clients to send us updates about how they are, what they are doing, and indicate how the outer and/or inner work they did with us has continued to impact them ... often with expressions of appreciations.

These kinds of emails make us all feel REALLY good and underline the reason we are in biz in the first place ... to make a difference in the lives of our clients and those they impact.
Recently we had two unusual emails ... unusual given the length of time since we had last had contact (2 years in one case and 7 in the other) and unusual in that neither of these people were technically clients (didn't actually purchase anything from us). Both had referred to complimentary Exploratory Calls they had with me that carried a lot of impact ... words that had echoed for years and guidance they implemented that changed the trajectory of their work and life.
Both were very gratifying emails to receive and reflect on. On reflecting, I thought I would share a few of my thoughts about giving, the Law of Reciprocity ... plus also the importance of owning and standing in the power of your value and worth.
Thoughts on Giving:
As part of the marketing arm of our business, we actively gather client testimonials (as nothing highlights the worth of our services or products better than a satisfied client sharing their positive experience). A word that surfaces repeatedly in these testimonials is 'generous' ... that our programs, and me as an individual, give a lot. With the risk of blowing our own horn, I think this is a fair assessment ... we DO give a lot. Always have and hopefully always will. And I actively coach my clients to do the same.
Why, do we give a lot? I think a lot of it has to do with being pleasers ... wanting to make people happy (that is the nature of being in a helping profession). And genuinely wanting people to be satisfied in their experiences with us. While there can be a shadow side to pleasing (co-dependence comes to mind) I have also found that giving is extremely good for business (and life). Happy clients communicate their happiness to others. Giving comes back to you!
The Law of Reciprocity:
Early on in my career (and again when I moved – both geographically and subject wise) I did my fair share of pro bono and lower fee work. Even now we occasionally donate our services or do something unexpected if it feels like a congruent fit for us. And we have always given lots of useful content in articles and on the blog and even Exploratory Calls for those who want to talk about our services (like the two folks who sent us those emails years later).
| | |
| --- | --- |
| | I recommend this approach to clients who are also Process Professionals as I believe that what you give comes back to you (perhaps not via the same person or group that you gave it to ... but it comes back to you somehow and somewhere ... as that is the Law of Reciprocity – the universe has a way of keeping the scales balanced). |
Know Your Worth and Respect It:
There are a few important things to remember when giving ... where the line is for an appropriate boundary and the importance of really knowing your worth.
Obviously at SHIFT-IT Coach, Inc. we are in business, and we can't give ALL of our information and time away for nothing. So we exchange plenty more in the context of a fairly priced program. This is not selfish, it's just a mature business boundary that keeps us in business being able to afford our staff, invest in needed infrastructure, keep developing new offerings, etc.
The other thing that helping professionals (myself included) need to watch (in business and in life) is being taken advantage of by people who are self centered or self-serving and/or downright greedy. Some folks will take, and take, and take, if you are willing to give, and give, and give ... and have no qualms about it.
| | |
| --- | --- |
| The onus is on us not to allow our giving nature to be harmful to ourselves. To establish a healthy functioning boundary and enforce it if need be, rather than expect the other side to change their scruples or morals. It's important to know our worth and value ... and stand nicely but firmly in it. Nobody can take advantage of you if you deeply know your own worth and value and create and enforce appropriate boundaries when needed. Good to be a 'helping' person but no need to be silly about it at the expense of yourself! | |
---
Blog Comments: Thoughts? Reactions? Have something to add? Click here to leave comments and read those left by others.
For the full SHIFT-IT e-Zine Archives: Click Here
For the full SHIFT-IT Audio Library (mp3): Click Here
©2013 Christina L. Merkley
WANT TO USE THIS ARTICLE IN YOUR E-ZINE OR WEB SITE?
You can, as long as you include this blurb and a functional link to my site:
Author's Bio: SHIFT-IT Coach, Inc. is a boutique training and coaching company specializing in visual process work for groups and individuals. Founded by Christina Merkley, pioneering Visual Facilitator and Coach, we work deeply with individuals, partners and conscious businesses to define and manifest what you really want. We also train Process Professionals from across the globe in our innovative ways of working. For more information visit: www.shift-it-coach.com and www.visualcoaches.com
EXPERIENCE SHIFT-IT COACHING NOW:
In the scheme of things, life is short. It's a shame not to live it in alignment with who you truly are. We have successfully SHIFTed to a life of authenticity, creativity and abundance that is aligned with who we truly are.
Let us assist you in doing the same via private mentorship. We specialize in individuals who need to get their 'special it' into the world (entrepreneurs, biz owners, team leaders, teachers, consultants, facilitators, trainers, coaches, therapists, visual practitioners, etc.).
We coach you to build/enhance your internal or external practice or small business (including identity/brand, biz basics, creation of effective offerings, necessary systems (tech and socio) and marketing & sales). As well as having a satisfying personal life of supportive family, friends and community. Stop splitting your energy - create a congruent life that truly works for you!
ADD "WORKING VISUALLY" TO YOUR OWN PROCESS TOOLKIT:
Are you a process professional with a creative bend? Are you intrigued with the visual way we work with our clients? We've trained hundreds of facilitators, consultants, trainers and now coaches, counselors, social workers, etc from around the globe. Learn fundamental visual skills that you can use in your own work with groups and individuals. Come join the visual tribe!
ABOUT SHIFT-IT COACH, INC & CHRISTINA MERKLEY:
Christina Merkley
The SHIFT-IT Coach &
Interactive-Visuals Mentor

SHIFT-IT Coach, Inc. is a boutique training and coaching company specializing in visual process work for groups and individuals. Founded by Christina Merkley, pioneering Visual Facilitator and Coach, we work deeply with individuals, partners and conscious businesses to define and manifest what you really want. We also train Process Professionals from across the globe in our innovative ways of working. For more information visit www.shift-it-coach.com and www.visualcoaches.com.
IN THIS ISSUE:
>>Featured Article: Give ...Yet Also Know Your Worth
---
CONNECT WITH CHRISTINA:
Via Twitter, Facebook & Youtube
---
BLOG ENTRIES:
Looking for more rich, SHIFT-IT content? Check out my blog for recent ramblings, resources and general interest features:
How to Do Fun Visioning Over the Holidays
The Joys and Challenges of Group Dynamics
Yes Virginia, There Is A Santa Claus ... You!
Your Seeming Procrastination May Actually Be Right Timing
The Positive Role of Angst and Discomfort
Click here to read the SHIFT-IT Coach blog.

---
EZINE ARCHIVES:
Browse past issues here.
Listen to the ezine here.


---
FEATURED PRODUCT:
The SHIFT-IT Home Retreat Kit®
---
Christina's Websites:
---
---