A NOTE FROM CHRISTINA:
You know it's not easy talking about oneself and trying to explain what you do ... especially when you do unusual things that only certain folks have reference points for.
On my 'vacation' last month, I partnered with the wonderful Sarah Moyle (past Fundamentals of Interactive-Visuals grad) on an over-arching 'Explainer Video' on my increasingly holistic practice.

Finally getting over the cobbler's kid syndrome of not having a Whiteboard Animation myself, despite what I do for a living ... as they are a handy visual way for communicating messages when done well.


Sarah and I After We
Wrapped Filming
Hopefully we've done it well ... here it is for your viewing (more videos to come, to explain programs touched upon in this one):
Opportunity with Visual Coaches-in-Training:
FYI, the current 2014 cohort of Visual Coach Certification is barreling down the track about to enter their final leg (deadline to submit Final Exam Package is December 31st). The keeners are already submitting!
Their final exam consists of a 45-Minute huddle with me (to receive feedback on their submission package of client work, testimonials, etc.) plus another 45-Minute session with a coaching client (assignment being to coach the client through one of the Visual Maps from my SHIFT-IT System® ... which one is my choice, determined but what I feel would be most helpful to the client and/or what I want to see the Coach prove to me).
Each year I put a notice out to my community, letting you know of this opportunity. These coaches are already seasoned Process Professionals, so the caliber of coaching is high. To add your name to our Test Client List, email my assistant Patricia at [email protected]
Yours in SHIFTing IT,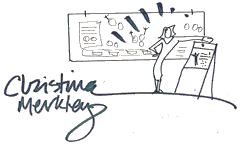 Christina Merkley,
The SHIFT-IT Coach
and Interactive-Visuals Mentor
MY LIFE DEPENDED ON THIS AND THIS HAS CHANGED MY LIFE
Marion Freymann
Florida, United States
"I have been searching for a way to put more soul into my work. I'm a frustrated artist with a busy life who doesn't make time for my passion. I lost my way years ago from a fine arts degree to marketing, business development, and then into technology. Isn't that what all good artists do?!
In 2004 a colleague showed me an intriguing sample of a visual corporate history. It was in a style I had not seen before and I loved it. I went on a quest to find out more and discovered The Grove Consultants. After initial well-received forays at my workplace my opportunity to work visually withered away. My focus turned to business development and technology and I could feel my life spark being drained.
I decided I could not continue this way and had to find a way to put some soul back into my work. So I re-ignited my art. But my big question was always; can it sustain the practical needs I have? What else can I do with this?
When I searched online and found Christina Merkley it was perfect. Her connection to The Grove coupled with her passion for The Law of Attraction was aligned with my personal and spiritual needs. I made the best decision I've made in a long time and signed up for Fundamentals of Interactive Visuals®. And when I made this commitment to myself, for myself, I felt a weight lift. I knew I was where I was supposed to be and was happy for the first time in a long while.
The online class is wonderful. Christina has a lovely, professional presentation style, good sense of humor, brings calm energy and is very open to all types of inquiry. The class had a great pace, organized materials and well thought out exercises that were immediately applicable. She's incredibly generous with time and provides positive critical feedback. You simply can't go wrong, I guarantee it.
I followed with SHIFT-IT Coaching® - one of the most powerful experiences I have EVER had. The process is so thorough and she has an incredible ability to sense thoughts, feelings and energy and patiently draw it out and put it in front of me to see - the aha moments just keep coming.
These experiences have been a real awakening. I have told Christina she is a brave adventurer and I truly admire her. I came looking for a change. I am now on a path more soulful than I ever expected, marrying my passion for art, spirit and education. I know this is exactly where I should be. My life depended on this and this has changed my life. There aren't enough words of appreciation to offer."
Marion Freymann
Alternative Education Advocate
Florida, United States

SHIFT-IT SCHOOL: UPCOMING COURSES


SHIFT-IT Online
7 Weeks Online: Sept. 20 - Nov.1, 2014
Video Webinars: Saturdays, 10-11:30 a.m. Pacific

Ready to get what you want?! My signature coaching group - gets you what you next want in your personal and/or professional life. You develop a crystal clear vision, unravel your resistance ... and rapidly SHIFT your world. Practical real-world strategic planning coupled with leading-edge energy alignment --- all in my innovative 'Visual Coaching' style. Join this supportive community with other like-minded SHIFTers from across the globe. The SHIFT-IT Home Retreat Kit® with 17 visual maps is included, plus handy Repeater Option for those joining us again!
Still Possible to Join for 2nd Session Tomorrow:
Full Details and Online Registration
Note: Pre-requisite for Visual Coach Certification. FYI, Repeater Option available for those who have taken this program before and are ready for your next shift.
FOR BEGINNERS OR REPEATERS
Fundamentals of Interactive-Visuals (Online Version)
9 Weeks Online: Oct 6 - Dec 10, 2014
Video Webinars: Mondays & Wednesdays, noon-1pm Pacific
Over 87% of your facilitation, coaching, training and consulting clients are visual thinkers - learn powerful visual skills to boost the effectiveness of how you work with them. This professional skills training (fully online) thoroughly covers the four main applications of working visually with groups and individuals so you can add these powerful tools to your own process toolkit: studio work (charts & videos), graphic recording, graphic facilitation and graphic coaching. This is the online version of my popular 3-day fundamentals training (no travel required). Attracts folks from across the English speaking world - your Visual Tribe!
20 3 Spots Left:
Full Details and Online Registration
Note: Pre-requisite for Visual Coach Certification. FYI, Repeater Option available for those who have taken this program and want another round.
NEW OFFERING!:
Magic Marker Retreat
Nov. 7-8, 2014, Victoria, British Columbia, Canada
Getting your basics in working visually is half the battle - the other is refining your skills and building a viable practice (whether you are internal or independent). This 2-day Boot Camp is for grads of Fundamentals of Interactive-Visuals (or equivalent experience) Specially tailored to take your visual practice to the next level: chock full of at-the-wall drills, project brainstorming (bring work for feedback and ideas), and biz/money/marketing coaching. Work your brain, your fingers and dissolve your resistance all in deep community with your visual tribe.
Details & Registration Coming Soon
Heads Up: Limited to 10 Participants
FYI, WE'RE CONTACTING SOME OF YOU BEHIND THE SCENES, BEFORE PUBLIC LAUNCH NEXT WEEK.
*Note Pre-requisite is Fundamentals of Interactive-Visuals (or equivalent experience).
PRIVATE MENTORING WITH CHRISTINA
Distance and In-Person: Coaching and Training Sessions

Public dates don't work for you? Or, not a group person? And/or prefer customized sessions tailored just for you and your situation? Private Training (visual skills) and Private Coaching (outer and inner work) either in-person in beautiful Victoria, British Columbia, Canada or via distance sessions by web conference and online scribing.
*Next Step: Email [email protected] to request Exploratory Chat with Christina.
FEATURED ARTICLE:
SCARED TO WORK LARGE AND BE SEEN
To Listen Or Download Mp3 Version of This Article, Click Here
This article is for the visual practitioners who are connected with me (i.e. folks learning and/or already engaged in visual process work with groups and/or individuals: i.e. graphic recording, graphic facilitation, graphic coaching and the like). In particular, this article is for those who notice they have hesitancy about the visual way of working, even more particularly about working large and being SEEN.

Working visually is a FASCINATING and HIGHLY USEFUL way to work. I've been using visuals in my process work with groups and individuals for over two decades now, and will, in some form or other, for the rest of my life. I use visuals in strategic planning and conflict resolution forums with organizations, in my trainings and group coaching venues, and also with individual one-to-one clients.
Tell Tale Feelings Of Uneasiness:
However, as useful as working visually is, for some people there are interesting issues that need to be softened and ideally resolved in order to effectively learn and perform it. Some folks notice that...
Click Here to Continue Reading
---
For the full SHIFT-IT e-Zine Archives: Click Here
For the full SHIFT-IT Audio Library (mp3): Click Here
OUTER AND INNER COACHING: Distance and In-Person
In the scheme of things, life is short. It's a shame not to live it in alignment with who you truly are. I have successfully SHIFTed to a life of authenticity, creativity and abundance that is congruent with who I am. Let me assist you in doing the same via private coaching (either by distance or in-person).
My clientele are passionate individuals who deeply desire the manifestation of their Full Selves. Most want to get their 'special it' into the world (entrepreneurs, biz owners, leaders, teachers, consultants, facilitators, trainers, coaches, therapists, visual practitioners, etc.).
I employ a customized blend of both Outer (left brain) and Inner (right brain) approaches that get you firmly into the reality of what you want. Eliminate confusion, resistance and procrastination. Enhance clarity, alignment and flow.
Stop splitting your energy - create a congruent life that works for you and help the planet in the process!
ADD "WORKING VISUALLY " TO YOUR OWN PROCESS TOOLKIT:
Are you a process professional with a creative bend? Are you intrigued with the visual way I work with my clients? I've trained hundreds of facilitators, consultants, trainers and now coaches, counselors, social workers, etc from around the globe. Learn fundamental visual skills that you can use in your own work with groups and individuals. Come join the visual tribe!
Christina Merkley
The SHIFT-IT Coach &
Interactive-Visuals Mentor

SHIFT-IT Coach, Inc. is a boutique training and coaching company specializing in visual process work for groups and individuals. Founded by Christina Merkley, pioneering Visual Facilitator and Coach, we work deeply with individuals, partners and conscious businesses to define and manifest what you really want. We also train Process Professionals from across the globe in our innovative ways of working. For more information visit www.shift-it-coach.com and www.visualcoaches.com.
IN THIS ISSUE:
>>Featured Article:
How to Shift From Consulting to Coaching
---
CONNECT WITH US:
---
BLOG ENTRIES:
Looking for more rich, SHIFT-IT content? Check out my blog for recent ramblings, resources and general interest features:
How to Shift From Consulting to Coaching
It's Here: New Explainer Video About My Holistic Practice
Orphan Rescues for Self Employment
Certified Visual Coach Ayn Hanna's Autobiographical Badge Project
Belleruth Naparstek's View: Time for a Rant On Robin Williams, Bipolar Illness & Our Need for Simple Answers
Click here to read The SHIFT-IT Blog.
---
EZINE ARCHIVES:
Browse past issues here.
Listen to the ezine here.


---
PRODUCTS:
Biz Basics For
Process Professionals Home Study Kit
The SHIFT-IT Home Retreat Kit®
---
Our Websites:
---
---