Problems Viewing This E-Zine? Click Here for Easier Viewing
A NOTE FROM CHRISTINA:

| | |
| --- | --- |
| September is one of the consistently lovely months on Canada's west coast. As such, I have been taking advantage of our lovely weather before the rainforest showers kick in. Normally I wouldn't be up to catch the dawn like this ... but J.J. my new Yorkie (and his teeny bladder) have successfully turned me into a morning person where nothing else has. Well, he gets me up ... I'm still working on being chipper at that hour. : ( | West Coast Morning |
These last weeks have been full of computer work (overseeing website changes, adding new courses to our 2012-13 line-up and having videocam chats with the wonderfully skilled folks who have expressed interest in my Biz Partner Description. Thank you all so much, I'll let you know as we sort through our decisions.
With all this computer work, J.J. figures the mouse pad beside my laptop is a Yorkie pad and it's become his new perch place.

He looks at me at times like 'what the heck are you staring at, it can't be more interesting than me!?'. I worried that having a dog would be problematic, so waited years to get him, but its turned out to be such a gift. Thanks Boo Boo Baby (my boyfriend's daughter's nickname for him). You are the dog for me!




JJ Curled Up on the Mouse Pad
Given the stretch phase I and my biz are going through (and who isn't during this 2012 transformational time) I thought a little encouragement about the necessity of angst and discomfort would be helpful – as creativity and expansion doesn't exist without them!
Yours in Visual Expansion and SHIFTing IT,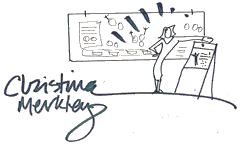 Christina Merkley,
The SHIFT-IT Coach
and Interactive-Visuals Mentor
"LEARNING FROM A PIONEER IN THE FIELD HAS BEEN AN HONOR AND I NOW KNOW WHY SO MANY INDIVIDUALS AND BUSINESSES SEEK CHRISTINA OUT"
Ann Leach
Grief and Loss Specialist
Joplin, Missouri, U.S.A.
"I've worked with Christina for several years now, using her as my personal coach and then as my trainer for the Fundamentals of Interactive-Visuals. Working in a visual way has been a dream of mine for a while, and finding Christina' and her support showed me that it is possible to learn these skills despite no artistic talent at all!
I was ready to incorporate the process into my work with women coping with loss and change in a bigger way this year and knew I needed some support in making it happen. I saw Christina's notice about the Magic Marker Mastermind and knew it was meant for me.
Through the four months of interactive work and discussion, I received a major A-ha! for my business: I do my best work in an 11 x 17 tablet. I appreciate my mastermind partners' support of me in clarifying my desire to do custom chart work and visual coaching in this way. It has changed how I approach my business and how I market my services to potential clients. And the results are more engaged clients (they love taking home their weekly map of next steps), a more unique positioning in the marketplace and an additional stand-alone income stream.
I loved being in this group with others of varying skill levels, fields and interests. Christina effectively created a welcoming space in which to share ideas, give friendly critiques and to visualize our next steps to success. Learning from a pioneer in the field has been an honor and I now know why so many individuals and businesses seek Christina out: she's committed, professional, wise and wonderful. Our in-person retreat was truly magical and I have carried that energy and business focus with me ever since. Thanks Christina and fellow Masterminders!"
Ann Leach
Grief and Loss Specialist
Joplin, Missouri, U.S.A.
www.lifepreservers.com
SHIFT-IT Online Group
7 Weeks Online: Sept. 15 – Oct. 27, 2012
VideoCam Webinars: Saturdays, 10-11:30 a.m. Pacific
This is my signature group coaching program – which gives you a wonderful foundation to Become Your Next Self. I only run it twice a year. It's a very powerful experience that gets you what you next want for yourself in work and life. You develop a crystal clear vision, unravel your erroneous beliefs and resistance ... and rapidly shift your world to a new level. Includes leading-edge Law of Attraction wisdom coupled with practical real-world coaching, all in my innovative 'visual coaching style' in community with other kind SHIFTers from across the globe. Make your SHIFT now, includes The SHIFT-IT Home Retreat Kit® with 17 visual maps.
*** Starts Tomorrow, Last Minute Joiners Are Welcome! ***
Full Details and Online Registration
* Note: Pre-requisite for Visual Coach Certification - only option of taking online this year (so if you don't want to travel for Certification 2013, be sure to register for this fall version of FIV). FYI, Repeater Option available for those who have taken FIV previously and are ready to refresh.
Fundamentals of Interactive-Visuals
(Online Version)
9 Weeks Online: Oct 15 –Dec 12, 2012
VideoCam Webinars, Mon & Wed, noon-1pm Pacific
Over 87% of your facilitation, coaching, training and consulting clients are visual thinkers – learn powerful visual skills to boost the effectiveness of how you work with them. This in-online, professional skills training thoroughly covers custom chart work, visual scribing, visual facilitation and visual coaching (the four main applications of working visually with groups and individuals) so you can add these powerful tools to your own process toolkit. This is the online version of my popular 3-day fundamentals training (no travel required).
Full Details and Online Registration
* Note: Pre-requisite for Visual Coach Certification. only option of taking online this year (so if you don't want to travel for Certification 2013, be sure to register for this fall version of FIV). FYI, Repeater Option available for those who have taken FIV previously and are ready to refresh.
Thrive in the Time of Awakening (with THEO)
12 Weeks: Oct. 2 – Dec. 18, 2012 (Webinars, Tuesdays, 5-7 p.m. Pacific)
This collaboration with Sheila & Marcus Gillette and THEO is deep inner work --- to help you find and integrate wounds that have held you back from manifesting your life purpose. For the spiritually minded. with a focus on 'soul integration' and 'orphan rescue' work. An intimate opportunity to receive direct guidance from THEO and practical coaching from me --- a fascinating marriage of heaven and earth. Supportive, international community of lightworkers from across the globe. Take advantage of 2012's transformative energies to create a life that is truly soul directed.
Full Details and Online Registration
Note: This Thrive program will act as a foundational pre-requisite for a 6-month THEO Accelerator that THEO, Sheila & Marcus and I will be facilitating, January – June, 2013.
SHIFT-IT SCHOOL: At a Glance for 2013
SHIFT-IT ONLINE GROUP
Jan. 19 - March 3, 2013, 7 Online Webinars
More Info Coming Soon
---
BIZ DEVELOPMENT FOR VISUAL PRACTITIONERS
Jan-Feb 2013, 7 Online Webinars

More Info Coming Soon
---
THEO ACCELERATOR
6-Month Life Accelerator for Those on a Spiritual Path
More Info Coming Soon
---
MAGIC MARKER MASTERMIND
Jan. 14 - June 17, 2013
6-Month Intensive for Visual Facilitators, Visual Coaches & Visual Scribes
For intermediate to advanced Visual Practitioners. Intensive skill and biz development incubator following your process and it's unique needs. Learn and bond with fellow process professionals from around the globe who unite in a shared mission to effectively use interactive-visuals with groups and individuals. Develop your brand, signature style, visual tools, graphic competencies and overall confidence in your role in the visual field, whether you are internal in an organization or a solopreneur.
Only 5 Spots Left
* Pre-requisite: Fundamentals of Interactive-Visuals (or equivalent experience)
---
VISUAL COACH CERTIFICATION
April 9 - June 11, 2013, Tuesdays, noon-1:30 pacific, 10 webinars

For coaches, therapists and other process leaders who work with individuals. This one-of-a-kind experience teaches you how to work visually with your clients and licenses you in my 17 map SHIFT-IT System®. Join our amazing international cohort of Certified Visual Coaches® and bring the power of the visual approach to your clientele.
More Info and Online Application Process
* Pre-requisites: Fundamentals of Interactive-Visuals and SHIFT-IT Online. Don't want to travel? See fall schedule for online version of Fundamentals of Interactive-Visuals (the only way to do Certification without travel).
---
FUNDAMENTALS OF INTERACTIVE-VISUALS
(in person version) May 30 - June 1, 2013, Victoria, British Columbia, Canada
More Info and Online Registration
FEATURED ARTICLE:
THE POSITIVE ROLE OF ANGST AND DISCOMFORT
To Listen Or Download Mp3 Version of This Article, Click Here
This article has been brewing for a while, as I've been learning more about this topic myself --- the natural role of angst and discomfort as part of the creative or evolutionary process.
If you have been keeping tabs on me for a while, you know that I am into "Law of Attraction" … at least what I consider the 'good' LOA. The stuff that is actually useful, practical and applicable. I run collaborative programs with The THEO Group and have been a long time student of the Abraham-Hicks material --- both great resources about the laws of manifestation and how things operate in our world at the finer, deeper, energetic levels.
Bad Stuff is Not Necessarily Bad:

One thing that I find very interesting in my LOA work and as a visual facilitator and coach ... is the role of tension, angst, discomfort --- in short, the so-called 'bad stuff'. People new to the Law of Attraction and new facilitators and other process leads, naively think that they are doing something wrong if 'bad' things happen in their life or events.

While experiencing challenging, hard or even brutal stuff in your life ... or in your facilitated sessions (see cartoon!) is often not fun in the moment ... it can be a huge cathartic gift that opens things up, gets stale energy moving and results in a creative breakthrough. That could never have happened without the so-called 'bad' stuff being expressed.


Cartoon Via Brands of the World on Facebook
Abraham-Hicks & THEO's Shared Message:
In following both Abraham & THEO for years, in my opinion they are advising the same thing about so-called negative events, but in different ways.
Abraham's Take:
Abraham uses the word 'contrast' to describe the so-called bad stuff in life. That there is an opportunity embedded in the shitty stuff. That we have an opportunity to use the contrast in our lives to get clear about what we next prefer. Lately they have been calling it 'taking the bounce'. As in bouncing off the crappy stuff in order to get clear about and orient towards the good stuff. Another wonderful term that they use for this is the 'rocket of desire'. Our contrast helps us define our rockets of desires like nothing else does. That in fact, they explain, our dualistic world is set up this way and this is how the leading edge continues to expand and advance.


Take the Bounce!
Therefore there will always be shitty stuff happening at one level or another, life is set up that way. But as you shift your focus and vibration (another LOA term) you acclimatize to a better feeling life overall and the contrast because less prevalent and more obvious … so you can notice it and work with it consciously to keep expanding.
THEO's Take:

Integration is the Game!

THEO's message is different but in my opinion ultimately the same. In their Soul Integration Process*, they advise that your life will bring you gifts in the form of activations, triggers and hot spots. Our job is to notice when these activations occur and to do our inner integration work to heal their root causes (earlier incidences in this life or others that have a similar hit to them). When we do this, we raise our vibration and shift our point of attraction. The reason we are being activiated in the present is because of an earlier incident where we were hurt or traumatized by something similar ... and its lying in wait for us to clean it up. The present day incident is an opportunity to become aware of the old hurt (or fragmentation or orphan) that is still pushing our buttons and to integrate it.
Ultimately their message is about using your present day triggers to heal yourself, grow up and ultimately create emotional mastery or soul integration.
* For a full explanation of THEO'S Soul Integration Process® and to experience for yourself (aided by visuals maps and direct interaction with THEO) see Thrive in the Time of Awakening that starts October 2nd).
A Martial Arts / Bodybuilding Analogy:
Esoteric stuff like this is challenging to write about. Another way to think about it, is by using a physical analogy, like weight training ...
And, as my wonderful integrated movement trainer Blaise Eagleheart reminds me … the best reps in the gym are the ones where it seems like you aren't making it … where you hit your ceiling. But its those tough reps that are actually requiring your system to recalibrate at a level. Those last few challenging reps are where all the growth happens. That is how we expand into previously unobtainable territory and move down the rack into higher and higher weights (or in the case of life or work, move on into our next level of development and expansion). It seems like we are breaking down but we are actually moving through and up and our body comes back differently as a result next time we do it.
In Closing:
So, the next time something happens in your life or work experiences (especially for the process professionals who are reading this) ... something that hurts, stings, or seems bad at the surface. Remember that there is inherently an opportunity embedded in that seeming negativity if you can use it skillfully. I just went through one of these a few weeks ago! There is the opportunity to milk it, use it, work it, SHIFT-IT ... to change things to a higher level of order. To get focused on what this tells us about what we DO want (and put our focus, thoughts and actions there) rather than staying on what we don't want. When we have the discipline to do this new ideas, inklings and actions unfold. And step by step we emerge into our Next Selves (and so do the people we work with in our process work).
---
Blog Comments: Thoughts? Reactions? Have something to add? Click here to leave comments and read those left by others.
For the full SHIFT-IT e-Zine Archives: Click Here
For the full SHIFT-IT Audio Library (mp3): Click Here
©2012 Christina L. Merkley
WANT TO USE THIS ARTICLE IN YOUR E-ZINE OR WEB SITE?
You can, as long as you include this blurb and a functional link to my site:
Author's Bio: Christina Merkley, "The SHIFT-IT Coach" and creator of the SHIFT-IT System®, is a Visioning and Strategic Planning Expert specializing in Visual Thinking and Law of Attraction techniques. Based in charming Victoria, British Columbia, Canada, she works deeply with individuals, partners and conscious businesses to define and manifest what they truly want. And, trains other process professionals in her innovative ways of working. For more information visit: www.shift-it-coach.com and www.visualcoaches.com
GET COACHED BY CHRISTINA
In the scheme of things, life is short. It's a shame not to live it in alignment with who you truly are. I have successfully SHIFTed my life to one of authenticity, creativity and abundance that is aligned with who I truly am. Let me assist you in doing the same via private mentorship. I specialize in individuals who need to get their 'special it' into the world (entrepreneurs, biz owners, team leaders, teachers, consultants, facilitators, trainers, coaches, therapists, visual practitioners, etc.). I coach you to build/enhance your internal or external practice or small business (including identity/brand, biz basics, creation of effective offerings, necessary systems (tech and socio) and marketing & sales). As well as having a satisfying personal life of supportive family, friends and community. Stop splitting your energy – create a congruent life that truly works for you!
Learn Interactive-Visuals Skills
Are you a process professional with a creative bend? Are you intrigued with the visual way I work with my clients? I've trained hundreds of facilitators, consultants, trainers and now coaches, counselors, social workers, etc from around the globe. Learn fundamental visual skills that you can use in your own work with groups and individuals. Come join the visual tribe!
ABOUT CHRISTINA MERKLEY:
Christina Merkley
The SHIFT-IT Coach &
Interactive-Visuals Mentor

Christina Merkley is The SHIFT-IT Coach. Creator of the SHIFT-IT System®, she guides individuals, partners and conscious companies in defining and getting what they really, really want.

A teacher of Law of Attraction, she is also an expert in visual meeting techniques, strategic planning and visioning: having worked for such notable companies as BBC, Readers Digest Funds, eBay and Stanford University. After a move from San Francisco, she now lives in charming Victoria, British Columbia, Canada - where she maintains a vibrant coaching, facilitation and training practice.
IN THIS ISSUE:
>>Featured Article: The Positive Role of Angst and Discomfort
---
CONNECT WITH CHRISTINA:
Via Twitter, Facebook & Youtube
---
BLOG ENTRIES:
Looking for more rich, SHIFT-IT content? Check out my blog for recent ramblings, resources and general interest features:
The Importance of a Safe Haven for Your Authentic Self
Keep Perspective on Your Developmental SHIFT
How to Successfully Launch a Visual Practitioner Career or Hobby
Relationship: Are You a Distancer or Pursuer?
Click here to read the SHIFT-IT Coach blog.
---
EZINE ARCHIVES:
Browse past issues here.
Listen to the ezine here.
---
FEATURED PRODUCT:
The SHIFT-IT Home Retreat Kit®
---
Christina's Websites:
---
---