A NOTE FROM CHRISTINA:

The weather has shifted here in beautiful British Columbia ... the leaves are starting to turn and the air is getting crisper. And the fall rains are beginning to descend.
I've had to dig out JJ's little doggie jackets. Yes, my dog wears a jacket ... if you saw how he shivers you'd dress him too, haha.

He also gets the blow dry treatment when he comes in from the rain (otherwise I've got a cold, drowned rat trying to get warm on my lap).

I wanna come back as my own Yorkie next time around!


JJ Before the Rains

Graphic Recording Demo

I also hosted a private training for the lovely Young Sook Lee, traveling all the way from Korea to train with me.

Thanks Young Sook for coming. Was a pleasure to meet you and to kick out that fantastic mural we did on the 2nd day, I trust that was well received back home?! You'll see Young Sook's take on her experience in the 'In Your Words' section of today's eZine.
And, TODAY, drum roll please - we unleash my new Practical Energy Work Online Course - all the details NOW AVAILABLE HERE!

This new 12-Week Course has been 6 years in the making, so I'm delighted to finally have it come into form! It chronicles the various things that my right-brain has opened up to since my contact experience in 2009 and resulting kundalini awakening. Practical, grounded yet highly innovative this new program marries our left and right brains for WHOLE BRAIN experiencing in both life and work. Great for seekers of all kinds plus Process Professionals looking for helpful concepts, tips and techniques for enhanced work with groups and individuals.
As a special thank you for my eZine readers here are some codes for your registration. I appreciate your patience for the time it took to pull this one together.
Register and Apply Your Codes Here!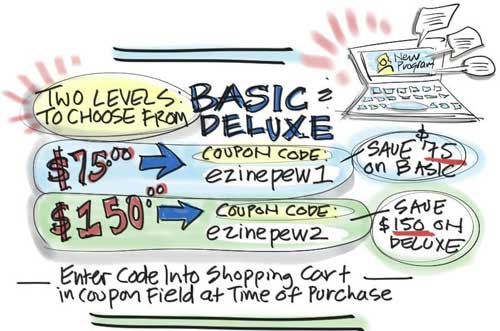 I've also written this issue's article on one of the tools we'll be using in the new Practical Energy Class ... it's a graphic tool called The Planetary Magnetism Map. See article below for overview, instructions and downloadable map.
Yours in expansion and unfoldment,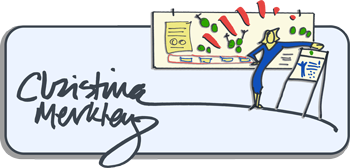 The SHIFT-IT Coach
& Process Skills Mentor
I'M DELIGHTED WITH HOW MY CLIENTS ARE RESPONDING
"I really enjoyed my 2-day private training with you. Thank you for teaching me how to work more visually and for co-building the Leadership Development Journey Mural with me - that was an intense learning experience that I enjoyed very much.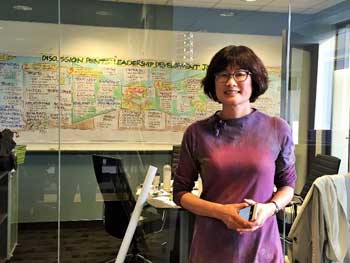 Young Sook Lee
Change Management Consultant
It's valuable to internalize the skills and to know, from having taken this course, that with practice, I can work visually too.
Immediately upon returning home to Korea I've been using my new skills in my organizational work with clients. I'm pleased with what I have been able to do (yes, more practice needed which I will do). And also delighted with how my clients are responding.
It was wonderful to meet you in person --- I feel great power that I can rely on, YOU. I look forward to continued future collaborations.
Thank you sooooo much!"
Young Sook Lee
Change Management Consultant
www.aligned.co.kr
Seoul, Korea
SHIFT-IT School: Upcoming Classes and Events


New Online Course
PRACTICAL ENERGY WORK
Left-Right Brain Synergy for Professional & Personal Results
Our modern world still operates on a left brain bias: analytical, mental and rational ... with serious consequences for individuals, groups and our planet-at-large. However our right brain is always there, albeit often underused and even denigrated. Learning to be 'whole brained' is a powerful advantage in life and work. Join me for this NEW online class to harness your right brain resources: emotions, subtle energy and intuition. Practical tools on energy management, law of attraction, trauma, brain wave mastery, problem-solving, etc. Guest experts. Plus community with other participants from across the globe.
New Course: Now Open for Registration
10 Weeks Online: Nov. 7 - Feb. 6 2016
Live Webinars: Saturdays, 1-2:30 p.m. PST
Full Details and Online Registration
Note: No Prerequisite
* See Special Codes This Week in Note From Christina section!
Get Clarity & Change in Work and/or Life:
SHIFT-IT ONLINE®
Online Class Supported By Visual Coaching Tools
Ready to get what you want?! My signature coaching group - gets you what you next want in your personal and/or professional life. You develop a crystal clear vision, unravel your resistance ... and rapidly SHIFT your world. Real-world strategic planning coupled with leading-edge energy alignment --- all in my innovative 'Visual Coaching' style. Join this supportive community with other like-minded SHIFTers from across the globe. The SHIFT-IT Home Retreat Kit® with 17 visual maps is included, plus handy Repeater Option for those joining us for your next round of manifestation!
Secure Your Space Now!
7 Weeks Online: Feb. 6 - Mar. 19, 2016
Live Webinars: Saturdays, 10-11:30 a.m. Pacific
Full Details and Online Registration
Note: Pre-requisite for Visual Coach Certification. FYI, Repeater Option available for those who have taken this program before and are ready for your next shift.
For Beginners Or Repeaters:
FUNDAMENTALS OF WORKING VISUALLY®
Visual Skills for Process Work with Groups and Individuals
This professional skills training (fully online) thoroughly covers the four main ways of working visually: Studio Work, Graphic Recording, Graphic Facilitation and Graphic Coaching. Over 87% of your consulting, facilitation, training, teaching and coaching clients are Visual Thinkers - these powerful visual skills boost the effectiveness of how you work with groups and/or individuals. This is the online version of my popular fundamentals training (no travel required). Attracts folks from across the English-speaking world - your Visual Tribe! Fully recorded, if you miss classes or want to watch at a time more convenient for you.
Currently on Early Bird
9 Weeks Online: Feb. 22 - Apr. 27, 2016
Live Webinars: Mondays & Wednesdays, noon-1pm Pacific
Full Details and Online Registration
Note: Pre-requisite for Visual Coach Certification. FYI, Repeater Option available for those who have taken this program before and desire another round.
For Process Professionals Who Work With Individuals:
2016 VISUAL COACH CERTIFICATION®

10-Weeks Online: April 5 - June 14, 2016
Tuesdays Noon-1:30 pm Pacific

For coaches, counselors, therapists and others who work deeply with individuals. Add the power and innovation of Visual Coaching to your professional practice. Includes advanced Visual Coaching techniques, use of my SHIFT-IT System® with your clientele (17 visual maps), guidance in the 'template-izing' of your own intellectual property, plus marketing and biz development support.

2016 Cohort... Apply Now!



Two Pre-requisites: SHIFT-IT Online and Fundamentals of Interactive-Visuals (or equivalent experience).
FEATURED ARTICLE:
A GRAPHIC TOOL FOR PLANETARY VISIONING
To Listen Or Download Mp3 Version of This Article, Click Here.
My new Practical Energy Work course is launching today. It's been about 6 years in the making ... taking up where my last meta-physical type courses left off.

I took a hiatus of sorts because I was going through a deep learning and immersion phase in my own development ... as an energetically sensitive human being and as a Process Professional. I get into all that in the course and also share what I've learned along the way.




They need a 'going grey' version of this gal to represent me, but hey, this will do ...
Appreciation of the Power of Visioning:
One thing that has been constant throughout the whole trajectory of my development, starting back in the mid 1990s, has been 'Visioning'.
As many of you know, I began my career in Process Work as a Graphic Recorder in corporate settings. Then branched into Facilitation, Coaching and then Energy Work from there. A gradual progression that has unfolded step-by-step over the years.
In my left-brain business career, I have drawn out many History Maps, Vision Maps and Actions Plans of various companies, governmental agencies, departments and the like. And in my more right-brain coaching work, I have drawn out many Life Maps, Visions and Plans for individuals, couples and partners.
Visioning, especially when you add the extra visual layer, is very powerful.
Stick With It to Get to the Good Stuff: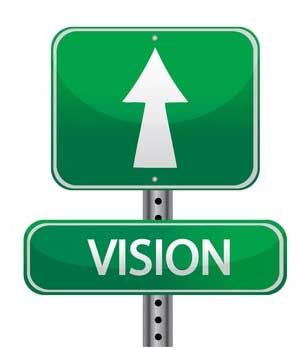 It's not always easy to get groups aligned on a shared, desired future. And neither is it always easy to get an individual aligned.
Both groups and individuals often have conflicting parts and energies within that want differing things or have worries, concerns and resistance to changing the status quo.
However, when you stick with it and go through the needed group process (when possible) to reach a shared consensus and alignment about what it is desired its very gratifying work which pays off in shifts, changes and results for the client. Visioning works and it's a very powerful force.
Who is Visioning?!
Given Visioning is so powerful, over time I began to contemplate and even worry about who does visioning and what it is being applied towards.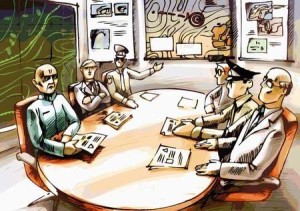 In companies, it's being applied towards what their business is about - be it a financial institution, pharmaceutical manufacturer, oil and gas provider, technology outfit, etc.
Same goes for governmental agencies --- agriculture, defense, housing, etc.
For individuals the focus can be on business or career and/or also on their life overall. Often its 'me' coaching ... i.e. they focus on what they want to change and better in spheres that they have creative control over. Sometimes it's 'we' coaching ... i.e. they focus on areas that they share co-creation power with others (spouses, partners, children, siblings, parents, friends, co-workers, etc.).
The Dearth of Planetary or Global Visioning:
One level that unfortunately rarely gets discussed, with public groups or individuals anyways, is planetary or global visioning. Only on rare occasions have clients ever wanted to focus on the planet or humanity overall. And unfortunately even then the focus was of a negative orientation ... i.e. globalism, environmental degradation, female suppression, etc.
I have been getting kinda obsessed with the really BIG PICTURE. With our planet, at large. With humanity, at large. With where we as a species place our focus. And the direction we are taking or not.

We are standing at a very important crossroads and I personally hope we co-choose a viable path as the stakes are HUGE and could impact our very existence.
Focus on What We DO Want (flip it, flip it good):
I know from my experience with Visioning that it is only effective if one focuses on what one DOES desire not on what one DOESN'T. We human beings often get our focus (which is such a powerful commodity) stalled out on what we don't want as opposed to flipping that onto what we do.

And, when we consider really big Visioning, on large topics that involve lots of complexity ... I've noticed that other things happen too. Either people allow a censoring to take hold or they succumb to negative feelings like overwhelm, worry and grief. Both of which stop them from doing the actual Visioning!
Censoring Our Positive Focus: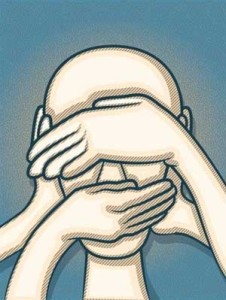 I find the censoring interesting. Just when we really, really need to focus in a direct, positive way, because the stakes are SO HIGH that a social conditioning or ridicule of sorts kicks in. People often feel silly and stupid spending any amount of time looking or speaking from an aspirational, positive place (which Visioning is all about) on big topics that really matter.
Instead, they feel they 'have to be realistic'. That focusing positively on such gnarly issues is silly, childish or delusional. Or is simply a waste of time.
Overwhelm and Grief:
Alternatively, because the stakes are so high and the current situation seems so lacking, people can also be sent into feelings of overwhelm, sadness and grief. They succumb to lower emotions rather than allow themselves (and our collective planet) the gift of dreaming positively.
In energy terms, this is allowing the unhealthy aspects of the lower chakras (one/root, two/sacral and three/solar plexus) to run the show. We aren't in our power when we get stuck in the unhealthy aspects of these lower energy centers. We need to go to the fourth chakra to connect with our hearts which Visioning allows us to do if we can just let ourselves go there!
Do It Anyways, It Takes Just a Few Minutes:
For the new Practical Energy Work course I've created a new graphic tool called the Planetary Magnetism Map. This tool is a simple map to help us do positive visioning about our collective planet.
I'm sharing it here in the eZine with my full eZine readership (5000+ people) and on the blog because I think/feel this is a really important tool ... and it would be wonderful to have as many people as possible complete their own versions of it.
Instructions:
Below are instructions to download and complete the Planetary Magnetism Map ...
ARTICLE CONTINUED ON BLOG ... CLICK HERE TO VIEW
---
For the full SHIFT-IT e-Zine Archives: Click Here
For the full SHIFT-IT Audio Library (mp3): Click Here


Christina Merkley
The SHIFT-IT Coach &
Process Skills Mentor

SHIFT-IT Coach, Inc. is a boutique training and coaching company specializing in visual and energetic process work for groups and individuals. Founded by Christina Merkley, pioneering Visual Facilitator and Coach, she works deeply with individuals, partners and conscious businesses to define and manifest what you really want. Christina also trains Process Professionals from across the globe in her innovative ways of working. For more information visit www.shift-it-coach.com and www.visualcoaches.com.
IN THIS ISSUE:
>>Featured Article:
A Graphic Tool for Planetary Visioning
---
CONNECT WITH US:
---
BLOG ENTRIES:
Looking for more rich, SHIFT-IT content? Check out my blog for recent ramblings, resources and general interest features:
Kundalini: What It Is And Why It Matters
Being In The Flow With Visual Process Work
Visual Coaching Acclimatization
Learn Graphic Recording: Online Class Available Across The Globe
Primordial Energy Activation & Transcendence (PEAT)
Are You Working For Light Or Dark?
Working Visually: The Only Way Out Is Through
Click here to read The SHIFT-IT Blog.
---
EZINE ARCHIVES:
Browse past issues here.
Listen to the eZine here.


---
PRODUCTS: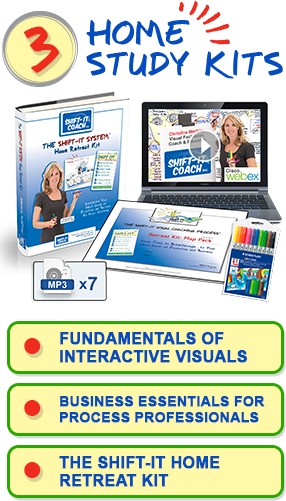 ---
Our Websites:
SHIFT-IT Coach, Inc
www.shift-it-coach.com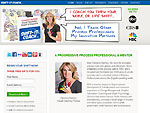 ---
---
Visual Facilitation
www.makemark.com