A NOTE FROM CHRISTINA:
I hope summer is treating you well (for those who live in the same hemisphere).
All classes are fulfilled for this season, so a big thank you to those who joined us this past school year. I really enjoyed meeting, training and coaching you. Do keep me posted on what unfolds for you and I look forward to when our paths cross again!
I take the month of August off for rest and rejuvenation. However before I do I'm working away with my team to refresh SHIFT-IT School for the 2016/2017 calendar. And also running our annual Summer Sale next week from July 18-22. Selected courses, products and services are included, so nab those that interest you via the best rates of the year. We'll send a notice when it's live on Monday morning.
In previous issues, I've mentioned my upcoming temporary move from my current office as a cool new complex is being built next door for the next 18-22 months. So I'm temporarily relocating me and JJ until the noise dies down. The office has been converted into a fully furnished residential rental suite that's available Sept. 1st, for anyone in Victoria, BC who may be interested.
Really nicely appointed, artistic, with 14-foot windows --- a gem in this low vacancy market for someone who works elsewhere during the day (Yorkie not included).
| | |
| --- | --- |
| Victoria BC Suite For Rent: Sept 1st | Smudge Stick and Feather |
On other news, my kundalini awakening is continuing with much energetic activation. Seems I can't get around any type of personal growth work (sound healing, bodywork, meditation, etc.) without it kicking into high gear.
As a result, I'm working with various spiritual, psychic and consciousness teachers to help me integrate the higher energy streaming through. My fall Practical Energy Work class is gonna be hot as my transformation is coming fast and furious ... will be interesting to see who I am by then!
Had a lovely time at a local workshop using gorgeous fresh herbs (lavender, sweetgrass and sage) to make a custom smudge stick and feather. Turns out the International College of Energy Healing here in Victoria is run by SHIFT-IT eZine reader Dawn Kirkham. Was fun to connect with her in person and hear how her migration from the UK has gone ... well!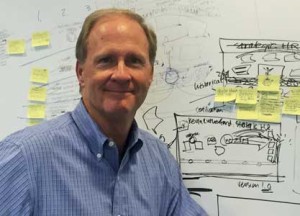 Consultant Template-izing His I.P.
I best sign off, as I have Kevin, a high-end speaker and consultant from Texas here for a private visual skills training today and tomorrow. We are getting a visual foundation quickly into him and designing custom templates out of his own intellectual property. To make his speeches, events and trainings even more dynamic than they already are. Good to work with you Kevin, thanks for making the trip to beautiful British Columbia!

The 21st Annual Conference for the International Forum of Visual Practitioners (IFVP) is just a few weeks away. As I've fielded several calls from conference organizers and many of my students are attending, I decided to write this issue's article on my tips for attending the conference, whether you decide to attend this year or in the future. If you are into the visual way of working, I suggest you attend at least one if you can.
Yours in SHIFTing IT,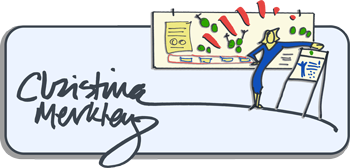 The SHIFT-IT Coach
& Process Skills Mentor


IN YOUR WORDS: CLIENT TESTIMONIAL
Karla Kadlec: Consciousness Consultant Follows Her Intuition To Our Graphic Facilitation Training
GLAD I FOLLOWED MY INTUITION TO ATTEND, LIKED ALL OF IT
"My opinion on Fundamentals of Working Visually? I liked all of it!
I've known Christina Merkley for several years now, given I was one of her teachers in the Energy Work that is now emerging through her. Always intrigued with the visual way she works, I wanted to learn how to do it too and be also be held in her coaching container as I'm in the midst of an important crossroads in my own business.
There were great participants from a variety of geographies and backgrounds in attendance. Christina provides helpful perspective on the various visual applications. And is very capable at managing multiple levels of simultaneous needs. The curriculum and learning transitions were purposeful and the depth of her practitioner and teaching experience and how she has honed each step of this workshop is apparent.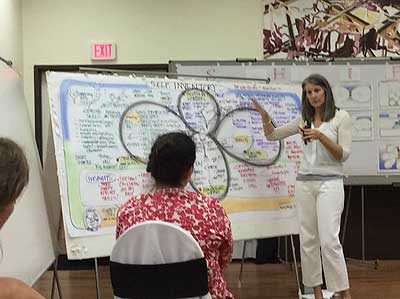 Karla Kadlec
Sage Heart Healing Arts Clinic
I was not alone in being initially hesitation about the drawing part, however she ably helped us jump over our speed bumps and I experienced a breakthrough in how I view my artistic nature ... I can do it! Since returning from the training I am really enjoying this new style of documentation, and so do my clients!
I also appreciated the gift of being the Visual Coaching volunteer, where Christina facilitated me through her SELF Inventory template as a demo. This vulnerable exercise had all of my cells tingling and kundalini moving. I've shared my map with my husband and relatives which helps them (and me) more fully understand the transformation I'm in the midst of. Very special!
The concept of 'visual templates' has been an especially useful takeaway. I'm combing through my practice and identifying areas where I can create my own. Thanks Christina, I'm glad I followed my intuition to attend!"
Karla Kadlec
Healing Arts Clinic | Consciousness Consultant and Trainer
Vancouver, British Columbia, Canada
www.sageheart.ca
SHIFT-IT School: Classes, Products & Mentoring
Heads Up ...
ANNUAL SUMMER EVENT
Starts Monday!
Five Days Only: July 18-22
Home Study Kits | Private Coaching | Private Training
FYI, mark your calendars. Back by popular demand is our annual summer event from July 18-22nd. Been eyeing a course, product or private service? This special week will have selections from across our offerings including upcoming fall and winter online courses.
More info coming soon!
For Visual Skills Grads
WORKING VISUALLY eCOMMUNITY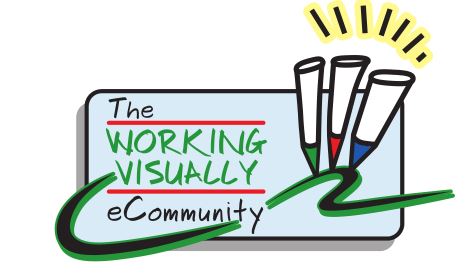 Are you a grad of one of my Visual Skills programs? If so, you qualify for access to our WORKING VISUALLY eCOMMUNITY for ongoing support. This community includes online forum filled with various topics related to working visually (media, announcements, skill development, technology, business development, inner work, etc.). Plus a monthly drop-in webinar and recording library. Next webinar: July 20, 11-12:30 pm pacific, fully recorded.
FEATURED ARTICLE:
INTERNATIONAL FORUM OF VISUAL PRACTITIONERS (IFVP): MY THREE TOP TIPS FOR ATTENDING THE ANNUAL CONFERENCE
To Listen Or Download Mp3 Version of This Article, Click Here.
I was coaching a client last week. She's a Process Professional in the Midwest of the United States who mostly works for not-for-profits in a variety of roles (facilitator, coach, instructor, etc.). She does awesome work for public service providers who do important and needed work in their region for a variety of populations.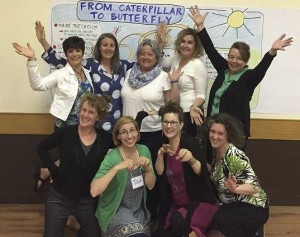 2016 Cohort of Magic Marker Retreat
Last season she took the online version of my Fundamentals of Working Visually course, given there isn't much training in Graphic Recording and Graphic Facilitation available in her geographical area. She was inspired by the experience and wanted to keep her momentum rolling so she traveled to British Columbia, Canada to attend my recent Magic Marker Retreat, the advanced visual skills course.
One Item On Her List:
As a Deluxe purchaser, she has 3 follow-up 45-minute sessions with me as part of her package, which we do by web conference (so we can see each other plus the digital tablet I'm scribing her visual notes on).
On the list of items, she wanted to discuss was her decision to attend the upcoming conference of the International Forum of Visual Practitioners and any guidance I might offer. This is an annual gathering of visual practitioners (scribes, recorders, facilitators, coaches, etc.) who one way or other use visual methods in their practices (or want to!).
Being someone who was there back in the day when it was formed in the San Francisco Bay area, it's amazing to see it going strong beyond two decades now!
Business Development Is The Right Stretch For Some People:
I was really glad to hear this client had made the decision to go and was impressed given her decision was on the heels of having just made two prior investments very recently. Not everybody has the consciousness to do this, especially when it's a stretch in finances, time or skill set. However, both her and her spouse value her interest in the visual way of working and want her to get up to speed as quickly as possible.
Having myself invested in a lot of training, coaching and multiple industry events in the various networks I'm connected to, I personally know the importance of making good strategic moves in your business and personal development. And it's something I advocate for with my clients who are serious go-getters.
Money, unfortunately, does not grow on trees (darn it!) so it's really important to invest wisely in the things that will truly grow your skills and connections. And sometimes when making these kinds of investments there is initially a mixed feeling of nervousness and excitement. Did I make a wise choice? Is this really going to benefit me? Will it help me shift myself, my practice and my life in the ways I want?
Now, it's going to depend on the person, their background, and their drive but for most people serious about their process craft I can solidly say ...
ARTICLE CONTINUED ON BLOG ... CLICK HERE TO VIEW
---
For the full SHIFT-IT e-Zine Archives: Click Here
For the full SHIFT-IT Audio Library (mp3): Click Here

Christina Merkley
The SHIFT-IT Coach &
Process Skills Mentor

SHIFT-IT Coach, Inc. is a boutique training and coaching company specializing in visual and energetic process work for groups and individuals. Founded by Christina Merkley, pioneering Visual Facilitator and Coach, she works deeply with individuals, partners and conscious businesses to define and manifest what you really want. Christina also trains Process Professionals from across the globe in her innovative ways of working. For more information visit www.shift-it-coach.com and www.visualcoaches.com.
IN THIS ISSUE:
>>Featured Article:
International Forum of Visual Practitioners (IFVP): My Three Top Tips for Attending the Annual Conference
---
CONNECT WITH US:
---
BLOG ENTRIES:
Looking for more rich, SHIFT-IT content? Check out my blog for recent ramblings, resources and general interest features:
Bruce Hostetter: On Fundamentals Of Working Visually Workshop
Actually You ARE Accomplishing A LOT!
Hannah Sanford: New Visual Coach Grad From Maryland, U.S.A.
How I Did It And How You Can Too!
Melanie Zucker: New Certified Visual Coach Graduate From Germany
Sound Modalities to Aid Your SHIFT
Speech Pathologist Lisa Dymond Makes Good Use Of Working Visually
Graphic Recorders: How To Build a Thriving Practice
Jody Isaac's Graphic Recording Success At Camosun College And Beyond
Click here to read The SHIFT-IT Blog.
---
EZINE ARCHIVES:
Browse past issues here.
Listen to the eZine here.
---
PRODUCTS: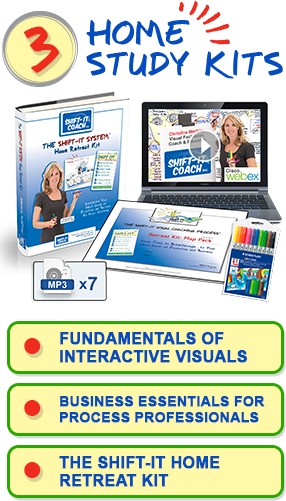 ---
Websites:
SHIFT-IT Coach, Inc
www.shift-it-coach.com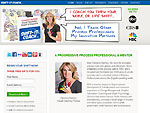 ---
---
Visual Facilitation
www.makemark.com