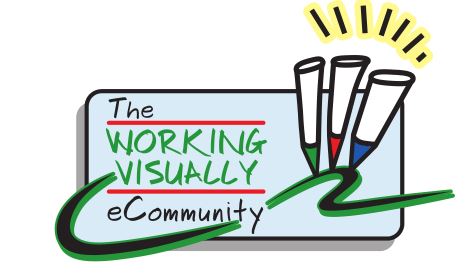 At the beginning of this year I created a new Interactive-Visuals e Community for folks who have already taken visual skills training with me. Perhaps you have already joined us in the NING forum that was set up? If so, just ignore this post, as you already know about this new webinar component being added!
If you haven't joined us in the NING yet, then a quick FYI to let you know that I'm adding a Drop-in Webinar component — for those who would like to 'meet' online with audio and visuals (to ask questions, make comments, share resources, etc). To discuss whatever is top of mind for you in your continued visual ventures (Studio Work, Graphic Recording, Graphic Facilitation or Graphic Coaching).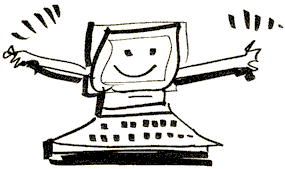 Pilot Webinar:
As a pilot, the date for the first Interactive-Visuals eCommunity Webinar is Thursday, March 19th, at noon pacific (west coast of North America). That's 1pm mountain, 2pm central and 3pm eastern. Evenings for Europe. Early morn for Austral-Asia. See www.timeconverter.com to convert to your time zone.
Full Details and Logistics in NING:
There is a 25 spot maximum on the webinar, so first come, first serve. If it proves to be of interest and worthwhile, I'll offer them on a regular basis moving forward. The link to the webinar is now posted in the forum in a Discussion Post named "Drop-In Webinars".
FYI, there is no charge for either the forum or the webinar(s). Just providing ongoing connection and support for our visual peeps!
Contact Patricia for Assistance:
If you are interested in attending but are not yet a member of our Interactive-Visuals eCommunity forum … please contact my assistant Patricia Harris at admin@shift-it-coach.com and she'll assist you to join.
See you next week!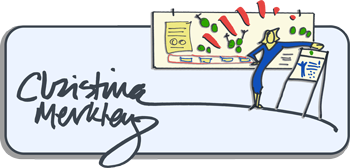 The SHIFT-IT Coach and Interactive-Visuals Mentor
**** P.S. This pilot was successful – really fun!  As a result I've decided to expand these free Drop-In Webinars to a monthly basis.  See details in our NING forum.  If you aren't in the NING forum, and are a grad of one of our visual programs, then just drop my assistant Patricia an email (details above) and  she'll hook you up.