A NOTE FROM CHRISTINA:
OMG I have been having a good time these last weeks! This has been a really good year and the last few weeks have thankfully been no exception.
Visual Coaching Students:
I've been busy shepherding our new cohort of Visual Coaches and a few from previous cohorts too ... congrats Hannah Sanford on your recent graduation!
The current 2016 cohort is almost through their 10 training webinars and are now securing practice clients for their 24 hours of Visual Coaching. So fun to see the keeners already jumping in and I'm happy to report that many are voluntarily choosing to go through an additional learning curve too --- learning how to work virtually though web conference and tablet like I do for most of my own private clients now. Well done gang!
Annual In-Person Visual Skills Trainings:
Yesterday through to Tuesday I'm hosting my annual in-person Visual Skills Trainings here in beautiful Victoria, British Columbia. First three days are foundational skills (going great so far!) followed by two more days of additional practice, support and community.
Graphic Recording Of Our Introductions

Mash-up Of Creative Supplies

Their First Graphic Recordings

He Is Finding His Passion
For This Work!
Given most of my work is online nowadays I really treasure this time of the year where I get to play face-to-face. We've got folks from clear across North America and a shout out to Mamie Mak for coming from Hong Kong. I appreciate the journey you have all made (both externally and internally) to be here having productive fun at the wall!
A Few Other Fun Things:
In the midst of all this glorious mayhem I've also have the pleasure of facilitating a local middle school through a deliciously frank ProD Strategic Planning day (thank you for the meaningful work that you do for our local community and society overall!).

Strategic Planning for Middle School Staff

Matrix Energetics
Training
And, I slipped in some powerful and fun professional development for myself - a jam packed training down in Seattle in Matrix Energetics (an energy work modality that is already making its way into my private coaching work with clients). Followed up with a fascinating private session with Richard Bartlett, the genius founder of this versatile approach too.
Update on Temporary Move While Construction Next Door:
| | |
| --- | --- |
| Temporary Homes Coming Into Focus | Thanks to all of you who reached out on my recent Facebook post about my temporary move due to construction next to my studio this fall. I'm happy to report that I have secured two temporary locations from September through April. I will need further arrangements after that, however have great faith that this will unfold nicely as the time draws closer. You are all so awesome! |
From the above you can see that I'm accomplishing a lot right now - given its obvious with all the outward activity. However, I have chosen to focus this issue's article on accomplishment of another sort. The sort where you don't think/feel you are accomplishing anything, but you actually ARE. Hope you enjoy and for those of you that this applies to, be sure to be extra nice to yourself!
Yours in SHIFTing IT,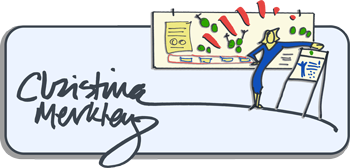 The SHIFT-IT Coach
& Process Skills Mentor
Hannah Sanford: New Visual Coach Grad
From Maryland, U.S.A.
AN EXCELLENT EXTENSION OF MY GRAPHIC RECORDING
PRACTICE INTO PROCESS WORK WITH INDIVIDUALS
"Visual Coach Certification was a natural extension of my prior work with Christina Merkley --- an excellent expansion of my Graphic Recording practice into process work with individuals.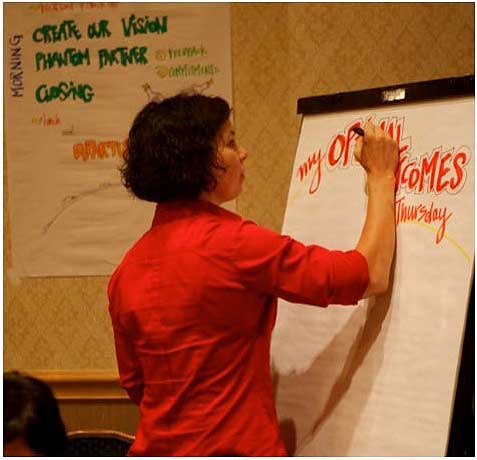 Hannah Sanford
Certified Visual Coach©
I was impressed by the integrity of the entire program including requirements, the training modules, the interactive cohort and the exit exam. As well as the strong technology and admin support from her friendly team.
Christina and my cohort provided a safe space to share, try new things, stretch my skills, and get thorough, direct, real-time, actionable feedback served with love.
Also of value was Christina's knowledge of working virtually - so key in our increasingly digital world - which got me on the cutting edge technologically and increased my geographic reach.
Clients love the SHIFT-IT Visual Maps and are delighted to have me literally draw their thoughts and feelings right out of them! Working this way really takes coaching to the next level, so clients not only have a clear process but tangible take-homes from each conversation to share with others and pin on their fridge, desk etc.
Highly recommend Visual Coach Certification and Christina's other unique and extraordinary offerings."
Hannah Sanford
Visual Practitioner
Gaithersburg, Maryland, U.S.A.
www.hannahsanford.com
SHIFT-IT School: Classes, Products & Mentoring
For Visual Skills Grads
WORKING VISUALLY eCOMMUNITY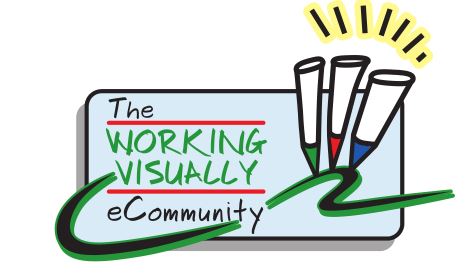 Are you a grad of one of my Visual Skills programs? If so, you qualify for access to our WORKING VISUALLY eCOMMUNITY for ongoing support. This community includes online forum filled with various topics related to working visually (media, announcements, skill development, technology, business development, inner work, etc.). Plus a monthly drop-in webinar and recording library. Date for upcoming webinars: June 23. Webinar time is 11-12:30 Pacific, fully recorded.
Instant Access
HOME STUDY KITS

| | |
| --- | --- |
| | Can't travel? Want your info fast? Now you can access my quality instruction via three Home Study Kits. Choose from Fundamentals of Interactive-Visuals, SHIFT-IT Home Retreat Kit and Business Essentials for Process Professionals. Also private connection available via Private Visual Skills Training (you come to me), In-House Workshops (I come to your organization or community) and Private Coaching (in-person and distance sessions). |
Heads Up ...
ANNUAL SUMMER EVENT

FYI, mark your calendars. Back by popular demand is our annual summer event from July 18-22nd. Been eyeing a course, product or private service? This special week will have selections from across our offerings including upcoming fall and winter online courses.
More info coming in the weeks ahead!
FEATURED ARTICLE:
Actually You ARE Accomplishing A LOT!
To Listen Or Download Mp3 Version of This Article, Click Here.
In my private coaching practice I work with clients over extended periods and often in multiple cycles (people return after months, years and even decades for another round of support). By way of checking in, each new session I usually start by asking "who are you today?!"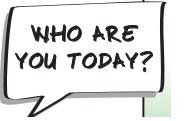 I do this because I know people can change in minutes, hours, days and weeks (let alone years) and we as humans can also occupy a diverse range of positions on 'the emotional scale'. So who we were, even a few minutes, hours, days, weeks or years ago, can be greatly different than who we NOW find ourselves being. I find that extremely fascinating!
Check in With Mean Ol' Ms. Merkley:
Inevitably when I ask this question some will respond by berating themselves for what they perceive they have or have not accomplished since we last connected.
I have my suspicions that they think mean ol' Ms. Merkley's horns are going to show and I'll berate them for not accomplishing their articulated next steps exactly as they were written on their last map. LOL (laugh out loud).

However, as the session goes along (and they relax) I find out that actually A LOT has happened and is happening in their unfolding process ... they just aren't giving these things their due respect or seeing them as legitimate, alternative steps in their own right. So my job is to act as a reflecting mirror, so they respect the amazing, magical and 'oh-so-wise' ways of their fuller self.

Be Flexible: The Map Is Not the Territory
Sometimes it is more challenging for clients to see and appreciate their change or movement than it is for me who has the luxury of a bird's eye view of their terrain (rather than being down in the trenches of their life like they are). My own coaches have that same perspective on my life and that's part of why I employ them - to help me see that in myself and my own journey.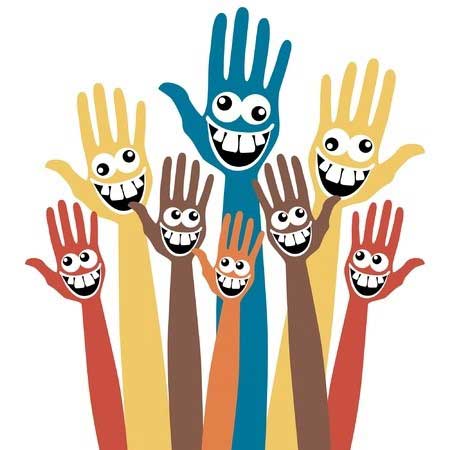 As a pioneering Visual Coach I literally draw my client's steps out of them and organize their thoughts and feelings into visually attractive 'vision' and 'action plans'. Over the years I have learned to take these artifacts with a grain of salt (i.e. a softer approach and not always literal). As 'the map is not the territory' when it comes to the unfoldment of our lives. The territory always reigns supreme over the map!
Sometimes (most or all times!) there are shifts, changes and surprises along the way. Reminds me of the joke 'want to make God laugh ... tell her your best laid plans?!'
While the visuals I and my cadre of Certified Visual Coaches create are super useful for our clients, they will never completely and accurately predict what happens in a client's life. As life always has its own, better, richer version than the 2D stuff we doodle on paper. And that's totally perfect and exciting, even if uncomfortable in the short term at times!
Foundational Basics:
In order to make a shift, some clients have to take care of foundational basics in their life - or, life makes them take care of this level of things whether they initially want to or not. It's my opinion that this happens so they can eventually build on top of a strong foundation rather than on a shaky one that could never have borne the weight of what their Future Self is all about.
Sometimes this takes the form of a ...
ARTICLE CONTINUED ON BLOG ... CLICK HERE TO VIEW
---
For the full SHIFT-IT e-Zine Archives: Click Here
For the full SHIFT-IT Audio Library (mp3): Click Here


Christina Merkley
The SHIFT-IT Coach &
Process Skills Mentor

SHIFT-IT Coach, Inc. is a boutique training and coaching company specializing in visual and energetic process work for groups and individuals. Founded by Christina Merkley, pioneering Visual Facilitator and Coach, she works deeply with individuals, partners and conscious businesses to define and manifest what you really want. Christina also trains Process Professionals from across the globe in her innovative ways of working. For more information visit www.shift-it-coach.com and www.visualcoaches.com.
IN THIS ISSUE:
>>Featured Article:
Actually You ARE Accomplishing A LOT!
---
CONNECT WITH US:
---
BLOG ENTRIES:
Looking for more rich, SHIFT-IT content? Check out my blog for recent ramblings, resources and general interest features:
How I Did It And How You Can Too!
Melanie Zucker: New Certified Visual Coach Graduate From Germany
Sound Modalities to Aid Your SHIFT
Speech Pathologist Lisa Dymond Makes Good Use Of Working Visually
Graphic Recorders: How To Build a Thriving Practice
Jody Isaac's Graphic Recording Success At Camosun College And Beyond
Do You Need To Bio Hack Your Life?!
Click here to read The SHIFT-IT Blog.
---
EZINE ARCHIVES:
Browse past issues here.
Listen to the eZine here.


---
PRODUCTS: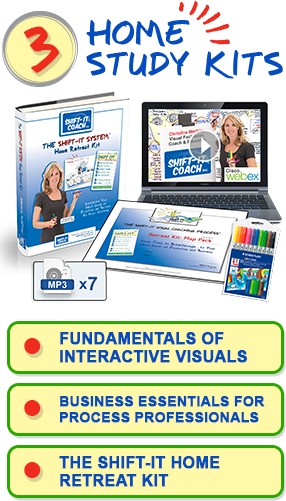 ---
Websites:
SHIFT-IT Coach, Inc
www.shift-it-coach.com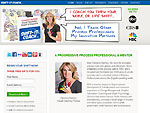 ---
---
Visual Facilitation
www.makemark.com