A NOTE FROM CHRISTINA:
The leaves are a lovely smattering of colours here in the Pacific Northwest. As fall descends upon us and we nestle in for cozy time, switching out light clothes for heavier ones and taking a more insular approach to the gorgeous environment we live in.
I'm feeling that satisfying 'back to school' vibe too ... as all fall courses are up and running and I'm having fun meeting new students and connecting further with ones I've worked with before (with Yorkie JJ on my lap as I run the webinars).
I'm pleased to announce an important development for SHIFT-IT Coach, Inc. ... in the form of long-time client and Certified Visual Coach-in-Training Tamsyn Hawkins joining our team.

I've appreciated Tamsyn's skill, professionalism and heart for years and am thrilled with the next stage of our alliance. Currently based in the United Kingdom, Tamsyn will assist in a virtual capacity until her and her partner James complete their transition to Canada.



Welcome aboard Tamsyn! And thank you so much to the other wonderfully qualified visual practitioners who interviewed – I learnt so much from our interactions and know we'll continue to connect in the months and years ahead.
Given developments in my professional and personal life ... and inspired by interesting challenges that some of my colleagues, clients and students are grappling with, this issue's article is on "Right Timing" ... and helping folks figure out whether they truly ARE procrastinating and experiencing resistance or whether right timing (that they can trust) is actually at work in their desired creations.
Yours in appreciation and Visual Expansion,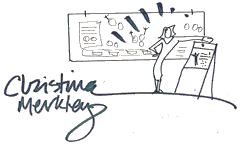 Christina Merkley,
The SHIFT-IT Coach
and Interactive-Visuals Mentor
"THE MOST IMPORTANT INVESTMENT IN MYSELF AND BUSINESS DEVELOPMENT"
Tamsyn Hawkins
Business Consultant and Visual Facilitator
"Christina has been my Coach and Mentor for several years and I have attended pretty much every program she has ever run. This is the second Mastermind group I have been a member of and as with all Christina's programs and trainings it delivered huge value on multiple levels.
As a developing visual practitioner Magic Marker Mastermind gave me a hotbed incubator environment to support developing and growing my visual skills, expand into new learning territories such as digital scribing and also benefit hugely from the rich mix of experience and knowledge of the other mastermind participants. As always Christina attracts high calibre, quality students from around the globe and this group was no exception.
Weekly group calls meant maintained and consistent coaching and support plus the ever important element of an in-person retreat gave all of us a super strong springboard from which to bounce from. For me this has resulted in an accelerated expansion of my visual skills as a recorder and enhanced my facilitation processes and also my confidence has soared.
As a direct result of being part of MMM I have landed more graphic recording work, seen an increase in the number of referrals and repeat business for my practice and the personal 1-2-1 coaching I have received from Christina has significantly helped me hone and focus my business development and services offered.
It is without doubt the most important investment in myself and my business development this year and I have already made back the investment price several times over through increased work I have received. If you want to expand your visual skills, develop your visual business offerings and be mentored by an industry pioneer you can learn from no better mentor than Christina.
Thanks, Christina and fellow MMMers!"
Tamsyn Hawkins
Business Consultant and Visual Facilitator
London, UK
www.siriuscommunication.co.uk
Fundamentals of Interactive-Visuals
(Online Version)
9 Weeks Online: Oct 15 -Dec 12, 2012
VideoCam Webinars, Mon & Wed, noon-1pm Pacific
Over 87% of your facilitation, coaching, training and consulting clients are visual thinkers – learn powerful visual skills to boost the effectiveness of how you work with them. This in-online, professional skills training thoroughly covers custom chart work, visual scribing, visual facilitation and visual coaching (the four main applications of working visually with groups and individuals) so you can add these powerful tools to your own process toolkit. This is the online version of my popular 3-day fundamentals training (no travel required).
*** You can still scoot in as a late registrant until 3rd class on Monday (all sessions video recorded for easy catch-up).
Full Details and Online Registration
* Note: Pre-requisite for Visual Coach Certification and Magic Marker Mastermind– only option of taking online this year (so if you don't want to travel for Certification 2013, be sure to register for this fall version of FIV). FYI, Repeater Option available for those who have taken FIV previously and are ready to refresh.
SHIFT-IT SCHOOL: At a Glance for 2013
SHIFT-IT ONLINE GROUP
Jan. 19 - March 3, 2013, 7 Online Webinars
More Info Coming Soon
---
BIZ BASICS FOR VISUAL PRACTITIONERS
Jan-Feb 2013, 7 Online Webinars

More Info Coming Soon
---
THEO ACCELERATOR
Jan-June, 2013, 6-Month Spiritual / Soul Integration Accelerator Pre-requisite: Thrive in the Time of Awakening (or equivalent experience)
More Info Coming Soon
---
MAGIC MARKER MASTERMIND
Jan. 14 - June 17, 2013
6-Month Intensive for Visual Facilitators, Visual Coaches & Visual Scribes
For intermediate to advanced Visual Practitioners. Intensive skill and biz development incubator meeting your unique needs. Learn and bond with fellow process professionals from around the globe who unite in a shared mission to effectively use interactive-visuals with groups and individuals. Develop your brand, signature style, visual tools, graphic competencies and overall confidence in your use of productive visual technique, whether you are internal in an organization or have an independent practice, business or content area.
Application Deadline: Monday, Dec. 17, 2012
Applications Now Being Received: 4 Spots Left:
Full Details and Online Application Process
* Pre-requisite: Fundamentals of Interactive-Visuals (or equivalent experience)
---
VISUAL COACH CERTIFICATION
April 9 – June 11, 2013, Tuesdays, noon-1:30 pacific, 10 webinars

For coaches, therapists and other process leaders who work with individuals. This one-of-a-kind experience teaches you how to work visually with your clients and licenses you in my 17 map SHIFT-IT System®. Join our amazing international cohort of Certified Visual Coaches® and bring the power of the visual approach to your clientele.
In-person Combo: Deadline to Apply is Jan 6th
Certification Only: Deadline to Apply is March 24th
More Info and Online Application Process
* Pre-requisites: Fundamentals of Interactive-Visuals and SHIFT-IT Online. Don't want to travel? See fall schedule for online version of Fundamentals of Interactive-Visuals (the only way to do Certification without travel).
---
FUNDAMENTALS OF INTERACTIVE-VISUALS
(in person version) May 30 - June 1, 2013, Victoria, British Columbia, Canada

More Info and Online Registration
FEATURED ARTICLE:
YOUR SEEMING PROCRASTINATION MAY ACTUALLY BE RIGHT TIMING
To Listen Or Download Mp3 Version of This Article, Click Here
As someone who works in a lot of strategic planning venues ... with both groups and individuals, I know a thing or two about drawing out desired destinations and creating plans to get there. And about the common bumps one can encounter along the way.
Procrastination and Other Resistance:
One can draw out an excellent Desired Vision and logical Action Plan ... but if action isn't taken the whole exercise can seem to be null and void. And in some cases it is. Why action hasn't been taken is the fascinating part. In most cases action hasn't happened because the person or system has allowed some sort of resistance to block change.



Resistance can be related to many things. Often its roots lie deep in a person's (or system's) beliefs about themselves and what they say they want. The beliefs create a funky energy of doubt, fear, lethargy and unpleasantness and unless they are brought into the light of day and SHIFTed then procrastination and other sabotage results. The status quo (even if it's detrimental or sadly out of date) seems better than doing the mature work to identify and express negativity in order to properly process it. So people and systems opt to tread water and stay in the same place rather than take on the growth challenge.
Another Option:
| | |
| --- | --- |
| In other cases (and even sometimes in the cases above) something else can be happening at the subtle levels. Their change process is still happening, but its hibernating in a cocoon stage ... waiting for other conditions or circumstances to line up so faster momentum can eventually kick in. This process is called "Right Timing" or "The Law of Not Skipping Steps". Everything has an inherent order to it and needed steps and maturation can't be skipped. | |
Examples of Right Timing:
Many of you are familiar with the Law of Attraction work of Esther Hicks and her late husband Jerry known as Abraham-Hicks. I've listened extensively to their workshop recordings and attended many live events. One story that the Abraham-Hicks material uses to demonstrate the power of Right Timing is the story of Esther and the booking of airline tickets.
The story goes that Jerry was giving Esther a hard time about calling the airline to book tickets for their extensive travel schedule. And Esther knew she 'should' be calling but she just couldn't make herself do it. Then, one evening, quite late, she got the inspiration to pick up the phone and dial. When she did, she got a delightful booking agent who had the magic touch … flights that had currently been unavailable now had seats that would coordinate with their other flights. In a matter of minutes she booked their whole fall travel schedule and had an enjoyable time doing it. An example of following the call of inspiration and "Right Timing".
My Example with SHIFT-IT:
I have an example of Right Timing that I often share with my coaching clients when they are frustrated with the naming of their business and/or creation of their own signature systems. In the early days of creating Visual Coaching, I struggled with what to name my business and felt lots of pressure to create a unified system for my work. For a year I felt an enormous amount of pressure and was quite hard on myself that it wasn't all coming together in the way I felt it 'should' (there is that 's' word again).
Then, one rainy winter afternoon, a few months after returning back home to British Columbia; I had an inspiration ... "SHIFT-IT" popped into my mind.

I grabbed a piece a paper and wrote it down. Then started playing with the letters to come up with little taglines for each letter (as SHIFT-IT is an acronym that sums up my seven stage visual coaching process).
Bing! Bang! Boom! In a matter of 10 minutes the name of the overall process (which became my business name) and the names of the seven stages downloaded. And, in that heightened state of creativity, I strolled over to the local coffee shop and in a gloriously fun afternoon cranked out 17 visual maps – most, with a few changes, are what you still see in my SHIFT-IT Visual Coaching Process®.
My biz name, system and tools were revealed to me when I was truly ready. After I had cleaned up some things in my personal life, after I had made another big move and relocation, after I got myself settled with a proper home and set-up, after I had a local coffee shop where I could sit and write, and after my life had been calmed down enough that I could actually HEAR that quiet voice inside of me that had the genius. Go slow to go fast!
So Chill Out:
Soooooo, if you are one of those impatient people who think it needs to all happen this Red Hot Minute ... my advise to you is to CHILL OUT and respect the wisdom and timing of your creative process. You can't skip steps!
If you need to get your Visioning/Action Plan sketched out, or, if you have lots of funky feeling resistance to your Vision, then do your resistance work to bring your negativity up into the light of day in order to SHIFT-IT (see previous issues for tons of tips and suggestions, SHIFT-IT Online Group, Thrive and Private Coaching with me and my Certified Visual Coaches).
However, after you have done that, and things still appear not to be moving ... give a good look at WHAT IS actually happening in your life. Chances are changes ARE happening right under your nose ... you just aren't giving them their proper respect. Things that need to fall into place BEFORE your genius can be revealed to you ARE happening, you just aren't noticing or appreciating them in your haste to have it all done right now dammit! Relax, your Higher Self is unfolding things in a pace and order that is brilliant. You just need to relax and trust. Trust that it is all unfolding perfectly. Your conditions are coming step-by-step into place so you can properly receive your genius and fulfill it effectively. How great is that?!!!
Recommended Resource: Elizabeth Gilbert (the author of Eat, Pray, Love) has a wonderful Tedtalk: Your Elusive Creative Genius, check out if you haven't seen yet. We often use this talk in my Fundamentals of Interactive-Visual trainings to practice visual recording given its themes for those on a creative path.
---
Blog Comments: Thoughts? Reactions? Have something to add? Click here to leave comments and read those left by others.
For the full SHIFT-IT e-Zine Archives: Click Here
For the full SHIFT-IT Audio Library (mp3): Click Here
©2012 Christina L. Merkley
WANT TO USE THIS ARTICLE IN YOUR E-ZINE OR WEB SITE?
You can, as long as you include this blurb and a functional link to my site:
Author's Bio: Christina Merkley, "The SHIFT-IT Coach" and creator of the SHIFT-IT System®, is a Visioning and Strategic Planning Expert specializing in Visual Thinking and Law of Attraction techniques. Based in charming Victoria, British Columbia, Canada, she works deeply with individuals, partners and conscious businesses to define and manifest what they truly want. And, trains other helping professionals in her innovative ways of working. For more information visit: www.shift-it-coach.com and www.visualcoaches.com
GET COACHED BY CHRISTINA
In the scheme of things, life is short. It's a shame not to live it in alignment with who you truly are. I have successfully SHIFTed my life to one of authenticity, creativity and abundance that is aligned with who I truly am. Let me assist you in doing the same via private mentorship. I specialize in individuals who need to get their 'special it' into the world (entrepreneurs, biz owners, team leaders, teachers, consultants, facilitators, trainers, coaches, therapists, visual practitioners, etc.). I coach you to build/enhance your internal or external practice or small business (including identity/brand, biz basics, creation of effective offerings, necessary systems (tech and socio) and marketing & sales). As well as having a satisfying personal life of supportive family, friends and community. Stop splitting your energy - create a congruent life that truly works for you!
Learn Interactive-Visuals Skills
Are you a process professional with a creative bend? Are you intrigued with the visual way I work with my clients? I've trained hundreds of facilitators, consultants, trainers and now coaches, counselors, social workers, etc from around the globe. Learn fundamental visual skills that you can use in your own work with groups and individuals. Come join the visual tribe!
ABOUT CHRISTINA MERKLEY:
Christina Merkley
The SHIFT-IT Coach &
Interactive-Visuals Mentor

Christina Merkley is The SHIFT-IT Coach. Creator of the SHIFT-IT System®, she guides individuals, partners and conscious companies in defining and getting what they really, really want.

A teacher of Law of Attraction, she is also an expert in visual meeting techniques, strategic planning and visioning: having worked for such notable companies as BBC, Readers Digest Funds, eBay and Stanford University. After a move from San Francisco, she now lives in charming Victoria, British Columbia, Canada - where she maintains a vibrant coaching, facilitation and training practice.
IN THIS ISSUE:
>>Featured Article: Trust Your Rapid Acceleration
---
CONNECT WITH CHRISTINA:
Via Twitter, Facebook & Youtube
---
BLOG ENTRIES:
Looking for more rich, SHIFT-IT content? Check out my blog for recent ramblings, resources and general interest features:
The Positive Role of Angst and Discomfort
The Importance of a Safe Haven for Your Authentic Self
Keep Perspective on Your Developmental SHIFT
Click here to read the SHIFT-IT Coach blog.

---
EZINE ARCHIVES:
Browse past issues here.
Listen to the ezine here.


---
FEATURED PRODUCT:
The SHIFT-IT Home Retreat Kit®
---
Christina's Websites:
---
---