A NOTE FROM CHRISTINA:
Well, time keeps moving along at its rapid pace, eh. We are into February already.
This month brings the return of regular classes into my schedule. SHIFT-IT Online starts Saturday and Fundamentals of Interactive-Visuals (the online version) starts on the 23rd. And Visual Coach Certification 2015, is down the line in April.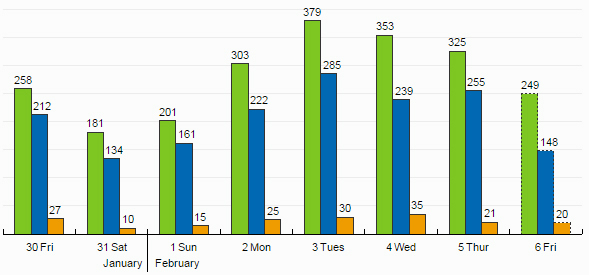 It's been kind of a slow start to the year so far. I like the slower pace for rejuice reasons; yet also find myself wondering when and if it's going to pop. Been doing lots of Exploratory Chats with interested folks from all over. And our web stats are consistently strong. So I know people are looking and checking things out. However so far we have smaller class numbers compared to our usual stats.
Not a bad thing necessarily ... as it means less on my plate and more time and attention for those of you who participate. However unusual energy compared to how things usually are. With a sense of 'something about to happen'. Back when I used to live in San Francisco this palpable feeling we used to call 'earthquake weather'. The quiet before the movement comes. Is that feeling going on for you too? Pressure building? Anticipatory? A needed release of some sort about to happen?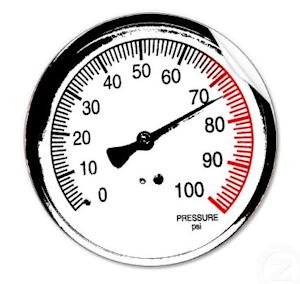 Lots going on in the world with political tensions back and forth, media attention on certain atrocities, oil manipulations, etc. Seems a trickle down effect going on where we are all moving a bit more slowly or cautiously right now. Its 'interesting' times we live in for sure.
Given this feeling of change in the air ... I felt compelled to write about the good ol' change model for this issue's article.
How pressure building up, in the bigger picture, is a good thing. It evokes needed change and getting us to a higher level. But it can really suck in the interim (technical term that
) until restabilization occurs. Lewin's classic freeze-unfreeze-freeze. Hang in there, we will make it through!
Yours in SHIFTing IT,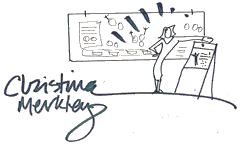 The SHIFT-IT Coach
and Interactive-Visuals Mentor
P.S. You Might Benefit From Currency Exchange:

Canadian currency (which my services and products are all in) is significantly low at the moment (30% lower than the US greenback right now). Being an oil producing country, we are getting hammered by current oil manipulations and strategies. Soooooo, if you are American (or in another country that has higher currency than Canada, now is a great time for you to nab a spot in a class or product from me (it is WAY LESS given the exchange differences). See www.xe.com to check how your currency stacks up against Canada's.
P.P.S. INTERACTIVE-VISUALS eCommunity: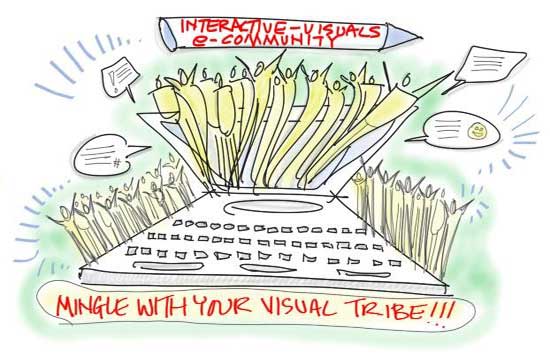 Are you a past grad of one of our visual programs? If so, you qualify for entry to our new Interactive-Visuals eCommunity (a complimentary online forum for grads of our various visual programs).
My assistant, Patricia has sent invites to all known grads. Contact her at [email protected] if you can't find yours.
Introduce yourself to the fascinating people from across the globe who, like you, are weaving visuals into your work and mission. Share resources, receive support and mingle with your Visual Tribe!
I HAVE LEARNED SO MUCH ... BEST 9 WEEKS EVER SPENT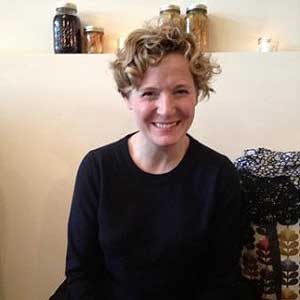 Anne Mann
Graphic Recorder
"I took the online version of Fundamentals of Interactive-Visuals, via the weekly webinars. Best 9-weeks ever spent!
I am already in the Graphic Recording field but still being new to the industry, decided to register for this 'fundamentals' course. I learned so much in that well spent 9 weeks and it's made my practice stronger for it, particularly in better space and role negotiations with clients, improved formatting of my wall charts and how to effectively handle World Cafe events.
The ongoing support given during and after the class has been great. I'm looking forward to taking more workshops with Christina in the future."
Anne Mann
Graphic Recorder | Designer
Seattle, Washington, U.S.A.
www.annemannstudio.com
SHIFT-IT SCHOOL: UPCOMING COURSES


For Anyone Who Wants Clarity & Change in Work and/or Life:
SHIFT-IT ONLINE®
Online Coaching Group Supported By SHIFT-IT Tools

Ready to get what you want?! My signature coaching group - gets you what you next want in your personal and/or professional life. You develop a crystal clear vision, unravel your resistance ... and rapidly SHIFT your world. Practical real-world strategic planning coupled with leading-edge energy alignment --- all in my innovative 'Visual Coaching' style. Join this supportive community with other like-minded SHIFTers from across the globe. The SHIFT-IT Home Retreat Kit® with 17 visual maps is included, plus handy Repeater Option for those joining us again!
7 Weeks Online: Feb. 7 - March 21, 2015
Video Webinars: Saturdays, 10-11:30 a.m. Pacific
Starts Today: You Can Still Join!
Full Details and Online Registration
Note: Pre-requisite for Visual Coach Certification. FYI, Repeater Option available for those who have taken this program before and are ready for your next shift.
For Beginners Or Repeaters:
FUNDAMENTALS OF INTERACTIVE-VISUALS®
Visual Skills for Process Work with Groups and Individuals
Over 87% of your facilitation, coaching, training and consulting clients are visual thinkers - learn powerful visual skills to boost the effectiveness of how you work with them. This professional skills training (fully online) thoroughly covers the four main applications of working visually with groups and individuals so you can add these powerful tools to your own process toolkit: studio work (charts & videos), graphic recording, graphic facilitation and graphic coaching. This is the online version of my popular fundamentals training (no travel required). Attracts folks from across the English speaking world - your Visual Tribe!
Live: 9 Weeks Online: Feb. 23 - April 29, 2015 * Just 20 9 Spots Left
Video Webinars: Mondays & Wednesdays, noon-1pm Pacific
3 Days In-person: June 4-6, 2015 * Just 20 17 Spots Left
Beautiful Victoria, British Columbia, Canada
Full Details and Online Registration
Note: Pre-requisite for Visual Coach Certification. FYI, Repeater Option available for those who have taken this program before and desire another round.
For Process Professionals Who Work With Individuals:
2015 VISUAL COACH CERTIFICATION®
10-Weeks Online: April 7 - June 9, 2015
Tuesdays Noon-1:30 pm Pacific

For coaches, counselors, therapists and others who work deeply with individuals. Add the power and innovation of Visual Coaching to your professional practice. Includes advanced Visual Coaching techniques, use of my SHIFT-IT System® with your clientele (17 visual maps), guidance in the 'template-izing' of your own intellectual property, plus marketing and biz development support.


New 2015 Cohort Forming
Apply Now!
Two Pre-requisites: SHIFT-IT Online and Fundamentals of Interactive-Visuals (or equivalent experience).
For Visual Keeners:
MAGIC MARKER RETREATS®

Getting your visual basics is half the equation - the other is competency and creation of a viable practice (whether you are internal or independent). This 2-day Boot Camp takes your visual practice to the next level: chock full of at-the-wall drills, project brainstorming (bring work for feedback and ideas), and identity/brand/financial coaching. Work your brain, your fingers and dissolve your resistance, all in deep community with your visual tribe.
June 8-9, 2015
Victoria, British Columbia, Canada
* Just 7 2 Spots Left

Full Details and Online Registration
Note: Pre-requisite is Fundamentals of Interactive-Visuals (or equivalent experience).
FEATURED ARTICLE:
THE TRANSFORMING EFFECTS OF CHAOS AND PRESSURE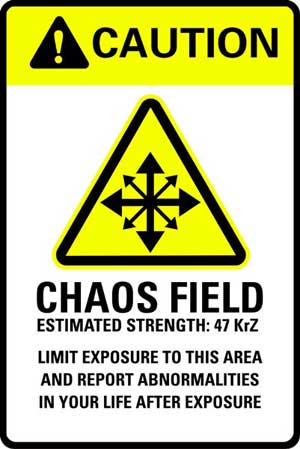 At the time of writing (February 2015) I feel it's fair to say that our world is in a swirl of chaos. Environmental degradation is closing in on us. Our financial system is in unethical disarray (greatly in need of a reboot). Surveillance of our every digital move is supposedly commonplace (thanks Snowden for heads up). The powers to be (or want to be), in various regions, go back and forth trying to out do each other with sick displays of atrocity and mayhem.
It's enough to make a sensitive soul want to stay under the covers - or at least pull out the classic change models in order to reassure that its ok to get out of bed --- in fact it is imperative!
How do we balance the need to look at what is going on in the world (and in our own lives) with the need to remain optimistic and empowered? Well, according to chaos theory ...
ARTICLE CONTINUED ON BLOG ... CLICK HERE TO VIEW
---
For the full SHIFT-IT e-Zine Archives: Click Here
For the full SHIFT-IT Audio Library (mp3): Click Here
Christina Merkley
The SHIFT-IT Coach &
Interactive-Visuals Mentor

SHIFT-IT Coach, Inc. is a boutique training and coaching company specializing in visual process work for groups and individuals. Founded by Christina Merkley, pioneering Visual Facilitator and Coach, we work deeply with individuals, partners and conscious businesses to define and manifest what you really want. We also train Process Professionals from across the globe in our innovative ways of working. For more information visit www.shift-it-coach.com and www.visualcoaches.com.
IN THIS ISSUE:
>>Featured Article:
The Transforming Effects Of Chaos And Pressure
---
CONNECT WITH US:
---
BLOG ENTRIES:
Looking for more rich, SHIFT-IT content? Check out my blog for recent ramblings, resources and general interest features:
[SHIFT-IT Online] Launch YOUR Shift This Saturday
Inspiring Mind Food: 77 Year Old 'Mighty Murphy" Deadlifts Twice Her Weight
[SHIFT-IT-ONLINE] Give Yourself the Gift of Clarity and Aligned Action
Watch Out: These Graphic Metaphors Are Gonna Get You
[Amy Sparks] Miss The Meeting? Don't Worry, She Took Notes
Thank You Tom Kenyon And The Hathors: 12-Minute Sound Meditation, Loved It
[Drone Operators Quit In 100S] Now There's A Shift
Videos With Emilie Conrad And Don Johnson ... And A Trip Down CIIS Memory Lane
Are You Foolish to Want to Use Innovative Methods?
Magic Marker Retreats: March is Cancelled and June 8-9 is Go
Click here to read The SHIFT-IT Blog.
---
EZINE ARCHIVES:
Browse past issues here.
Listen to the ezine here.


---
PRODUCTS: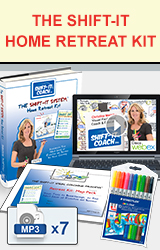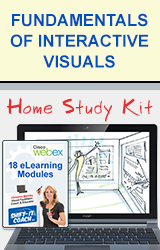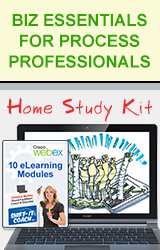 ---
Our Websites:
---
---