A NOTE FROM CHRISTINA:

I am LONG overview due sending out my SHIFT-IT eZine. Every year I take the month of August off to have some 'me' time, important for those of us who help others for a living. I use that precious time for my own personal development and to do things on my bucket list.
Going to Peru has forever been on my bucket list as I'm a big archaeology fan. Those who are Facebook Friends know I had a wonderful experience, especially in Machu Picchu for my birthday and then at the spiritual retreat I attended with ethnobiologist Dennis McKenna.
| | |
| --- | --- |
| Turning 49 at Machu Picchu | Me and the Millennial Men |
The spiritual retreat with plant medicine was an amazing and intense experience. Thank goodness, I had some time off to help with integration, which continues at a rapid pace. I will write more about that provocative experience in the future, and also share more deeply with my Practical Energy Work students who are interested.
Our Fall here at SHIFT-IT School as began with a bang. We're in the midst of launching fall classes, plus I've had several in-person SHIFT-IT Retreats and Process Facilitations to boot. As most of my work is online nowadays it's a treat when I get to work in person in the ol' mural paper and marker way. It's a workout but I appreciate being able to work up close and personal with those who are serious about shifting work and life for the better.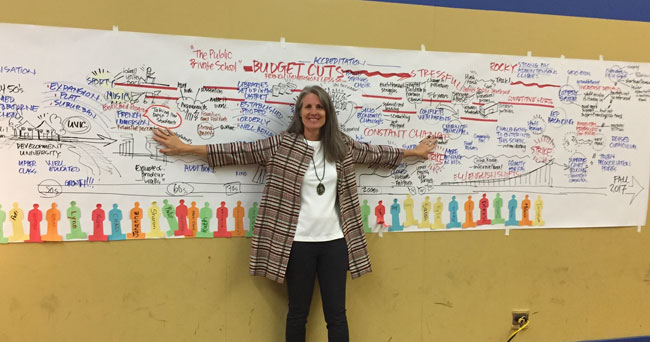 Strategic Visioning With a Local School, Drawing Out Their History Map
FYI, for those who would like to add Visual Skills to your own process toolkit ... our Fall online offering of Fundamentals of Working Visually starts on Monday. This international online cohort of Process Professionals (consultants, facilitators, teachers, trainers, coaches, therapists, scribes, artists and the like) meets via dynamic live webinars twice a week on Mondays and Wednesdays. A great way to integrate visuals into the work you do with groups and/or individuals.
This season has also come with some losses, including the passing of my innovative, wise and supportive mentor, Jim Channon. We all stand on the shoulders of those who have come before us. So, to honour Jim, I'm dedicating this issue to him and sharing resources on his incredible work and life. Thank you for being such a strong support Jim, I will miss you in the physical but know you guide me now from the other side. xoxo
Yours in SHIFTing IT,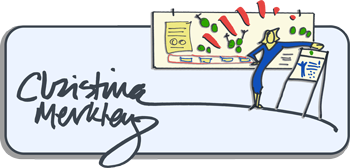 The SHIFT-IT Coach
& Process Skills Mentor
In Your Words: Learning & Development Consultant Christy Gharbo Adds Real Time Visuals To Her Practice
Gained Invaluable Knowledge And Skills AND The Confidence to Draw and Visually Represent Idea Real Time in Front of Clients.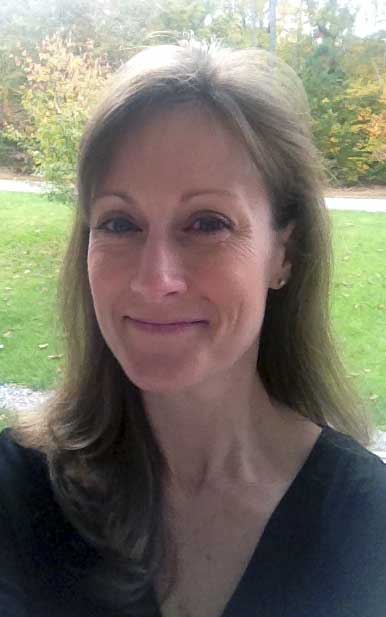 Christy Gharbo
Learning & Development Consultant
and Visual Practitioner
"Early in my corporate career I realized the visual aspects of my work brought me the most joy and fulfillment AND allowed me to be more effective. Whether I was designing instruction, developing e-learning, facilitating leadership development, or leading a learning and development team, I found a way to incorporate visuals into my work. I often found (put) myself at the intersection of instructional design, graphic design, and information design.
When I started my consulting business I knew I wanted (and needed) visual work to be a part of my offerings. I actually wanted visual work to BE my work, but I had no idea how to make that happen. Though I enjoyed my work and was grateful for my clients and my success, I continued to feel a tug that there was more I could do visually.
I'll never forget the day I came across the term "Visual Practitioner" and learned there is an entire field dedicated to these skills. That same day, I discovered Christina's Fundamentals of Working Visually and was immediately intrigued. It took me 1.5 years to give myself the gift of her incredible professional development, but it was well worth the wait and the investment.
I had always worked in Adobe Illustrator or other graphics programs - not by hand (on paper or using a digitizing tablet) - and generally not in person. My goal was to decrease my dependence on my computer and increase my ability to create hand-drawn visuals - either in my office or in real time with my clients.
Over her 3 month online course she helped me achieve that goal and so much more! I gained invaluable knowledge, skills AND the confidence to draw and visually represent real time ideas in front of my clients. What was most powerful - and completely unexpected - was the impact of the inner work Christina orchestrated within me. I visualized my Future Visual Self, uncovered hidden resistance and shifted my thinking ... in short order manifesting new visual projects and clients.
Christina is a wonderful Teacher, Coach, and Mentor. I now engage her for monthly private coaching sessions with her. and and am using her Business Essentials for Process Professionals to take my growing visual business to the next level."
Christy Gharbo
Learning & Development Consultant and Visual Practitioner
Raleigh-Durham, North Carolina USA
www.linkedin.com/in/christygharbo

SHIFT-IT School: Classes, Products & Mentoring

For Beginners Or Repeaters:
FUNDAMENTALS OF WORKING VISUALLY®
Visual Skills for Process Work with Groups and Individuals
This professional skills training (fully online) thoroughly covers the four main ways of working visually: Studio Work, Graphic Recording, Graphic Facilitation and Graphic Coaching. Over 87% of your consulting, facilitation, training, teaching and coaching clients are Visual Thinkers - these powerful visual skills boost the effectiveness of how you work with groups and/or individuals. This is the online version of my popular fundamentals training (no travel required). Attracts folks from across the English-speaking world - your Visual Tribe! Fully recorded, if you miss classes or want to watch at a time more convenient for you.
Act Now, Just 20 7 Spots Left!
ONLINE VERSION VIA LIVE WEBINARS:
October 2 - December 13, 2017
Mondays & Wednesdays, noon-1pm Pacific
Full Details and Online Registration
Note: Pre-requisite for Visual Coach Certification.
For Professional and Personal Results:
New Course: Practical Energy Work
Boost Your Right-Brain Intelligence

Our modern world still operates on a left brain bias: analytical, mental and rational ... with serious consequences for individuals, groups and our planet-at-large. However our right brain is always there, albeit often under used and even denigrated. Learning to be 'whole brained' is a powerful advantage in life and work. Join me for this foundational online class to harness your right brain resources: emotions, subtle energy and intuition. Practical tools on energy management, law of attraction, trauma, brain wave mastery, problem-solving, etc. Guest experts. Plus community with other participants from across the globe.
This Practical Energy Work 1 course is the foundation course to get you quickly up to speed on useful energy work protocols to assist your life and work.
Now Open For Registration
October 28, 2017 - February 24, 2018
Live Webinars: Saturdays, 1-2:30 p.m. Pacific
Full Details and Online Registration
Note: Prerequisite for Energy Work 2: The Mastermind
For Visual Skills Grads
WORKING VISUALLY eCOMMUNITY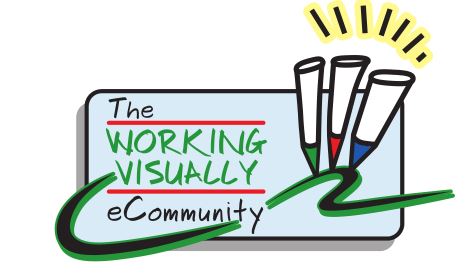 The Working Visually eCommunity supports you to further hone your outer work in Visual Skills and Business Building. As becoming a decent Visual Practitioner is all about practice, practice, practice and mileage, mileage, mileage. And getting suave about marketing, sales and the business side.
This eCommunity is a free perk for those who have taken my more Left-Brain programs: Fundamentals of Working Visually, Magic Marker Retreats, Visual Coach Certification and/or Business Essentials for Process Professionals. To keep going in community with like-minded people from across the globe. It includes Drop-in Monthly Webinars, Video Recording Library and 24/7 Forum.
Dates for upcoming webinars:
2017
Thursday Oct. 19, 11am pacific
Thursday Nov. 16, 11am pacific
Thursday Dec. 21, 11am pacific
2018
Thursday Jan 18, 11am pacific
Thursday Feb. 15, 11am pacific
Thursday March 15, 11am pacific
Thursday April 12, 11am pacific
Thursday May 17, 11am pacific
Thursday June 21, 11am pacific
Thursday July 19, 11am pacific
Draw Your Vision and Erase Your Resistance
SHIFT-IT eCOMMUNITY

*** NEWEST ARRIVAL: The SHIFT-IT eCommunity supports you to further your Inner Work in personal visioning, planning and energy alignment. I can teach you Outer Work skills until the cows come home, but if you have an internal conflict that interferes, you will never get movement. For some, Outer Work learning must be complimented with Inner Work resolution.
This eCommunity a free perk for those who have done my more Right-Brain courses: SHIFT-IT, Practical Energy Work 1 or Practical Energy Work 2 (or my Thrive and THEO Accelerator co-programs back in the day). To keep going in community with like-minded people from across the globe. It includes Drop-in Monthly Webinars, Video Recording Library and 24/7 Forum
Dates for upcoming webinars:
2017
Saturday Oct. 7, 1-2:30
Sunday, Nov. 5, 11-12:30
Sunday, Dec. 3, 11-12:30
2018
Saturday, Jan. 6, 10-11:30
Sunday, Feb. 4, 11-12:30
Saturday, March 3, 1-2:30
Saturday, April 7, 10-11:30
Saturday, May 5, 10-11:30
Saturday, June 9, 10-11:30
Saturday, July 7, 11-12:30
FEATURED ARTICLE:
BON VOYAGE MENTOR JIM CHANNON
Hopefully you have special people in your life who are always there for you with a kind word, a thumbs up and a mischievous wink. I had/have one of those in my friend and mentor Jim Channon, who passed away earlier this month at Artesia his Kona sanctuary.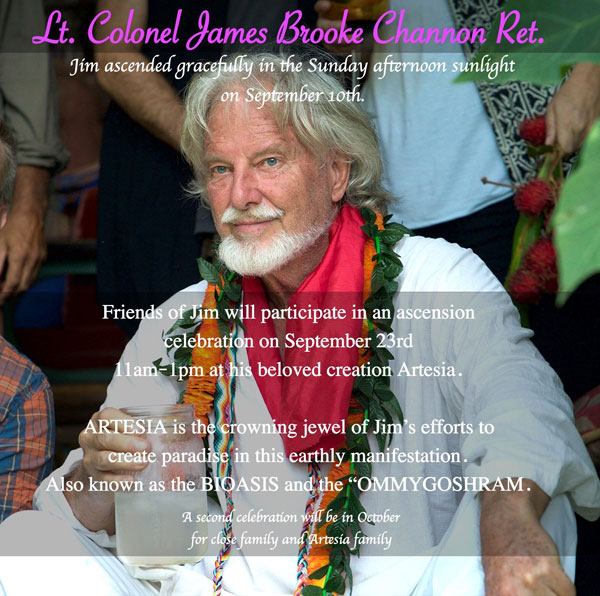 I met Jim back in the mid-90s. I don't recall how I met him, perhaps at one of the first International Forum of Visual Practitioners conferences. Or through mutual friends somehow. Back then I lived in San Francisco and had just begun my career as a Graphic Recorder, working in David Sibbet's stable at The Grove Consultants.
Several of us visual types went to a Magic Marker Gathering of Jim's on the Hawaiian island of Molokai. There we were treated to a week of graphic development ... sharing visual practices, facilitation, music and deep imaginary explorations. Jim was a master able to work at the personal, group and collective levels on the physical, mental, emotional and spiritual realms. For a wet behind the ears Graphic Recorder, it was HEAVEN and much of it over my head (took me decades to understand what he was laying down).
Jim was already notorious to those who knew and worked with him ... however in 2004 the bestselling author, Jon Ronson, wrote a book about his exploits in the U.S. Army called "Men Who Stare at Goats". It was later made into a romp of a film starring George Clooney and Jeff Bridges (his character was based on Jim).

After his Molokai Retreat, Jim and I kept in touch for 20+ years, right up until his sudden death (I will cherish our last, very symbolic interchange, my friend). With the advent of Facebook our correspondence became a regular fixture in my life. He was always there to give a thumbs up on my posted work and to send a private message with encouragement and the occasional ...
ARTICLE CONTINUED ON BLOG ... CLICK HERE TO VIEW
---
For the full SHIFT-IT e-Zine Archives: Click Here
For the full SHIFT-IT Audio Library (mp3): Click Here


Christina Merkley
The SHIFT-IT Coach &
Process Skills Mentor

SHIFT-IT Coach, Inc. is a boutique training and coaching company specializing in visual and energetic process work for groups and individuals. Founded by Christina Merkley, pioneering Visual Facilitator and Coach, she works deeply with individuals, partners and conscious businesses to define and manifest what you really want. Christina also trains Process Professionals from across the globe in her innovative ways of working. For more information visit www.shift-it-coach.com and www.visualcoaches.com.
IN THIS ISSUE:
>>Featured Article: Bon Voyage Mentor Jim Channon

---
CONNECT WITH US:
---
BLOG ENTRIES:
Looking for more rich, SHIFT-IT content? Check out my blog for recent ramblings, resources and general interest features:
Graphic Facilitation Training: Our International Online Cohort Starts Monday
Graphic Facilitation Online Course: Join Us We Start In A Week
[Shift-It Ecommunity] New Perk Starts This Sunday, Join Us
Tracy Knutson Applies Her Coaching And Graphic Facilitation Skills On A Daily Basis
Two eCommunities for Your Outer/Inner Balance
Alina Gutierrez Mejia: Montreal Facilitator Employs Visual Tools With Groups And Individuals
Click here to read The SHIFT-IT Blog.
Click here to read The SHIFT-IT Blog.
---
EZINE ARCHIVES:
Browse past issues here.
Listen to the eZine here.


---
PRODUCTS: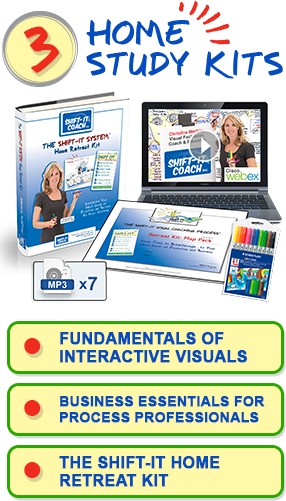 ---
Our Websites:
SHIFT-IT Coach, Inc
www.shift-it-coach.com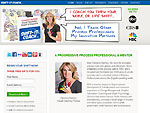 ---
---
Visual Facilitation
www.makemark.com