A NOTE FROM CHRISTINA:
The spring semester here at SHIFT-IT School is starting to activate.
| | |
| --- | --- |
| Last week SHIFT-IT Online, the 7-week Visual Coaching Cohort began. You may still join us if you'd like to get in on this unique personal growth experience (2nd webinar is tomorrow). | |
And, right around the corner, on Feb. 22nd the online version of Fundamentals of Working Visually kicks off.

We have a very international cohort forming from United States, Canada, Germany, Denmark, Switzerland, Norway, Netherlands, Kenya (just 3 spots left).

There will be four more courses after that, until I wrap this semester at the end of June.
Two eCommunities with Monthly Drop-In Webinars:
FYI, for those of you in our Working Visually eCommunity, I will resume our monthly drop-in webinars shortly (announcement to you coming soon). And will also be creating a new SHIFT-IT eCommunity for grads of my personal growth programs, with its own drop-in monthly webinar too.
Intergrated Membership Site for Classes:
We are in the process of moving the live classes over to the new SHIFT-IT School site to create an integrated membership system - so if you attend multiple classes or Kits they are all in one central place.

It's been a slow and steady process to bring this next level of organization into being. I give big thanks to Theresa, Pat and Jessica who have worked diligently behind the scenes on site architecture, access and content. And for their emotional support and encouragement over all these years.
As for this issue's article ... since we've just kicked off SHIFT-IT Online and the 2016 Visual Coach Certification is coming up, I've decided to write on why using visuals with coaching and personal reflection is so powerful.
This article is in honor of my SHIFT-IT clients, who have allowed me to literally draw their thoughts and feelings out of them. And given me the gift of witnessing their personal and professional manifestations. Thank you ... you have taught me so much about what human beings are capable of! And given me profound optimism that our world at large is in the process of shifting for the better too!
Yours in SHIFTing IT,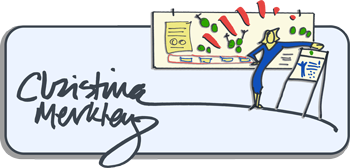 The SHIFT-IT Coach
& Process Skills Mentor
SHIFT-IT School: Classes, Products & Mentoring

Get Clarity & Change in Work and/or Life:
SHIFT-IT ONLINE®
Online Class Supported By Visual Coaching Tools
Ready to get what you want?! My signature coaching group - gets you what you next want in your personal and/or professional life. You develop a crystal clear vision, unravel your resistance ... and rapidly SHIFT your world. Real-world strategic planning coupled with leading-edge energy alignment --- all in my innovative 'Visual Coaching' style. Join this supportive community with other like-minded SHIFTers from across the globe. The SHIFT-IT Home Retreat Kit® with 17 visual maps is included, plus handy Repeater Option for those joining us for your next round of manifestation!
Still Time to Join Us,
2nd Webinar is Tomorrow!
7 Weeks Online: Feb. 6 - Mar. 19, 2016
Live Webinars: Saturdays, 10-11:30 a.m. Pacific
Full Details and Online Registration
Note: Pre-requisite for Visual Coach Certification. FYI, Repeater Option available for those who have taken before and want to repeat as a guest (write us for coupon code).
For Beginners Or Repeaters:
FUNDAMENTALS OF WORKING VISUALLY®
Visual Skills for Process Work with Groups and Individuals
This professional skills training (fully online) thoroughly covers the four main ways of working visually: Studio Work, Graphic Recording, Graphic Facilitation and Graphic Coaching. Over 87% of your consulting, facilitation, training, teaching and coaching clients are Visual Thinkers - these powerful visual skills boost the effectiveness of how you work with groups and/or individuals. This is the online version of my popular fundamentals training (no travel required). Attracts folks from across the English-speaking world - your Visual Tribe! Fully recorded, if you miss classes or want to watch at a time more convenient for you.
Just 20 3 Spots Left
ONLINE VERSION VIA LIVE WEBINARS:
9 Weeks Online: Feb. 22 - Apr. 27, 2016
Live Webinars: Mondays & Wednesdays, noon-1pm Pacific
---
Just 20 15 Spots Left
IN-PERSON VERSION:
3 Day Intensive: June 2-4, 2016
Beautiful Victoria, British Columbia, Canada
Full Details and Online Registration
Note: Pre-requisite for Visual Coach Certification. FYI, Repeater Option available on Feb. class for those who have taken before and want to repeat as a guest (write us for coupon code).
For Process Professionals Who Work With Individuals:
2016 VISUAL COACH CERTIFICATION®

10-Weeks Online: April 5 - June 14, 2016
Tuesdays Noon-1:30 pm Pacific

For coaches, counselors, therapists and others who work deeply with individuals. Add the power and innovation of Visual Coaching to your professional practice. Includes advanced Visual Coaching techniques, use of my SHIFT-IT System® with your clientele (17 visual maps), guidance in the 'template-izing' of your own intellectual property, plus marketing and biz development support.

Available Separately or as
3-Course Combo: Apply Now



Two Pre-requisites: SHIFT-IT Online and Fundamentals of Interactive-Visuals (or equivalent experience).
For Visual Keeners:
MAGIC MARKER RETREATS ®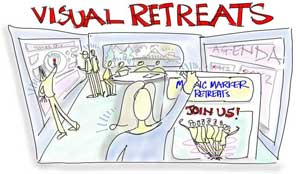 Getting your visual basics is half the equation - the other is competency and creation of a viable practice (whether you are internal or independent). This 2-day Boot Camp takes your visual practice to the next level: chock full of at-the-wall drills, project brainstorming (bring work for feedback and ideas), and identity/brand/financial coaching. Work your brain, your fingers and dissolve your resistance, all in deep community with Visual Practitioners.
Just 7 4 Spots Left
IN-PERSON:
2 Day Intensive: June 6-7, 2016
Victoria, British Columbia, Canada

Full Details and Online Registration
Note: Pre-requisite is Fundamentals of Working Visually (or equivalent experience). Each Magic Marker Retreat is a unique experience, come as many times as you like for continued inspiration and development!
FEATURED ARTICLE:
WHY WORKING VISUALLY IS POWERFUL IN COACHING AND PERSONAL GROWTH
To Listen Or Download Mp3 Version of This Article, Click Here.
I've been using visual techniques with coaching and personal growth since the mid-1990s. And now more and more of my process colleagues are waking up to the power of using these methods with their own clientele.
One gal in my current SHIFT-IT Online program, who works for the federal government in her country and is also a coach, called the visual approach her 'secret sauce'.

I agree with her, although it's not so secret anymore!
Good Process Design Is Key:
Before I share thoughts about why working visually with individuals works, I first need to give a shout out to 'good process design'. The reason this method works is not just because of visuals per se, it's because of visuals being properly integrated into an effective, underlying process. Whether you are doing just one exercise with your client or that exercise is embedded in a larger flow.
| | |
| --- | --- |
| | To be blunt about it, if your process underneath sucks (i.e. you aren't clear about what you are doing with your client, why, and where it is heading) then using attractive visuals isn't going to help you. In fact, using visuals with a poorly designed process can just make your lack of design more apparent. |
In my visual skills courses, I'm constantly driving home that process must come first ... then you use visuals (and other methods) in ...
ARTICLE CONTINUED ON BLOG ... CLICK HERE TO VIEW
---
For the full SHIFT-IT e-Zine Archives: Click Here
For the full SHIFT-IT Audio Library (mp3): Click Here


Christina Merkley
The SHIFT-IT Coach &
Process Skills Mentor

SHIFT-IT Coach, Inc. is a boutique training and coaching company specializing in visual and energetic process work for groups and individuals. Founded by Christina Merkley, pioneering Visual Facilitator and Coach, she works deeply with individuals, partners and conscious businesses to define and manifest what you really want. Christina also trains Process Professionals from across the globe in her innovative ways of working. For more information visit www.shift-it-coach.com and www.visualcoaches.com.
IN THIS ISSUE:
>>Featured Article:
Why Working Visually Is Powerful in Coaching and Personal Growth
---
CONNECT WITH US:
---
BLOG ENTRIES:
Looking for more rich, SHIFT-IT content? Check out my blog for recent ramblings, resources and general interest features:
Journalist Annie Jacobsen's Latest Book
Dr. Rita Smith: Corporate Leader Weighs In On Value Of Visual Coach Certification
Resources for Dealing with Stress and Trauma
For You: Mini Shift-It Retreat With 4 Visual Maps
Let's Help This Family Of Four To Make Their Shift
Annette Leslie's Critique Of Our Graphic Facilitation Training
Click here to read The SHIFT-IT Blog.
---
EZINE ARCHIVES:
Browse past issues here.
Listen to the eZine here.


---
PRODUCTS: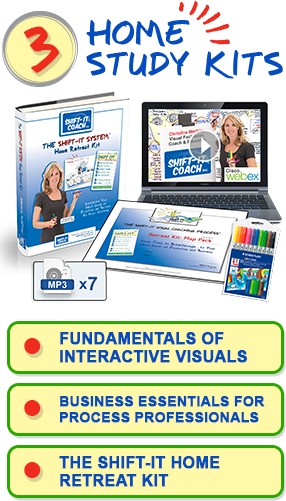 ---
Websites:
SHIFT-IT Coach, Inc
www.shift-it-coach.com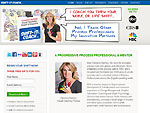 ---
---
Visual Facilitation
www.makemark.com