A NOTE FROM CHRISTINA:

Welcome to 2016!
Another year is upon us. I LOVE the shift that a New Year brings. After the condensed feel of November and December (those dark, small days), I really adore the divergent energy that springs forth. Everything opens up and is full of possibility!
What will this New Year bring? What will happen to each of us as individuals? What will happen to our collective-at-large? The stakes are getting higher and higher for our lovely planet. The contrast is really picking up steam. Giving us increasingly large issues and problems to push up against and exercise our free choice about. Which way will we go? Will we turn the ship?
When the stakes are high, I take solace in knowing that every human is VERY powerful, if they care to focus that power (and focus it in ways that will help rather than harm).

As human beings we are gifted with focus, concentration, heart and the ability to co-create through visioning and aligned action. Each of us has an energetic vote in what goes on in our world and which scenarios we ultimately co-create.
At this special time of year I always gift my MINI SHIFT-IT RETREAT - 4 Visuals Maps with instructions to assist you in creating your vision and plan for the year ahead (and energetically aligning with it). See the Main Article in today's issue.

This year we have updated this gift, finally making it a full-on eBook and adding color!

This Mini Retreat is great for individuals, couples, families, partners and teams to focus your thoughts and feelings about what's next for you. You can do it quick or be luxurious about the time you take to complete it. The results will be well worth the time you put into it!
And, a reminder, if you also care to focus your sights on the larger planetary issues we are all facing, see the Planetary Visioning Tool I shared a few months back. We need as many people as possible focusing their creation powers on what would truly serve our planet and humanity. Every vote counts at the crossroads we stand at!
Yours in SHIFTing IT,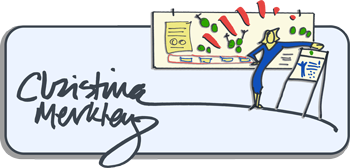 The SHIFT-IT Coach
& Process Skills Mentor
P.S. To further ride the creative energies of this special time of year, starting TODAY and running until January 5th, I'm hosting a New Years Event, on all upcoming 2016 courses and also on private coaching and private training.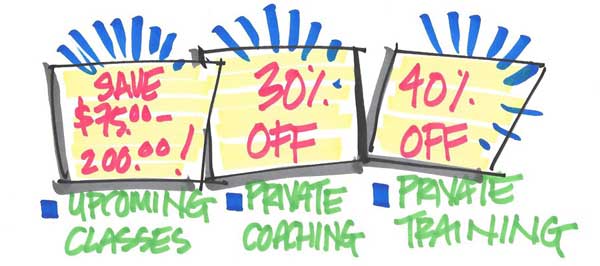 Get professional support to help you fulfill your role in the evolutionary puzzle that is under way in our world. Whether it's getting Visual Skills into your toolkit, taking your existing ones to the next level, honing your business development, doing the next layer of your personal inner work, or clarifying what's next for you in work or life!
P.P.S. Also, BEST DEALS of the decade to be had for many of you who are outside of Canada (given all of my offerings are in Canadian currency) ... an additional 30%!
SHIFT-IT School: Classes, Products & Mentoring
Today is the day! Get equipped for your training and development needs in 2016. New Years event runs January 1 - 5, 2016. Upcoming courses (all the ones listed below), private training and private coaching are included. Treat yourself to quality training, coaching and mentoring to advance your professional and personal goals in 2016.
Starts Today!
Full Details
Get Clarity & Change in Work and/or Life:
SHIFT-IT ONLINE®
Online Class Supported By Visual Coaching Tools
Ready to get what you want?! My signature coaching group - gets you what you next want in your personal and/or professional life. You develop a crystal clear vision, unravel your resistance ... and rapidly SHIFT your world. Real-world strategic planning coupled with leading-edge energy alignment --- all in my innovative 'Visual Coaching' style. Join this supportive community with other like-minded SHIFTers from across the globe. The SHIFT-IT Home Retreat Kit® with 17 visual maps is included, plus handy Repeater Option for those joining us for your next round of manifestation!
Secure Your Space Now!
7 Weeks Online: Feb. 6 - Mar. 19, 2016
Live Webinars: Saturdays, 10-11:30 a.m. Pacific
See New Years Event For Next 5 Days
Note: Pre-requisite for Visual Coach Certification. FYI, Repeater Option available for those who have taken this program before and are ready for your next shift.
For Beginners Or Repeaters:
FUNDAMENTALS OF WORKING VISUALLY®
Visual Skills for Process Work with Groups and Individuals
This professional skills training (fully online) thoroughly covers the four main ways of working visually: Studio Work, Graphic Recording, Graphic Facilitation and Graphic Coaching. Over 87% of your consulting, facilitation, training, teaching and coaching clients are Visual Thinkers - these powerful visual skills boost the effectiveness of how you work with groups and/or individuals. This is the online version of my popular fundamentals training (no travel required). Attracts folks from across the English-speaking world - your Visual Tribe! Fully recorded, if you miss classes or want to watch at a time more convenient for you.
Currently on Early Bird
ONLINE VERSION VIA LIVE WEBINARS:
9 Weeks Online: Feb. 22 - Apr. 27, 2016
Live Webinars: Mondays & Wednesdays, noon-1pm Pacific
---
Currently on Early Bird
IN-PERSON VERSION:
3 Day Intensive: June 2-4, 2016
Beautiful Victoria, British Columbia, Canada
See New Years Event For Next 5 Days
Note: Pre-requisite for Visual Coach Certification. FYI, Repeater Option available for those who have taken this program before and desire another round.
For Process Professionals Who Work With Individuals:
2016 VISUAL COACH CERTIFICATION®

10-Weeks Online: April 5 - June 14, 2016
Tuesdays Noon-1:30 pm Pacific

For coaches, counselors, therapists and others who work deeply with individuals. Add the power and innovation of Visual Coaching to your professional practice. Includes advanced Visual Coaching techniques, use of my SHIFT-IT System® with your clientele (17 visual maps), guidance in the 'template-izing' of your own intellectual property, plus marketing and biz development support.


New 2016 Cohort Forming
Apply Now!
Two Pre-requisites: SHIFT-IT Online and Fundamentals of Interactive-Visuals (or equivalent experience).
For Visual Keeners:
MAGIC MARKER RETREATS ®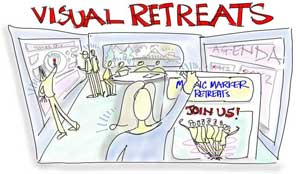 Getting your visual basics is half the equation - the other is competency and creation of a viable practice (whether you are internal or independent). This 2-day Boot Camp takes your visual practice to the next level: chock full of at-the-wall drills, project brainstorming (bring work for feedback and ideas), and identity/brand/financial coaching. Work your brain, your fingers and dissolve your resistance, all in deep community with Visual Practitioners.
Just 5 Spots Left
IN-PERSON:
2 Day Intensive: June 6-7, 2016
Victoria, British Columbia, Canada

See New Years Event For Next 5 Days
Note: Pre-requisite is Fundamentals of Working Visually (or equivalent experience).
FEATURED ARTICLE:
FOR YOU: MINI SHIFT-IT RETREAT WITH 4 VISUAL MAPS
To Listen Or Download Mp3 Version of This Article, Click Here.
Whether you are an old hand at Visual Coaching or are completely new to it, we can all benefit from reflecting on our lives every once in a while: to identify what mid-course corrections we might want to make. Sooooo, in the spirit of this holiday season ... I'm gifting you my Mini SHIFT-IT Retreat, complete with 4 Visual Maps and Instruction eBook.
Ideal Retreat Times:
A Mini SHIFT-IT Retreat can be conducted at any time. However I find that the calendar holds some special spots when reflection of this nature is particularly helpful. Like around New Years when a brand new year is upon us, summer vacation or another getaway, and connection to a significant milestone (birthday, marriage anniversary, graduation, relationship change, health challenge, death of a loved one, kids leaving home, etc).
The Benefits of the Mini SHIFT-IT Retreat: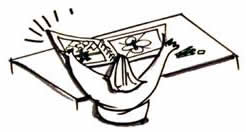 This quick little Visual Retreat helps you quickly appreciate what you have accomplished (what you've already manifested and attracted) - and to identify what's next brewing on your horizon - and the outer and inner shifts you will need to make to get there. The Mini SHIFT-IT Retreat puts your life into perspective. Gives you relief, satisfaction and an organized feeling - knowing you have taken a step to deliberately create what you want (not what you don't want).
How To Do a Mini SHIFT-IT Retreat:
Set aside about 30-90 minutes, depending on how deep you want to go. Print off the four Visual Maps and Instruction eBook (see link below). Gather some pens (you can go as simple or as elaborate as you like). Put some good music on. Sit somewhere comfy. And dive in ...
Click Through to Blog to Download eBook with Full Instructions and 4 Visual Maps.
ARTICLE CONTINUED ON BLOG ... CLICK HERE TO VIEW
---
For the full SHIFT-IT e-Zine Archives: Click Here
For the full SHIFT-IT Audio Library (mp3): Click Here


Christina Merkley
The SHIFT-IT Coach &
Process Skills Mentor

SHIFT-IT Coach, Inc. is a boutique training and coaching company specializing in visual and energetic process work for groups and individuals. Founded by Christina Merkley, pioneering Visual Facilitator and Coach, she works deeply with individuals, partners and conscious businesses to define and manifest what you really want. Christina also trains Process Professionals from across the globe in her innovative ways of working. For more information visit www.shift-it-coach.com and www.visualcoaches.com.
IN THIS ISSUE:
>>Featured Article:
For You: Mini Shift-It Retreat With 4 Visual Maps
---
CONNECT WITH US:
---
BLOG ENTRIES:
Looking for more rich, SHIFT-IT content? Check out my blog for recent ramblings, resources and general interest features:
Let's Help This Family Of Four To Make Their Shift
Annette Leslie's Critique Of Our Graphic Facilitation Training
They Are Concerned About Being Their Real Selves ... How About You?!
Andrea Gibbons, Change Consultant: Testimonial For Visual Coaching
Visual Coaches Come Down The Finish Line
Organizational Psychologist Jo Hobson's Testimonial For Visual Coach Certification
New Video: Focus Wheel Process With Visual Map
Korean Consultant Young Sook Lee Travels To Train In Victoria
A Graphic Tool for Planetary Visioning
Click here to read The SHIFT-IT Blog.
---
EZINE ARCHIVES:
Browse past issues here.
Listen to the eZine here.


---
PRODUCTS: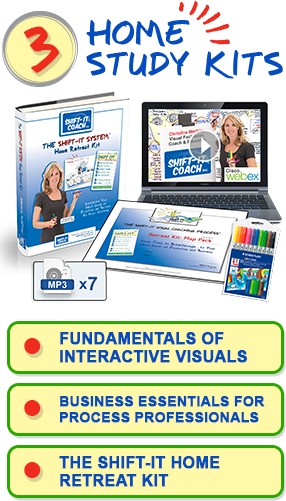 ---
Our Websites:
SHIFT-IT Coach, Inc
www.shift-it-coach.com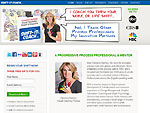 ---
---
Visual Facilitation
www.makemark.com