This is a Process Worker's version of making lemonade from lemons.
I've been meaning to add a video to my previous blog post about the Focus Wheel Process to better show how it's done. It's one of my most popular posts according to my stats program even though it's from years ago.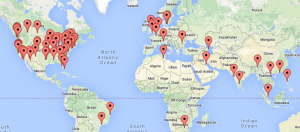 Seems many people out there are understandably still interested in this great process from Abraham Hicks.
So cool to see all the many, many countries they are searching from.
Originally I figured this video would be a clip from one of my past online programs where I have facilitated this effective process with many volunteers. So I stuck that idea on my miles-long to-do list (for some time when I'd be able to wade through video footage to find a good example).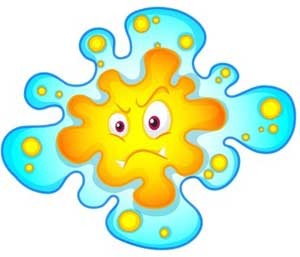 However, all that changed one recent afternoon when I had a situation happen which triggered the sh#*t out of me.
I was SO bothered by this situation that I sat myself down to do some Inner Work on it. From hard-won experience, I know that trying to go about my day when I'm emotionally and hence energetically charged like that is NOT a good idea.
So I fired up my recorder and digital tablet to make this video below — using myself as an example to show how to use the Focus Wheel to soften an initial knee jerk reaction to a bothersome incident. And as you can see from my postscript, it worked!
---
Ride The Focus Wheel Demo:
Click lower right-hand corner to enlarge. Press ESC to exit full view.
Download the video, right-click here and choose 'Save File As'.
---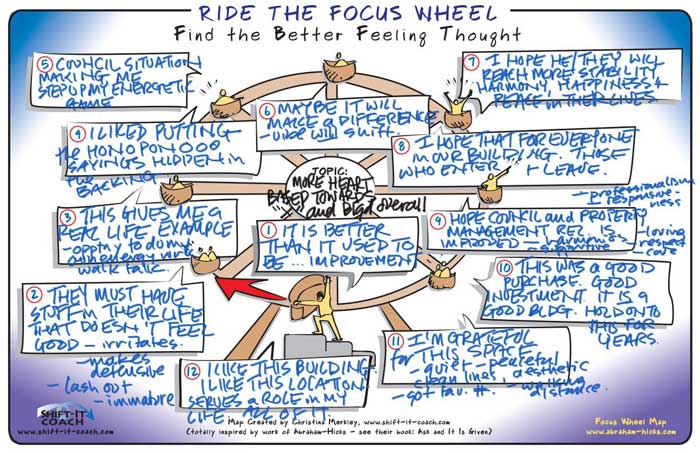 ---
Postscript:
Five days after doing this Focus Wheel I was informed that the person involved had suddenly moved out of our building! OMG, on Thought #6 you saw me offhandedly joke about the possibility of that. I was blown away when a neighbor informed me that this had happened! Geez, ho'ponopono and Focus Wheel are a POWERFUL combination!
Download Your Visual Map Here:
Want to do a Focus Wheel yourself? Here's a free map to help you to do yours!
---
More LOA Examples:
There is more information on The Focus Wheel Process, including more Visual Map examples on my previous blog post here. Please here are a few other blog posts on other Abraham-Hicks LOA processes: Positive Aspects and Wouldn't It Be Nice If.
---
P.S. Need Help? Let me assist you with Law of Attraction and other energetic processes to shift your vibe for results in work and life. See SHIFT-IT Visual Coaching System, Practical Energy Work and Private Coaching.
---