A NOTE FROM CHRISTINA:
Had To Get JJ Into a Pic ... As He's Usually on My Lap
When I'm Working Via Webinar
I wrote last issue that I had photographer Simon DeRochers at my studio recently. To take new photos for use on my sites.
In the business coaching I do, I often advise clients to invest in professional photography and to redo their pics on a regular basis. Your identity and energy changes over time (not to mention hair color, haha) so it's important to keep your pics relatively consistent with who you now are.
People purchase from folks they know, like and trust. Photography, whether you are comfortable with it or not, is part of that equation in the web world. You need pics for your web presence. And its helps to get ones that you are ok with too, given you will be seeing them on a regular basis.

And, you may find you need to work through whatever internal demons you may have about 'being visible'. Yes, sometimes you may encounter judgmental arm chair critics, but that shouldn't stop you from getting out there and fulfilling your mission to the best of your ability. We need 'all hands on deck' during these critical times!
Refreshing your pics is also a good time to refresh your site overall too. Does it still represent who you are and who you serve? Are your offerings clear? What's your identity and brand (yes, even if a solopreneur you are a brand of a sort).
I always find this refresh process to be liberating and cathartic ... like doing a massive spring cleaning. Toss out what is no longer relevant and bring in what is. I find it's a poignant psychological process too ... coming to terms with the passage of time. Who am I now? How much time might I have left? How do I want to spend my precious energy?
As I age I'm increasingly glad that my younger self settled on SHIFT-IT Coach, Inc. as the name of my practice. As no matter what tools I'm using, they all are in service of helping groups and individuals make shifts that matter ... and helping other Process Professionals do that too. As our world converges into super important choice points, I feel even more strongly that I made the right decision to dedicate my life to 'shifting'. As every individual counts right now as the shift is upon us ... its game time!
Today's article is about some of those 'super important choice points' that we as a species and planet are currently face-to-face with. I'm a big fan of the work of American journalist Annie Jacobsen. She's written a new book called The Pentagon's Brain: An Uncensored History of DARPA, America's Top Secret Military Research Agency.
I'll explain in the following article why I'm interested in such a fascinating yet potentially frightening topic and why I feel compelled to let you know about this important book.
Yours in SHIFTing IT,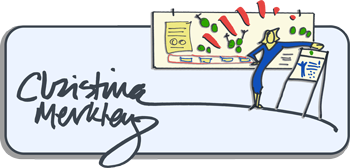 The SHIFT-IT Coach
& Process Skills Mentor
SHIFT-IT School: Classes, Products & Mentoring

Get Clarity & Change in Work and/or Life:
SHIFT-IT ONLINE®
Online Class Supported By Visual Coaching Tools
Ready to get what you want?! My signature coaching group - gets you what you next want in your personal and/or professional life. You develop a crystal clear vision, unravel your resistance ... and rapidly SHIFT your world. Real-world strategic planning coupled with leading-edge energy alignment --- all in my innovative 'Visual Coaching' style. Join this supportive community with other like-minded SHIFTers from across the globe. The SHIFT-IT Home Retreat Kit® with 17 visual maps is included, plus handy Repeater Option for those joining us for your next round of manifestation!
Starts Next Weekend: Register Now
7 Weeks Online: Feb. 6 - Mar. 19, 2016
Live Webinars: Saturdays, 10-11:30 a.m. Pacific
Full Details and Online Registration
Note: Pre-requisite for Visual Coach Certification. FYI, Repeater Option available for those who have taken before and want to repeat as a guest (write us for coupon code).
For Beginners Or Repeaters:
FUNDAMENTALS OF WORKING VISUALLY®
Visual Skills for Process Work with Groups and Individuals
This professional skills training (fully online) thoroughly covers the four main ways of working visually: Studio Work, Graphic Recording, Graphic Facilitation and Graphic Coaching. Over 87% of your consulting, facilitation, training, teaching and coaching clients are Visual Thinkers - these powerful visual skills boost the effectiveness of how you work with groups and/or individuals. This is the online version of my popular fundamentals training (no travel required). Attracts folks from across the English-speaking world - your Visual Tribe! Fully recorded, if you miss classes or want to watch at a time more convenient for you.
Just 20 3 Spots Left
ONLINE VERSION VIA LIVE WEBINARS:
9 Weeks Online: Feb. 22 - Apr. 27, 2016
Live Webinars: Mondays & Wednesdays, noon-1pm Pacific
---
Just 20 15 Spots Left
IN-PERSON VERSION:
3 Day Intensive: June 2-4, 2016
Beautiful Victoria, British Columbia, Canada
Full Details and Online Registration
Note: Pre-requisite for Visual Coach Certification. FYI, Repeater Option available on Feb. class for those who have taken before and want to repeat as a guest (write us for coupon code).
For Process Professionals Who Work With Individuals:
2016 VISUAL COACH CERTIFICATION®

10-Weeks Online: April 5 - June 14, 2016
Tuesdays Noon-1:30 pm Pacific

For coaches, counselors, therapists and others who work deeply with individuals. Add the power and innovation of Visual Coaching to your professional practice. Includes advanced Visual Coaching techniques, use of my SHIFT-IT System® with your clientele (17 visual maps), guidance in the 'template-izing' of your own intellectual property, plus marketing and biz development support.

Available Separately or as
3-Course Combo: Apply Now



Two Pre-requisites: SHIFT-IT Online and Fundamentals of Interactive-Visuals (or equivalent experience).
For Visual Keeners:
MAGIC MARKER RETREATS ®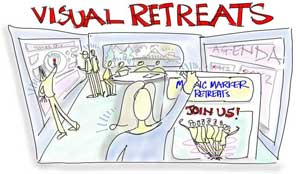 Getting your visual basics is half the equation - the other is competency and creation of a viable practice (whether you are internal or independent). This 2-day Boot Camp takes your visual practice to the next level: chock full of at-the-wall drills, project brainstorming (bring work for feedback and ideas), and identity/brand/financial coaching. Work your brain, your fingers and dissolve your resistance, all in deep community with Visual Practitioners.
Just 7 4 Spots Left
IN-PERSON:
2 Day Intensive: June 6-7, 2016
Victoria, British Columbia, Canada

Full Details and Online Registration
Note: Pre-requisite is Fundamentals of Working Visually (or equivalent experience). Each Magic Marker Retreat is a unique experience, come as many times as you like for continued inspiration and development!
FEATURED ARTICLE:
JOURNALIST ANNIE JACOBSEN'S LATEST BOOK
To Listen Or Download Mp3 Version of This Article, Click Here.
As a Process Professional I'm constantly curious about the leading edge in high performance and consciousness. I'm a pragmatist too ... so I like to research tangible methods that can truly assist my clients and myself to reach greater states of fulfillment, satisfaction and ease in the things that matter most to us (be they professional and/or personal).
That curiosity has taken me into some unexpected places over the years - an example of which is my interest in the work of American journalist Annie Jacobsen.

Ms. Jacobsen's latest book, which is garnering a lot of deserved attention is The Pentagon's Brain: An Uncensored History of DARPA, America's Top Secret Military Research Agency.

Even though I was raised a military brat, I have not, until recently, had any interest in military history. Thinking it's boring, depressing and not relevant (who wants to review battles in the past when there are so many current ones vying for our hearts and minds).
My old assumptions were ignorant. When done correctly, military history can truly inform our present, and help us understand the current crossroads we collectively find ourselves, as a species, standing at.
Brain and Consciousness Research:

I entered Ms. Jacobsen's work because of my interest in brain and consciousness studies. As a Helping Professional it's important I stay up to date about what scientists are learning that might help regular people perform and feel better in their lives. Turns out most of this type of research, and a lot of it is being done, is funded by the military, some of it through DARPA (Defense Advanced Research Project Agency).
DARPA:
DARPA is an American military agency whose mandate is to be a 'revolution in military affairs' and create 'vast weapon systems of the future'. They do 'pre-requirement research', which means they develop technology that is needed, before it is needed. As Ms. Jacobsen states, this mission originated during the Cold War with ballistic missile defense (the Soviet Union upset the apple cart by surprise launching the Sputnik satellite into space in 1957, in essence, kicking off the Space Race).
Where Brains Come In:
What's Sputnik have to do with coaching and my interest in brain research and consciousness studies? Well, through the decades, and through the ...
ARTICLE CONTINUED ON BLOG ... CLICK HERE TO VIEW
---
For the full SHIFT-IT e-Zine Archives: Click Here
For the full SHIFT-IT Audio Library (mp3): Click Here


Christina Merkley
The SHIFT-IT Coach &
Process Skills Mentor

SHIFT-IT Coach, Inc. is a boutique training and coaching company specializing in visual and energetic process work for groups and individuals. Founded by Christina Merkley, pioneering Visual Facilitator and Coach, she works deeply with individuals, partners and conscious businesses to define and manifest what you really want. Christina also trains Process Professionals from across the globe in her innovative ways of working. For more information visit www.shift-it-coach.com and www.visualcoaches.com.
IN THIS ISSUE:
>>Featured Article:
Journalist Annie Jacobsen's Latest Book
---
CONNECT WITH US:
---
BLOG ENTRIES:
Looking for more rich, SHIFT-IT content? Check out my blog for recent ramblings, resources and general interest features:
Dr. Rita Smith: Corporate Leader Weighs In On Value Of Visual Coach Certification
Resources for Dealing with Stress and Trauma
For You: Mini Shift-It Retreat With 4 Visual Maps
Let's Help This Family Of Four To Make Their Shift
Annette Leslie's Critique Of Our Graphic Facilitation Training
They Are Concerned About Being Their Real Selves ... How About You?!
Andrea Gibbons, Change Consultant: Testimonial For Visual Coaching
Visual Coaches Come Down The Finish Line
Organizational Psychologist Jo Hobson's Testimonial For Visual Coach Certification
Click here to read The SHIFT-IT Blog.
---
EZINE ARCHIVES:
Browse past issues here.
Listen to the eZine here.


---
PRODUCTS: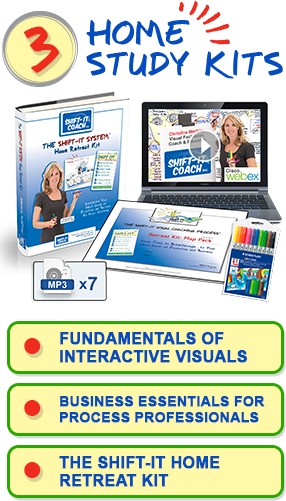 ---
Websites:
SHIFT-IT Coach, Inc
www.shift-it-coach.com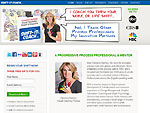 ---
---
Visual Facilitation
www.makemark.com