A NOTE FROM CHRISTINA:

Wow, that summer flew by, I can't believe Labour Day is right around the corner here in Canada. I certainly have been labouring, so hopefully I'll have that day off at least!
The new Practical Energy Work course prep is going great ... although I'm a little delayed in having the info page launched (it's coming, hopefully by mid-Sept). Have really enjoyed doing the interviews with the guest experts on their various topics (trauma, subtle energy systems, kundalini, psionic protection, tapping modalities, the sub-conscious mind, etc.)

It's gearing up to be a great new addition to the SHIFT-IT School course line-up. Good right brain wisdom to add to our left brain offerings, giving you an effective whole brain approach to your process work.
Phenomenal Growth in the Visual Field:
On the visual skills side of my work ... there continues to be great growth in the 'working visually' field. I"m seeing expansion in the field on all fronts. Here in North America the visual way of working is expanding into smaller towns and communities (not just the larger cities). And internationally its making great strides too, breaking through the English barrier into multiple other languages and cultures.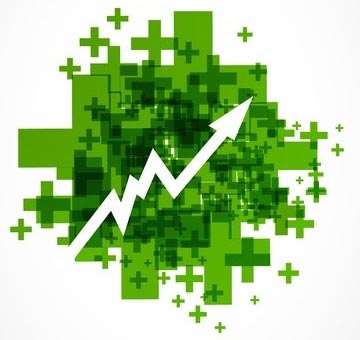 The growth in this field is awesome and has been a fascinating phenomenon to witness and participate in these last two decades. I have happily played a role in this growth, given the many 100's I've trained and mentored throughout the world.
However I am having to continue to evolve to remain known and seen in this larger marketplace given new trainers are popping up everywhere (some decent and some decidedly not).
Back in the day when you entered 'graphic facilitation', 'graphic recording' and certainly 'graphic coaching' I was one of the few sources that would come up in a web search anywhere, right smack at the top of the first page. Fortunately and unfortunately this is no longer the case! I'm bringing on needed marketing help and considering doing a cross-country tour with my visual skills workshop. We'll see how that shakes out. The only thing constant in life is change eh!
Please Help Us Get the Word Out: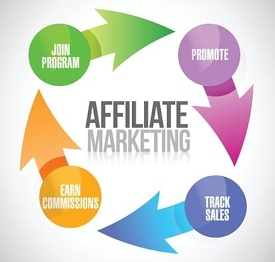 One thing I can do is call on you, our wonderful community! Some of you have been with my unique little school and practice for years now even decades (I started with just 12 people on my list!). And others of you have recently discovered SHIFT-IT Coach, Inc. A small business like mine can use all the help it can get to get our services in front of the people who can benefit from them. If you have taken my visual skills workshop The Fundamentals of Working Visually (or any of our other courses), I hope you will keep it and me in mind when colleagues and friends are looking for qualified, proven instruction in these fun and productive skills.
The fall online version of this practical and fun course starts October 5th and it's on Early Bird registration still until Monday! Or, there's a Home Study Kit available instantly at any time.
Our Affiliate Program:
To thank you for your referrals, we have an Affiliate Program for your web and social media sharing about our classes (so we can reward you with a 15% commission).
I've always found the best marketing is to do good work and rely on the power of word of mouth (people telling other people), so thank you very much to our current affiliates, I sure appreciate your support.
And for others who'd like to now join us in getting the word out, thank you for your new partnership!
Visual Coach Cohort Is Hard At Work:
Another thing that is front and center right now is the 2015 cohort for Visual Coach Certification. They've been hard at work testing out their new Visual Coaching skills and accumulating their client hours in prep for their final exam later this year. Today's eZine article is about them and the great work they are doing to help their clients shift. Please join me in encouraging them to keep up the good work!
Test Client Opportunity:
FYI, we are always on the lookout for Test Clients ... people willing to act as clients for our Visual Coaches during their final exam. Half of their exam is experiential, as they coach a client through a SHIFT-IT map of my choice.
If you'd like to graciously offer your services as a test client please email my assistant Patricia at [email protected] and she'll add you to our list.
Yours in expansion and unfoldment,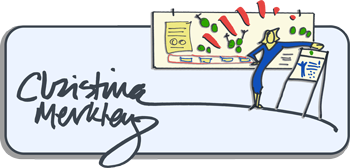 The SHIFT-IT Coach
& Process Skills Mentor
In Your Words: Testimonial from BodyTalker Joseph Briante
WAS CHALLENGED TO BE BOTH CURIOUS AND BRAVE ... TO JUMP IN AND MAKE MARKS, MISTAKES AND GET OVER MYSELF!
"Coming from a background in business, personal growth and healing, I resonated with Christina Merkley and her work instantly. She's professional, clear and innovative, always exploring into new process territory.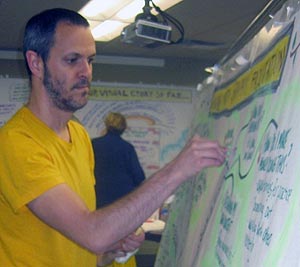 Joseph Briante
BodyTalk Practitioner
I loved Fundamentals of Working Visually, it was practical skills development, creativity and self-discovery in one concise package. Christina is very clear, positive and holds space seamlessly, a real skill given the wonderfully wide spectrum of practitioners and interests present.
I was challenged to be both curious and brave ... to jump in and make marks, mistakes and get over myself (stop comparing to others and worrying about perfection). Now I can think and visualize out loud, with myself and others.
It's been really meaningful to reconnect my logical and creative sides and to spot all the applications for working visually, including mapping out processes I do regularly.
Took me to a new place. Highly recommend."
Joseph Briante
BodyTalk Practitioner
Victoria, British Columbia, Canada
SHIFT-IT School: Upcoming Classes and Events
Get Clarity & Change in Work and/or Life:
SHIFT-IT ONLINE®
Online Class Supported By Visual Coaching Tools
Ready to get what you want?! My signature coaching group - gets you what you next want in your personal and/or professional life. You develop a crystal clear vision, unravel your resistance ... and rapidly SHIFT your world. Real-world strategic planning coupled with leading-edge energy alignment --- all in my innovative 'Visual Coaching' style. Join this supportive community with other like-minded SHIFTers from across the globe. The SHIFT-IT Home Retreat Kit® with 17 visual maps is included, plus handy Repeater Option for those joining us for your next round of manifestation!
Secure Your Space Now
7 Weeks Online: Sept. 19th - Oct. 31, 2015
Video Webinars: Saturdays, 10-11:30 a.m. Pacific
Full Details and Online Registration
Note: Pre-requisite for Visual Coach Certification. FYI, Repeater Option available for those who have taken this program before and are ready for your next shift.
For Beginners Or Repeaters:
FUNDAMENTALS OF WORKING VISUALLY®
Visual Skills for Process Work with Groups and Individuals
This professional skills training (fully online) thoroughly covers the four main ways of working visually: Studio Work, Graphic Recording, Graphic Facilitation and Graphic Coaching. Over 87% of your consulting, facilitation, training, teaching and coaching clients are Visual Thinkers - these powerful visual skills boost the effectiveness of how you work with groups and/or individuals. This is the online version of my popular fundamentals training (no travel required). Attracts folks from across the English-speaking world - your Visual Tribe! Fully recorded, if you miss classes or want to watch at a time more convenient for you.
Early Bird Ends This Monday, Act Now!!!
Live: 9 Weeks Online: Oct. 5 - Dec. 9, 2015
Video Webinars: Mondays & Wednesdays, noon-1pm Pacific
Full Details and Online Registration
Note: Pre-requisite for Visual Coach Certification. FYI, Repeater Option available for those who have taken this program before and desire another round.
Practical Energy Work
Energy Techniques to Productively Clear and Manage
Your Physical, Mental and Spiritual Space
We are multi-dimensional beings with potent energy bodies. Learn powerful methods to effectively manage your energy and maintain a calm, neutral stance in the midst of a rapidly changing world. Each person who raises their consciousness and frequency counts and matters AND impacts the whole. Advanced Law of Attraction principles with an emphasis on Service to Others and following your soul's path. Plus powerful trauma soothing tools to get relief, break negative habitual patterns and actualize your Vision and Mission. For Process Professionals, Lightworkers and others who want to shift individual and collective worlds for the better!
Brand New Course: More Info Soon
Live 10 weeks online: Oct. 17 - Dec. 19, 2015
Video Webinars: Saturdays, 1-2:30 p.m. PST
FEATURED ARTICLE:
VISUAL COACHING ACCLIMATIZATION
To Listen Or Download Mp3 Version of This Article, Click Here.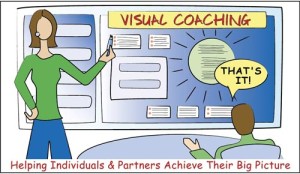 For 6 years now, via my Visual Coach Certification, I've been mentoring other Process Professionals who work with individuals in how to work visually with their own clientele. Mostly coaches ... however therapists, counselors, financial advisors, disability specialists and bodyworkers have also participated.
It's a fascinating learning and experiential curve they go through to integrate these skills into their own practices. And, as our current cohort is about mid-way through their program, I thought it might be interesting to share some thoughts about this acclimatization journey.
Solid Coaching Basics:
Most of our Visual-Coaches-in Training are already seasoned professionals in their own right, having been in practice for years. However occasionally I admit a newer coach or someone who is concurrently taking coach training parallel to my program (my favorite recommendation for foundational coach training is Coaches Training Institute, my alma mater).
These new coaches not only receive mentorship in Visual Coaching, they also (through their seasoned cohort mates and I) receive guidance on the following basics that all coaches need to learn ...
ARTICLE CONTINUED ON BLOG ... CLICK HERE TO VIEW
---
For the full SHIFT-IT e-Zine Archives: Click Here
For the full SHIFT-IT Audio Library (mp3): Click Here

Christina Merkley
The SHIFT-IT Coach &
Visual Mentor

SHIFT-IT Coach, Inc. is a boutique training and coaching company specializing in visual process work for groups and individuals. Founded by Christina Merkley, pioneering Visual Facilitator and Coach, we work deeply with individuals, partners and conscious businesses to define and manifest what you really want. We also train Process Professionals from across the globe in our innovative ways of working. For more information visit www.shift-it-coach.com and www.visualcoaches.com.
IN THIS ISSUE:
>>Featured Article:
Visual Coaching Acclimatization
---
CONNECT WITH US:
---
BLOG ENTRIES:
Looking for more rich, SHIFT-IT content? Check out my blog for recent ramblings, resources and general interest features:
Learn Graphic Recording: Online Class Available Across The Globe
[Work Visually This Fall] 9-Week Online Lab: Early Bird Ends Monday
Primordial Energy Activation & Transcendence (PEAT)
Are You Working For Light Or Dark?
Working Visually: The Only Way Out Is Through
The CapStone Marriage: How Millennials Are Changing the Norms of Marriage
What To Do If You've Lost Faith in Your Work, Boss or Clients
Esther Perel Video: Rethinking Infidelity
Click here to read The SHIFT-IT Blog.
---
EZINE ARCHIVES:
Browse past issues here.
Listen to the eZine here.


---
PRODUCTS: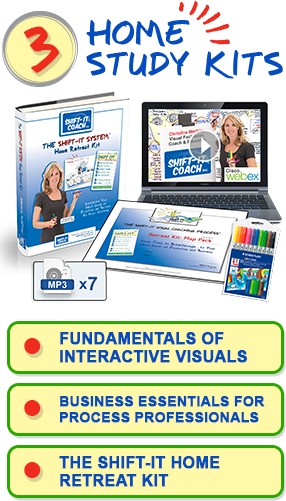 ---
Our Websites:
SHIFT-IT Coach, Inc
www.shift-it-coach.com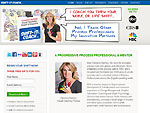 ---
---
Visual Facilitation
www.makemark.com