A NOTE FROM CHRISTINA:

Well, that's a weird title for an eZine eh!? What the heck is "Primordial Energy Activation and Transcendence" or P.E.A.T. for short? Well, besides being a mouthful ... it's a fascinating modality I've been learning and the subject of this issue's article (see further down in the eZine).
I just officially wrapped my long season (January - July) ... hence the reason this issue is a tad tardy. Frankly I was too flippin' tired to bring it in on time and sunshine, BBQ and pear cider beaconed.

So my drill sergeant of a boss (my pesky left-brain) actually let me take a few more days than usual to pull this issue together. She knows what's good for her too.
Thanks to all of you who joined in on our recent summer sale. We had quite the turnout and it was nice to see known and unknown-to-us folks take advantage of great training and coaching opportunities ... and given the low Canadian currency rates many got another layer of savings too!
For those of you who choose private time with me, I look forward to our alliance. Just write in to Patricia at [email protected] when you are ready to book your session(s).
My intention is to take until September 9th off from direct client work. However if you get stuck, let us know and I'll see what I can swing.
Yours in SHIFTing IT,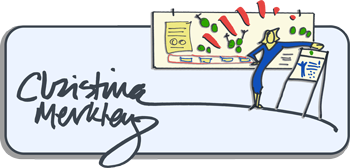 The SHIFT-IT Coach
& Process Skills Mentor
In Your Words: Joleyne Mayers-Jaekel
GAVE ME THE KNOWLEDGE AND SKILLS TO PURSUE MY VISION
TO OPERATE MY OWN PROCESS BUSINESS ... NOW WITH
'VISUALS' AS A TANGIBLE TOOL TO ASSIST.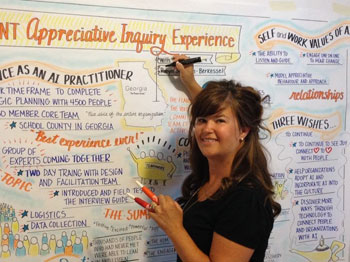 Joleyne Mayers-Jaekel
Facilitator, Instructor, Trainer
"I was introduced to the world of Graphic Recording in 2009 during a professional development seminar for teachers. I was fascinated by the increased level of engagement from participants as the use of the visual medium increased their interest and buy-in. I continued to observe Graphic Recording in various venues and used a Graphic Recorder in my thesis research.
I began to seriously consider Graphic Recording \ Graphic Facilitation as a career path and was fortunate to find Christina's Fundamentals of Working Visually. I traveled to lovely Victoria British Columbia for 3 packed days with her and a fabulous room full of diverse Process Professionals.
Returning home I set up my studio and within 5 days had completed my first pro bono mural, for a local organization, which is now proudly displayed in their lobby!
Fast on its heels, Christina referred a quick turnaround project from Florida. He loved his mural and I loved my first taste of providing Studio Work from a distance (was an effective and fun experience). I received my first pay cheque 2 weeks after completing the course! I definitely want to do more!
I believe strongly in the power of working visually and its application is so wide ranging. I'm using charts directly in my teaching, templates to interactively engage my groups, and having a blast creating murals and visual aids (and doing Graphic Recording) for other teachers, presenters, leaders and consultants.
I'm SO GLAD I followed my instincts to pursue work that speaks so strongly to me. And that I have Christina as my mentor to coach me. Ok Calgary and world-at-large, me and my markers are here!"
Joleyne Mayers-Jaekel, MA
Graphic Recorder | Mural Maker
ViClarity Inc., Calgary, Alberta, Canada
[email protected]
SHIFT-IT School: Upcoming Classes and Events
Get Clarity & Change in Work and/or Life:
SHIFT-IT ONLINE®
Online Class Supported By Visual Coaching Tools
Ready to get what you want?! My signature coaching group - gets you what you next want in your personal and/or professional life. You develop a crystal clear vision, unravel your resistance ... and rapidly SHIFT your world. Real-world strategic planning coupled with leading-edge energy alignment --- all in my innovative 'Visual Coaching' style. Join this supportive community with other like-minded SHIFTers from across the globe. The SHIFT-IT Home Retreat Kit® with 17 visual maps is included, plus handy Repeater Option for those joining us for your next round of manifestation!
Secure Your Space Now
7 Weeks Online: Sept. 19th - Oct. 31, 2015
Video Webinars: Saturdays, 10-11:30 a.m. Pacific
Full Details and Online Registration
Note: Pre-requisite for Visual Coach Certification. FYI, Repeater Option available for those who have taken this program before and are ready for your next shift.
For Beginners Or Repeaters:
FUNDAMENTALS OF WORKING VISUALLY®
Visual Skills for Process Work with Groups and Individuals
This professional skills training (fully online) thoroughly covers the four main ways of working visually: Studio Work, Graphic Recording, Graphic Facilitation and Graphic Coaching. Over 87% of your consulting, facilitation, training, teaching and coaching clients are Visual Thinkers - these powerful visual skills boost the effectiveness of how you work with groups and/or individuals. This is the online version of my popular fundamentals training (no travel required). Attracts folks from across the English-speaking world - your Visual Tribe! Fully recorded, if you miss classes or want to watch at a time more convenient for you.
Early Bird Before August 31st
Live: 9 Weeks Online: Oct. 5 - Dec. 9, 2015
Video Webinars: Mondays & Wednesdays, noon-1pm Pacific
Full Details and Online Registration
Note: Pre-requisite for Visual Coach Certification. FYI, Repeater Option available for those who have taken this program before and desire another round.
Practical Energy Work
Energy Techniques to Productively Clear and Manage
Your Physical, Mental and Spiritual Space
We are multi-dimensional beings with potent energy bodies. Learn powerful methods to effectively manage your energy and maintain a calm, neutral stance in the midst of a rapidly changing world. Each person who raises their consciousness and frequency counts and matters AND impacts the whole. Advanced Law of Attraction principles with an emphasis on Service to Others and following your soul's path. Plus powerful trauma soothing tools to get relief, break negative habitual patterns and actualize your Vision and Mission. For Process Professionals, Lightworkers and others who want to shift individual and collective worlds for the better!
Brand New Course: More Info Soon
Live 10 weeks online: Oct. 17 - Dec. 19, 2015
Video Webinars: Saturdays, 1-2:30 p.m. PST
FEATURED ARTICLE:
PRIMORDIAL ENERGY ACTIVATION & TRANSCENDENCE (PEAT)
To Listen Or Download Mp3 Version of This Article, Click Here.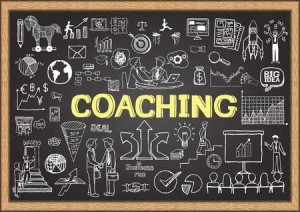 For 15 years now I've been a coach helping individuals get what they really, really want. I consider myself fortunate to do what I do ... it's an honour to be granted up close and personal access into a fellow human being's world. My clients have taught me so much about this challenging, diverse and magical thing called life.
As The SHIFT-IT Coach, most of my work involves helping clients get really clear on what is next (sketching their Vision) and 'manifesting' that Vision. Manifesting involves clarity, internal energy alignment and usually plenty of action ... both on the outer level (left brain) and on the inner level (right brain). One must participate in their own rescue so to speak, using the WHOLE brain.
Super-Fast Manifesters: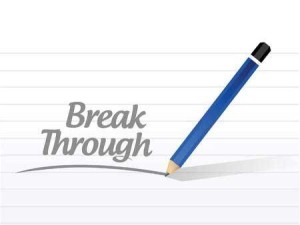 Some clients manifest their desires very easily. Some remarkably fast manifesters have breakthroughs just upon registering for a public program or private session. Something just clicked and by the time we meet in class or privately they have already solved whatever initial problem or desire prompted them to enlist with me in the first place.
I'm under no illusion that this phenomenon is because of any secret powers that I or my material possess. Not to discount myself, I'm a good coach, and my material and methods are solid. However I know it's them that has done this feat not me. Their own conviction, decision, determination and alignment. I just helped by giving them something tangible to bump up against (a foil or mirror) which helped coalesce their focus into form.
The More Conflicted Manifester:
However, not all of us are fast manifesters, or at least on all things. Most of us take a slower, more meandering path in manifesting what we want. Also, while manifestation in one area may come easy, it's not unusual to have ...
ARTICLE CONTINUED ON BLOG ... CLICK HERE TO VIEW
---
For the full SHIFT-IT e-Zine Archives: Click Here
For the full SHIFT-IT Audio Library (mp3): Click Here
Christina Merkley
The SHIFT-IT Coach &
Visual Mentor

SHIFT-IT Coach, Inc. is a boutique training and coaching company specializing in visual process work for groups and individuals. Founded by Christina Merkley, pioneering Visual Facilitator and Coach, we work deeply with individuals, partners and conscious businesses to define and manifest what you really want. We also train Process Professionals from across the globe in our innovative ways of working. For more information visit www.shift-it-coach.com and www.visualcoaches.com.
IN THIS ISSUE:
>>Featured Article:
Primordial Energy Activation & Transcendence (PEAT)
---
CONNECT WITH US:
---
BLOG ENTRIES:
Looking for more rich, SHIFT-IT content? Check out my blog for recent ramblings, resources and general interest features:
Are You Working For Light Or Dark?
Working Visually: The Only Way Out Is Through
The CapStone Marriage: How Millennials Are Changing the Norms of Marriage
What To Do If You've Lost Faith in Your Work, Boss or Clients
Esther Perel Video: Rethinking Infidelity
The Kardashians: And Bruce Jenner's Transition
Click here to read The SHIFT-IT Blog.
---
EZINE ARCHIVES:
Browse past issues here.
Listen to the eZine here.


---
PRODUCTS: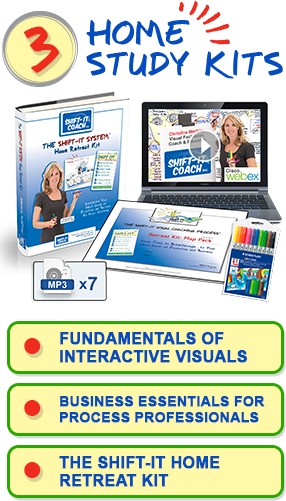 ---
Our Websites:
---
---