A NOTE FROM CHRISTINA:

Ahhhhhhhhh. That's the sound of me exhaling after wrapping the fall semester of SHIFT-IT School. This season whipped by and I'm appreciative of going into a few weeks here where I can relax, come back to center and have some fun with friends and family. Then start the process of getting the January - June semester launched.
I received a nice present in the mail recently from Aletta de Wal, one of our Certified Visual Coaches and an all-round great gal. Aletta is the founder of Artist Career Training (ACT) and is equal parts artist, educator and entrepreneur.

The present was 2 copies of her new book: My Real Job Is Being An Artist. One for me (which I will read to assist with my acrylic paintings) and one for me to donate to a local library (Vancouver Island School of Art, I'm gonna gift it to you!).

Congratulations Aletta on a job well done! Really impressed with the thoroughness, professionalism and positive tone of your book.
Talking about positive tones. I've decided to write today's article on a local project here in Victoria that a good friend turned me onto: The Starfish Project.
It's a grassroots effort (involving a mixed range of local people) to privately sponsor one Syrian refugee family to come to Victoria (two parents in their 20s with two young children).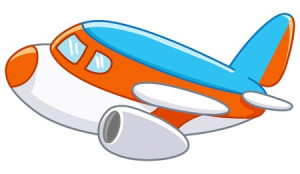 Privately sponsored refugees are beginning to arrive in Canada these last few weeks with government sponsored ones to follow. Should all go well, this particular family of four should arrive in late January.
I hope you will consider helping this particular family and/or working with similar programs in your geographical area. Together we can help honest, decent, traumatized folks make a needed shift in their lives. If I was in their shoes I sure hope there would be compassionate and skilled people to assist me and my loved ones to regain stability.
Wishing the very best to you and yours for this holiday season. May our hearts be warm, secure and loving despite the challenging shifts our world is going through. The energy of the heart is such a powerful asset!
Yours in SHIFTing IT,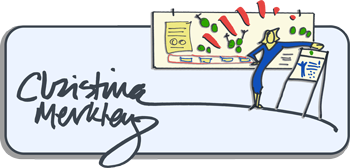 The SHIFT-IT Coach
& Process Skills Mentor
IN YOUR WORDS: UK Consultant Annette Leslie Critiques Our Online Graphic Facilitation Training
CHRISTINA'S ONLINE GRAPHIC FACILITATION TRAINING
MORE THAN DELIVERED ON MY EXPECTATIONS ...
AND I HAD PRETTY HIGH EXPECTATIONS!
"I wanted to refresh and update my knowledge on graphic facilitation and having researched my local and online options, decided Christina Merkley was the go-to lady. Many courses offer to teach you how to doodle, very little though on how to actually support process work through the use of spontaneous or co-built visuals. Christina's online Graphic Facilitation Training more than delivered on my expectations, and I had pretty high expectations!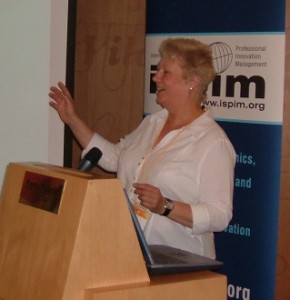 Annette Leslie
Management Consultant / Speaker
I loved how interactive her webinars are, especially when she demo'd things for us to better understand issues and ideas. Enjoyed seeing my colleagues from many geographies, their work and getting to interact with them. Very helpful for the sharing of ideas and experiences.
My only concern prior to joining was how out of sync I would feel from the UK, being in such a different time zone. No worries, I sat down at 8pm and joined in the online classroom, and loved it. Also want to comment on how generous Christina is with her time and material; every question and query was worked through - very impressive."
Annette Leslie
Management Consultant / Speaker
United Kingdom

On Upcoming Courses, Private Training & Coaching
NEW YEARS EVENT
5 Days: January 1-5, 2016
In order to help you get organized for your training and development needs in 2016 I'm giving you an advanced heads up that we will be running a New Years event January 1 - 5, 2016. Upcoming courses (all the ones listed below), private training and private coaching are included. Treat yourself to quality training, coaching and mentoring to advance your professional and personal goals in 2016.
Stay Tuned: More Info Coming January 1st!
Get Clarity & Change in Work and/or Life:
SHIFT-IT ONLINE®
Online Class Supported By Visual Coaching Tools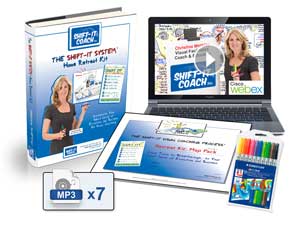 Ready to get what you want?! My signature coaching group - gets you what you next want in your personal and/or professional life. You develop a crystal clear vision, unravel your resistance ... and rapidly SHIFT your world. Real-world strategic planning coupled with leading-edge energy alignment --- all in my innovative 'Visual Coaching' style. Join this supportive community with other like-minded SHIFTers from across the globe. The SHIFT-IT Home Retreat Kit® with 17 visual maps is included, plus handy Repeater Option for those joining us for your next round of manifestation!
Secure Your Space Now!
7 Weeks Online: Feb. 6 - Mar. 19, 2016
Live Webinars: Saturdays, 10-11:30 a.m. Pacific
Full Details and Online Registration
Note: Pre-requisite for Visual Coach Certification. FYI, Repeater Option available for those who have taken this program before and are ready for your next shift.
For Beginners Or Repeaters:
FUNDAMENTALS OF WORKING VISUALLY®
Visual Skills for Process Work with Groups and Individuals
This professional skills training (fully online) thoroughly covers the four main ways of working visually: Studio Work, Graphic Recording, Graphic Facilitation and Graphic Coaching. Over 87% of your consulting, facilitation, training, teaching and coaching clients are Visual Thinkers - these powerful visual skills boost the effectiveness of how you work with groups and/or individuals. This is the online version of my popular fundamentals training (no travel required). Attracts folks from across the English-speaking world - your Visual Tribe! Fully recorded, if you miss classes or want to watch at a time more convenient for you.
EARLY BIRD ENDS JANUARY 18TH

ONLINE VERSION VIA LIVE WEBINARS:
9 Weeks Online: Feb. 22 - Apr. 27, 2016
Live Webinars: Mondays & Wednesdays, noon-1pm Pacific
---
EARLY BIRD ENDS JANUARY 18TH
IN-PERSON VERSION:
3 Day Intensive: June 2-4, 2016
Beautiful Victoria, British Columbia, Canada
Full Details and Online Registration
Note: Pre-requisite for Visual Coach Certification. FYI, Repeater Option available for those who have taken this program before and desire another round.
For Process Professionals Who Work With Individuals:
2016 VISUAL COACH CERTIFICATION®

10-Weeks Online: April 5 - June 14, 2016
Tuesdays Noon-1:30 pm Pacific

For coaches, counselors, therapists and others who work deeply with individuals. Add the power and innovation of Visual Coaching to your professional practice. Includes advanced Visual Coaching techniques, use of my SHIFT-IT System® with your clientele (17 visual maps), guidance in the 'template-izing' of your own intellectual property, plus marketing and biz development support.


New 2016 Cohort Forming
Apply Now!
Two Pre-requisites: SHIFT-IT Online and Fundamentals of Interactive-Visuals (or equivalent experience).
For Visual Keeners:
MAGIC MARKER RETREATS ®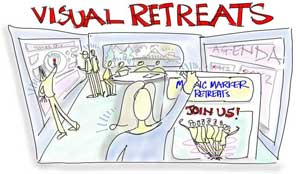 Getting your visual basics is half the equation - the other is competency and creation of a viable practice (whether you are internal or independent). This 2-day Boot Camp takes your visual practice to the next level: chock full of at-the-wall drills, project brainstorming (bring work for feedback and ideas), and identity/brand/financial coaching. Work your brain, your fingers and dissolve your resistance, all in deep community with Visual Practitioners.
Just 7 5 Spots Left
IN-PERSON:
2 Day Intensive: June 6-7, 2016
Victoria, British Columbia, Canada

Full Details and Online Registration
Note: Pre-requisite is Fundamentals of Working Visually (or equivalent experience).
FEATURED ARTICLE:
LET'S HELP THIS REFUGEE FAMILY
OF FOUR MAKE THEIR SHIFT
To Listen Or Download Mp3 Version of This Article, Click Here.
As world events have splashed across our television and electronic devices this past fall, I've been wondering how things will trickle down to my local community. What is happening locally with refugee arrivals? What planning and systems are taking place? Are there ways I can help and get involved? Would any of my skills be of assistance?
We had an election this fall here in Canada with the Liberals being elected largely in response to a decade of conservative control.

As a result, the Canadian government's stance on the refugee crisis happening in war savaged Syria has changed its tune.

And these last weeks we have seen some refugees beginning to arrive in Canadian airports and communities.
First to arrive are those with private sponsorships (through family, friends, community groups, etc.). Apparently Canada is the only country in the world that is allowing private sponsorships?! It's my understanding that these will eventually be followed next year by more refugees sponsored by governmental programs.
As a coach and facilitator who helps groups and individuals shift (not refugees but the more usual kinds of life shifts) I'm curious and hoping that good systems are being put into place to assist these folks.
Not only are they going to have financial, work, language and cultural adjustment issues, they are also probably going to have emotional and post-traumatic stress issues to contend with as well, given all they have been through too.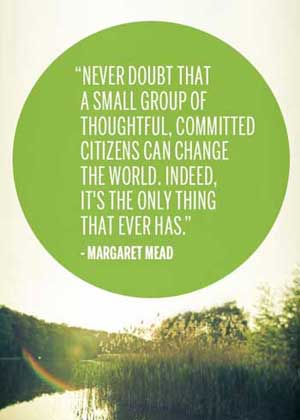 When I did a local internet search a few weeks ago on this topic, not much came up. However since then I've been impressed to see several projects and initiatives pop up in response to the needs that are emerging. Groups and individuals are springing into action, doing what they can.
One, which a friend of mine (an instructor of justice and social issues at a local college) turned me onto is The Starfish Project ... it's organizing to bring one Syrian family of four (parents in their 20s plus two young children) to my town, Victoria, British Columbia, Canada.
My understanding is that this family has been vetted and approved and now it's a matter of raising the needed 50K funds to bring them, hopefully by the end of January. I believe they are in a refugee camp until then.
*** I've donated, I hope you will consider doing so too (you can wherever you live). At time of writing they are just 5K short! ***
Here are some other resources ...
ARTICLE CONTINUED ON BLOG ... CLICK HERE TO VIEW
---
For the full SHIFT-IT e-Zine Archives: Click Here
For the full SHIFT-IT Audio Library (mp3): Click Here


Christina Merkley
The SHIFT-IT Coach &
Process Skills Mentor

SHIFT-IT Coach, Inc. is a boutique training and coaching company specializing in visual and energetic process work for groups and individuals. Founded by Christina Merkley, pioneering Visual Facilitator and Coach, she works deeply with individuals, partners and conscious businesses to define and manifest what you really want. Christina also trains Process Professionals from across the globe in her innovative ways of working. For more information visit www.shift-it-coach.com and www.visualcoaches.com.
IN THIS ISSUE:
>>Featured Article:
Let's Help This Refugee Family of Four Make Their Shift
---
CONNECT WITH US:
---
BLOG ENTRIES:
Looking for more rich, SHIFT-IT content? Check out my blog for recent ramblings, resources and general interest features:
They Are Concerned About Being Their Real Selves ... How About You?!
In Your Words: Andrea Gibbons, Change Consultant: Testimonial For Visual Coaching
Visual Coaches Come Down The Finish Line
In Your Words: Organizational Psychologist Jo Hobson'S Testimonial For Visual Coach Certification
New Video: Focus Wheel Process With Visual Map
In Your Words: Korean Consultant Young Sook Lee Travels To Train In Victoria
A Graphic Tool for Planetary Visioning
Click here to read The SHIFT-IT Blog.
---
EZINE ARCHIVES:
Browse past issues here.
Listen to the eZine here.


---
PRODUCTS: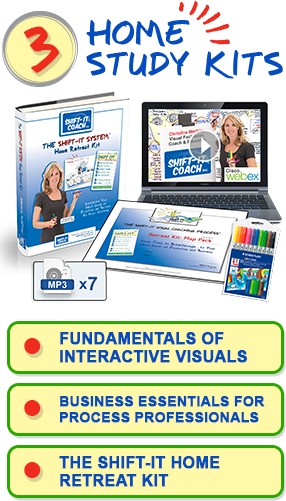 ---
Our Websites:
SHIFT-IT Coach, Inc
www.shift-it-coach.com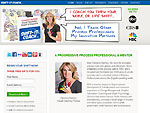 ---
---
Visual Facilitation
www.makemark.com