A NOTE FROM CHRISTINA:
Spring has sprung here in beautiful Victoria, British Columbia, Canada. Being a dog owner I have to be outside several times a day regardless of weather. We had an extremely mild winter this year so it wasn't that bad in the scheme of things. But nonetheless I sure LOVE IT when spring comes and the walkin' is easy and bright.
Here's my and JJ's usual stomping grounds ... hi, Terry if you are reading this (when they aren't snowbirds down south I often run into Terry and her husband Martin on this popular walking trail).
| | |
| --- | --- |
| Beach Morning | Beach Evening |
With Spring comes Visual Coach Certification ... so this week I've been fielding last-minute registrations for this innovative program for Process Professionals who work with individuals, partners and small groups. To quickly integrate 'working visually' and a suite of 30 visual coaching/counseling moves into your process toolkit. The new 2016 Visual Coach Cohort starts this upcoming Tuesday.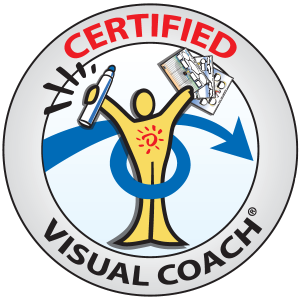 If you already have the two pre-requisites we can still squeeze you in under the wire.
If you don't have the pre-requisites, we can also squeeze you in under the wire, but know that you'll need to juggle some additional study this spring and summer to get fully up to speed.
Keeners do this each year when they stumble upon this program and want to get in now rather than waiting a year.
If you need more time, no problem, check out the extended Combo Package ... do your prep this year then join us for the 2017 cohort after that.
In addition to Visual Coach Certification my other spring courses are trucking along nicely. Registrations for the upcoming in-person Fundamentals of Working Visually in beautiful Victoria, British Columbia, Canada are strong ... still on Early Bird until the 18th with 7 spots left. Plus the 2 day Magic Marker Retreat which follows has 2 spots left (act quick to claim for you).
I'm constantly coaching all sorts of Process Professionals, including up and coming Graphic Recorders (scribes). So I've written today's article for them ... "Graphic Recorders: How To Build a Thriving Practice".
Yours in SHIFTing IT,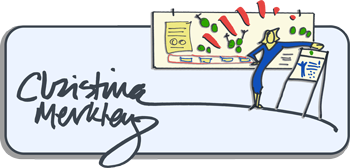 The SHIFT-IT Coach
& Process Skills Mentor
In Your Words: Jody Isaac's Graphic Recording Success at Camosun College and Beyond
SINCE THE TRAININGS I'VE CRAFTED OVER A DOZEN GRAPHIC CHARTS FOR USE IN MY CLASSROOM, OTHER FACULTY MEMBER'S CLASSROOMS, THROUGHOUT MY DEPARTMENT, IN COMMUNITY MEETINGS, IN TEACHER TRAINING, IN EDUCATION COUNCIL MEETINGS, AND EVEN IN A COLLEGE WIDE PRESENTATION TO OVER 500 PEOPLE!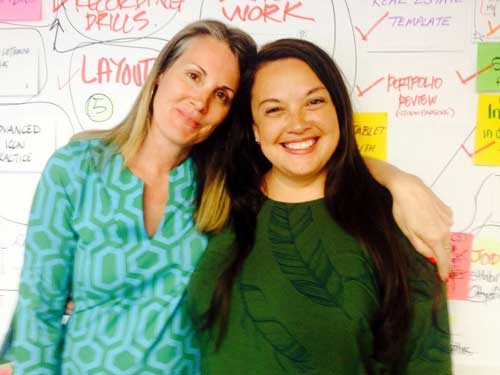 Jody With Christina: 5 Back-to-Back Days of
Training in Working Visually in British Columbia
"Last year I participated in Christina's 3-day in-person Fundamentals of Working Visually. I am a Department Chair and teacher at a community college. All of the adult learners I work with experience barriers to education and employment and some are illiterate. I have seen the response to visuals in my classroom and wanted to get more formal training.
This first course was excellent for Graphic Recording concepts: marker instruction, icons, colour use, layouts, how to listen for the "knowledge nugget" etc., I learn best by doing so I LOVED rolling up my sleeves and 'getting to the wall' each day. I was fortunate to also add on the 2-day Magic Marker Retreat right afterwards, for even more practice and constructive feedback.
Since the trainings I've crafted over a dozen graphic charts for use in my classroom, other faculty member's classrooms, throughout my department, in community meetings, in teacher training, in Education Council meetings, and even in a college wide presentation to over 500 people! Sooooo many places that my new skills are coming in handy! Plus I've begun an independent Graphic Recording business, of which I received my first paid gig last week!
I also took SHIFT-IT Online for personal visioning and energetic alignment. Such a gift to work with this cohort of other people from around the globe who are also raising their vibration for themselves, their family, their community, the world and heck even the galaxy!
Through all these experiences I've been deeply impressed with how generous Christina is with her expertise and time, always willing to stay longer and share what she knows. She leads with humor, grace and assertiveness. Very safe, encouraging and authentic."
Jody Isaac
Chair/Instructor, Employment Training & Preparation (ETP)
School of Access, Camosun College
Victoria, British Columbia, Canada

SHIFT-IT School: Classes, Products & Mentoring

For Process Professionals Who Work With Individuals:
10-Weeks Online: April 5 - June 14, 2016
Tuesdays Noon-1:30 pm Pacific
STARTS THIS TUESDAY!!!

For coaches, counselors, therapists and others who work deeply with individuals. Add the power and innovation of Visual Coaching to your professional practice. Includes advanced Visual Coaching techniques, use of my SHIFT-IT System® with your clientele (17 visual maps), guidance in the 'template-izing' of your own intellectual property, plus marketing and biz development support.

Available Separately or as
4-Course Combo: Apply Now



Two Pre-requisites: SHIFT-IT Online and Fundamentals of Interactive-Visuals (or equivalent experience).
For Beginners Or Repeaters:
FUNDAMENTALS OF WORKING VISUALLY®
Visual Skills for Process Work with Groups and Individuals
This professional skills training (fully online) thoroughly covers the four main ways of working visually: Studio Work, Graphic Recording, Graphic Facilitation and Graphic Coaching. Over 87% of your consulting, facilitation, training, teaching and coaching clients are Visual Thinkers - these powerful visual skills boost the effectiveness of how you work with groups and/or individuals. This is the online version of my popular fundamentals training (no travel required). Attracts folks from across the English-speaking world - your Visual Tribe! Fully recorded, if you miss classes or want to watch at a time more convenient for you.
Act By April 18th to Nab Early Bird
Just 20 7 Spots Left
IN-PERSON VERSION:
3 Day Intensive: June 2-4, 2016
Beautiful Victoria, British Columbia, Canada
Full Details and Online Registration
Note: Pre-requisite for Visual Coach Certification.
For Visual Keeners:
MAGIC MARKER RETREATS ®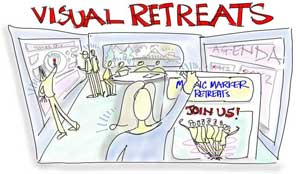 Getting your visual basics is half the equation - the other is competency and creation of a viable practice (whether you are internal or independent). This 2-day Boot Camp takes your visual practice to the next level: chock full of at-the-wall drills, project brainstorming (bring work for feedback and ideas), and identity/brand/financial coaching. Work your brain, your fingers and dissolve your resistance, all in deep community with Visual Practitioners.
Just 7 2 Spots Left
IN-PERSON:
2 Day Intensive: June 6-7, 2016
Victoria, British Columbia, Canada

Full Details and Online Registration
Note: Pre-requisite is Fundamentals of Working Visually (or equivalent experience). Each Magic Marker Retreat is a unique experience, come as many times as you like for continued inspiration and development!
FEATURED ARTICLE:
GRAPHIC RECORDERS: HOW TO BUILD A THRIVING PRACTICE
To Listen Or Download Mp3 Version of This Article, Click Here.
If you are new to me, hello I'm Christina Merkley. I'm a seasoned Visual Practitioner and teacher of various process skills including Studio Work, Graphic Recording, Graphic Facilitation and Graphic Coaching (which are related but different approaches).
I teach all sorts of Process Professionals who work with groups and/or individuals how to weave "Working Visually" into your process toolkit. I teach both in-person and online and work with practitioners from across the globe.
| | |
| --- | --- |
| Graphic Recorders Practicing Skills | Visual Coaching At-The-Wall |
One segment that I teach and mentor is those working (or wanting to work) in the Graphic Recording industry. Graphic Recorders or 'scribes' work alongside a client group and/or lead consultant or facilitator and provide supporting visual summary (i.e. take useful notes in a visually pleasing way).
Sometimes these professionals may call themselves Graphic Facilitators but in my books that is erroneous as a Graphic Facilitator is a different role from a scribe. For more information about these distinctions, see my video on 4 Main Ways to Work Visually.
Get Your Skills Up To Snuff
Like any new skill you have to practice, practice, and practice to get good at it. As discussed in my trainings there are plenty of things you can do on your own to practice these skills. However, there also comes a time where you need to get out there and do this in public wherever you can. The 'only way out is through' as I'm constantly saying.
Do not worry about charging ... to begin with the most important thing is that you 'do the work' and develop your skills and confidence. The money will sort itself out over time. Read Why Working for Nada Is Smart. And get Business Essentials for Process Professionals for detailed specifics and case studies when you are truly ready to monetize.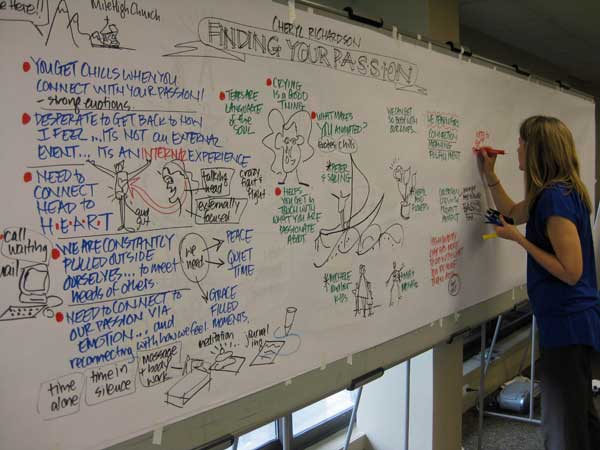 Christina Merkley Teaching Graphic Recording Techniques
Develop Good Relationships With Fellow Practitioners:
While not everyone in the field will be your best friend and some will view you as competition it still makes sense to network with as many practitioners in your area as possible.
| | |
| --- | --- |
| Local practitioners may be kind and share location of resources with you (where to get paper locally, who is a good scanning vendor, a score on good markers, etc.). Plus, inevitably they will already be booked sometimes when more inquiries continue to come in … so they will need to refer to someone they 'know, like and trust'. This could be you. | |
If you are in an area where there are no practitioners then ...
ARTICLE CONTINUED ON BLOG ... CLICK HERE TO VIEW
---
For the full SHIFT-IT e-Zine Archives: Click Here
For the full SHIFT-IT Audio Library (mp3): Click Here


Christina Merkley
The SHIFT-IT Coach &
Process Skills Mentor

SHIFT-IT Coach, Inc. is a boutique training and coaching company specializing in visual and energetic process work for groups and individuals. Founded by Christina Merkley, pioneering Visual Facilitator and Coach, she works deeply with individuals, partners and conscious businesses to define and manifest what you really want. Christina also trains Process Professionals from across the globe in her innovative ways of working. For more information visit www.shift-it-coach.com and www.visualcoaches.com.
IN THIS ISSUE:
>>Featured Article:
Graphic Recorders: How To Build a Thriving Practice
---
CONNECT WITH US:
---
BLOG ENTRIES:
Looking for more rich, SHIFT-IT content? Check out my blog for recent ramblings, resources and general interest features:
Do You Need To Bio Hack Your Life?!
Visual Coach Certification Enhancements
Carolyn Ellis In Toronto Transforms Her Business (And Life) By Working Visually
Why Working Visually Is Powerful in Coaching and Personal Growth
Journalist Annie Jacobsen's Latest Book
Dr. Rita Smith: Corporate Leader Weighs In On Value Of Visual Coach Certification
Resources for Dealing with Stress and Trauma
Click here to read The SHIFT-IT Blog.
---
EZINE ARCHIVES:
Browse past issues here.
Listen to the eZine here.


---
PRODUCTS: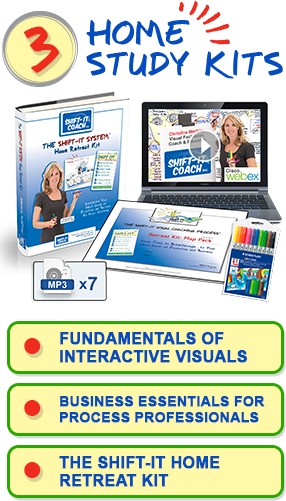 ---
Websites:
SHIFT-IT Coach, Inc
www.shift-it-coach.com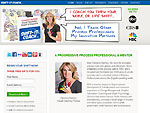 ---
---
Visual Facilitation
www.makemark.com